Tow Test: 2020 Nissan Patrol Ti-L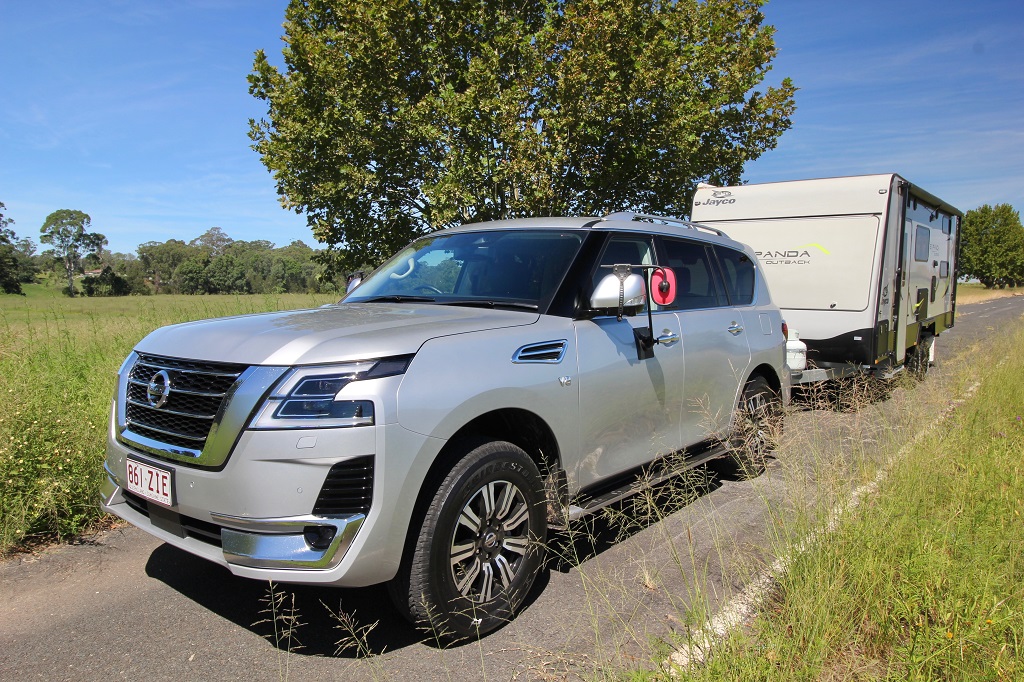 The ageing Y62 has received a comb-over. We find out if the big unit is still relevant and tow test a 2020 Nissan Patrol Ti-L
When you're towing upwards of 3000kg, not only do you want a tow vehicle that is rated to the typical 3500kg maximum, but you also want one that is no lightweight itself. More weight mean less being shoved around by the caravan as you head down the highway.
The Nissan Patrol is one such tow vehicle, that starts on the scales at 2750kg. Add a couple of bodies, their luggage and there's at least 3000kg easily. It'll take a really poorly balanced van to shove that weight around.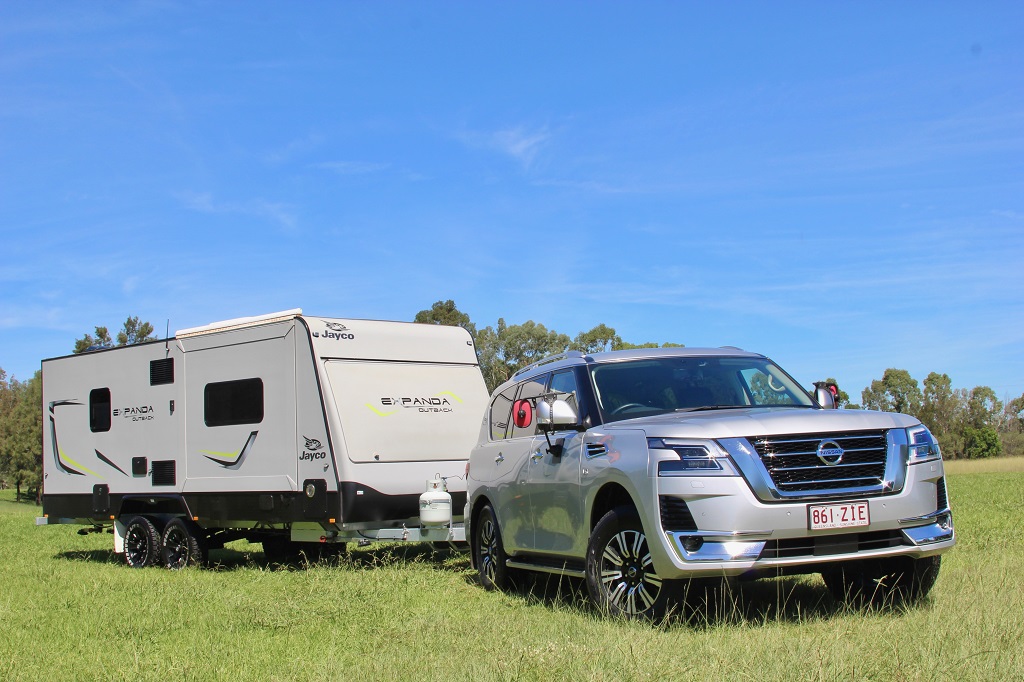 What's new?
Although the Patrol is barely run in as a 4WD model line compared to some (looking at you, LandCruiser 200) it's not exactly a fresh concept, having first arrived in Australia seven years ago. With a minor update in 2018, Patrol last year received revised suspension, new nose and tail treatments and AEB now standard for MY2020.
The bonnet, front guards, grille, LED front lamps and the front bumper have been significantly changed. The entry model Ti and luxury Ti-L now have a slightly different frontal design too.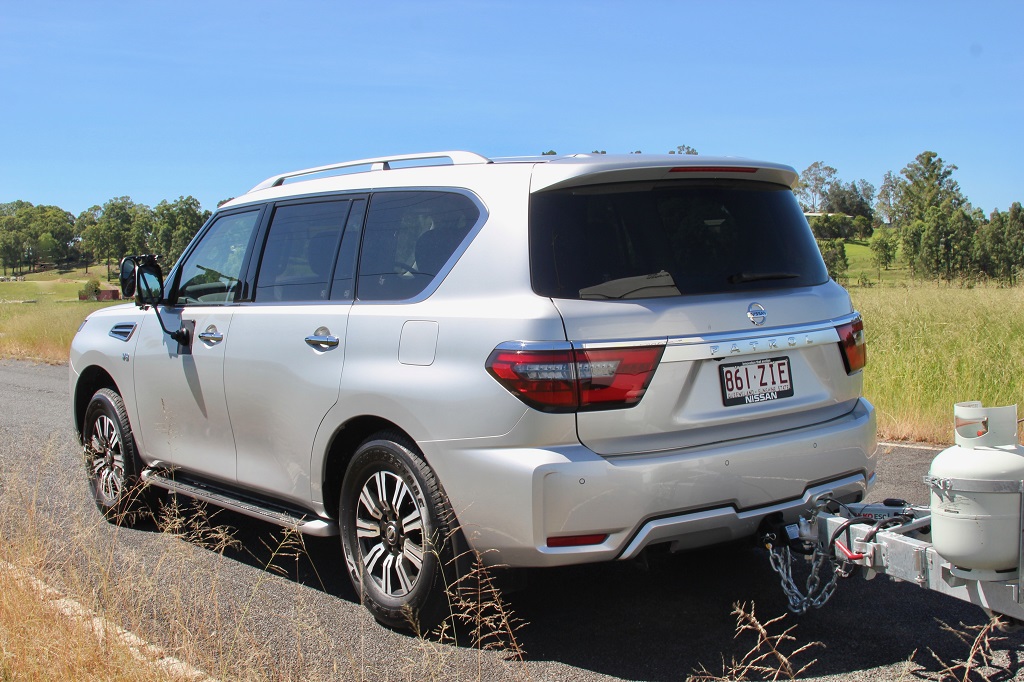 Out back, the Patrol has also undergone a refresh that displays new larger LED taillights and a larger chrome nameplate. Front and rear LED lights are significantly improved, with 52 LEDs in the front headlight – plus the LED fog lights – and a total of 44 LEDs in the rear. Like the front, the rear bumper is upright and angular, elevating the refinement of the vehicle's overall design. The 18-inch alloy wheels have also been updated.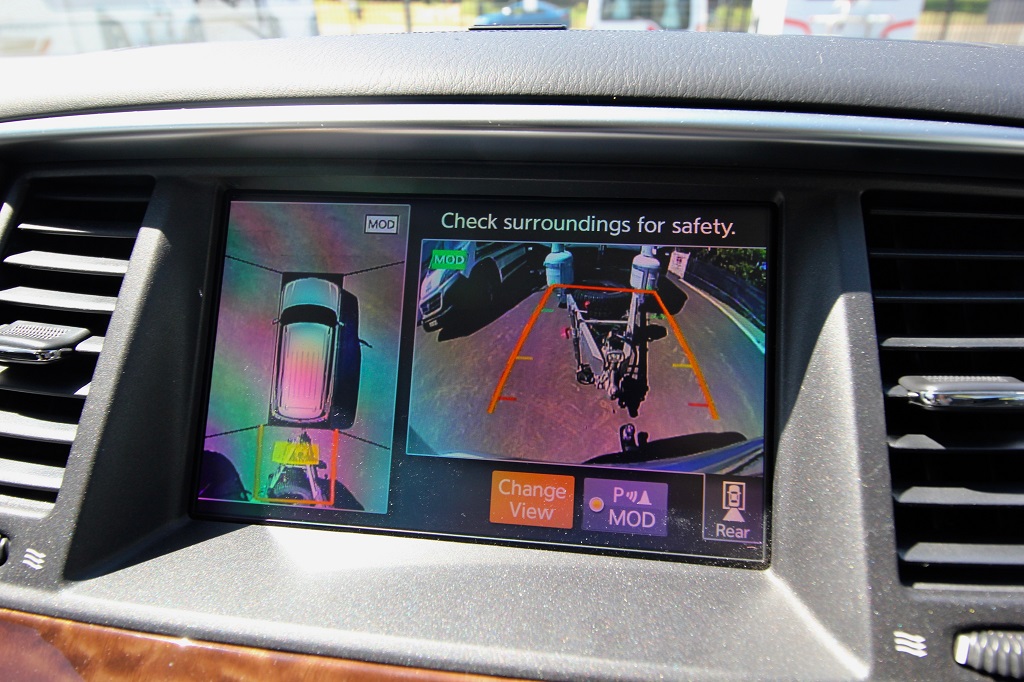 New to Patrol are Intelligent Emergency Braking and Rear Cross Traffic Alert. This is in addition to existing Patrol safety tech, such as forward collision warning, blind-spot warning and blind-spot intervention, lane-departure warning, lane intervention warning and tyre-pressure monitoring. The Patrol does not have trailer sway control. New colours for MY2020 are moonlight White, Galaxy Gold and Hermosa Blue.
What's not new?
Despite all the new mod-cons, not on the spec list are Apple CarPlay, Android Auto or even digital radio. The Patrol Ti-L continues with around-view monitor with moving object detection, an eight-inch touch screen, heated/cooled front seats, satnav, keyless entry/start, active cruise control, rear diff lock, sunroof and a second-row entertainment system. While you get eight seats in the lower-spec Patrol Ti, the Ti-L is a seven-seater. As before, the only time you get a digital speedo reading with the Patrol is the set cruise control speed. Price is up $3000 to $92,990 for the top-spec Ti-L reviewed here.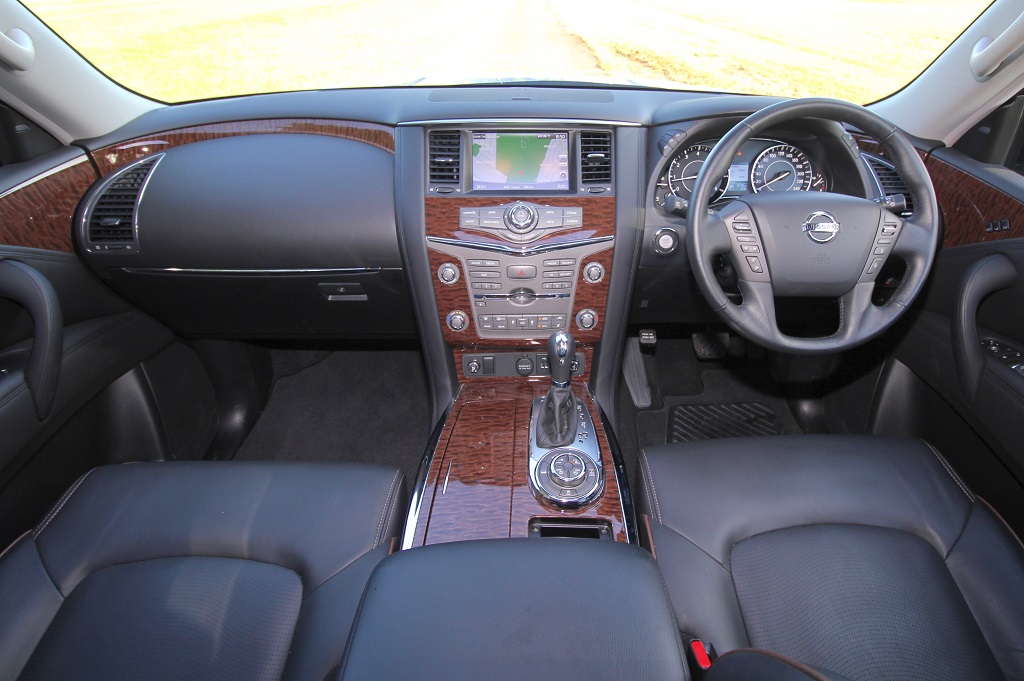 What's in the box?
The cabin is large, with plenty of room for five adults in the first two rows, while the third row is a bit tight on foot/legroom for all but sub-teens (who are the most likely candidates for sitting back there anyway). The seats are quite flat and unsupportive but comfortable nonetheless. The Patrol doesn't feel like a contemporary $100K luxury SUV inside; while it doesn't exactly exude a no-frills ambience with its timber, aluminium and chrome-look materials and black leather everywhere, it is beginning to look pretty dated.
Ride and handling
The Patrol is a big wagon, even by large SUV standards. In size alone, it seems more like a North American truck than a big Japanese SUV. All is pretty much forgiven when driving solo in the city though, with the Patrol's light controls, light but accurate steering and responsive throttle. While a fairly tight turning circle for such a large wagon (12.5 metres) and the around-view camera helps for those tight parking manoeuvres, the Patrol is not absolutely ideal for inner-city living.
Nissan has recalibrated the suspension, which has taken the edge off the ride around town, giving a level of suppleness that the previous Patrol couldn't quite achieve while remaining a controlled, lush ride out on the highway. While this is not the most rewarding SUV to drive, its hydraulic/electric adjustable sway bars help to keep body motion controlled. No lashings of body roll on corners for the 2020 Nissan Patrol.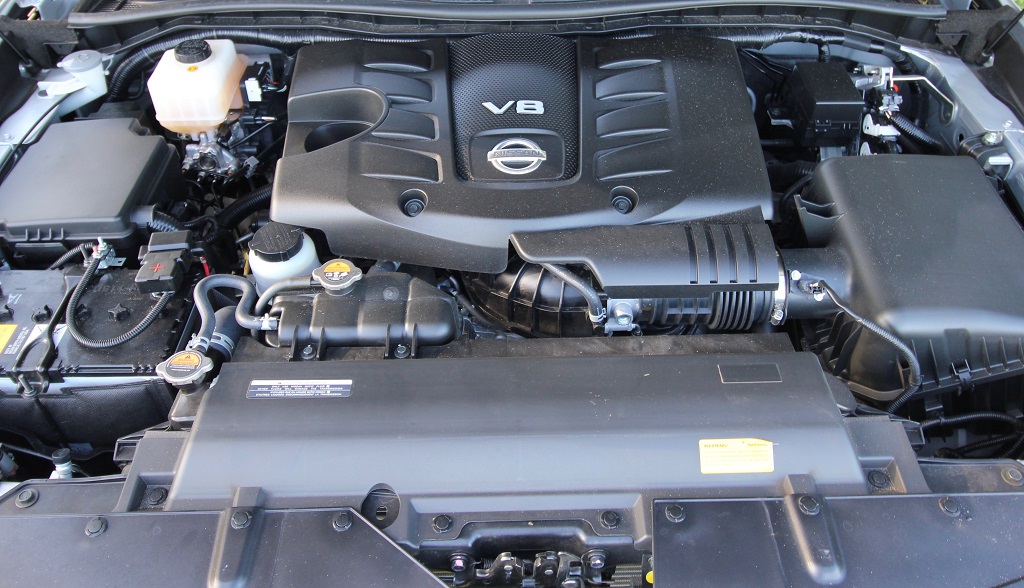 That V8! Your drinking partner?
There is nothing quite like a big petrol V8 to get the soul stirring, and the Patrol's 5.6-litre example is a good one. It makes the Patrol not only responsive, but quick. While you don't notice it until loaded up or hill-climbing, the engine can feel like more of a sports car engine than one intended for a heavy SUV, with regular dips into the power band to keep up motivation.
You can't buy a large petrol V8 SUV and have hybrid fuel economy and so, as expected, the Patrol develops a massive thirst for fuel in the right (or wrong) circumstances. When restricted to the slow, inner-city shuffle, fuel consumption soars to around 25L/100km. There are no city driving fuel-saving devices such as engine stop-start here. Despite its big, bluff and heavy body, easy, solo highway driving fuel consumption is not so bad at 11.8L/100km, while towing the 2800kg Jayco Expanda Outback we borrowed from Jayco Sydney, the Patrol averaged a measured 18.1L/100km. The majority of the tow test involved easy 80km/h and 100km/h highway driving, a steep hill-climb test and plenty of stop-starts for photography. This is the best tank-to-tank fuel figure we've achieved with the Patrol when towing, but realistically you can expect the average will shoot over 20L/100km with a few more hills, stop-start towing or overtaking involved.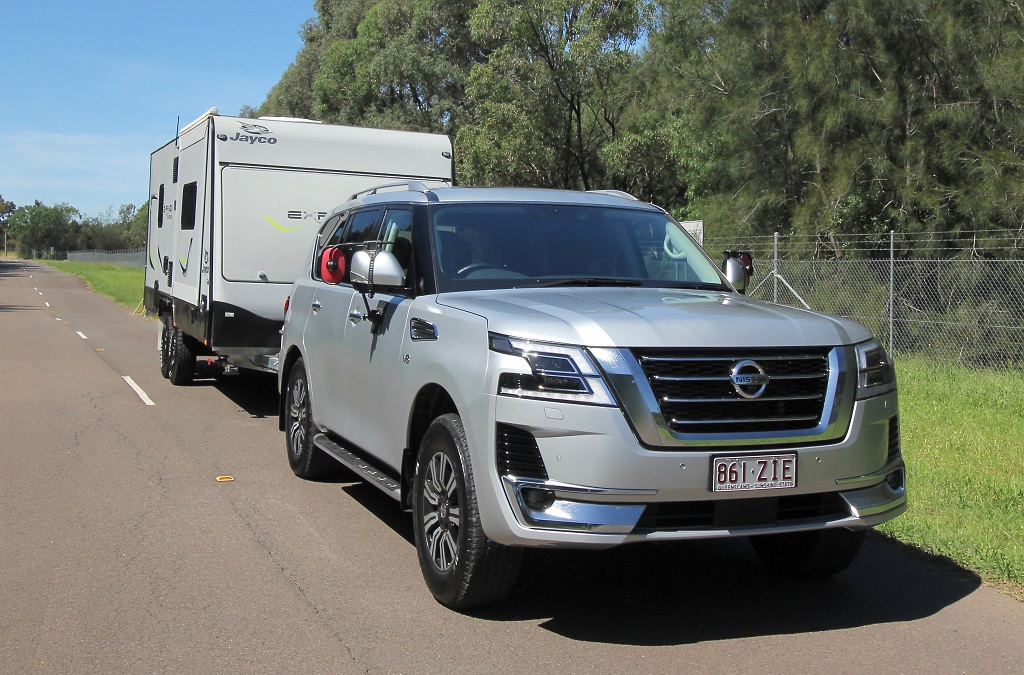 And the baggage?
Patrol's towing score sheet is a bit of a mixed bag. Strong points are its maximum 3500kg towing capacity and its 7000kg Gross Combined Mass, so you can not only tow up to 3500kg capacity, but the Patrol can be loaded to its 3500kg GVM maximum while doing so.
The shine is taken off a little, or a lot, depending on your van's towball download and how much gear you intend to carry in the vehicle – in that to use the Patrol's maximum permitted 350kg TBM you must reduce payload. Nissan requires you to reduce payload by 70kg, (so its GVM is now 3430kg) to have a maximum 300kg TBM; reduce it by 100kg and permitted TBM is 325kg. To use the maximum 350kg TBM, you'll have to reduce the payload in the Patrol by 130kg.
The Jayco Expanda's 300kg measured towball download mass saw a significant change in static ride height: the front rose by just 15mm, but the rear dropped 40mm. The 300kg on the ball is a significant number for any tow vehicle, but would this mean that the Patrol would need a Weight Distribution Hitch to be safe to tow with such a weight imposed on it?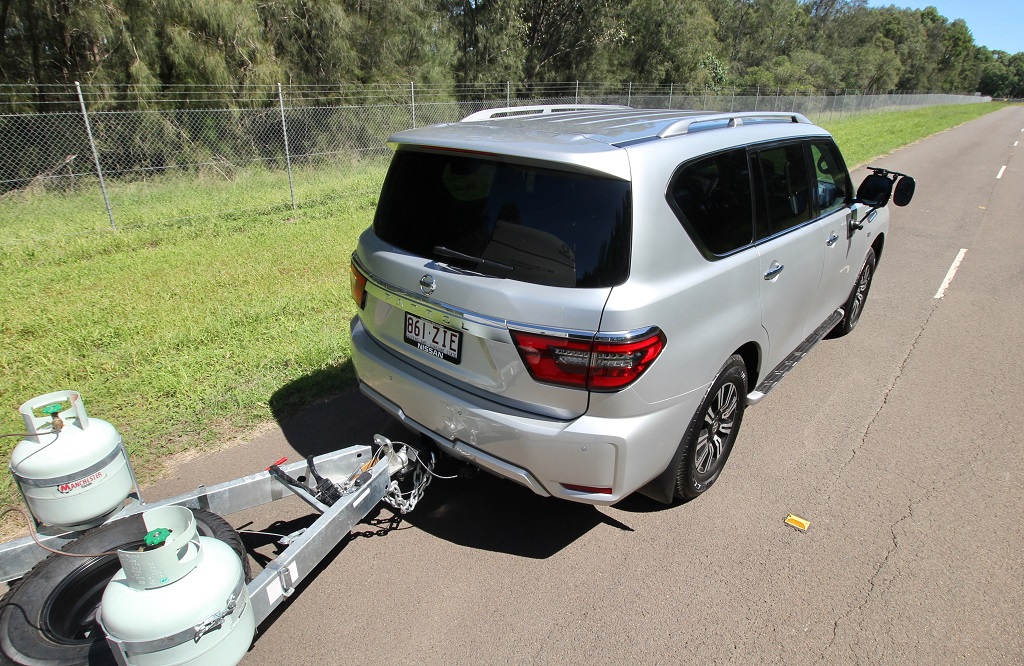 So what's the hitch?
We've towed plenty of heavy stuff with the Patrol before, and in some such tests stability felt compromised by a heavy ball load. This time, however, the Patrol sat planted on the road; aside from fore-aft pitching on rough secondary roads, the big SUV barely moved. Whether this is a result of the suspension re-tune or not is hard to say. Different caravans can produce very different towing experiences, depending on how well the rig is balanced. In this combination, however, the Patrol felt pretty much at home. How annoying that pitching would become if you're towing on plenty of poor secondary roads at speed is another matter; perhaps a WDH or stiffer dampers might be in order.
Is it on your playlist?
Although the Patrol tows nearly 3000kg without much effort, on paper – meaning that it accelerates up to speed quickly and maintains it up steep hills many tow vehicles would struggle with – in practice, it can sometimes feel like it has a powertrain better suited to a sports car. The transmission is keen to downshift with the slightest rise, let alone hill. While on perfectly flat terrain the engine hums away at 1600rpm in seventh gear at 100km/h, the slightest incline results in a downshift or two and the engine spinning at around 2600-2800rpm. While it'll climb just about any hill you throw it at and keep 100km/h showing on the dial, the big V8 has to dig deep to do so, with revs increasing past 5000rpm. While maintaining speed when climbing lots of hills on tour will undoubtedly put a big dent in your fuel average, you'll never get sick of the V8's tunes. It sounds fantastic when working hard.
Verdict
The 2020 Nissan Patrol update gives this big wagon a suitably fresh veneer and important safety features while not losing its broad shoulders for towing. While it's undoubtedly thirsty when worked hard, the Patrol's fuel consumption when towing a heavy caravan is not by any means bad when compared to other tow vehicles – even the LandCruiser 200 Series diesel.
Brief Specifications
Model: 2020 Nissan Patrol Ti-L
Engine: 5.6-litre V8 petrol
Power: 298kW@ 5800rpm
Torque: 560Nm@ 4000rpm
Gearbox: Seven-speed auto
Kerb weight: 2750kg
GVM 3500kg
Length: 5165mm
Towing capacity 750/3500kg
GCM: 7000kg
Towball: 350kg
RRP: $92,990 (as tested, plus on-road costs)
PROS
Performance
Overall towing stability
Better fuel economy than expected
CONS
Pitching when towing on rough roads
Too keen to downshift when towing
No digital speedo readout
For more information click here