If purchasing a purpose-built off-road GPS navigator is financially out of reach, don't worry. We have found three solutions that will work on your smartphone that won't cost the earth yet they will enable you to navigate across it.
I remember when I purchased my first handheld GPS device. It was a Garmin GPS 45 and back in 1995, it was a staggering piece of technology. Not only could you determine your position within seconds of turning it on, but you could program waypoints into it, navigate to those points and, if you found yourself lost, you could retrace your tracks using the 'breadcrumbs' feature. If you did any off-road travel, it provided unparalleled peace of mind. The issue with the GPS-45 and other early consumer GPS units at the time was that you still required paper maps to relate back to the information the GPS provided.
GPS technology developed quite rapidly with the introduction of commercial digital mapping that could be incorporated into portable GPS units. These maps were designed in such a way as to allow the GPS device to navigate using stored digital roads, including some off-road tracks, to get from point A to point B without the need to refer to paper maps. Unfortunately, the off-road information was often lacking in detail and accuracy.
Today we have digitised versions of the paper maps we used to rely upon and these have been incorporated into purpose-designed GPS units that are capable of off-road navigation. Companies like HEMA, Garmin and VMS (to name a few) produce a variety of off-road GPS units all with various levels of complexity and functionality. As good as they are, their price tags put them out of reach of many travellers.
Enter the age of the smart device and it is now possible to get similar mapping and performance from applications on these devices. Many rely on online content meaning you need to have a mobile data connection for these applications to work. Others use offline maps that are downloaded to the device so no mobile connection is required. These are perfect for off-road navigation but, again, the costs may still be too high for many users.
Fortunately, there are very low-cost alternatives available for users who don't want to spend a lot of money on an off-road GPS solution. Here we show you three applications that are cheap or free to download and use highly detailed digital maps that are also free or cheap to download.
OziExplorer (Android only)
OziExplorer has actually been around for years, long before the advent of smartphones. It was originally developed to work on early street navigation devices based on Windows CE. They also developed a very powerful mapping version that operated on full Windows personal computers and laptops. It used free digital maps that could be downloaded from Geoscience Australia as well as digitised paper maps. Some states released more detailed maps of their own and HEMA also released a paid version of their popular off road maps that were compatible with OxiExplorer.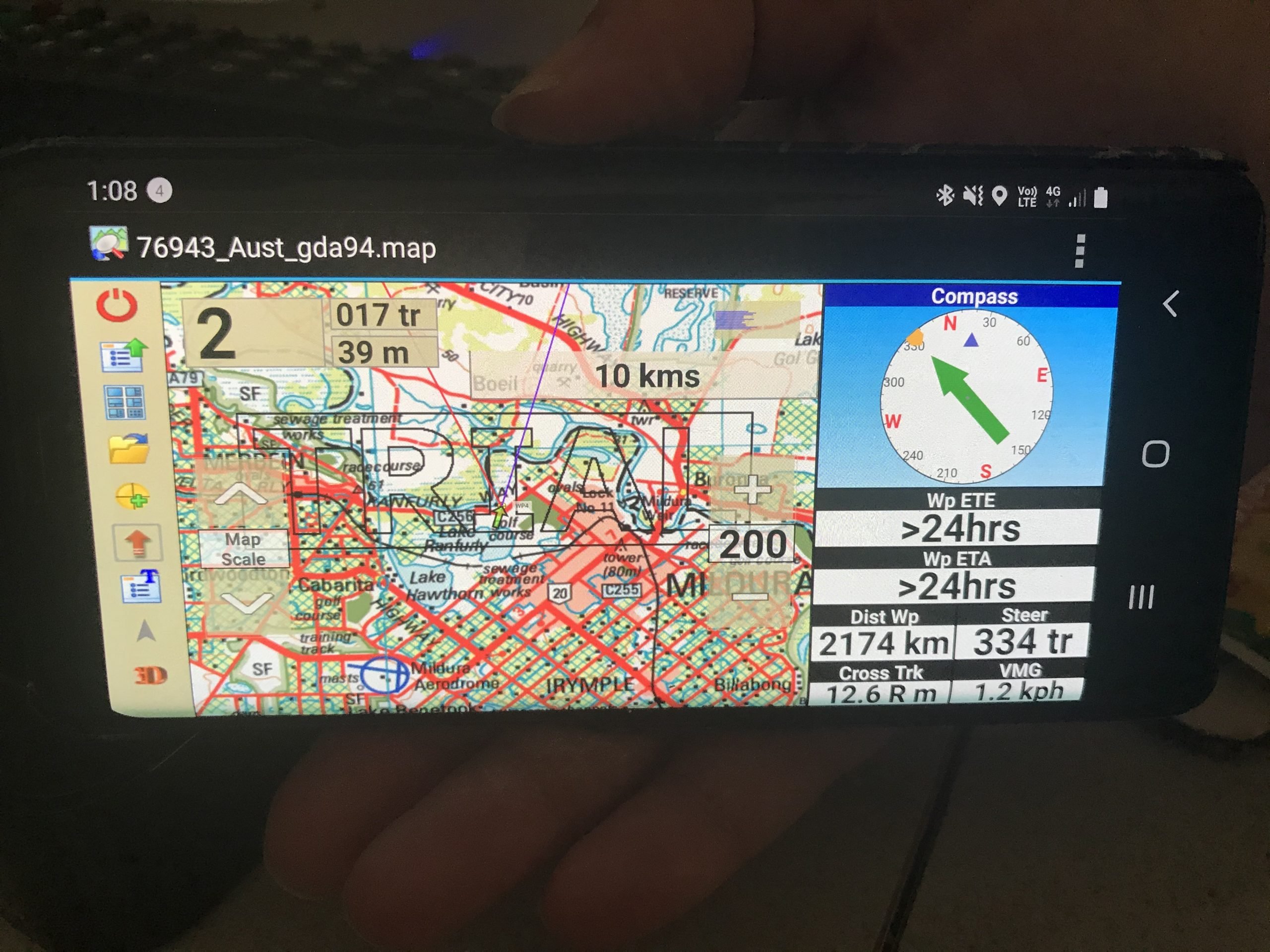 If you have one of these older GPS navigators, you can still obtain the Windows CE version of OziExplorer but it's their Android smartphone app that we believe will be of interest to most users. The trial version is a free download but it places limitations on functions and also watermarks the displayed maps. The full version costs just $32 with no maps or $45 with full 1:250,000 scale topographical maps of Australia. Functionality is extraordinary with moving map, waypoint and route creation, multiple display options and support for multiple map formats. It works on both Android phones and notepads and, if you have multiple devices, your single licence can be used across all of them at no additional cost. We have used it extensively and been very impressed with it both in terms of its usability and accuracy. OziExplorer is constantly being developed with new features added with regular updates. Being an Australian product, local support is readily available, which just adds to the appeal. Visit www.oziexplorer.com.au
Avenza Maps (iOS and Android)
For those of you who use iOS devices, Avenza Maps offers a digital mapping application for both platforms. Avenza Maps doesn't have quite the functionality of OziExplorer but it does enough to show your position on an offline digital map in real-time. Where Avenza Maps sets itself apart is with the inclusion of an in-app map store that uses your current or chosen location to display a shopping list of maps available for that location.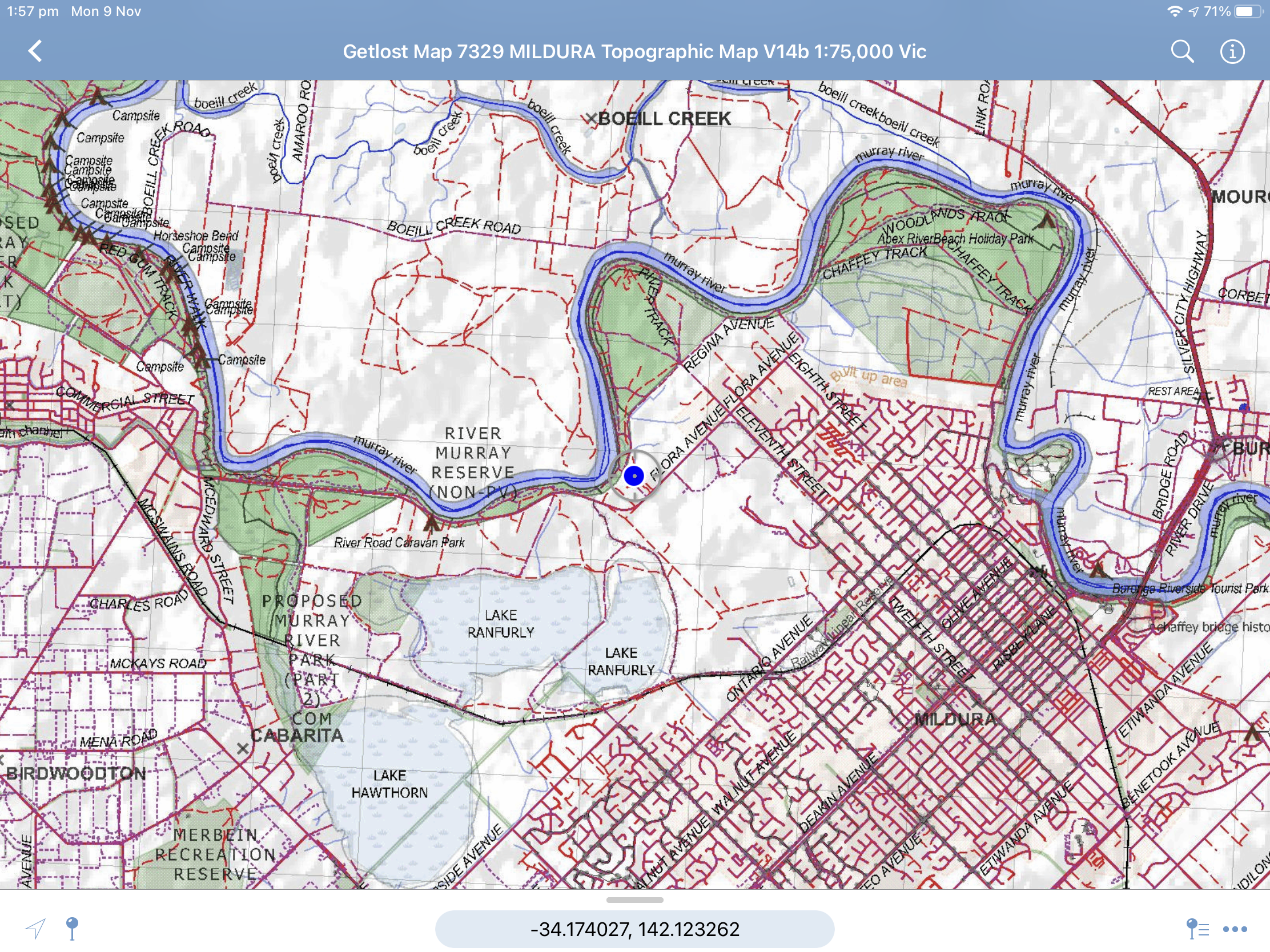 You will be pleasantly surprised by the huge range of both free and paid Australian maps available for download. In addition to the national topographic maps from Geoscience Australia, there are state-based maps, local town visitor maps, park visitor maps, gold prospecting maps and even walking trail maps. You can plan your travels and download only the maps you need so you won't clog up your device's valuable memory with a bunch of maps you may never use. It is very simple to use and free to download for recreational use. Visit www.avenzamaps.com
Windy Maps (iOS and Android)
Back in April, we featured the Windy weather app and highlighted how useful it can be for caravanners thanks to the specific data it displays. The guys behind Windy Weather have now released a mapping app. Windy Maps differs from the other apps here in that it is primarily an online mapping program similar to Google Maps that uses proprietary maps, however, you can download maps to your device for offline use. The maps do have topographical information as well as extensive point of interest details.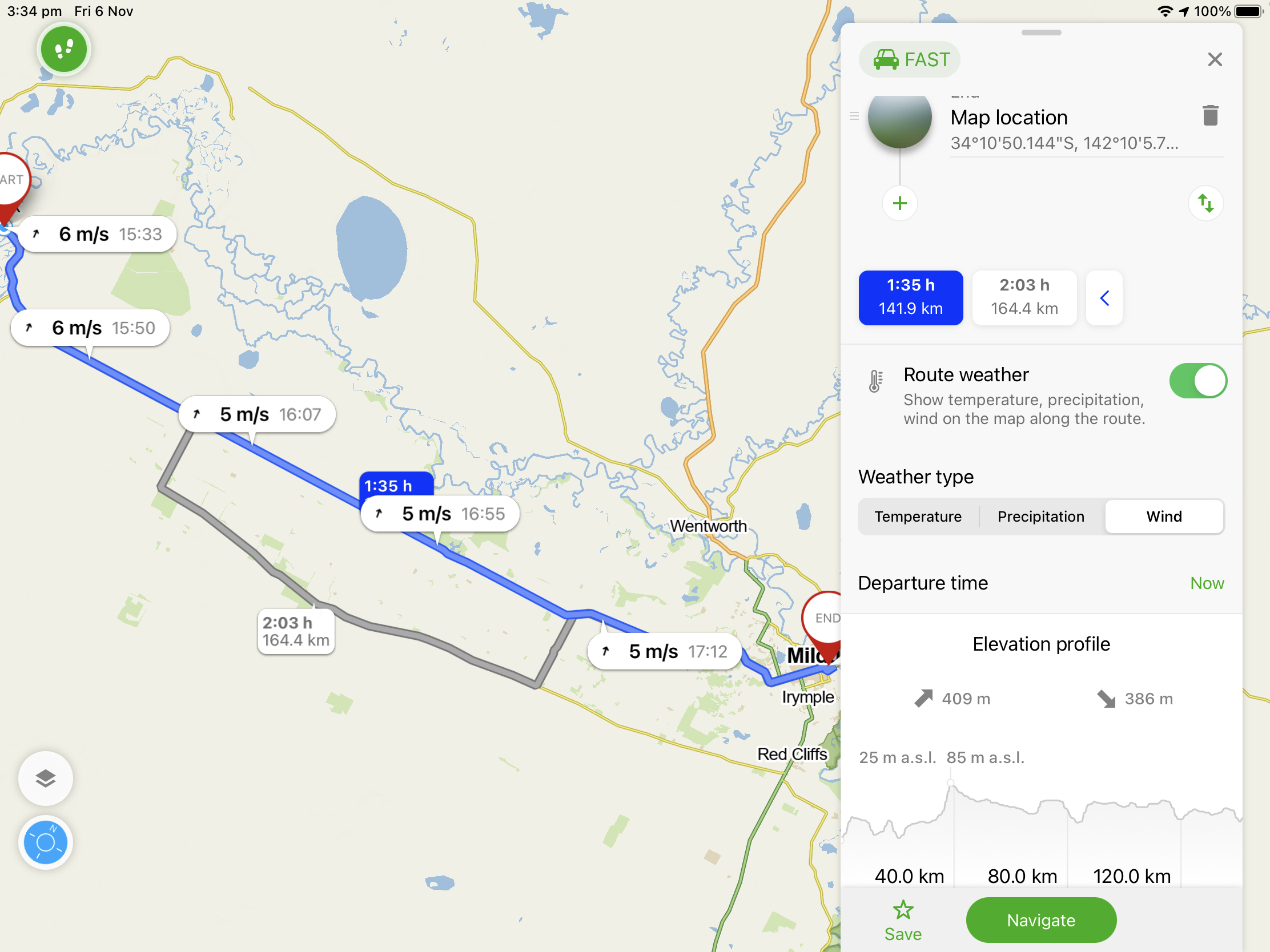 What sets Windy Maps apart is that it uses information from the maps as well as weather data when forming navigation routes. For instance, you can set a start location and destination and get a navigation profile that shows how hilly the route will be and what weather you can expect along the way in the projected time. You can use this to plan any rest stops along the way that avoids rain or to anticipate high fuel consumption due to elevation and wind direction along the route. It's impressive and it will only get better as the app is developed further. Visit www.windy.com/maps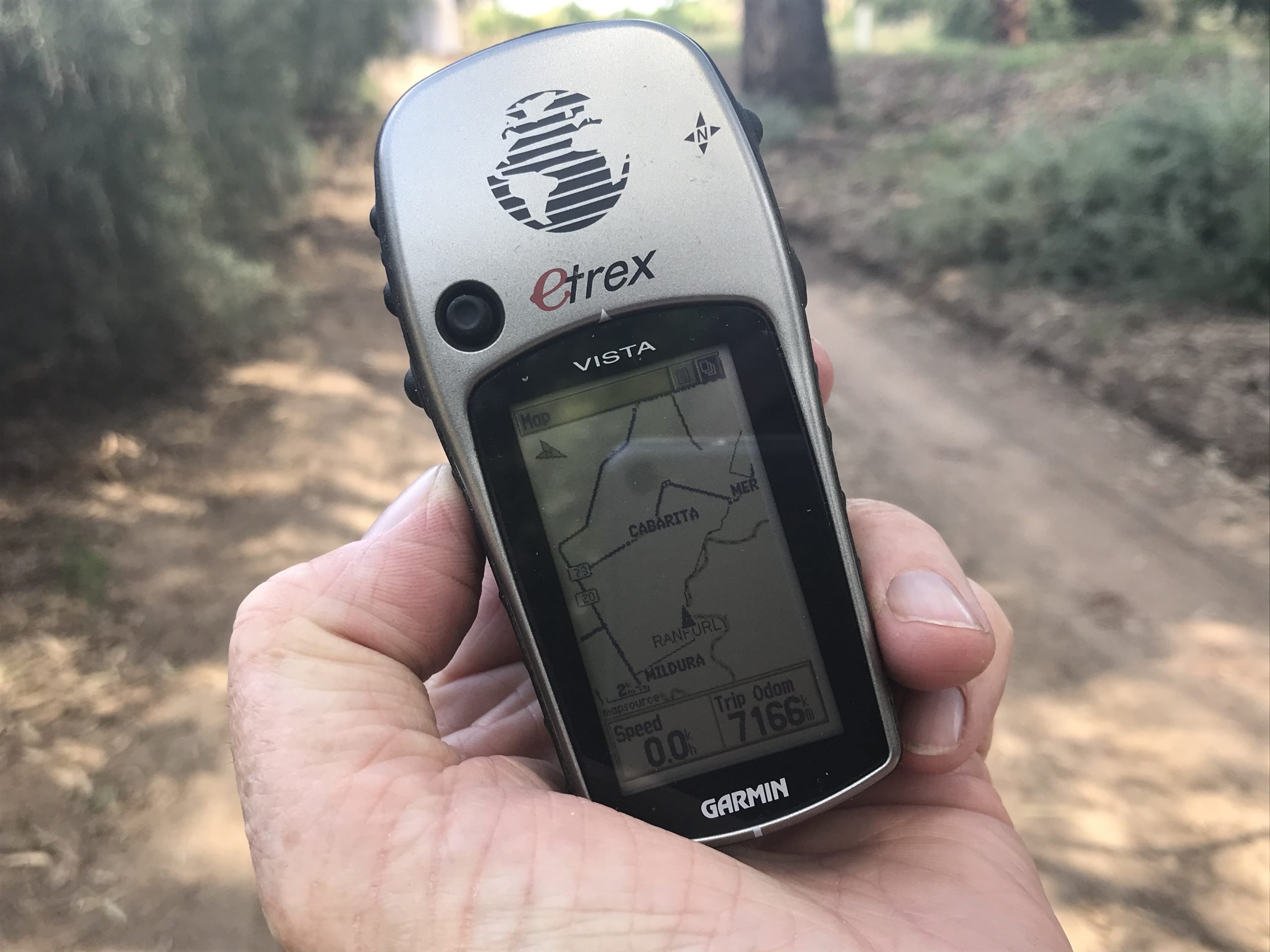 Don't rely on Smartphone GPS apps
One final word on GPS navigation and remote-area travel. As good as these smartphone applications are, they have one serious limitation. The GPS feature will suck the life out of your smartphone's battery in a very short time. If you're relying on smartphone-based navigation while you're away from your vehicle, such as when bushwalking, you should consider carrying a backup of some kind. Whether that be a portable power bank recharger for your smartphone, paper maps of the area or even a second handheld GPS unit, you'll always be able to determine your position and lessen your chances of becoming lost.
There are many more smart device applications that have similar functionality to these three featured apps and we highly recommend you check out the alternatives before deciding on what application is right for you. If you've used another app that you think others should know about, please let us know in the comments below.
Safe Travels.
Are you new to the caravanning lifestyle? You need to click here.