With over 600 national parks and many spectacular landscapes and seascapes, Australians have plenty of reasons to be ethical campers. Most of us have heard the term 'leave no trace' when it comes to camping, but being an ethical camper is more than just picking up your trash.
So how do we become better at camping ethically?
Well, I believe it's the little things that count and if each and every one of us can make little but lasting changes, then hopefully our great wilderness areas will continue to be enjoyable not just for us, but for future generations as well.
Here are some top tips for becoming an ethical camper.
Protect our wonderful waterways
This should be a no-brainer but surprisingly, for some people it's not. I have been to many a campsite only to see people wash both their dishes and themselves in the natural waterway.
Don't wash your dishes, hair or yourself in natural waterways. Instead, use a bucket to collect the water and bring it away from the waterway to wash up. The flora and fauna do not benefit from your daily suds and food scraps, and no one wants to drink soapy water.
Don't use the waterway as your personal ensuite!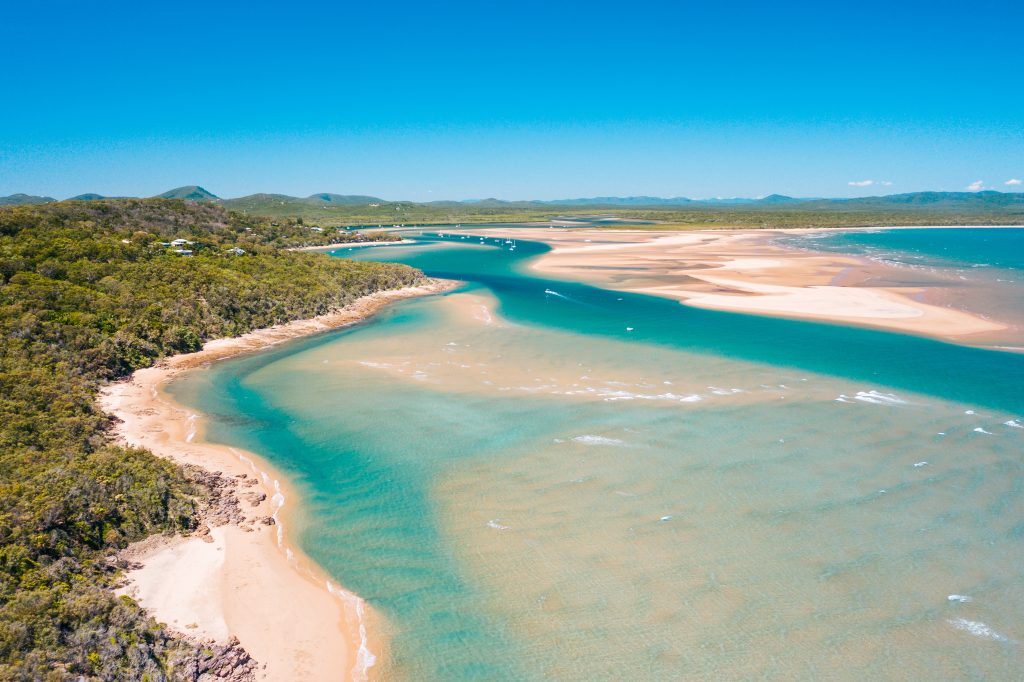 Stay on track
Although it's fun to forge your own beaten path, you are not doing the plant life or wildlife any favours by tearing it up with your vehicle or feet.
Research your camping gear before you buy it
There are two things to consider here, quality and manufacturing process.
Let's talk about quality first
Investing in high-quality gear contributes greatly to zero-waste camping. Good quality gear will last a really long time and there will be no need to continually replace it. Also, you won't be tempted to leave it behind when it fails.
Last year, ABC drew attention to the beautiful Teewah Beach camping spot in Queensland after it became a dumping ground for camp gear. When a storm came through, many unprepared campers up and left their gear behind, leaving a trail of filth for others to clean up. Cheap gazebos are not your friend when the weather gets wild!
Let's discuss manufacturing processes
Let's face it. Some companies are more ethical than others but just because a company makes a profit, does not mean they are not ethical. Kathmandu has been B Corp Certified since 2019, a certification with strict guidelines that ensure a business meets the highest global standard of both social and environmental performance, public transparency and legal accountability.
Ditch single-use products
Many of you already do this at home but it takes a bit more effort when camping. Here are some tips for replacing single-use products when camping:
Skip the store-bought slabs of water bottles and bring your reusable one from home.
Swap the cling wrap for beeswax food wraps.
Stop using disposable plates and cutlery. You don't do it at home so there is no need to do it while you're camping.
If you have to use single-use items, choose materials that are compostable or recyclable.
Pre-cook or pre-prepare meals and snacks and store them in reusable containers.
Don't feed the wildlife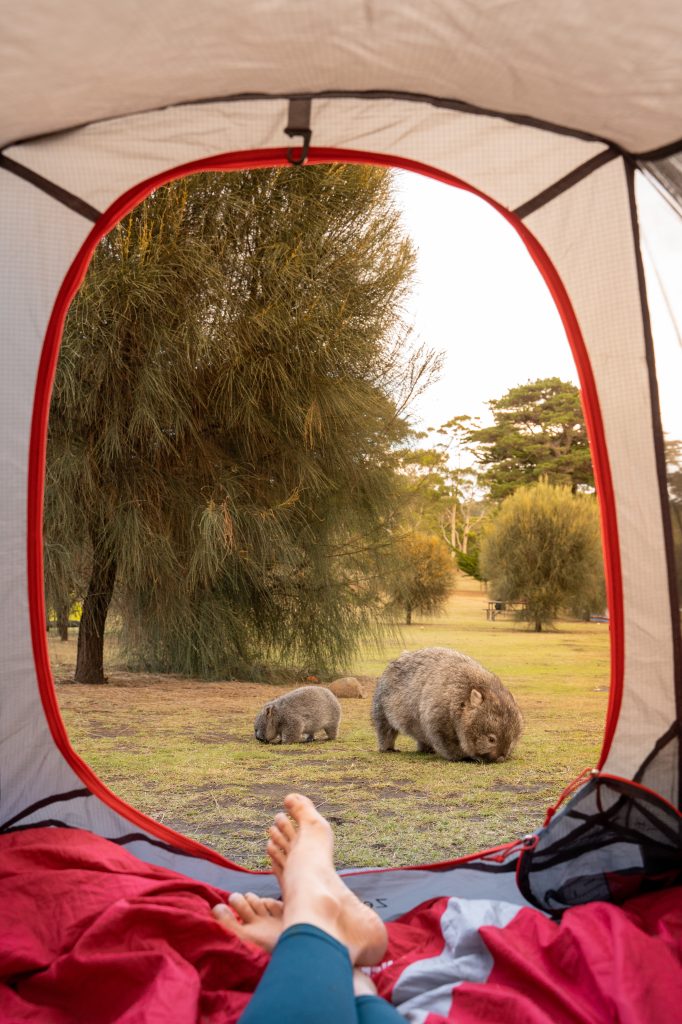 I know, I know they're so cute! But if you keep feeding them it will disrupt the natural ecosystem, encourage animals to become reliant on humans and will most likely give the poor creature a belly ache. Just appreciate the wildlife as it should be … in the wild.
Dispose of your poop!
Many of us have rocked up at a campsite, only to discover toilet paper strewn around or worse, a freshly laid steamer that the previous camper didn't even attempt to bury. Bluurggghh.
You can learn more about how to poo when there's no loo on our sister site, Unsealed 4X4. However, if you have to do it the old fashioned way by DYO (digging your own) toilet, follow these simple rules:
Dig the hole at least 150m from trails, camps and water sources and make sure it's at least 30cm deep.
Make it wide enough to account for bad aim.
Burn your loo paper or pack it back out.
Fill the hole back in when you're done.
Play it safe when it comes to fire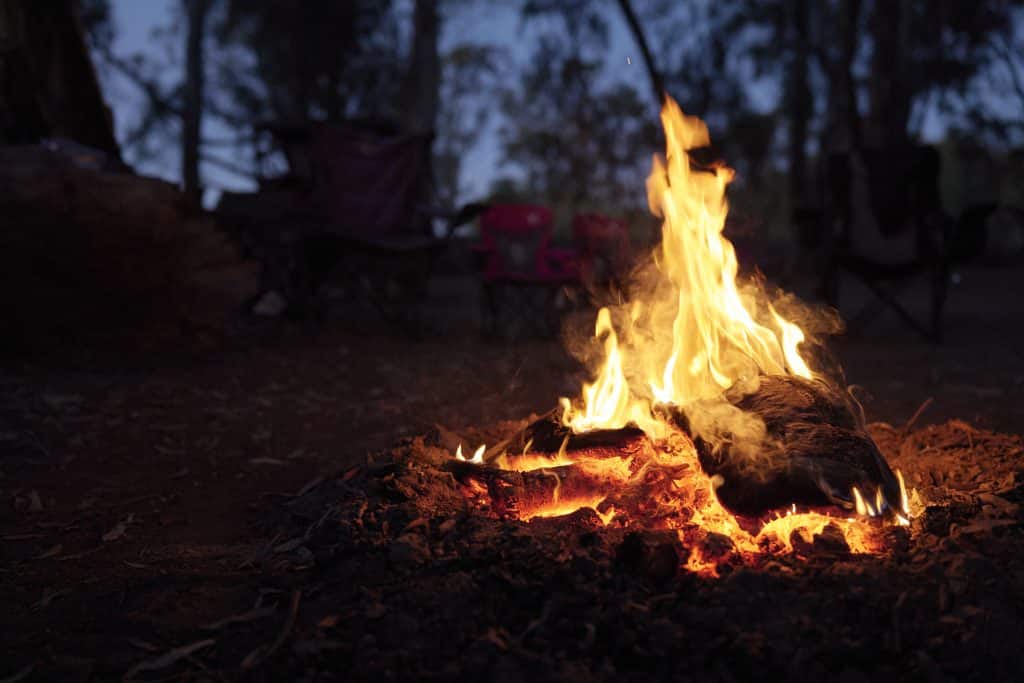 Remember the fires on K'Gari (Fraser Island) in 2021 that made global headlines when they burned through half of the beautiful World Heritage-listed island? Yep, it was started by an illegal campfire that was not extinguished properly.
Make sure to check out our article on lighting campfires responsibly, featuring some great tips from the Country Fire Authority Victoria (CFA).
Go off-grid and harness the sun
Ditch the power and go solar. If you're not ready to go completely off-grid, opt for solar accessories like solar-charged lighting, power packs and solar showers. It's easier than you think!
Take your rubbish with you
If you've ditched single-use products, your rubbish will most likely be minimal anyway. But just in case, make sure to take all of your rubbish with you when you leave. Some people like to dump things in the fire pit but this isn't nice for both the next camper or the wildlife that will scavenge through the campsite after you leave.