Written by Glenys Gelzinis
There's nothing better than rolling up to a campsite and realising that you are the only ones there. If you haven't experienced that sense of freedom and serenity that comes with off-grid camping – think having the river, beach or bush all to yourself – then you're in for a treat.
With off-grid camping, seclusion is a reality, so before you head off into the wild be sure to do your research. With a bit of knowledge and preparation before you go, it can be one of the best camping experiences you'll have.
My off-grid camping experiences started more than 25 years ago. From travelling through the Northern Territory with kids to camping next to gorges in Central Australia and going off-grid in my campervan, it's fair to say I've learnt a lot about going off the map.
Here are my top tips to give you the confidence you'll need to camp remotely.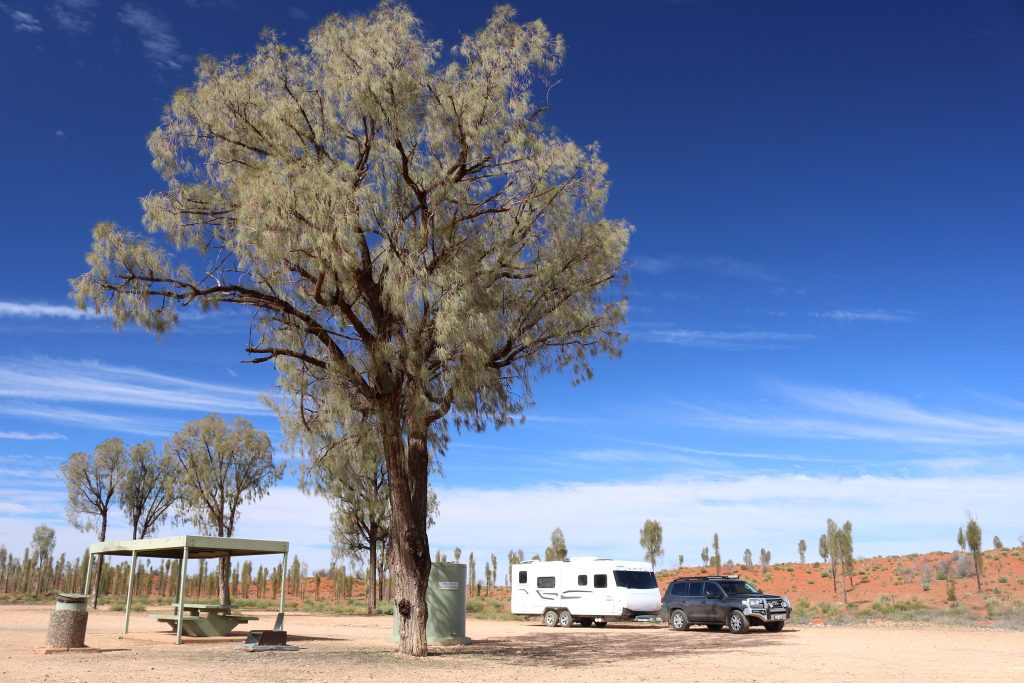 It's all in the planning
Off-grid doesn't have to mean leaving all creature comforts behind, but without access to power and water, you need to think about how to do things differently.
Before you leave home
Before leaving home, make sure your gas bottles are full, take battery-powered lamps with new batteries, let family members know your rough itinerary (safety first), have water tanks full in your vehicle and pack spare water containers to top up if needed. (There can be opportunities to get water on the road, but it pays to be prepared and not assume this).
Lighting
We have a solar panel on our van and dual batteries to store the energy produced. This powers 12-volt lights in the van and we haven't had the need for a generator yet. If you only intend to use a generator for short periods of time, quieter generators that don't disturb the peace are available. When we're sitting outdoors at night, we use battery-powered lanterns and a campfire helps when it's not fire ban season in Australia. Have a couple of torches handy, just in case.
Cooking tools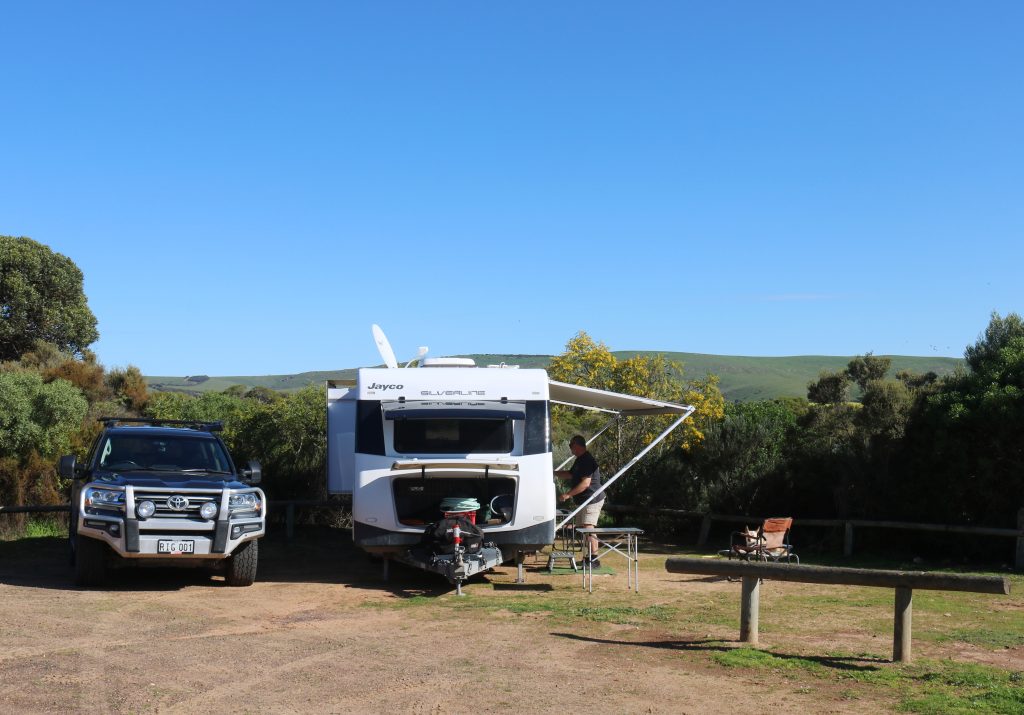 For cooking, a kettle barbecue and a butane stove can pretty much enable us to cook everything from breakfasts through to desserts, all in the outdoors. When the weather's unpleasant, we opt for the gas oven in the caravan.
To make cooking easier, I recommend creating a folder or book of recipes for quick, easy, and cheap camp meals to make. Having a few staple items in a pantry cupboard or crate will also make meal preparation easy. When it comes to coffee, we love brewing with a travel press mug.
Water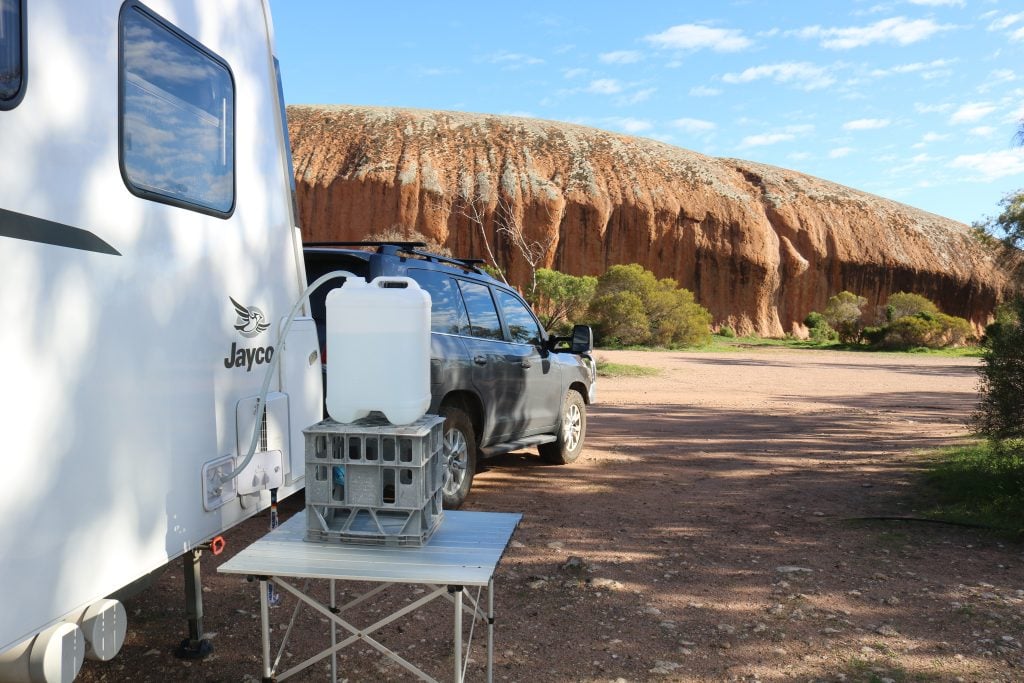 Saving water is imperative for a long stay. We buy boxes of water for drinking and cooking, so that water carried can be used for dishwashing and short showers. There are typically places you can fill up containers of water if needed, for instance, some local town ovals are happy for people to use the water available there, and you can enquire with a town's information centre or local council for other places where this is possible.
Toilets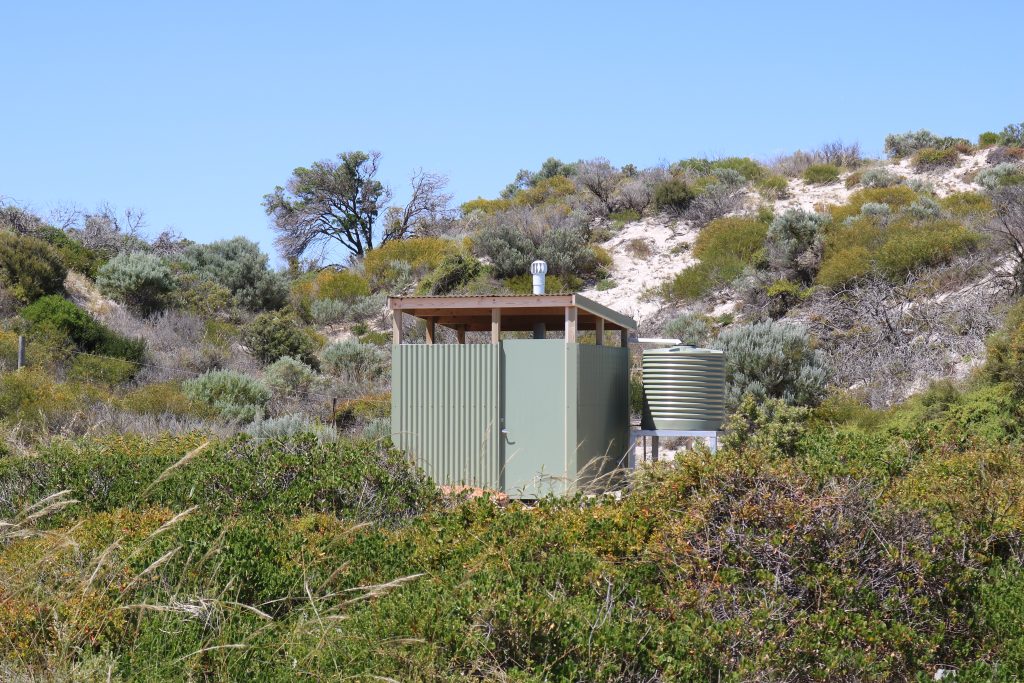 Ablutions are always an important consideration and that's the reason that our caravan has an onboard toilet and shower which makes off-grid camping very comfortable. These days there are a lot of camping areas fitted with basic toilets and cold showers. We have found that more local councils are creating and managing campgrounds and for a very low daily fee you have use of toilet facilities as well as rubbish bins. National Parks are another great source of well-managed campgrounds.
Other options are to bring a portaloo and a shower tent with a portable shower set up. Look for the closest dump point to where you will be camping so you know where you can empty the toilet canister as needed.
Temperature
One of the trickiest parts of camping without power can be how to keep cool or warm. Thankfully, these days you can get some terrific free-standing 12-volt and battery-powered fans that can help in the heat. Our choice of heating is diesel in the caravan which is a quiet, efficient, and safe means of keeping warm. Otherwise, don't forget the thermals and blankets!
Enjoying the off-grid experience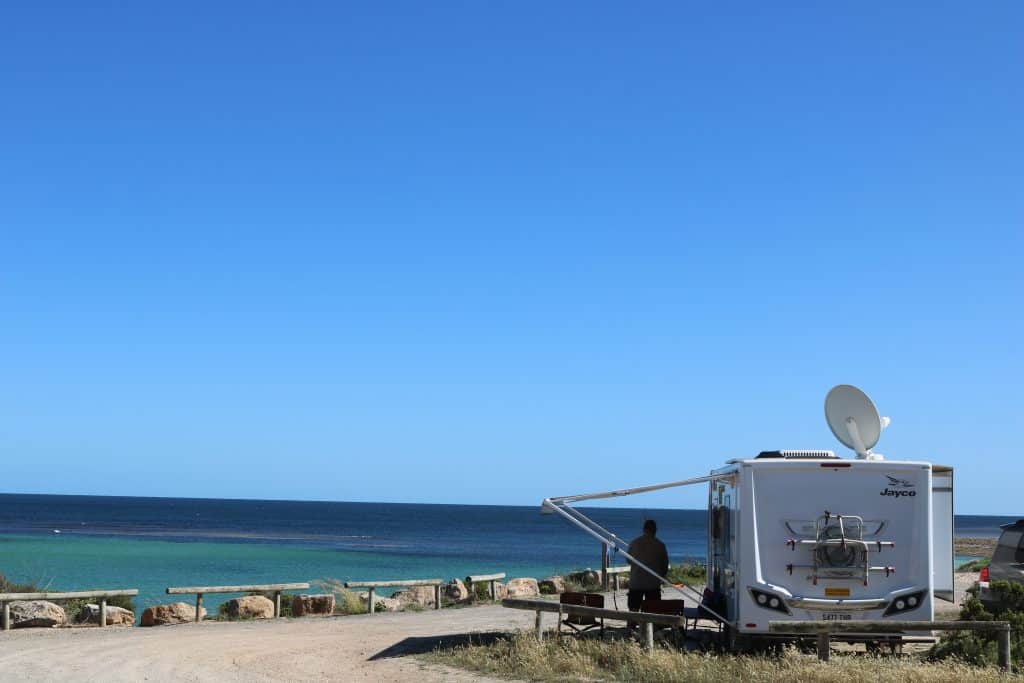 Is the area right for you?
When it comes to camping in off-grid locations, it's important to scout out your surroundings. Some people can feel uncertain about the isolation, but by checking out your immediate vicinity, you'll soon be able to tell if it's right for you.
If there seems to be a lot of rubbish, broken glass or other signs of neglect and misuse, or if your gut instinct makes you feel uncomfortable, the simple thing is to move on.
Utilise the camping community
Listen to word of mouth from people you trust that have camped off-grid, but also explore for yourself. Sometimes people's impressions can differ from your own depending on the experiences they had at the time.
We have found that people who love off-grid camping are typically like-minded and happily give each other space and respect boundaries.
When it comes to off-grid camping, the biggest tip I can give is simply to give it a go. You'll never know if you don't try it, and if nothing else, you can learn from the experience and improve with each future trip. Start by planning just a couple of days at first and then you'll be on your way.