When buying a new van, how do you pick a well-designed and engineered peach instead of a lemon? Before you get your R&R, there should have been lots of R&D! So how well done is the engineering on your caravan?
Go to any RV show and the glossy caravans on display all look fantastic. But when it comes to signing up for a new van, how do you know you've picked a well-designed and engineered van that has the best chance of not falling apart or being terrible to tow?
If a caravan has had little time or effort go into its design and engineering, once the new-van shine has rubbed off you might find it won't be a great ownership experience.
There are plenty of other questions to ask as part of your due diligence when buying a caravan, but crucial ones to begin with include what design and engineering methods are used. You should also check out some engineering 'tells' for yourself, such as load ratings and weights.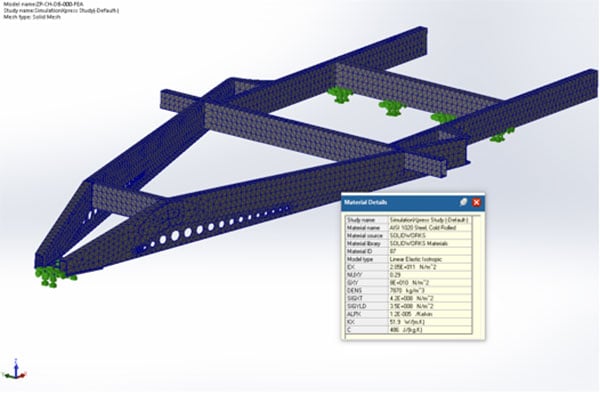 To begin with, you'd hope that the manufacturer relies on far more than a tape measure and a saw to get the job done. The caravan industry should have moved on from such old techniques.
The first thing you'll want to ask is, does the caravan you're interested in have Computer-Aided Design (CAD), Computer Aided Engineering (CAE) and Computer-Aided Manufacturing (CAM) as part of its development process?
CAD — effectively electronic drawings with measurements applied — has been commonly used in product design since the 1990s, and is now used to design everything from perfume bottles to commercial aircraft. This is basically the electronic 'blueprint' needed to accurately build a new caravan.
If a caravan salesperson says that their van was simply designed the way they always have, using original templates and designs going back years, you might want to investigate further (such as undertaking a factory tour, if available, to see for yourself how the van is put together). Sometimes an experienced manufacturer doesn't need modern design and engineering techniques to build a well-designed and engineered van. Yet CAD/CAE certainly helps consistency and design and engineering integrity no matter how the van is put together.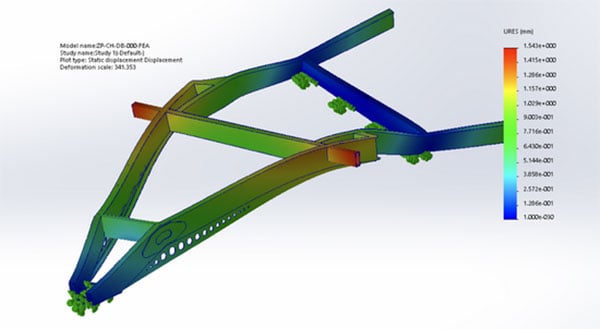 Two- or three-dimensional CAD allows a manufacturer to design a caravan and build a 'virtual' design prototype.
Zone RV uses CAD design package SolidWorks. This allows not only the quick and efficient output of clear detailed drawings but also bill of material information. Zone RV has built on its design software platform to create a direct link to procurement software to provide a highly detailed bill of materials in real-time. This is critical to the ability to manage custom builds through a fast-moving production line.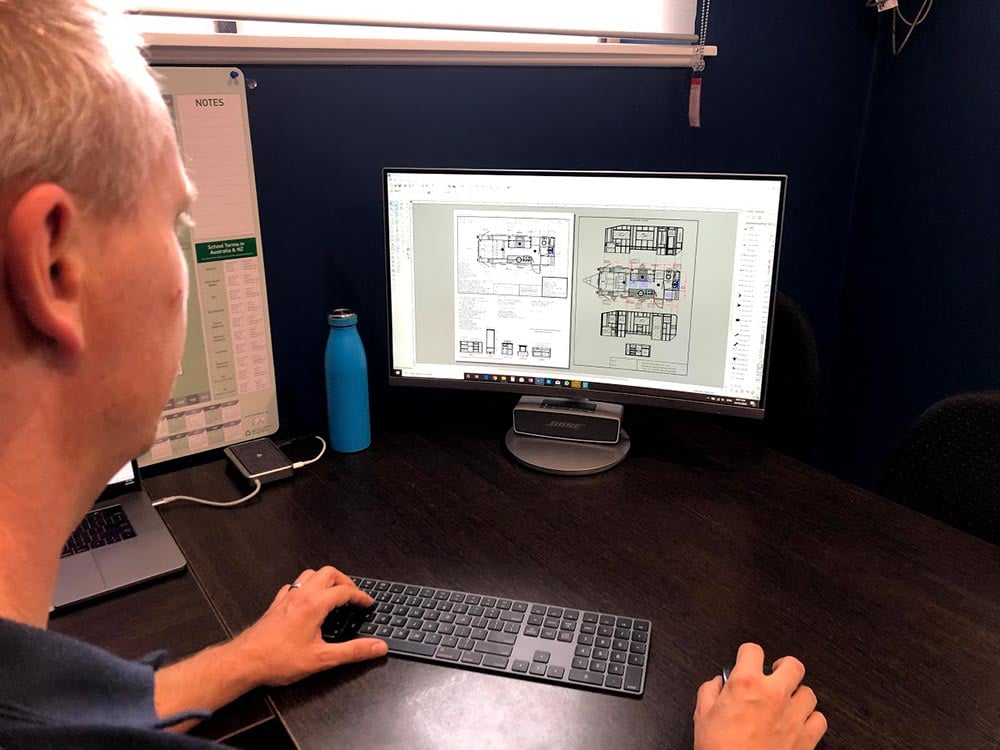 Off-road caravan manufacturer
Bushtracker
builds its van using CAD, and points out that proper integration of all caravan components is a key part of CAD. Things such as routing of heater ducting, appliance locations, plumbing, roof layouts (to ensure things such as maximum solar) all come into play.
With all measurements, tolerances and components precisely configured in CAD, the design file created serves as the basis for Computer-Aided Engineering (CAE).
CAE is used to test theoretical loads for towing safety and structural integrity — and therefore allows the manufacturer to go ahead and select materials that will be engineered to handle the loads from Job One.
Zone RV runs stress analysis, weight distribution calculations from within its same customised software package. It is the source of all information for all builds across multiple product lines.
Caravan and camper-trailer manufacturer Ezytrail's entire product range is constructed as a 3D model to ensure tolerances are minimised and applicable standards are met before going into production of the first prototype. Drawbar and chassis, suspension and braking systems, body, cabinets and furniture are all modelled and perfected in 3D CAD software before the company produces its first set of production drawings.
All of Apollo manufacturing brands (Coromal, Talvor, Windsor and Winnebago) use 2D and 3D CAD for product design and development, and all furniture and composite panels are designed in CAD. These files are loaded into CNC machines which cut the materials for these components.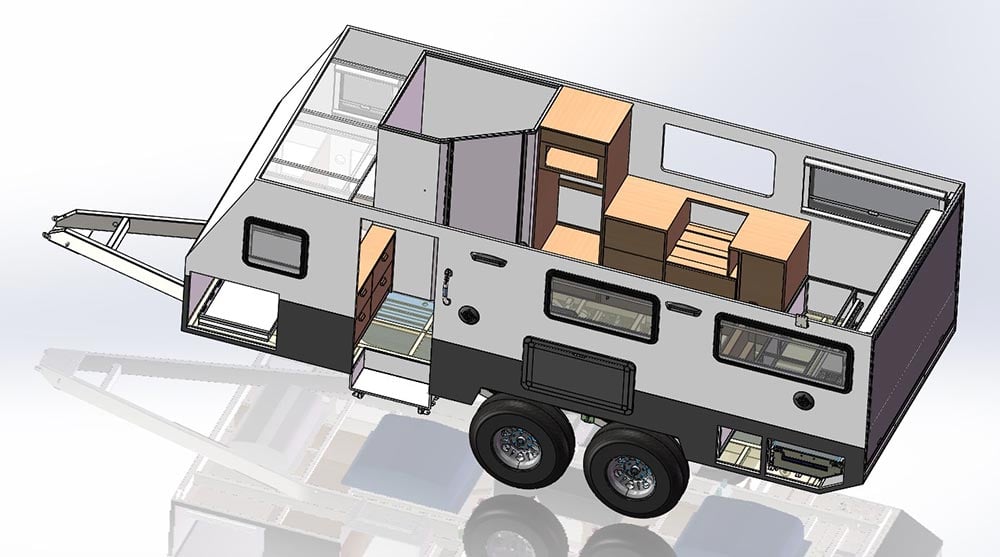 While the national trailer standard, VSB1, states "There are no specific body structural requirements, but the trailer must be safe and fit for purpose." It goes on to say, "It is suggested as a minimum that the Manufacturer should be able to demonstrate that the structure is capable of supporting the designed payload with a safety factor of at least 3 for highway use and a safety factor of 5 for off-road use." A well-operated CAE software is a clear way of testing to ensure the caravan meets those guidelines.
Ezytrail submits its designs to an independent engineering firm for computer-aided engineering assessment and verification. All Ezytrail caravans and campers are strength tested at or above their maximum recommended load and are subject to fatigue analysis of two million cycles, and also ensures that the designs exceed the off-road safety factor of five.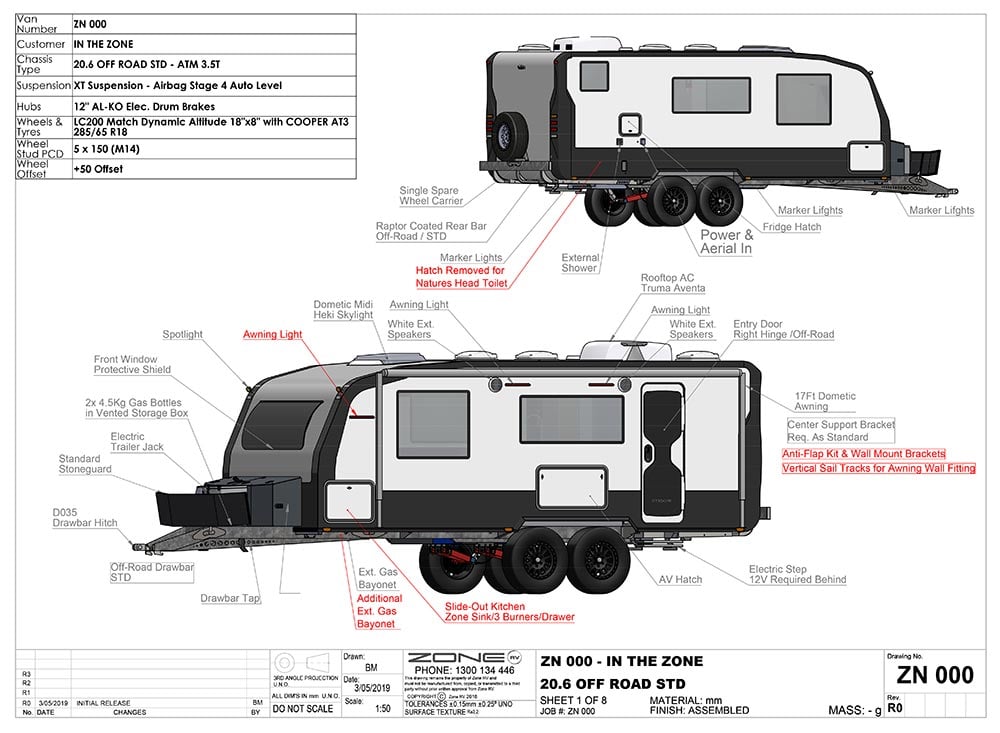 CAD/CAE programs are not cheap – running into the tens of thousands of dollars – and, of course, you have to assume that the manufacturer has staff skilled enough to use it well. CAE, in particular, requires an engineering background to be used effectively.
Zone RV's Design and Engineering Manager Brad Marshall agrees that CAD can be expensive. "The cost to run and maintain such software can be a burden. As it is usually not just a once-off lump sum but an ongoing expense if you wish to retain any support and updates. Having an intelligent design software is highly recommended as we could not operate on the current level that we are now without a CAD package."

Real-world and size
Ultimately, a physical prototype build is still necessary, but a caravan manufacturer may actually save costs if it uses CAD and CAE in the design process to weed out any potential design or engineering flaws before costly prototypes are built.
Bushtracker is a bespoke custom builder and says that each van is drawn up from scratch in the CAD system to ensure all design elements work as effectively as possible.
While a van might have a perfect theoretical design and engineering, it can all literally fall apart in the manufacturing stage. As caravan manufacture is still very much a hands-on labour-intensive process, it's worth knowing if the manufacturer uses CNC machines to cut cabinetry and exterior panels. Accurate CAD files should ensure that the CNC-cut parts exactly replicate the part designed in the CAD stage. Such a set-up results in precision parts that come together properly, every time. The four manufacturers we talked to – Apollo, Bushtracker, Ezytrail and Zone RV – all have CNC machines linked in this way.
In part two of How well engineered is your caravan? we look at the importance of good load balance.