Have you ever wished you had an RV that you could pedal, float in and camp in while simultaneously tending to your pot plant at the same time? Yeah, me neither … until I saw this unique new RV called the BeTRITON (formerly known as the Z-TRITON).
At first, I thought I was watching a kind of mock video. I even dissolved into fits of laughter when I reached the bit about storage for a pot plant, calling my husband in to "check this out" and making jokes (sorry not sorry) about hipsters emerging from Melbourne city and venturing out with a favourite pot plant in tow. Will they use #vanline #boatlife or #bikelife to document their adventures?
But I quickly realised that despite how funny it looks, it's actually a really cool concept and I could totally imagine myself tackling the Great Victorian Rail Trail with some stealth camping on the water at Lake Eildon.
Check out the BeTRITON in the video below:
What we know about the BeTRITON
The BeTRITON is an Amphibious 100 per cent electric camper-trike for two that allows you to travel over both land and water whilst providing a place to rest your head.  
When the BeTRITON is in boat mode, it can scoot along at 5km/h for around 20k kilometres on a full battery. If you run out of power, you'll have to power it the old fashioned way with oars. In tricycle mode (using electric bike assistance), you can zip around for around 50 kilometres reaching speeds of 25km/h. This means you will get about two days out of the BeTrike before needing to plug in and recharge again.
It's important to note that boat mode is for freshwater only. It's not designed to tackle ocean waves or withstand constant salty water.
Important stats
Size: 3.95m length x 1.45m width x 1.75m height
Weight: 250kg unloaded
Battery: Li-ion battery pack 2.6kW
Suspension: Rear coil spring shocks
Brakes: Hydraulic plus a parking lock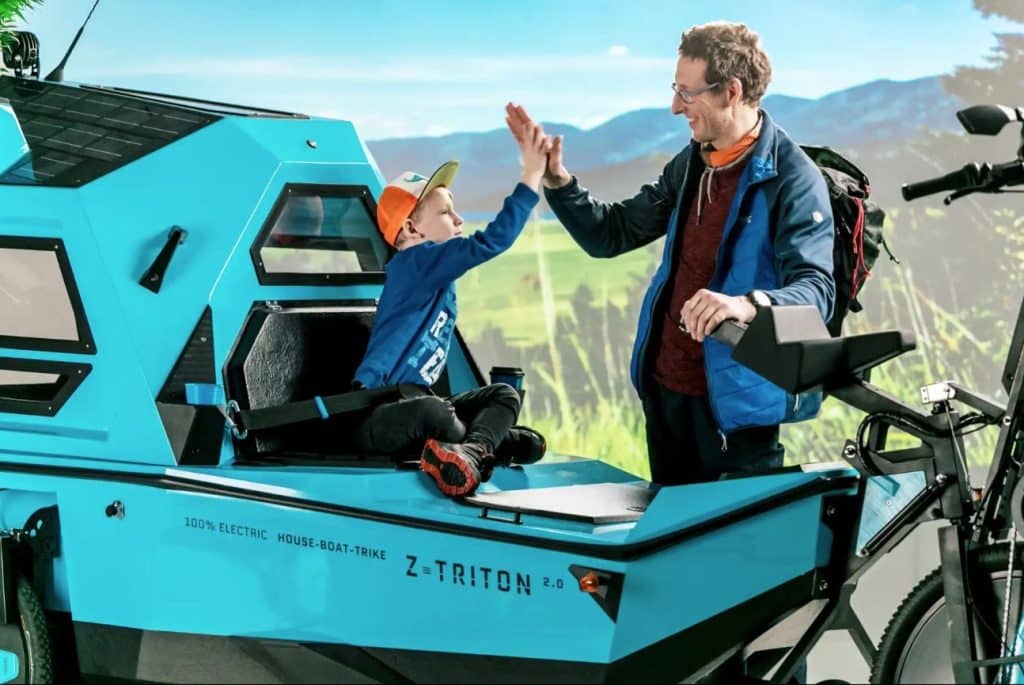 Standard and optional features
Lights, solar panels, horn, USB charging ports and the ability to house a removable pot plant come standard. Optional extras include an additional battery pack, decorative wheel discs, oars, folding table, towing trailer, radio and boat fenders.
Pricing and how to get one
The current price estimate for the BeTriton is EUR 14,500 (AUD 21,420) and the company is currently taking pre-orders and also renting them in Europe for trial before it will be shipped overseas. For those put off by the price, plans for a lower cost DIY kit are in the works to be available from late 2023.
Sustainability
BeTRITON has a positive CO2 footprint and aims to be the most sustainable RV on the market
100 per cent electric with integrated roof solar panels.
The body is manufactured in organic fibreglass
Polyester is made from recycled PET bottles
A number of parts are large-format 3D printed with bioplastics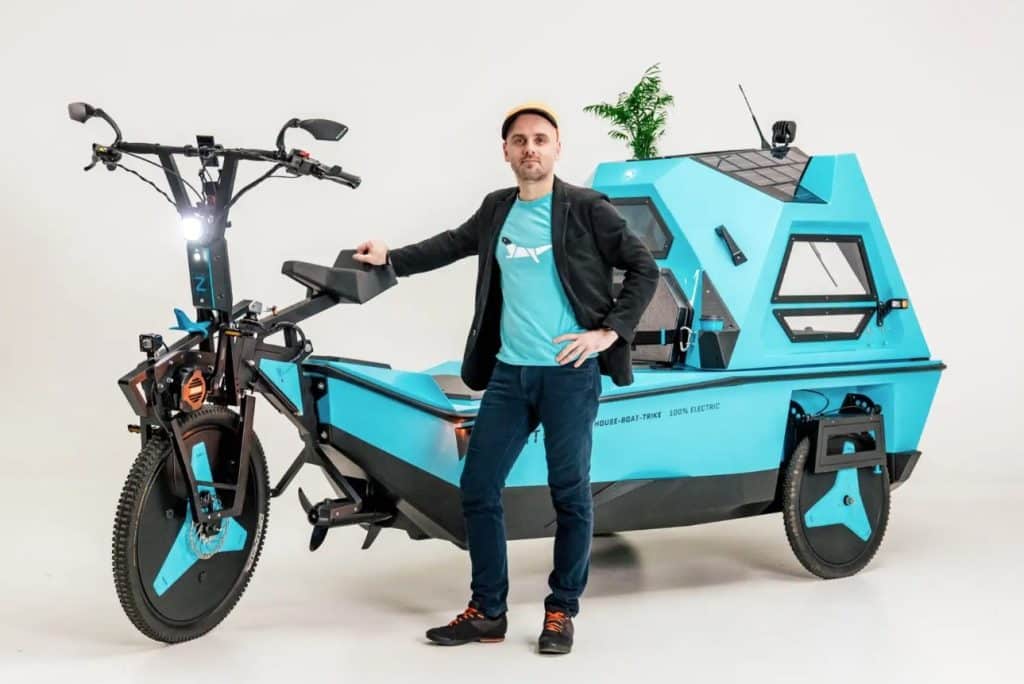 Do I want one?
I love the idea but I personally wouldn't use it enough to warrant dropping over AUD 20k on it. I would absolutely rent one for a long weekend or a week-long adventure in Australia though and I can see this being a great idea for tourism operators near rail trails and freshwater lakes.
Background
Aigars Lauzis is the founder of the BeTRITON and came up with the idea of an amphibious e-camper while staying a few months in Shanghai as he cycled from London to Tokyo. Read more about how the BeTRITON has evolved.