Imagine making a living from your campervan, waking up to the sweet spot of your choice, and having the freedom to explore those open roads whenever you fancy it. That's the dream, right? 
We caught up with Australian-based Digital Nomad, Chelsea (otherwise known as @travellerbytrade). Originally from Canada, Chelsea has spent the last 5.5 years living, working and adventuring in her campervan, Vanny Devito. Read on to get a glimpse of Chelsea's life on the road, including challenges she's faced as a solo traveller, tips for running a business remotely and her favourite campervan equipment.
What vehicle do you have and why did you choose it?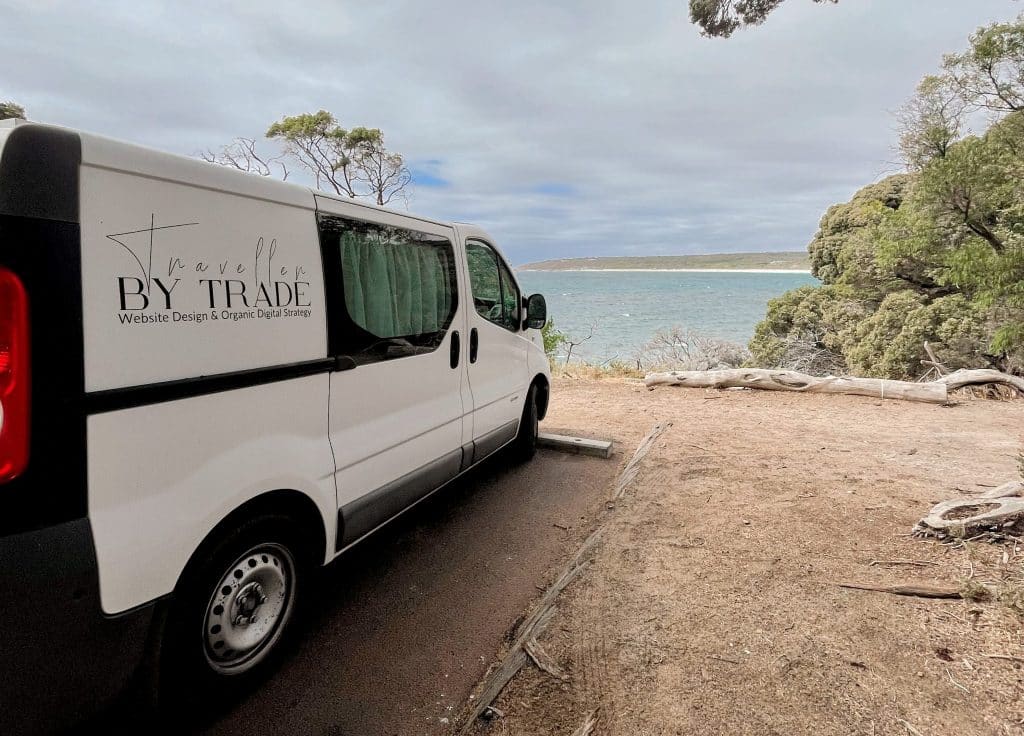 Vanny Devito is a 2016 Renault Trafic with an EcoDiesel engine. Initially, I wanted an automatic (I can't drive manual vehicles) and a Diesel engine. I was after a van that could serve as both a self-contained tiny home on wheels and a daily driving vehicle.
When my business went through a big growth spurt I decided to move into a house. That gave me a home office as well as Vanny Devito for weekends and mid-week trips.
She's fully set up to spend a day working down by the beach or the river. When running a creative business there is nothing better than working out in nature when it calls! In the end, this van just ticked most of my boxes. I also bought the van and did this conversion in the midst of covid when vans were VERY expensive in Western Australia.
Did you convert your van yourself?
I didn't! I did design the van layout, but I had a builder do the fits for me. This is actually my third van – my first was a very small and quite questionable backpacker van that was already fitted out. My second van was given to me by a mate and it needed a LOT of work. I attempted to do all of the interior renovations myself while running a business, but in the end, my handy-women skills just weren't what they needed to be. Then covid hit and I decided to move back to WA so I sold the van. Once I moved back to WA and decided that I wanted a van I knew it would be best to get a builder on board. The whole build was only about two months. If I attempted to do it myself, she probably still wouldn't be finished.
What made you decide to try out van life and how is it going?
I love road trips and tiny living! Before coming to Australia, I had driven across Canada five times and loved it more each time; I knew this was the perfect way to see the country. After years of living out of a 60L backpack, having a van was actually pretty spacious.
Right now I've got the best of both worlds – a house that I share with two of my best mates where I have a bedroom and shower and home office, and then my van for camping trips, road trips, and days working from the river or the beach. It's the perfect setup for me! I could easily go four to five days fully off-grid without needing to go into a town (which would only be to empty the portapotty and stock up on food) but Vanny Devito has everything else in this tiny little package! And she's great on fuel compared to larger vans, which is another bonus.
What is your favourite thing about van life?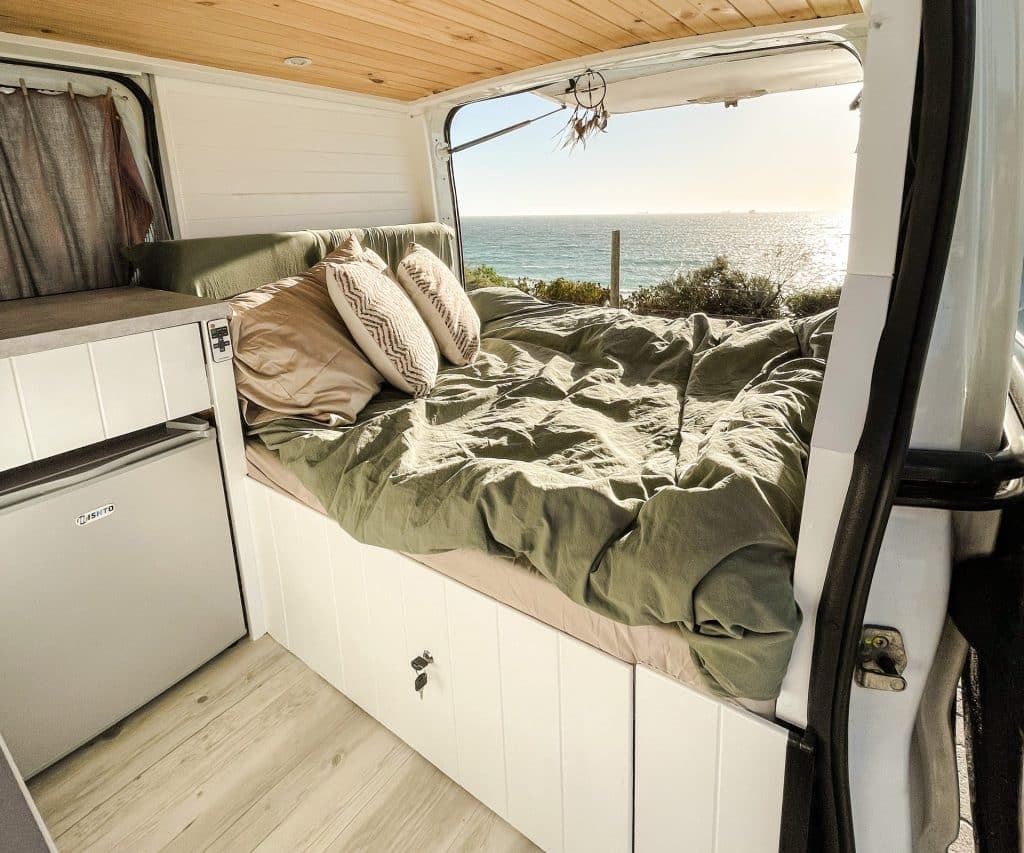 Freedom. And living tiny/minimal. There's no better feeling than pulling up to a spot along the water's edge and laying in a comfy bed with a tea while soaking in the view. Right now, having a house and a van works best, but I am planning to go full-time in the van after my current lease ends.
What are your favourite pieces of equipment for your van?
I absolutely love that my van has a fridge. There's nothing better than a cold drink on a really hot Aussie day. Sand resistant towels are also a must! In terms of charging, I have solar panels on the van that keep the fridge, lights and my power socket going. This stops me from stressing about my laptop dying, or my phone going flat.
Also a speaker! You can't go without music and beers with your mates as the sun sets. And never, ever, forget the toilet paper. As a woman, it's a must, but my partner has been pretty happy I've packed it more than a few times!
When we're out in his 4WD the double swag is essential of course, and the max tracks because we have a tenancy of getting bogged.
What is it like running a business from the road?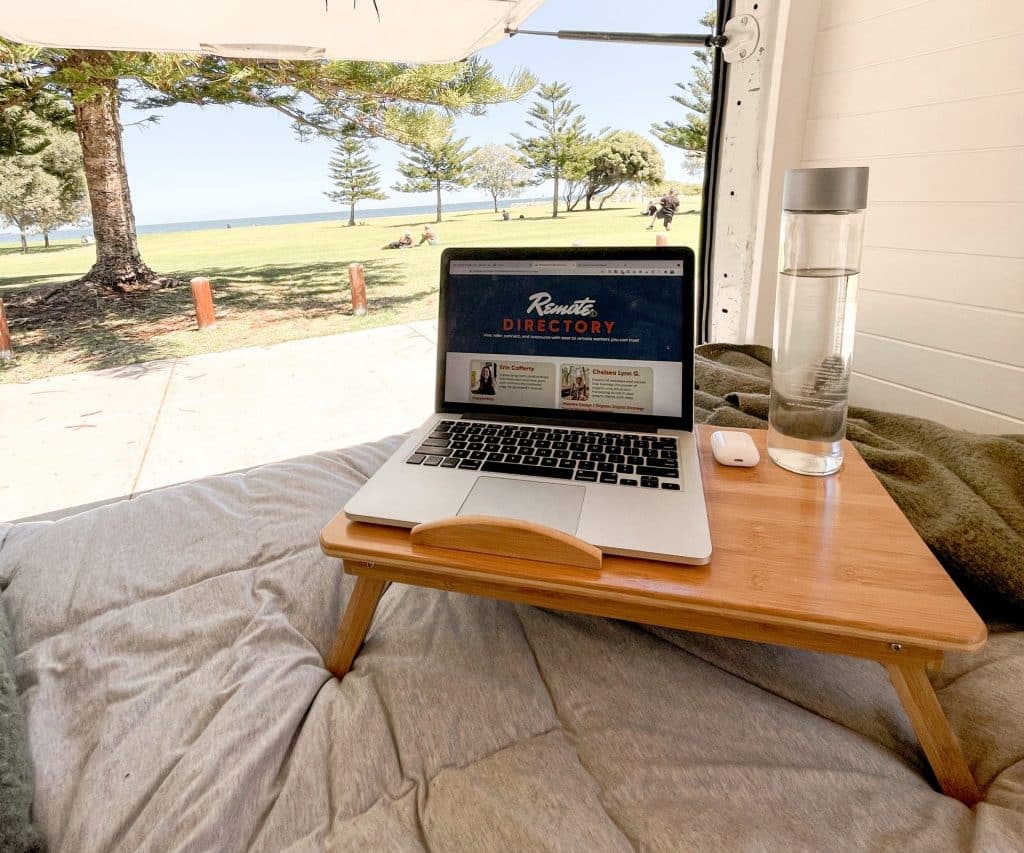 It has its challenges for sure. The biggest is juggling time management with a desire to explore where you are at the time. And then, of course, the logistics of power, Wi-Fi, a desk set up etc. I've got power in the van and a pop-up bamboo desk, and I sometimes work from libraries or cafes.
It takes some getting used to, but once you're able to get into work mode from multiple locations and block out distractions (like the big beautiful beach across the road I can see in front of me) then it makes it easier to run the business. I love change, and I get bored easily, so some weeks I won't work from my home office at all because I need a change of scenery.
Do you have any tips for others looking to do this in the future?
I would say get really good with time management. If you're travelling, set a specific time to get your work done. Also, make sure that you're clear with your clients and express your work style in your business's branding and ethos. I've worked with clients in eight different countries – and even more time zones – but we all have businesses where this is very common, so it works very easily for us. If you want to be location independent, make sure that you can ebb and flow as needed, and yes, sometimes that means an 8 pm client call, but it's all part of the fun.
Where's your favourite place to park up?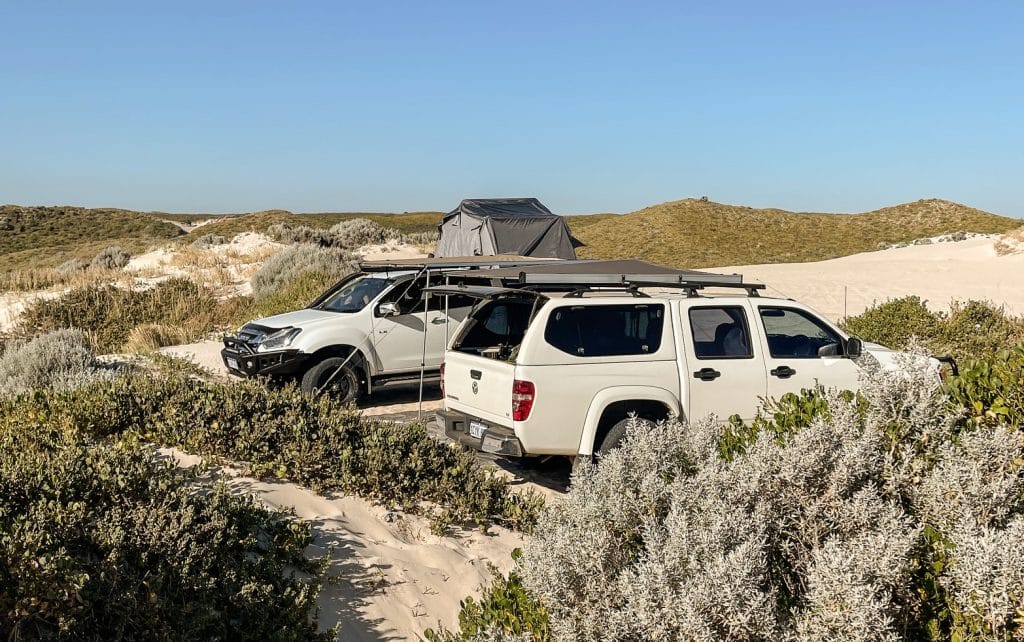 I live in South Fremantle in Western Australia so the South Beach car park is a favourite. I've got a few spots near the river and a bit further north of me just up from Leightons Beach that has some amazing views.
When we're out in the 4WD we tend to head north to camp on the beaches or go down to Collie where my partner is from. When I did my road trip from Brisbane to Perth, the Blue Mountains had some AMAZING free camp spots that I will for sure be visiting again. And the spot along the Great Australian Bight down south cannot be beaten – it's hands down the best camp spot I've ever stayed in.
Have you faced any challenges on the road?
Being a (mostly) solo female traveller comes with its worries, but for the most part, it's not been too bad. If I'm alone I only park overnight and sleep in areas where I have cell phone service and always lock everything up. My current van has been designed so I can move from the back to the front seat without having to leave the van, which allows me to drive away if I find myself in a dangerous situation. Other than that it's just the worry of hitting roos – which I've only done once, and was in the middle of the day. It was the worst experience…
How can we follow you?
I am @travellerbytrade on everything. I use Instagram and TikTok the most and then I've got my website and business Facebook and LinkedIn pages that I remember to update from time to time.