A Royal Flair: The Piazza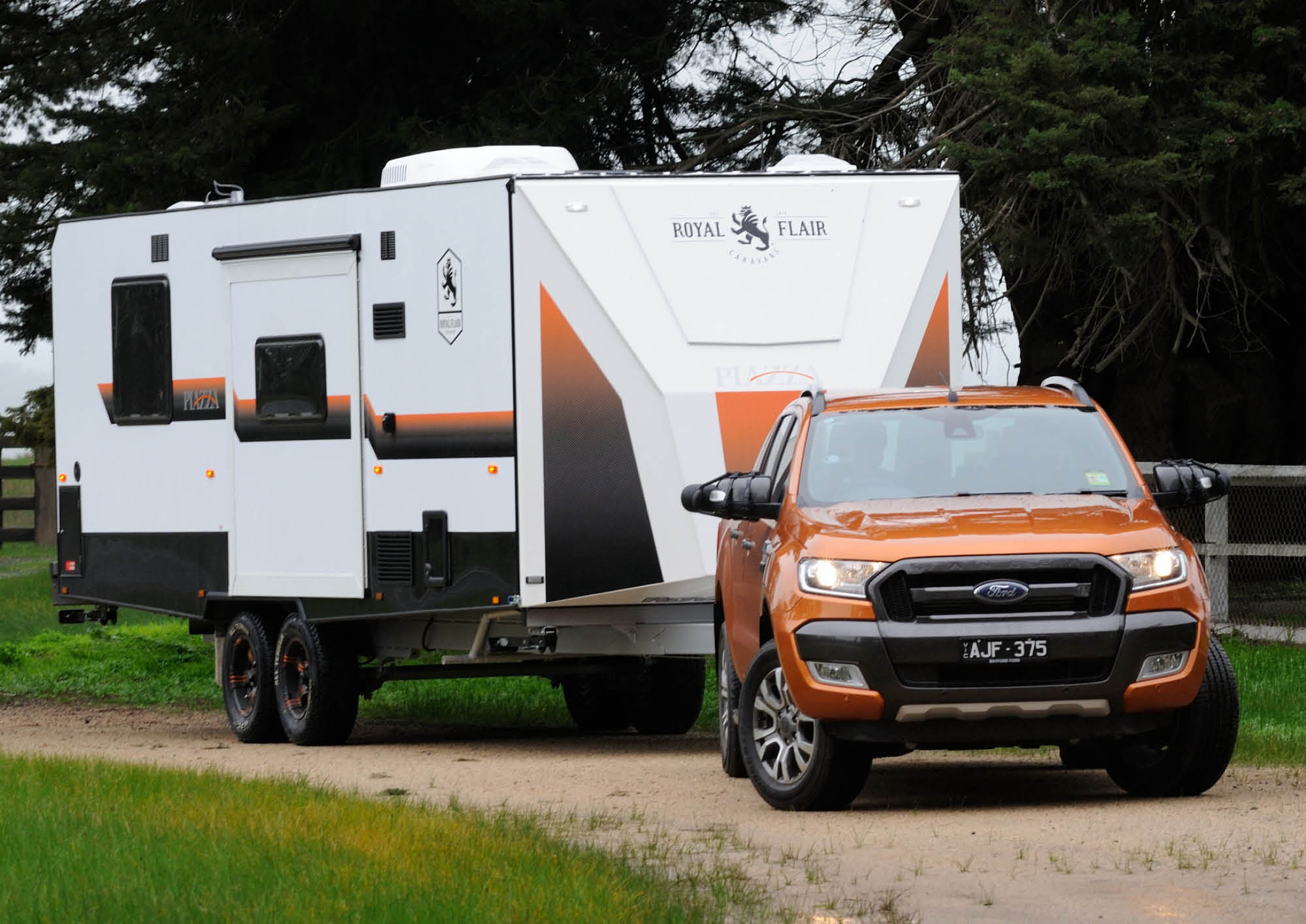 In a huge 'first' for Royal Flair Caravans, the introduction of a slide-out… which when added to a Piazza equipped with a front deck is impressive. RV Daily managed to grab the scoop on this new van.
Read this story, complete with images, in our online magazine.
First things first, I have to say I am not responsible for the headline – it's the brainchild of new owners Geoff Newby-Butt and Amanda Plumb who will be sharing their adventures online as they live in their new van full-time and travel around the country. See page 49 for the story on the excited travellers-to-be.
Royal Flair has been around for 41 years and has a proud heritage of building vans of all shapes and sizes for Aussie travellers.
When I chatted with Royal Flair head honcho Bill Deralas, he was very animated as he explained that this Piazza with slide-out was so new that no-one has seen it out in the field. He's kept it under wraps from the public and is very proud of Royal Flair's first slide-out design.
What first excited me about Royal Flair was when, back in 2012, the company introduced the Piazza range of vans with a front Sky-Deck that dropped down over the A-frame. This created another living space and brought the outdoors inside. The extra space is awesome, and protected against the elements; it's always a big talking point in van parks.
The photo shoot for this scoop was super tight on timing, and was rushed through as an exclusive for RV Daily. Melbourne (like most of the east coast of Australia) had been battered by high winds, driving rain and bitter cold over the previous couple of weeks – so the timing could not have been worse.
We had one day available to meet the new owners and get their new vehicle and the van together as a package for the first time, along with Bill from Royal Flair. We were pushed to extremes, in extremes, to make it happen. We endured horizontal rain flying past us while fitting up the hitching gear and extension mirrors, and setting up the vehicle to tow properly before we could take it on-road. Did I mention everything got wet?
The interior shots were easy, as it was warm; and even the enclosed Sky-Deck was protected from the elements and so was toasty. Hooking up outside, though, was the polar opposite. It just shows
RV Daily is prepared to go to any lengths to get a scoop… and I hope Pat reads this because it took several hours to regain the feeling in my fingers
and toes.
After all that, I should mention that the real scoop is not the Sky-Deck; the big news is the slide-out and that it's the first that Royal Flair has added a to a van. And boy, it's been done well.
Inside
The interior of the Piazza resembles an upmarket apartment: Gloss white finishes, black leather and contrasting trims are very tastefully done. Add to that some hidden LED mood lighting and plenty of windows for natural light, and it all combines to create an interior with a quality feel.
What makes the inside of this van roomy is the slide-out which encompasses a club-style dinette that will easily seat four adults. A tri-fold table extends yet there's still plenty of room to move.
I liked the slide-out which is very neatly trimmed, with some clever use of mirrors and white etched-style panels to create a very classy look.
The kitchen is opposite the dinette and runs from the front door to the bedroom at the rear of the van. The kitchen is jam-packed with storage options. There is a slide-out pantry, drawers and plenty of overhead space to fill.
The sink is quite large and there's just enough bench space to be practical. Cooking is enabled by a fan-forced full stove and grill; and, again, the layout is cosy and easy to use.
On the left of the entry door is yet more cupboard space and a bench with a top-loading washing machine hidden underneath. On the wall above this bench is where one of three TVs can be mounted.
Opposite the bench, on the driver's side wall, between the dinette and the toilet room, is a
two-door, three-way fridge with a microwave
neatly mounted in the wall above it.
Turning towards the front of the van is a hall that leads to the Sky-Deck. On the left side of the hall is a shower room, which is a good size and really practical.
On the right is the toilet room with a swivel toilet and an attractive basin on a cupboard pedestal. A good-sized mirror is excellent for grooming, and there are overhead cupboards for storage. The hanging space for the towels is on the back wall of this toilet room.
The final room to admire is the bedroom. Geoff and Amanda wanted the back wall to incorporate a wardrobe and storage so they requested the bed orientation be changed to an east-west configuration. Cupboards abound around a queen-sized bed. This is a very practical room. The owners chose to cover in the back wall behind the bed, and a smart-looking bedhead makes this space
very sassy.
Overall the interior features way more than we have space to write about. Suffice to say it's practical; it's classy; and feature-packed.
Outside
From the flashy decals to the smooth composite body, the exterior of the Piazza looks great. There are lots of extras including an entertainment hatch for the second of the TVs, a picnic table, an access door to the under-bed storage space and a rear hatch on the passenger side hiding the barbecue; while on the opposite side the gas bottles are tucked away.
There's a robust drop-step, an awning and all the usual plugs, LED lights and speakers as expected on a van of this ilk.
The Sky-Deck forms the front wall of the van when not folded out to create the extra exterior space. It only takes minutes to set up this room and I can verify that the optional screens really keep the occupants protected. I just love this idea.
To carry this body, a tough chassis with two-inch raiser creates the spine with a flat floor from front to back to allow the Sky-Deck to operate. Tandem load-sharing leaf spring suspension is employed along with 12-inch brakes, and 16-inch Trooper black alloy rims with bronze/orange highlights shod with All-Terrain tyres create a very workable on-road package. Safety-wise, ESC is also fitted.
Other features include drop-down stabilising legs – with one on the mesh A-frame replacing the jockey wheel when the Sky-Deck is folded down.
Around the body are plenty of windows and hatches to provide natural light and ventilation inside the van.
The exterior of this Piazza is practical and works well across the board. The choice of colour decals worked with the colour of the tow vehicle, which was all good luck rather than full-on planning. Having said that, when Bill heard about the colour of the Ford he opted to fit the black alloy rims with bronze/orange highlights… it's a nice touch.
This van is big looking, it's bright and it stands out. Which is exactly what Geoff and Amanda and Royal Flair wanted from the outset.
Our Royal Flairy Tale Begins!
In a fun twist to this review, we were able to spend time with the very excited new owners of the Piazza – Geoff Newby-Butt and Amanda Plumb. The couple are currently living in Western Australia. Geoff is an ex-Victorian and they are both looking forward to hitting the blacktop and creating some amazing adventures.
I started our chat by asking them what their plans are and where were they going with their new van? They both chipped in – so rather than split the interview, I have pieced both opinions together.
"Well, the first decision was that we both come from broken marriages so rather than buy a house, with the costs involved, at our age, and as we had no purpose for a house, we decided we didn't want the whole story that we had already done. We want to be like gypsies.
"We started looking at options… Winnebagos, fifth wheelers, caravans… and we decided that we didn't want to be climbing the walls after only a short space of time.
"We were quite keen on the idea of something that opened up, that got us outside within the bounds of the caravan. We then looked at Toy Haulers where we could be inside and out. It was by chance that we saw a review on the Piazza – and when we saw it, we new that was the answer.
"You've got to have that feeling of space and you've got to be able to get outside regardless of the weather.
"From there we met Bill at the Perth Caravan Show and, while exploring the show, we saw a van with a slide-out – which also creates the feeling of more open space in the van.
"We basically looked at so many vans and picked the best bits out. We went back to Bill and told him what we were looking for, and he said they could do it. Bill was receptive to everything. One concern we had living out of the van was not enough cupboard space. Initially Bill was concerned about turning the bed to east-west and creating a wall of wardrobes… however, once the layout was sorted he got very excited and basically filled every spare space with cupboards and we are rapt with what he's done.
"Our first trip is back to WA for a short time to meet work requirements for the next six to eight months, and living full-time in the van. Once we are sorted with that we will start exploring several areas in WA before moving around the country. Our plan is to follow the work trail.
"We've already had work offers to manage a caravan park. Another person has asked if we could work doing fencing with them. And it's with opportunities like that, that we'll just go from one place to another.
"Dealing with the mail and other stuff will be interesting. We've set the van up with Wi-Fi, which will allow us to do most of it. Mum lives here in Vic and she and my brother will handle the normal mail. It should work out well.
"We can't recommend Bill enough. He has gone above and beyond to help us get this van and vehicle working as a package. He's built exactly what we wanted and we can't wait to get on the road."
RV Daily will be keeping up with Geoff and Amanda as they make their way around the country, living… Our Royal Flairy Tale!
Verdict 
I really liked the overall look and feel of this Piazza. The interior is almost decadent and the choice of colours creates a sensual smooth feel.
The level of attention to detail is excellent as well; and to be perfectly honest I really didn't spot anything I didn't like. It is up there in the weight and price specs – however, there's a lot to show for both.
It does make it hard to not sound biased in any way… it's just that I really do like
this van.
Pros
Sky-Deck
Slide-out
Cupboard space
On trend toilet room
Overall design
Cons 
A grommet in the A-frame not fitted properly
A manual step (instead of electronic)
I am struggling to find more!
Specifications
Body length: 7.6m (25ft)
Body width: 2.35m (7ft, 8in)
Tare weight: 3100kg
ATM: 3500kg
Price as tested: $129,990 drive away ex-Melbourne