Winnebago revealed their e-RV concept
Winnebago recently revealed the e-RV, an all-electric zero-emission motorhome concept. The model is based on a Ford Transit platform but is modified with an advanced drive train and battery that also powers the entire living area system.
Michael Happe, Winnebago Industries CEO and president said, "This is an exciting time for Winnebago Industries and the outdoor lifestyle industry as a whole. We are proud to continue our innovation legacy with the reveal of the e-RV concept vehicle."
It's actually a pretty cool concept except for one problem: it's unlikely to get you to your destination if it's further than 201km (125 miles) away. In their defence, Winnebago has clearly stated this a concept and, given that it powers the entire onboard system with its 86-kWh battery, it's really no surprise. The range is due to increase as battery technology evolves and the concept further develops.
If and when these make their way to Australia, this driving range probably won't even get us to the next town, let alone a road trip. Basically, you can only go as far as 'just down the road' before needing to charge again.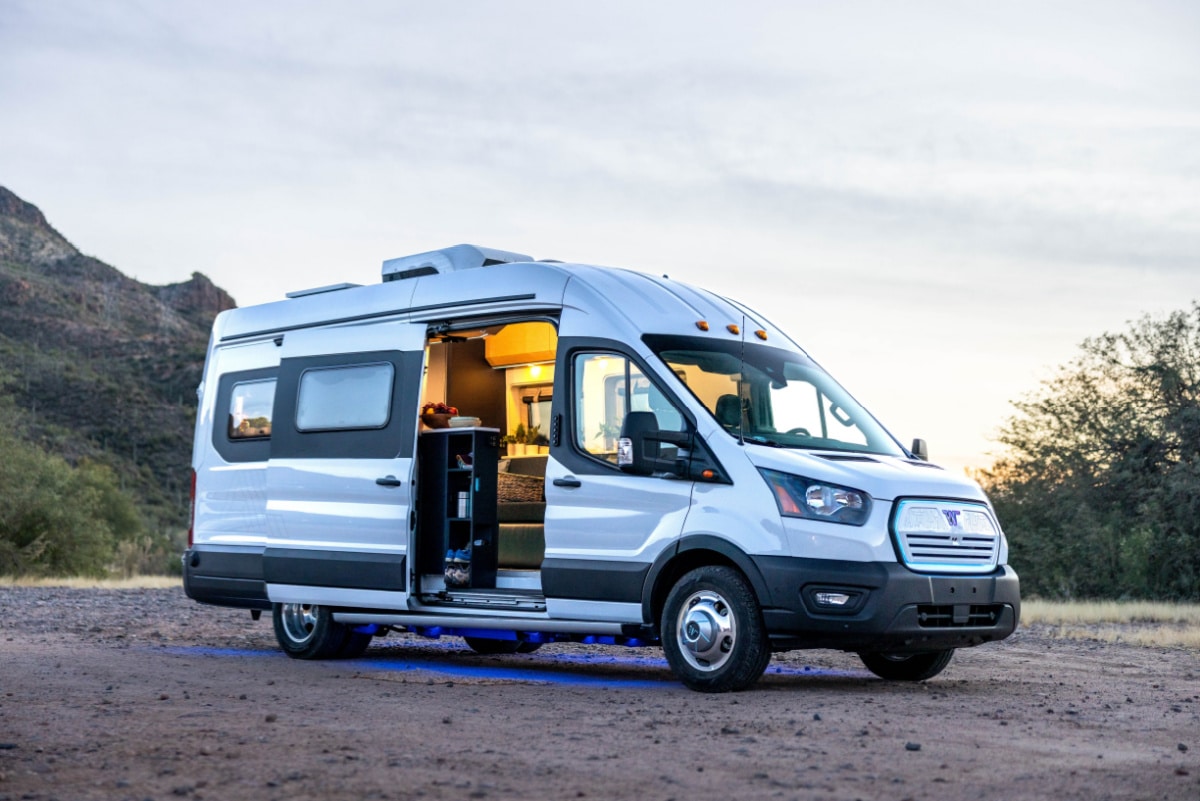 Here's what else we know about the Winnebago electric RV
Despite this, the Winnebago electric RV does have a few great things going for it. For starters, the battery can be charged at home, at campgrounds or at dedicated charging stations. Charging time is around 45 minutes at a high-current charging station. 
Of course, the amenities are aligned to optimise battery performance, but that doesn't mean cutting down on the luxuries. Each RV contains a marine-grade refrigerator, toilet, handheld shower head, hot water, slide-out induction cooktop, air-con and even wireless connectivity. You'll also find that eco-friendly and sustainable materials, such as recycled cork-rubber flooring, are used throughout the vehicle.
Remember, all of this is powered by the battery with apparently no fossil fuel used to run the vehicle or its internals. Impressive, right? When it comes to controls, you can monitor and control the subsystems through a touch screen control system or a smartphone app.
You can watch the unveiling of the e-RV yourself here:
When will the Winnebago e-RV be available?
The e-RV is really a concept vehicle for now; it's the beginning of Winnebago's journey into the electrification of their vehicles. So stay tuned!
Pssst ... Since we're discussing RV's, check out this round-up of cool RVs from the last two years!