RV Spotlight: Cool RVs from the last 2 years that scream "Shut up and take my money!"
The years 2020 and 2021 gave us a few things we didn't want (you know what I'm talking about) and a few things we didn't know we wanted. Sitting comfortably in the "things we didn't know we wanted" category are these quirky (and sometimes completely over the top) but cool RVs.
While we're unlikely to head out and buy these anytime soon due to their unavailability in Australia, I'm curious to see when and if we might start seeing something similar in the land down under in the next year or two.
So without further ado, here are my favourite cool RVs proudly brought to us by the years 2020 and 2021.
A double-decker motorhome with a lift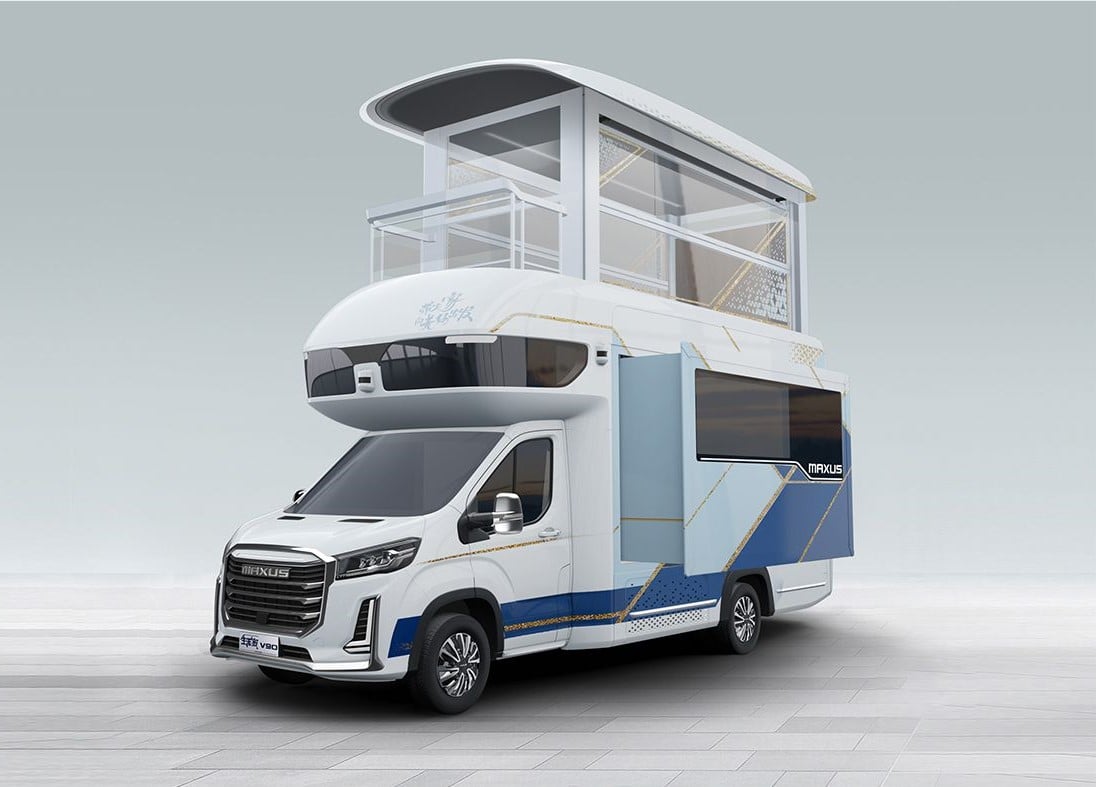 Chinese motor company SAIC made headlines in late 2020 with the SAIC Maxus Life Home V90 Villa Edition. This RV features a large pop-up top level with floor to ceiling glass walls and a standing balcony over the driver's cab. Don't worry, you won't have to climb up there to enjoy it as it has an inbuilt lift. If that wasn't enough, the glass itself adjusts between opaque and clear allowing you the options of both privacy and amazing views.
These cool RVs dropped into the market with a CN¥ 2.68-million price tag (around AUD $580,000) and although it's pretty fancy, it wouldn't be very practical in Australia. I'm not convinced a glass room will be anything but a sweatbox in the Australian summer.
The most adorable RV in the world
Korean company Daon TNT brought out the Ravy, in what is possibly the most adorable RV I have ever seen. Built onto the Kia Ray, it has all the usual stuff compacted into one small space measuring 3.59m (L) x 1.59m (W) x 1.7m (H). These cool RVs feature two beds, a kitchen, heating, electricity and camping gear storage.
The top pops up to give headroom and a folding mattress spreads right to the steering wheel with the front seats folded down. Folding the seats up effectively turns the mattress into a sofa of sorts. A slide-out kitchen with a single-burner stove has also been squeezed in but I'm not quite sure where you're going to store the actual food. 
The Ravy came onto the market at KR₩ 25.6 million (AUD $29,624) and although it's definitely squashy, I could see it working in Australia for budget campers. It would certainly make stealth camping a little easier to get away with.
A getaway that includes a gaming setup
USA company Outside Van came up with Mr. Blue Sky, a Mercedez-Benz Sprinter conversion that appeals to those who not only love the great outdoors but also video gaming
This 4WD van was a custom build for a family of four and includes a 32-inch TV on a swivel, custom cabinet to store gaming consoles, air-con, multiple HDMI, USB and power ports, surround sound system, upper and lower sleeping areas, 75l water tank, compact kitchen, solar and a hot water outdoor shower. Like many vans, the lower bed converts to a table and chairs during the day.
This is one idea I can actually see working, particularly for families. These guys make a lot of custom cool RVs!
This classy pooch-friendly RV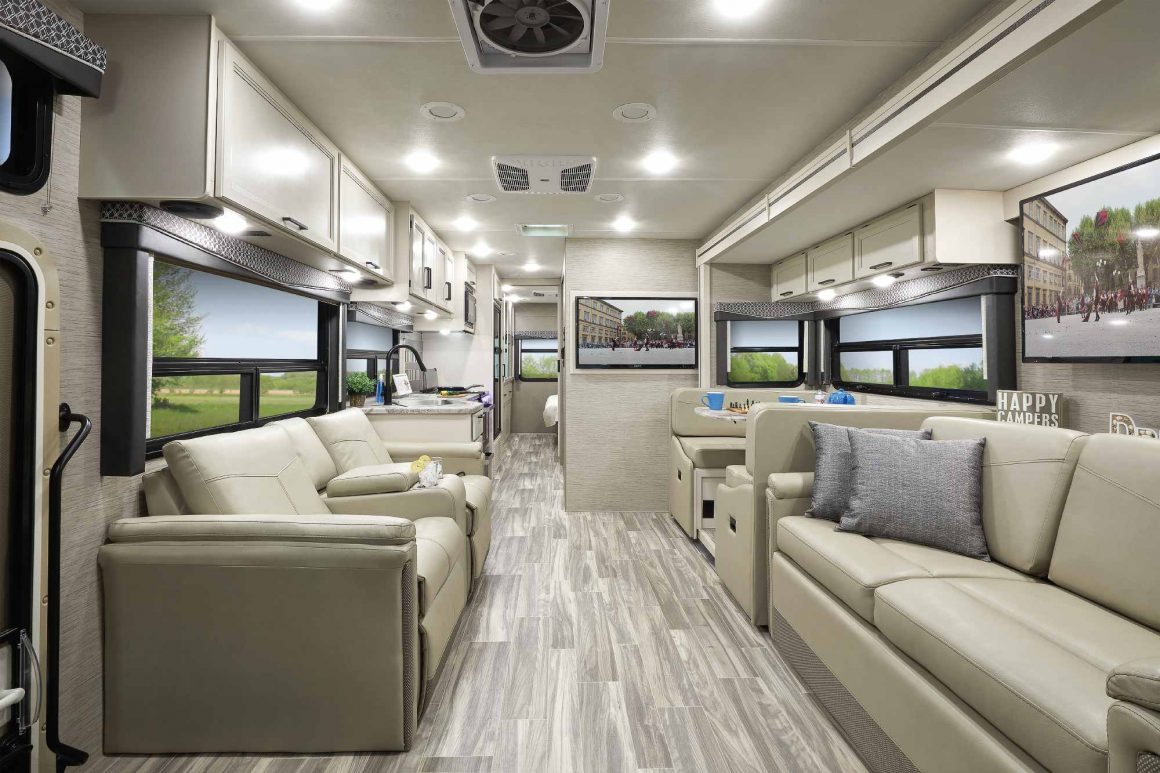 USA based Thor Motorcoach designed the Thor A.C.E., a pet-friendly motorhome designed specifically for families with dogs. There are now five different floor designs ranging in price from USD $172,500 (AUD $237,6700) – USD $187,500 (AUD $258,337).
Pet-friendly features in these cool RVs include pull-out food and water dishes, carpet free design, multi-purpose tie-downs for the campsite and a birds-eye window so your furry friend doesn't miss a thing. This RV is not just about the dogs though, humans can enjoy handy features like a mudroom compartment, two TVs, dinette, bunk beds, bathroom, aircon and even theatre seating.
This is one classy RV!
Possibly the most expensive RV in the world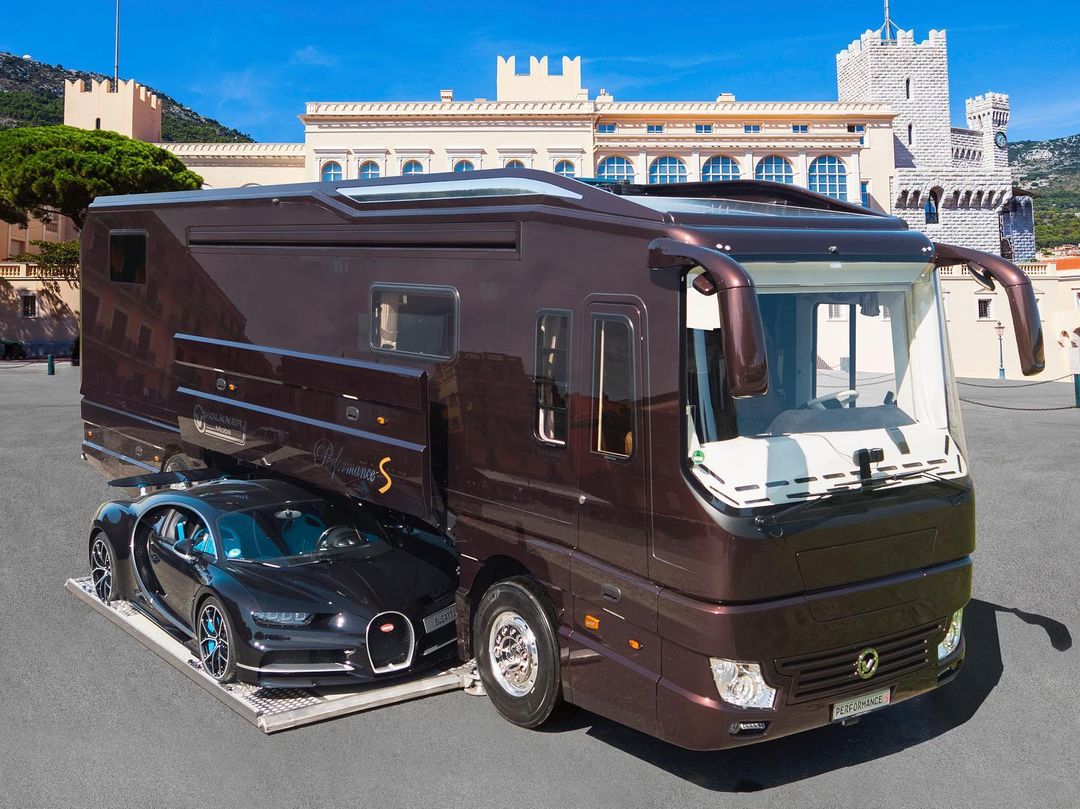 German company Volkner Mobil came up with what could possibly be the most expensive RV in the world.  The Volkner Mobil Performance S is a complete vehicle package that priced at €6.5 million (AUD $10.18 million) and when I say complete vehicle package, the price reflects the fact that it came with a Bugatti Chiron in its garage.
Yes, you read that correctly. This land mansion on wheels has a garage that contains a Bugatti Chiron. Of course, the rest of the features are jaw dropping as well. Although this is a luxury beyond my paycheck (or all of my paychecks for the next 169 years), I would love to see one of these in person in Australia. These RVs are cool, right?
Watch a YouTube clip of the Volkner Mobile Performance S here.
Tesla's space age addition to the cyber truck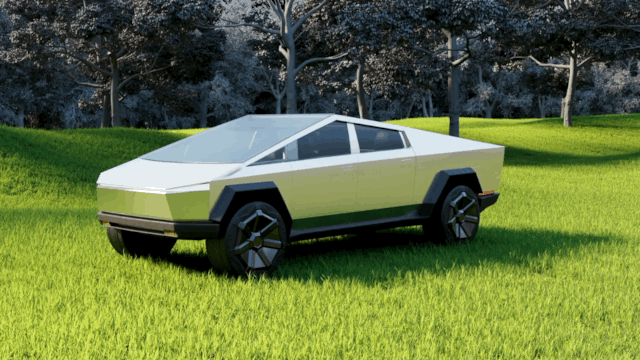 Tesla announced a camping addition for the Tesla Cybertruck in the CyberLandr which let's be honest, looks a little weird. Despite this, something about it makes me want to shout "shut up and take my money". The CyberLandr camper looks positively space-age but unfortunately, we won't see them come off the production line until 2022 at least. I would love to test out one of these cool RVs.
The Cybertruck conversion has a main sleeping, living and eating area as well as a kitchen. As you would expect from Tesla, the tap is touchless and can be voice-activated. Working remotely won't be a problem with a 32-inch flatscreen that doubles as a monitor and 500-watts of solar panels to keep everything going. It even has a heated floor!
I think the most interesting thing about it, besides the EV capabilities of the Cybertruck itself, is the way it pops up. It grows to over four times its travel height and also spreads outwards into the open tailgate. Apparently, the toilet is self-clean and dry-flush.  I'm not really sure how that works but I'm totally fascinated.
It's hard to say if we will see this anytime soon given that the autopilot features of the Cybertruck aren't yet legal in Australia.
Pssst – You can read a little more on the Tesla Cybertruck's features here.