Nissan tow ratings are rubbish, and we show you why.
We've all known that tow ratings are a bit murky for quite some time now, but we've just stumbled across the video we've linked below, about how off Nissan tow ratings are. It would seem that you can get in a bit of strife if you just follow the dealer's sales pitch, so you'll need to be a bit more diligent if you're driving a Nissan (or any dual-cab ute, really), or you're looking at buying a new tow rig. Have a read of our GCM/GVM Madness yarn here.
Massive thanks to Robert Pepper for the video that pulls the Nissan schmozzle apart.
Whoopty-doo, what does it all mean, Basil? 
Where this gets rather interesting, is that depending on what your tow-ball mass is, you must reduce your Gross Vehicle Mass (GVM) capacity by a certain amount. Sure, you might be thinking, if we've got a 300kg tow-ball mass, I should reduce the GVM by 300kg, right? That's not entirely accurate.
Have a look at the photo below, and it will give you an indication of what you need to remove from the GVM, bear in mind, that you also still need to incorporate the towball mass in the GVM calculation.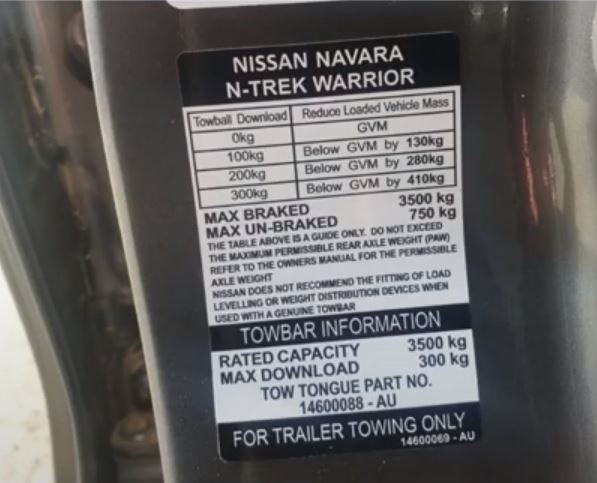 With the Nissan Navara N-TREK Warrior, as an example, if you're towing the max towing weight of the Navara, say 3500kg, and you have a towball mass of 300kg, you actually need to remove 410kg from the GVM, not 300kg.  We assume that 410kg includes the 300kg TBM, as otherwise there'd be next to no payload left because if it isn't, with the 300kg of towball mass, and what was once a payload capacity of 941kg, has now become just 331kg. Mind you, that 331kg is based on kerb weight. No passengers, no bullbar, no dual battery, no luggage. Believe us when we say you'll go over that quicker than you'll realise.
What this comes down to, and we've picked Nissan tow ratings here as it was an easy target with their 'lower GVM twice for towball mass' stickers, nearly all dual-cab utes suffer from being unable to tow their claimed maximum tow capacities in real-world scenarios, to varying extents. Once you're pushing weights toward the tops of their capabilities and legal limits, you'll start seeing shortcomings, which just reinforces the rather silly 'one-up-manship' of vehicle manufacturers. If you're looking for a new tow rig, make sure you keep this information in mind when looking.
The Nissan's are a rather nice bit of kit for the money, and so if you're not planning on going near the GVM or max towball weight, then you should be fine. But weights, as always, are important!