Have you got your tickets to the Supershow? The BIG ONE is almost here and consumers are being urged to get their tickets early!  
After 14 months with no physical caravan and camping shows, Caravan Industry Victoria is ecstatic to welcome consumers back to Victoria's longest-standing industry-operated show, the Victorian Caravan, Camping & Touring Supershow, which is fast approaching-starting this week from May 13 to 16 at Sandown Racecourse. 
This year the Supershow is not to be missed! With the amazing opportunity to capitalise on holidaying at home, consumers can compare and explore everything in one place, and like any other year there are specials galore among just under 200 Exhibitors and the Passport to Freedom Competition is back too! 
CEO Rob Lucas said "This year is a year where we can showcase what our amazing industry has to offer to those who love the industry and those who are exploring it for the first time. We have seen significant growth in the industry in the last 12 months from a manufacturing and sales perspective, so it shows that consumers are loving the lifestyle on offer".  
According to figures released by the Caravan Industry Association of Australia in February 2021, a total of 2,154 RV units were produced in Australia, which is 10.2% higher than the previous year's figures. A total of 3,628 units have been produced year to date, a 15% increase compared to the same period in 2020".  
Caravan Industry Victoria's industry research has demonstrated a shift in the Victorian Industry market segment since pre-covid times. "We still have our Grey Nomad/Senior Adventures who invest significantly into the industry; however, a great shift is younger Victorian's, in particular, are ready to 'get outta here' in a caravan or RV and they want it to be their lifestyle"- Said Lucas.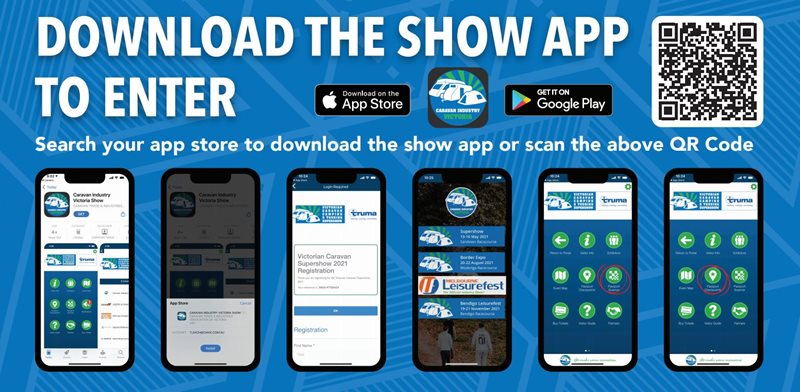 This has been encouraged by the pandemic and a want from consumers to reconnect with travel, gain a great work-life balance which includes family holidays and short trips with friends. It's easy to get away locally for a weekend in a caravan, RV or even with a tent.  
Anyone planning to attend the Victorian Caravan, Camping & Touring Supershow will need to pre-purchase tickets online, there are NO tickets at the gate. Both Saturday and Sunday only have 50% of their ticket allocations left so we encourage everyone to get in early! 
Important COVID Information.
The Victorian Caravan, Camping & Touring Supershow is approved to operate by the Victorian Government. As part of the approval for the Supershow to operate there is a capacity limit.  
Each day the Supershow can have 7,800 people in at any one time, and up to 12,000 per day. This may mean there are wait times if the venue reaches the capacity limit. We want to assure consumers we will communicate with them each day of the show when limits are being reached so they can plan accordingly. Please follow our Facebook Event and check in on updates at www.caravanshow.com.au
Related: Get your batteries checked before winter