Trek is one of Australia's most popular RV displays for caravans, motorhomes and campers and it has been revamped with a new look and additional optional functions for 2021. Now it's part of BMPro's Odyssey system.
The Trek is a wall-mounted display that connects via cabling to the BMPRO BatteryPlus35 series. The Trek displays critical battery information that assists travellers with understanding their battery capacity as well as the estimated time remaining based upon the loads which are being used.
According to BMPro's Olga Kustove, the ability for the customers to understand their power loads and requirements, including the energy inputs such as auxiliary from a car or from solar, assists especially when travelling and camping for extended periods off-grid in the bush.
The all-new Trek3 version has been redesigned aesthetically and now has an improved layout and style. All the original functionality remains such as the display of water tank status for four tanks, battery condition and vital 12V information along with the ability to activate two water pumps and even disconnect the battery to protect it from discharging when in storage.
The really exciting news is that Trek3 is now offered with the OdysseyLink which enables displaying all the information both on the wall-mounted display and on the mobile phone via a free Odyssey app. It also takes in all the inputs from the SmartConnect range which allows travellers to understand even more critical information for a hassle-free adventure.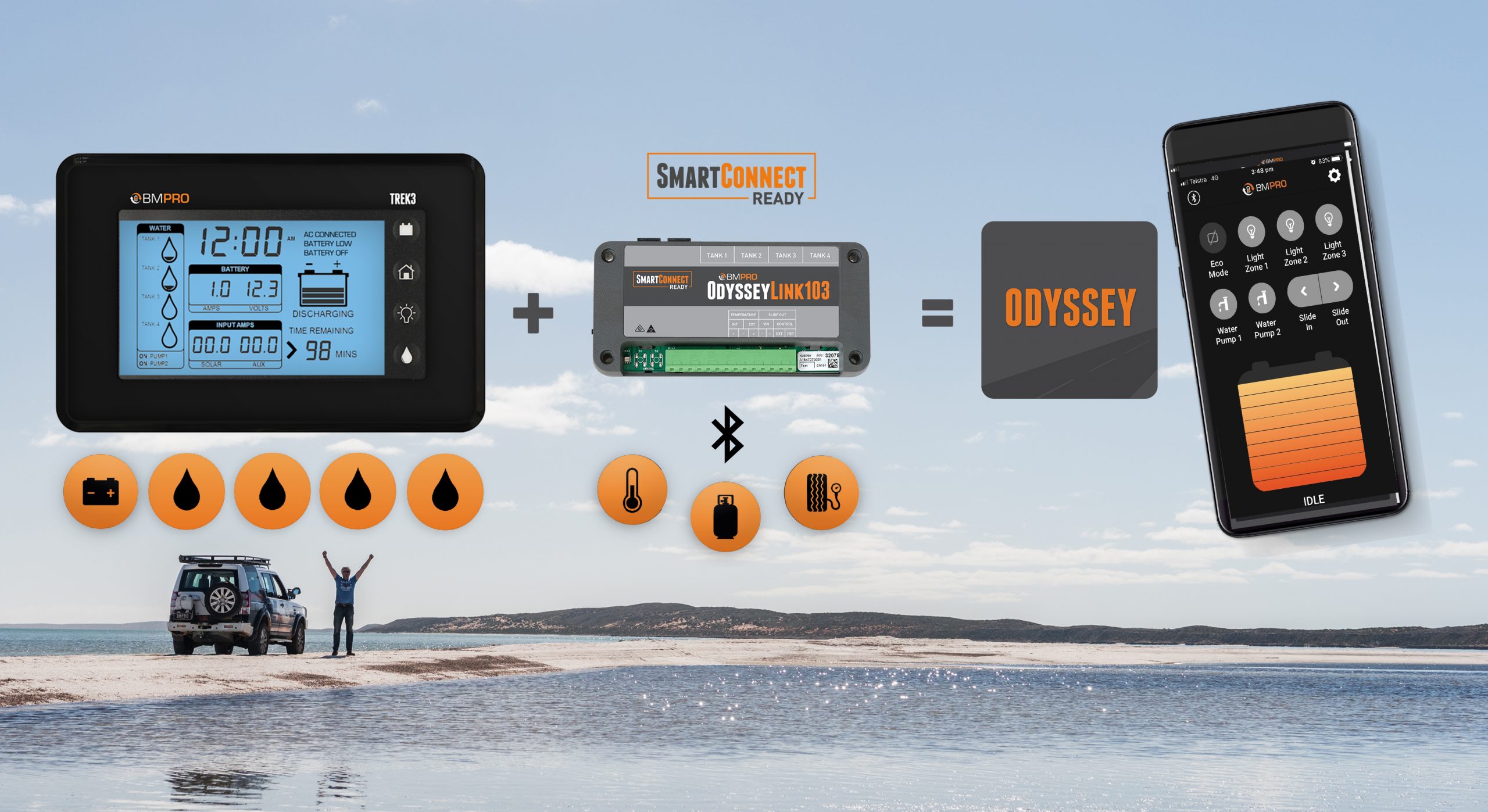 Do you want to know how much propane is left in your gas bottles? Simply use the SmartSense gas bottle level monitor. Do you need to monitor the temperature in your bedroom or a fridge/freezer? Just add in as many SmartTemp temperature sensors as you need. And for ultimate in caravanning safety, you can add the SmartPressure tyre pressure monitoring system (TPMS) and instantly see the critical temperature and pressure or your tyres. All the information from the Bluetooth sensors can also be displayed in the Odyssey app.
For an RV tech-head like me, this is all very exciting news. With more Bluetooth sensors added in the near future travellers will have more and more options to stay in touch with what is happening with their RV, still using the reliable, simple to use and proven by years of operation by thousands of caravanners in Australia wall-mounted monitor Trek.
For more information, visit the TeamBMPro website.
Trek3 with OdysseyLink – a new world of SMART RV!