If like me, you're a bit of a tech-geek especially when it comes to caravan electronics, then the latest news from BMPRO about their new Odyssey phone app is likely to spark your interests.
The Smart RV Odyssey, designed and manufactured by BMPRO locally in Melbourne, has just been enhanced with a new phone app that enables control and monitoring of caravans directly from the user's mobile phone
Odyssey app is available from Apple App or Google Play stores – caravan owners are now able to download it at no charge to their smartphones. The app enables users to control and monitor their caravan battery and water tanks, as well as to operate caravan onboard features such as slideouts. Further, the app is now SmartConnect ready, allowing the addition of multiple Bluetooth sensors to monitor temperatures, caravan tyre pressure and gas bottle levels from the same Odyssey app.
Moreover, if a BatteryPlus35 (revision 12A or later) and a Trek are already installed, by adding an OdysseyLink103 the caravan turns into a Smart RV, offering convenience at the touch of a screen, with all the latest technology accessible from one app.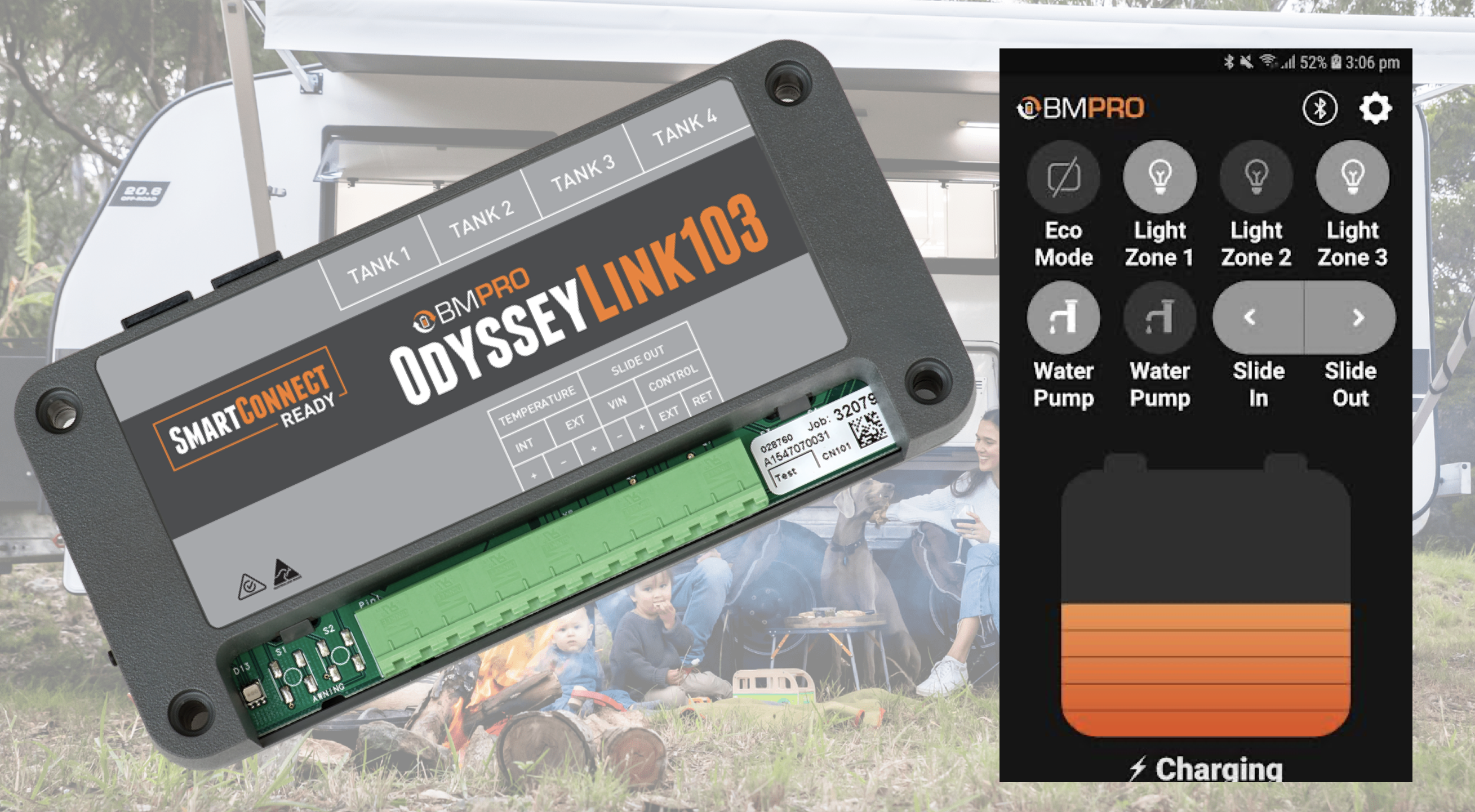 How Odyssey Works
To use the app, the customer pairs their mobile phone with a smart hardware device called the OdysseyLink103 via Bluetooth. The OdysseyLink103 is connected to the BatteryPlus35-II power management system. OdysseyLink103 is supplied standard with all 2020-2021 caravan models equipped with BMPRO power management systems.
It can also be retrofitted to an existing BatteryPlus35 power management system (check BMPRO website for version compatibility). Odyssey app is compatible with Android 4.2 and above and iOS 11 and above.
BMPRO offers a range of videos available on BMPRO YouTube channel for detailed instructions on upgrading the system, pairing OdysseyLink103 with a mobile phone, using SmartConnect Bluetooth sensors with the Odyssey app, and more.
More information on the Odyssey app and product manuals are available via BMPRO website.