Travelling full time is a romantic notion but it's not all beer and skittles.  Here's how to make it work, by those that already have.
Do you have the dream of travelling full time? You see all these great blogs and Facebook pages of families, couples and singles travelling around this great country. It all looks like sunshine and fairy-floss, but I am going to burst your bubble and let you know that it is not always like that.
First of all, if you intend to hit the road for 12 months or longer, you can't just jump in the caravan and take off into the sunset like Thelma and Louise. If only life was that simple. There is a lot to prepare. You have the made the big decision to travel full time, and now the reality of it is bearing down on your shoulders.
There are stages to travelling and coming up to nearly three years of full-time travel, we have experienced them all, plus some. So, let's break them down. Disclaimer: I will use the word caravan, but I also mean camper-trailer, tent, motorhome, rooftop tent or any other type of mobile house.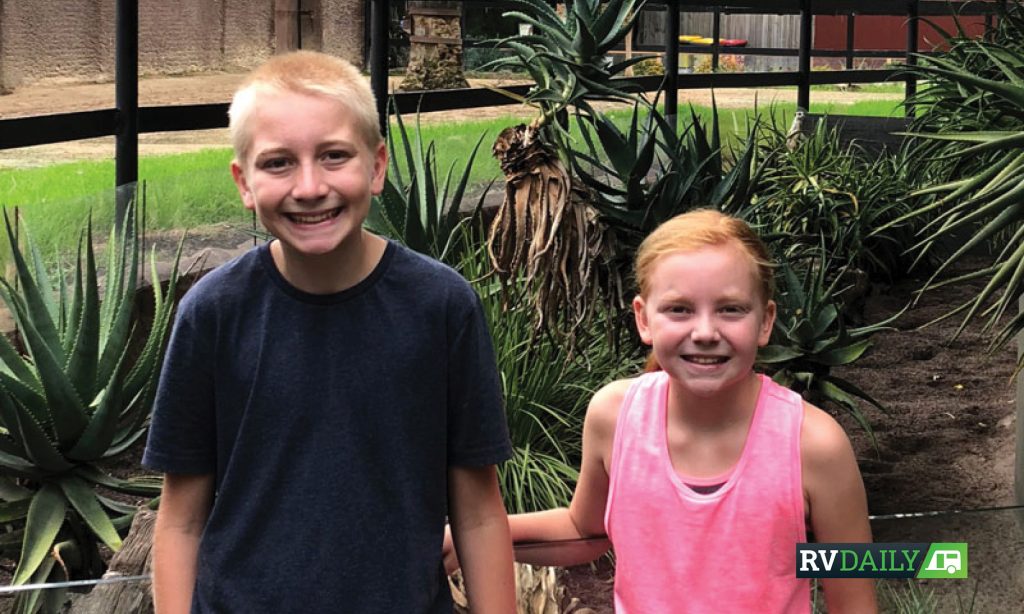 Preparation Stage
Caravan/Car – If you don't already own them, then this will be the first thing you need to make a decision on. Understanding weights (your chosen car and caravan), solar, batteries, towing abilities (undertaking a course is worth considering), towing mirrors and how you want to camp are important when making this decision.
School – How will you school the children, if they are school-age? There are distance education and home-schooling. There is also the option to get an exemption from school if your principal and state/territory allow this.
Packing up the house – Whether you are selling the house or renting it out for the trip, you will need to pack up your belongings, and with this comes decluttering and downsizing. This is an emotional time, so take it one room and one day at a time; it can be rewarding to let go of things. Garage sales, Facebook Marketplace and local car-boot sales or Facebook buy, swap and sell pages are the best way to sell things you no longer want or need, and also helps to add to the kitty. Op shops are also very happy to accept your donations.
Postage – A few months prior to leaving, start getting everything that turns up in the letterbox to turn up electronically. Yes, council rates, water bills and everything else can be sent to you via email. It is also a great idea to organise a trusted relative or friend to receive any mail for you, in which case you will need to put an address redirection in place.
Insurance/Registration – Our insurance and rego had been paid for a year prior to leaving, so we put aside the next year's insurance and rego money as well. This way we knew that we were covered if we stayed on the road longer than anticipated. Lucky we did, as we never thought we would be on the road for over 12 months, let alone staring down the fourth year.
Packing the caravan – This is where you will get frustrated. We moved from a huge house into a 25-foot caravan. The kid's playroom was bigger than our van! You only need to pack what you need for the number of people in your van. You do not need those 20 dinner plates and 30 coffee mugs. Pack enough clothes for a week, plus a couple of extras like a jumper, jacket and hat. Give the kids their space, and let them pick a few things that will fit that space. It will become the things they play with when tired, missing home or on a rainy day. Then weigh it with all your gear and with water tanks full. The bad news is, you will probably repack the entire van three or four times before you get the weights right. It is a wise idea to do a short trip prior to leaving so you know you have what you need in the van.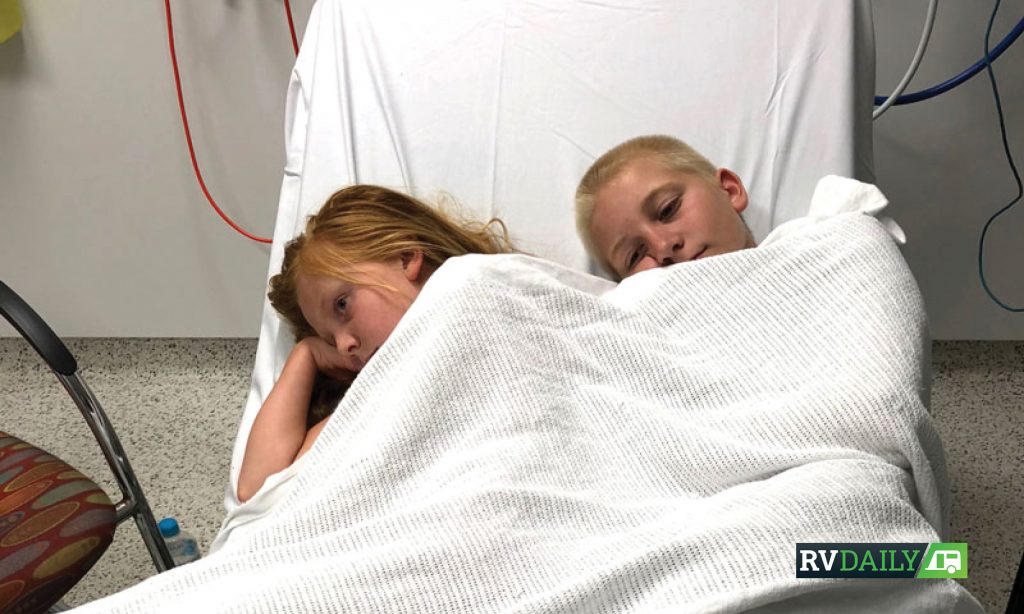 Holiday Stage
When you leave home, there is excitement, anxiety, nervousness and you are learning to relax and slow down. It is also known as the holiday stage, as that is what it feels like. We have some awesome friends who managed to live in holiday mode for the entire 12 months, and that is awesome, but also expensive. So, if you have a budget, you need to get out of this mode pretty quickly, or you will blow the budget and it will be harder to tighten the reins.
Transition Stage
This is when holiday mode has ended, and you realise that you are living full time in a moving house that is smaller than most bedsits. You have crammed the family in there, you are together 24/7 and you are not sure if it was the best idea. You notice each other's annoying idiosyncrasies and wonder if you can live for 12 months or longer in such close confines.
You realise how hard it is to have privacy, and that the kids are now part of every decision because unless they are asleep, they hear every conversation. It is when the meltdowns happen (from both the adults and the kids), as well as the questioning of your sanity. It is also when you look at all those great Facebook blogs and wonder how they are managing it. Let me reassure you, we all go through this stage; some will deny it, others will embrace it.
The best advice for this stage is to see it through. Be kind to each other and talk about how you are all feeling. Discuss things that need to change to make it harmonious for all, and be willing to compromise until life on the road works for everyone. We still change things every now and again, especially as the kids get older.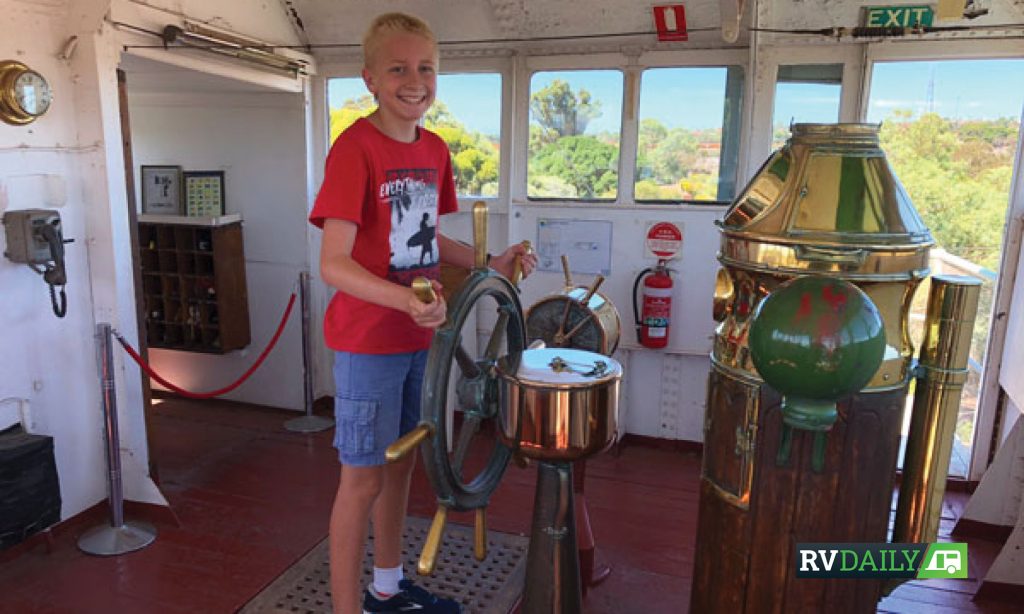 Routine Stage
You had a routine at home that worked for you and your family – it probably involved breakfast, school, work, dinner, sport and so on. You can and will establish a routine that works for you and your family in the caravan. We have established school days while some families do school every day for a couple of hours.
We have days we like to travel, as they fit around our school days, but sometimes we don't want to travel those days due to weather, illness or other reasons, so we don't. Some days we spend all day at the van, doing little at all, just like we did at home on days off from work when we were tired or just couldn't be bothered. You do not always need to be doing something; it is, at the end of the day, a break from the realities of ordinary life.
We have learnt a lot about ourselves thanks to these stages, and they have also allowed us to be open to change, to discuss things openly with the kids and to let their opinions count too. We still have bad days on the road, days when we question why we are doing this and times when we consider just stopping altogether. The problem is, we wake up the next day and we just want to keep going, exploring more and adventuring more around this great land.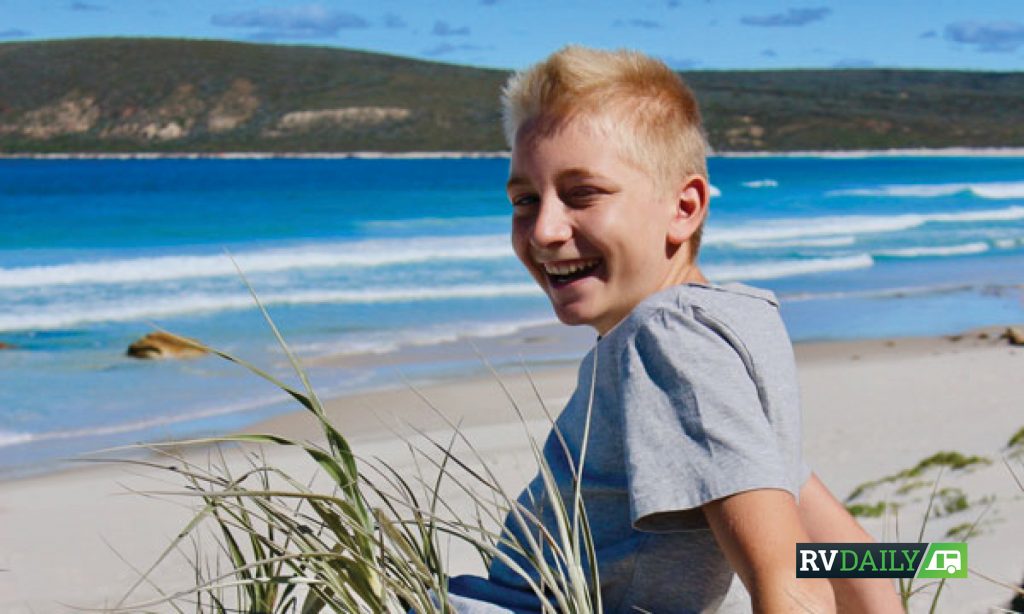 Top 5 points for staying sane while travelling full time
Be kind to each other: When someone in the van is having a bad day, let them. It may last the whole day, it may last an hour, but allow them to own their feelings and to deal with them without crowding them. It is okay to have a bad day, not every day is perfect.
It is okay to do nothing: You can have a day or even two where you stop, hang out at the van, do the washing, the chores and sleep. The kids will enjoy it too.
Set rules and consequences and stick to them: We did behaviour contracts and the kids helped with the consequences. This meant that if there is a punishment, we all know what it will be and if there are rewards we all know how they are gained and what they will be.
Get the kids involved: If the kids like taking pictures, let them; they will get better and it's a hobby that could develop into a useful career skill. If the kids want to help plan an activity, help choose a direction or even the next camping spot, then let them. This is how they learn negotiation skills, decision-making and lots more.
Take time out: Everyone likes to have time to themselves, and kids like to have one-on-one time with mum and dad. It doesn't have to be when the kids have gone to bed that you get your time. You can go for a walk on your own, you can take one of the kids with you to do the groceries for one-on-one time … get creative.
How to get the kids to study when they're distracted by the sea
Establish a routine: Have the kids help you set the routine for school work. Negotiate the days, start time, number of hours, etc., that is needed to get the work done. They then own their study time. Keep in mind you will probably need to fine-tune the routine through trial-and-error.
Be consistent: Try to keep the routine consistent for every week of the school term. Even if you are out of reception, still do the learning.
Be creative: Not all "book work" has to involve textbooks. It can involve spelling words in the sand, even using sticks and stones for maths. Be creative and have fun – the more the kids laugh, the more they learn.
Time out: It is okay to stop whatever you are working on and to send the kids for a run, a swim or even some quiet time. Sometimes the frustration with school work is due to an increase of energy surging through the system.
Rewards: Doing school work while travelling full time is not a walk in the park, so celebrate the milestones. This can mean finishing at half-day, or it can be a visit to the park or anything fun.
Words and images Four Hands in a Tin Can.