Thunder Struck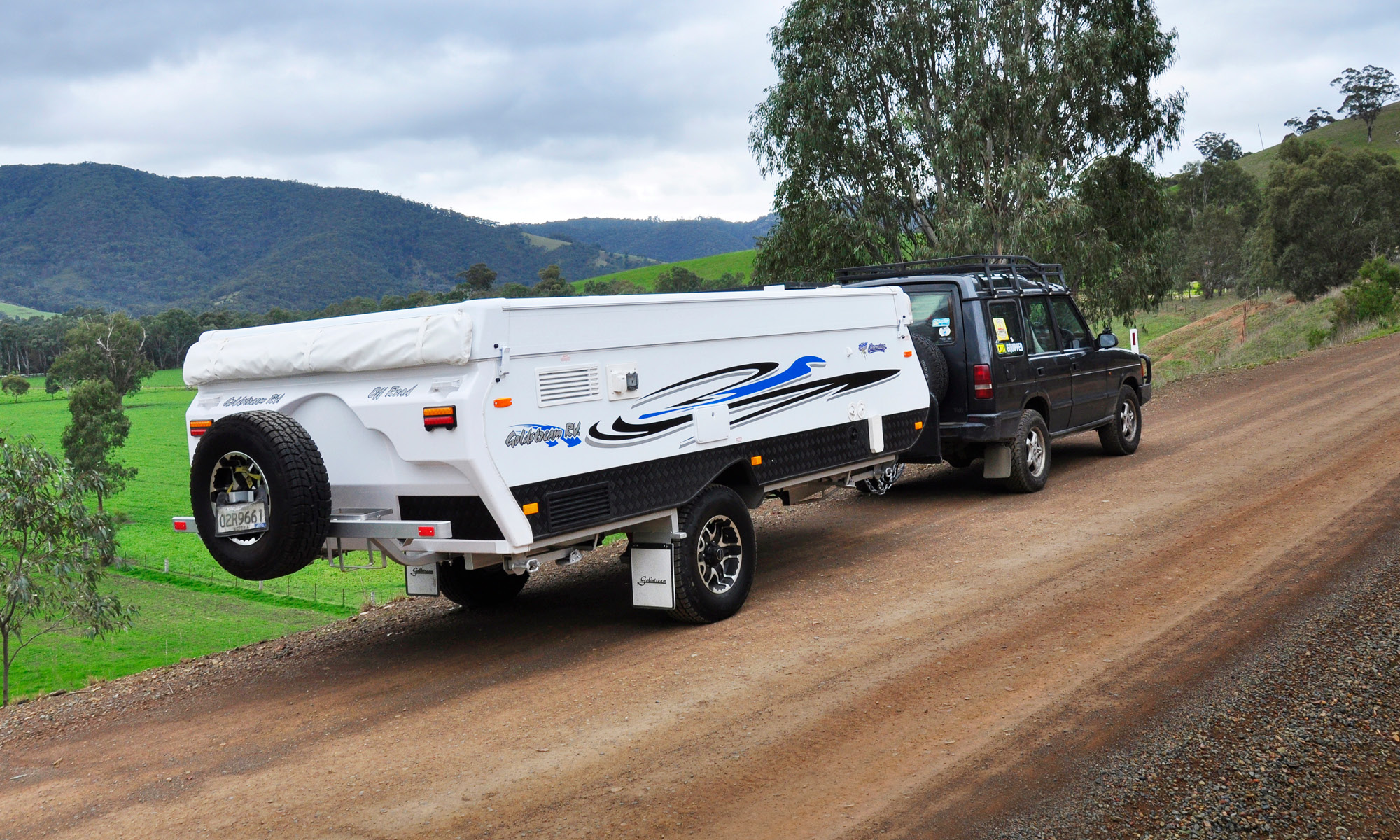 A combination of style, comfort and easy set-up makes this van pure gold
I am happy to declare my respect for Goldstream RV as a foundation to this review. It's a view forged from extensive experience with the brand over many thousands of extreme kilometres, a number of models and loads of stories to tell.
One of the more extreme and amusing tales came from an unseasonal heatwave at remote Nundooka Station, a massive outback property about 100km north of Broken Hill. It was 45°C every day for four sweltering days. It was so hot, our cameras refused to work, let alone the crew.
We had a Goldstream Thunder along for the ride as well as another 'equivalent' model from another manufacturer.
One balmy night, disaster hit when a massive locust plague filled the region so thickly it was hard to see the bonnet of the car from the driver's position. The camera crew retreated to the air conditioned security of the Goldstream Thunder and partied well into the night while one unlucky camper retired to the opposition.
Early the next day the Goldstream crew were enjoying a morning brew when the door to the opposing van slammed open with its occupant emerging, obviously distressed. His hair was coated in green and yellow slime from the invading locusts that filled every orifice from the exposed holes in the poorly fitting canvas.
There were even dead locust legs and wings poking unceremoniously out of his ear from where they were swatted during a night from hell. If large locusts can invade then imagine the flies, mozzies and midges in most Aussie environments. This was practical proof of Goldstream's superior manufacturing over its opposition.
Many purist off-road camper-trailer enthusiasts scoff at the idea of a pop-up camper. In reply, I simply smile and wave while I'm sitting back comfortably enjoying a hard-earned beer while they are still wrestling to set up canvas monstrosities!
Hook up
The Goldstream Thunder immediately felt like a friendly travelling companion and my old four-cylinder diesel Disco breathed a sigh of relief towing only 1672kg Tare weight with low windage. Our demonstration unit had the optional Goldstream 'Off-Road' (Premium) package. It has a GTM of 2000kg and ATM of 2102kg. It travelled beautifully with 16-inch Primal Alloy Wheels, AL-KO fully independent trailing arm suspension with shock absorber and coil spring either side, and the 12-inch electric brakes (with breakaway) stopped very efficiently when called upon.
It tracked firm and true whether on the blacktop or gravel, and walked over a series of climbs and undulations with ease, proving truly worthy of the title 'off-road'. It's perhaps a little wide (2130mm) for the purists; the width extends past the track of the towing vehicle yet it's a sacrifice I am happy to make for the extended internal size and comfort. At 6100mm overall, the Goldstream Thunder is a little longer than most popular camper-trailers yet it has a very realistic loaded towing weight of just under 2000kg complete with full two 59-litre water tanks, 93-litre three-way fridge/freezer, pantry and a reasonable amount of gear in the huge storage options.
The Thunder has a strong galvanised chassis with 150mm x 50mm main rails extending to the A-frame drawbar with premium Vehicle Components DO35 MK2 off-road coupling, removable jockey wheel, Anderson Plug, handbrake and twin 9kg gas bottles behind a replaceable mesh stone guard. Underneath, the poly water tanks are divided either side of the suspension to distribute the load and are shrouded with checker plate aluminium for protection. The wiring and plumbing is neatly tucked up high within the chassis and there's a wind-down stabiliser on each corner.
The main body of the camper is a strong, insulated composite construction with checker plate alloy body trims acting as a stone guard up front and in wear points on either side. I was pleased to see wide boot storage across the front, a feature I miss on many caravans. Out back is an ABS body molding that accentuates the aesthetics, plus an adjustable bumper bar with twin jerry can holders, and the spare wheel acting as first point of contact if you misjudge the reversing distance.
Set me up Thunder
It's been a while since I set one up so I timed myself. It took seven minutes to set up for a comfortable overnighter including winding out the stabilisers! A further couple of minutes to wind out the Fiamma F45S awning and pull out the external kitchen and the job's done – ready to relax!
There's a common ideal in the RV industry that a camper-trailer is defined by external cooking facilities. I'd like to see where that is written in stone, however the Thunder does have its kitchen outside. It is a very good stainless steel affair complete with Sovereign barbecue, two-burner gas cooktop, a large pressurised sink and a Truma hot water system, all on strong sliding rails with underside support.
Each to their own, however I'm more a sucker for other similar Goldstream models such as the Storm or Wing Series that have their major cooking components and sink inside the van, and perhaps a slide-out barbecue outside – but then maybe I'm getting picky! (There is something about making your morning coffee inside before opening up to face the world…) That said, there's lots going for the Thunder, and no greasy cooking smells and mess inside!
Step inside – come alive!
As we step up into the van, the electrical control unit is immediately at hand with the BMPRO control unit, light switches and the sound system. With the beds fully extended, the internal size of the Thunder is a massive 6850 x 2130mm and enough room for a party – trust me, I've done it! But more importantly, it supplies a wonderful and spacious accommodation that is full of comfort, storage and facilities. Up in front is a large east/west double bed (the front bed can be used without disconnecting) and to the rear is a queen, each with canvas surrounds and large windows with fly screen mesh, internal awnings and their own privacy curtains.
There is accommodation for up to five adults with the full-width lounge that forms part of the comfortable dinette, an absolute must when on the road. If it looks like you are in for a tropical deluge for a few days there are storm awnings either end, but to be honest I've never had to use them as the canvas quality is excellent.
With all of the cooking facilities outside there is a veritable plethora of storage available in the vast cabinetry, plus vital bench space. There are large drawers and pantry storage, plus the 93-litre fridge and a recessed microwave to heat up the popcorn!
Aesthetically, the Thunder is very appealing with an attractive combination of laminates, cabinets and the hard-wearing floor, plus terrific head height for tall campers, magnificent views from the 360° windows, and excellent canvas work with Ezy Glide curtains. Add to this the electrical smarts of the BMPRO, solar on the roof, a Truma 14-litre hot water system with external shower head and the almost lifesaving ability of the overhead air conditioner, and the Thunder becomes one of my favourite travelling companions.