No matter what caravan or camper you buy, storage is never perfect and optimising storage within the available space is a challenge. The guys at Korker Adventures share some of their ideas to optimise storage in a compact space. Here are the caravan storage hacks you need to know!
The bathroom
Whether a full en-suite or a combo, adding storage without drilling into walls is always beneficial. Suction accessories offer a great solution but many fail on rough roads. We wasted a lot of money on failures before discovering the great range at Fusion Loc. The range is also available through Bunnings Warehouse nationally. Fusion-Loc accessories vacuum seal to clean, dry walls and ours haven't budged, even on the Oodnadatta Track with its corrugations. We tried five other brands and none work as well as Fusion-Loc! We store loo paper, cleaning products, hand towels, soaps and shaving stuff in a few different storage solutions.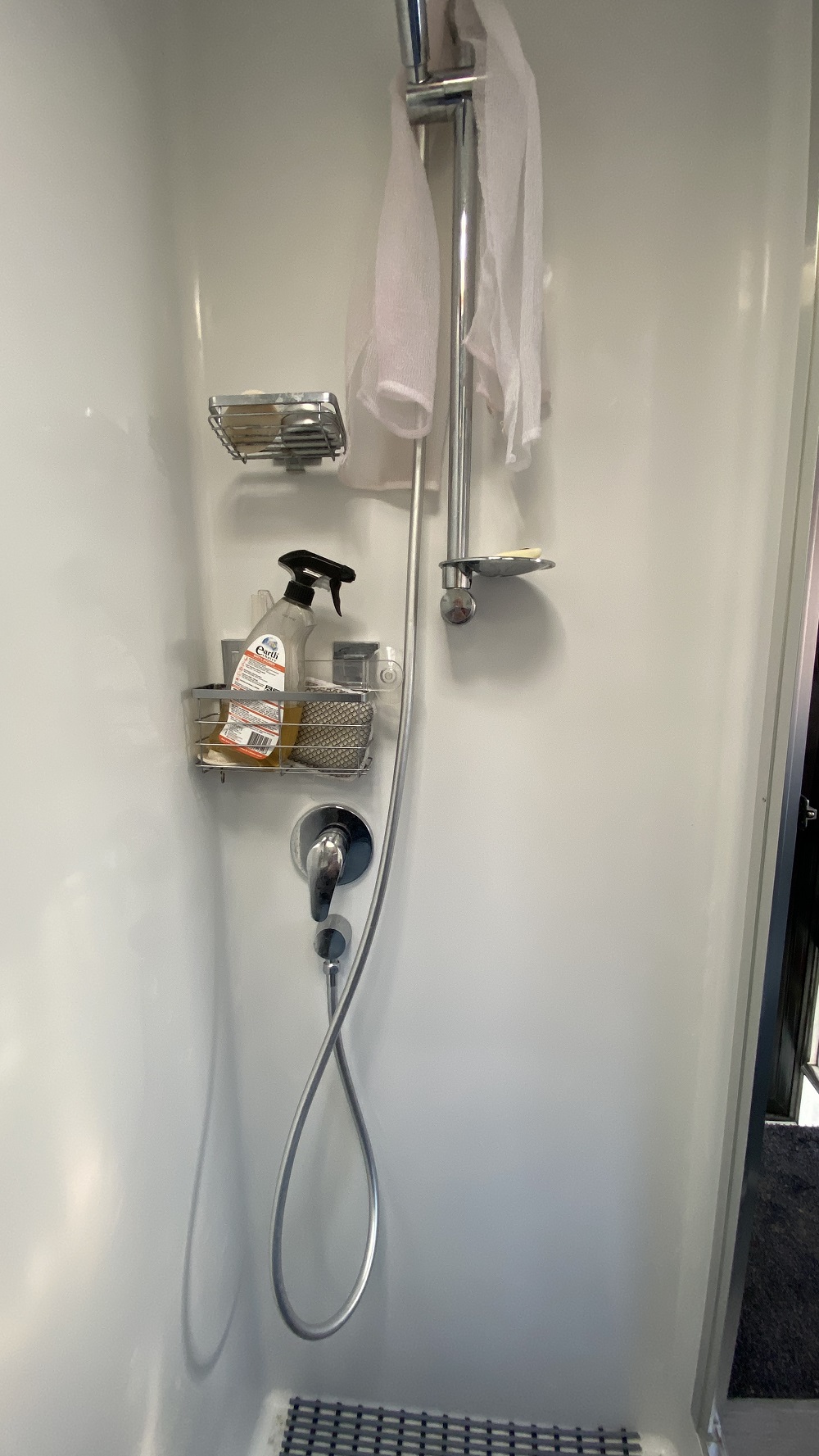 We replaced the metal shower hose with a silver rubber one. Now it doesn't mark the wall and stays put during transit removing the need to put the showerhead on the floor each travel day.
Shampoo bar
We've been using shampoo and conditioner bars from Lush for a year now. It took a few goes to get the right bar for our hair type but the durability and compact size are worth it. Compact and lasts for ages.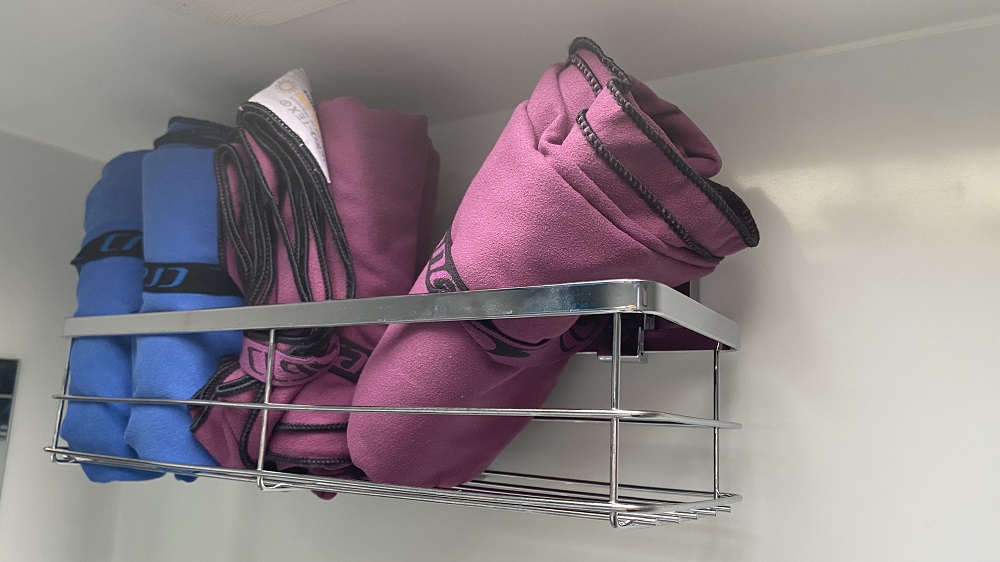 Towels
We opted for sports/hiking style towels as they are very compact and dry incredibly quickly. Eight of these sized hiking towels take as much space as two regular towels and we store some in the en-suite in a Fusion-Loc shelf. We also have two beach towels from Decathlon. We've bought the smaller ones from Anaconda and Aldi. Kmart has some too but they're thinner and smaller.
Loo capsules/liquid
We use Walex Bio Pak capsules. They are stored in a sealed lunch box in our odds-and-ends cupboards under our towels. We've found they work best if placed in the clean loo with a litre of water immediately after being emptied, but before the loo being used. We only had a problem with odours when we forgot to put one in for a day. Then it took three capsules to get it under control.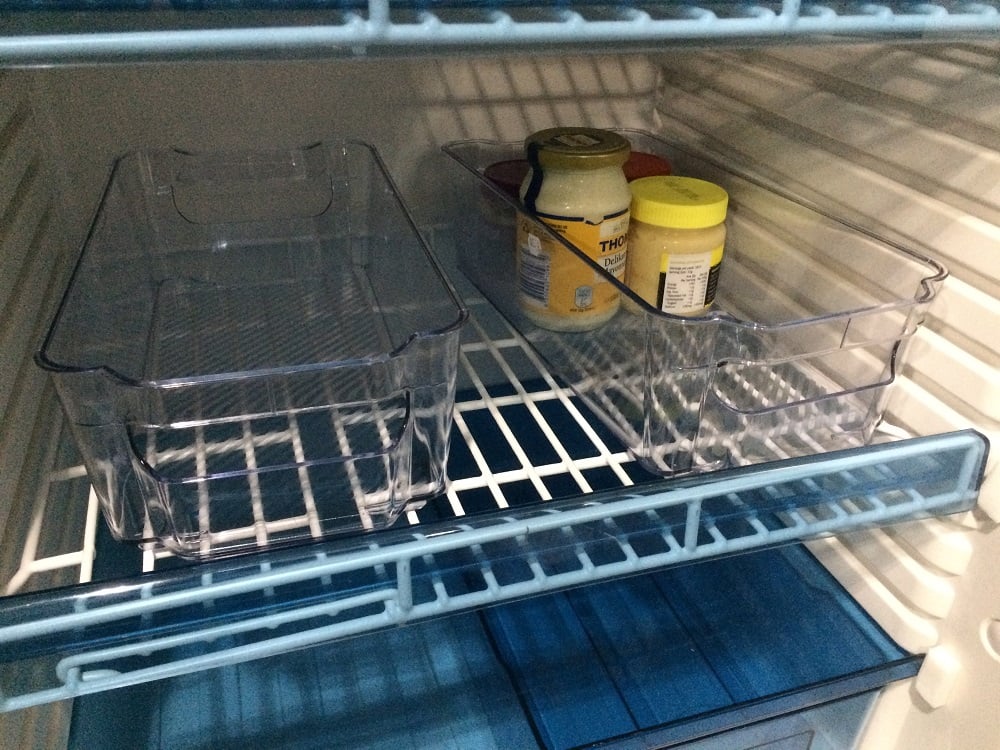 The kitchen
We have a 140-litre compressor fridge in which we use clear storage containers available at discounts stores and The Reject Shop. For eggs, use clear plastic egg containers that are the ones that hold 'hunting' easter eggs. The camping egg containers actually cracked the eggs!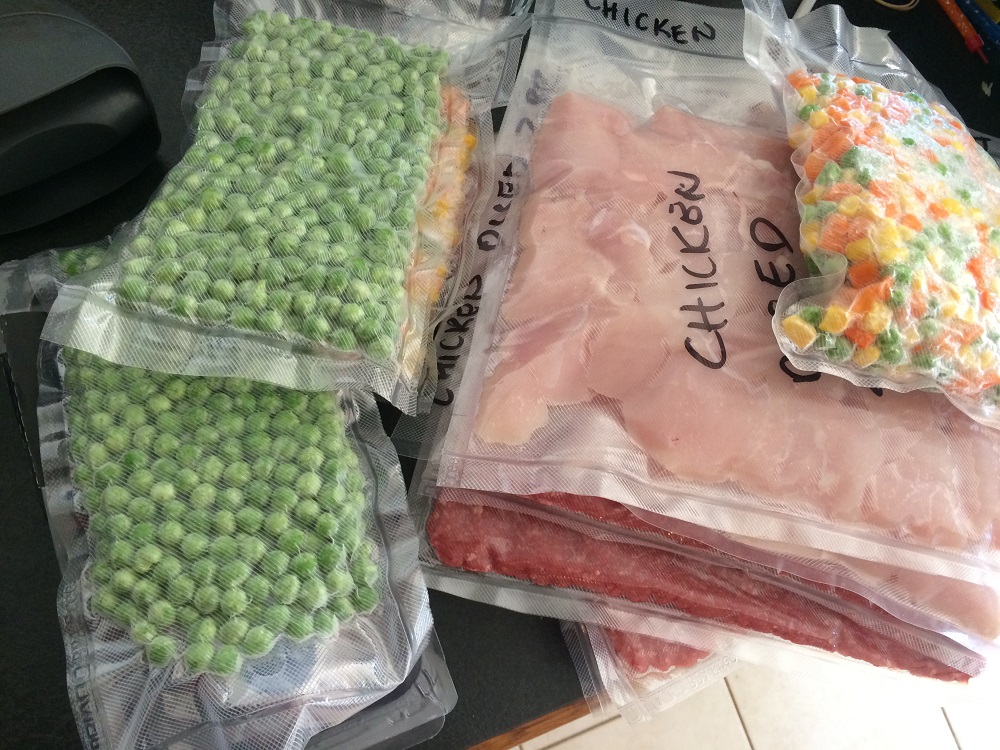 We also have a 74-litre  Evakool Glacier dual zone which we carry in a front toolbox. We've found that cryovaccing food in thin slabs optimises space and minimises defrost time.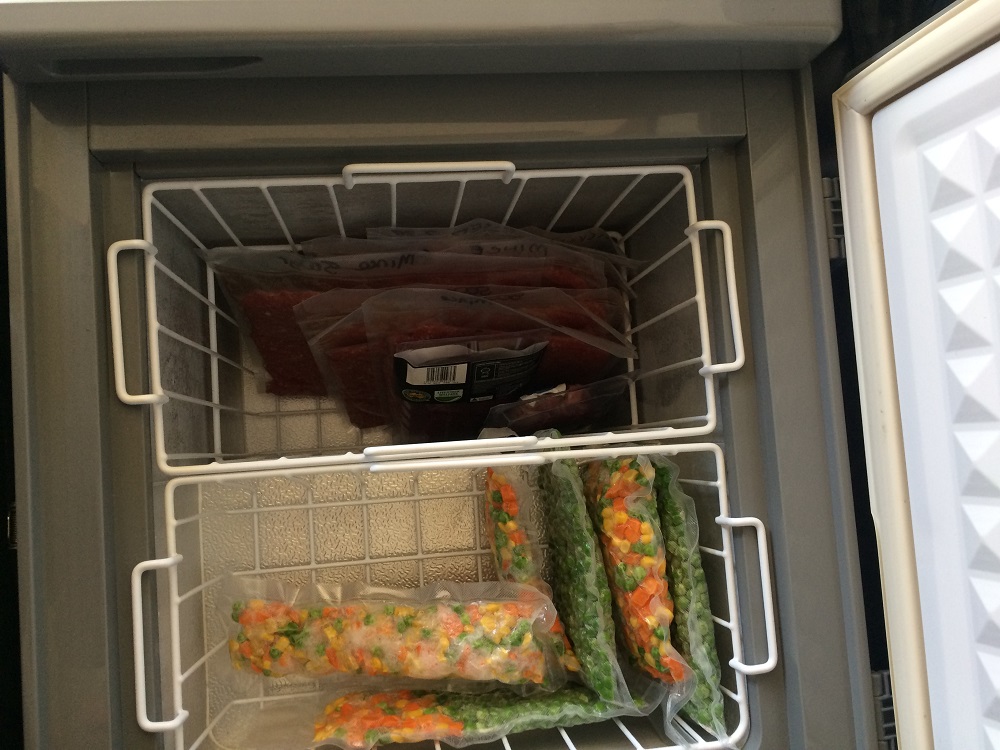 All cupboards are lined with rubber drawer liner bought on a roll at discount stores.

The shelving
We've used adjustable width, collapsible wire shelves from Bunnings and a couple of fixed height/width shelves from discount stores. We have built-in extra fixed shelving in one cupboard. It can be applied to any shelf addition, keeping in mind wall construction. You can find the 'how-to' here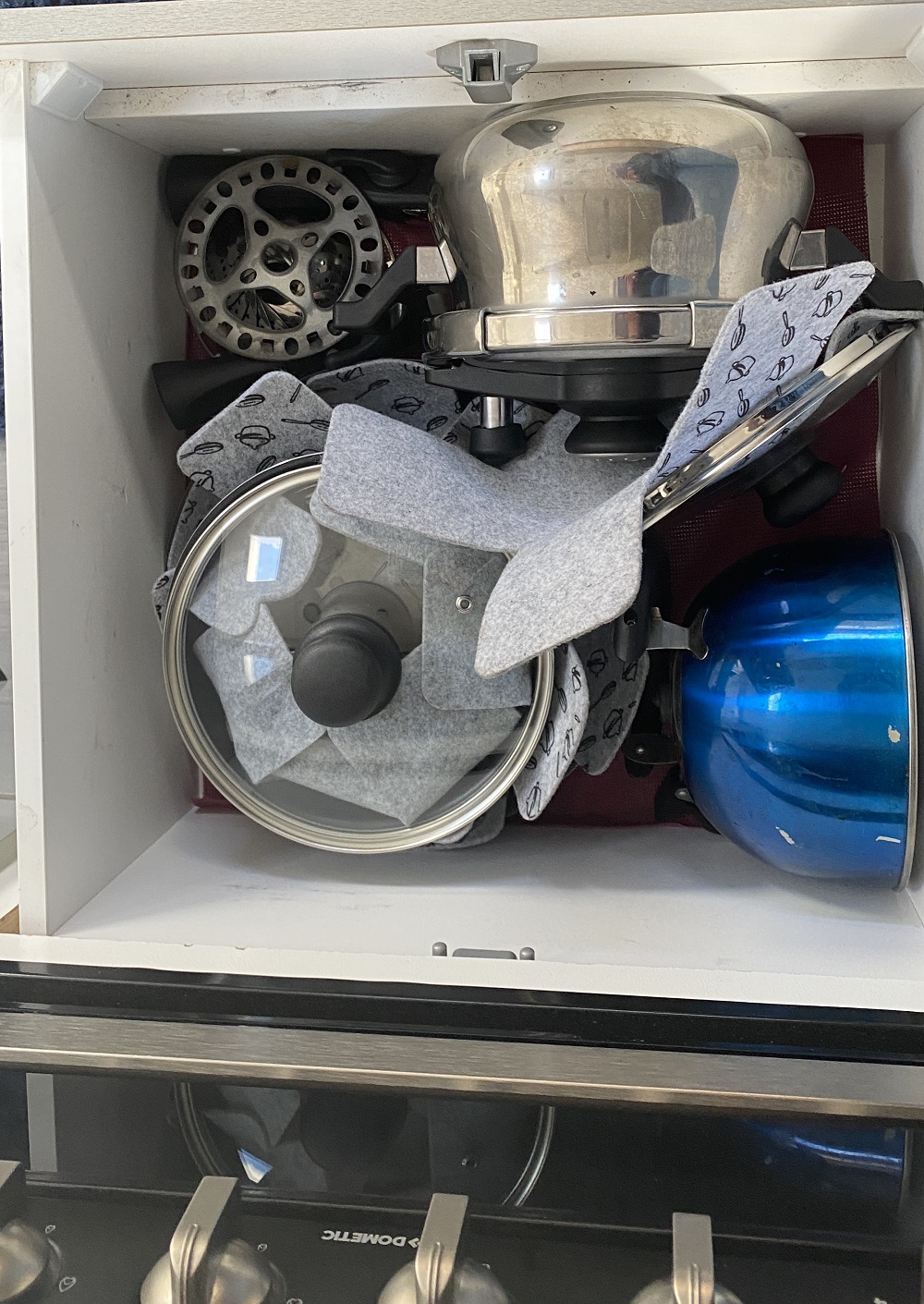 The pot drawer has felt liners between all metalware to stop noise and damage to pots. We got the felt liners from Aldi. We started with square-nesting SmartSpace saucepans, which are great, but found them not compatible with our external kitchen Ziggy BBQ trivet set.  We've recently changed to smaller, round, nesting cookware from Wanderer, which we bought at BCF.  They take up less space but probably wouldn't suit families, whereas the SmartSpace pans do.
We have a small slide-out pantry with Sistema clip-lock containers for dry goods. The rest of the pantry items are stored in plastic baskets in drawers and cupboards. Spices are in Decor plastic spice containers from Spotlight, stored in a Sistema tub to contain smells. This also allows us to grab the bigger container to take outside to use at our external kitchen (we don't cook indoors very often).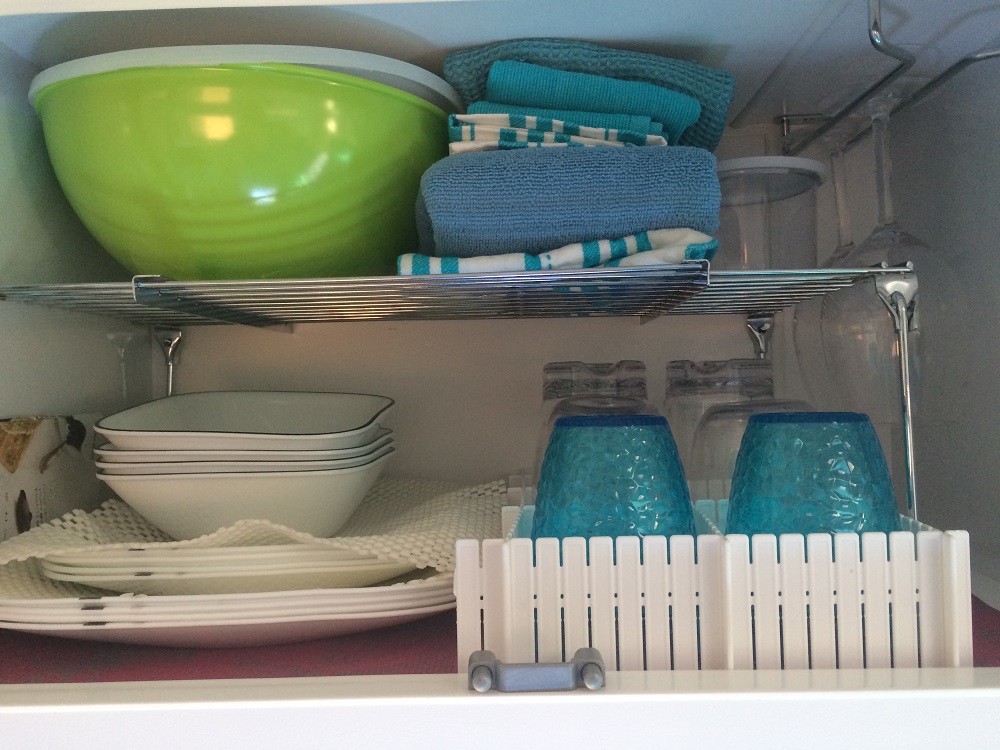 The crockery
We use Corelle dinnerware plus acrylic glasses and double-walled stainless wine tumbler and cups. These are stored with adjustable plastic 'fences' we got from Howards Storage World. We store tea towels and dish drying pads in this cupboard; great for rougher roads.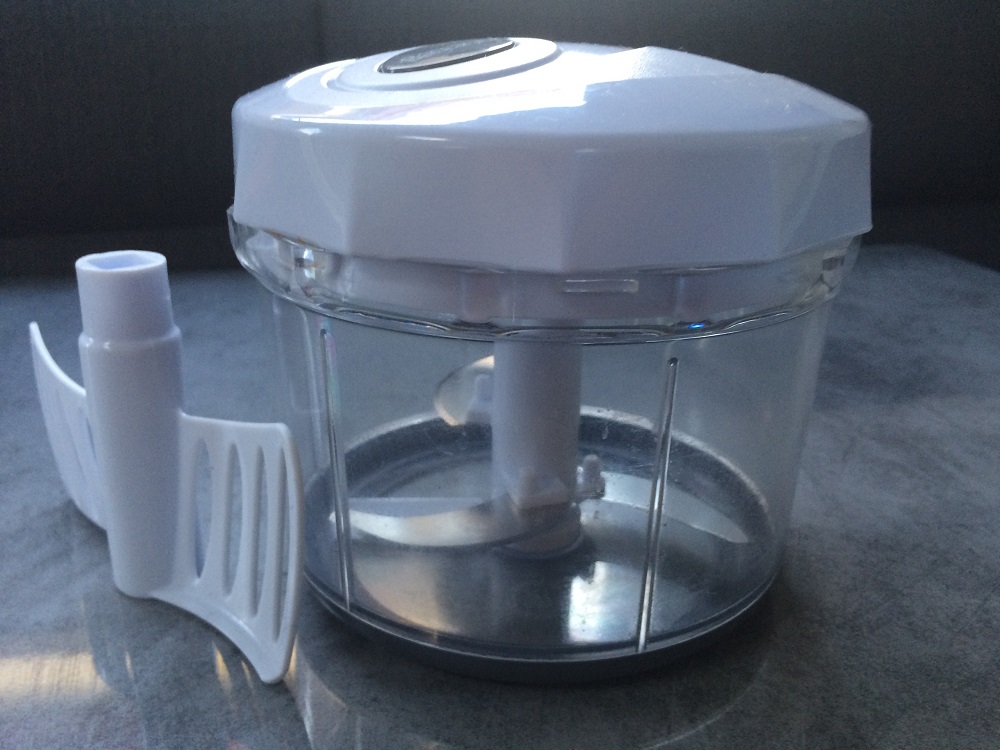 Food processor
We bought a Baccarat manual cord-pull food processor. It has a cutting blade and a whipping blade. Kmart has a similar one. We also bought a slicing and dicing implement from a caravan show and it's been amazing for prepping veggies and fruit.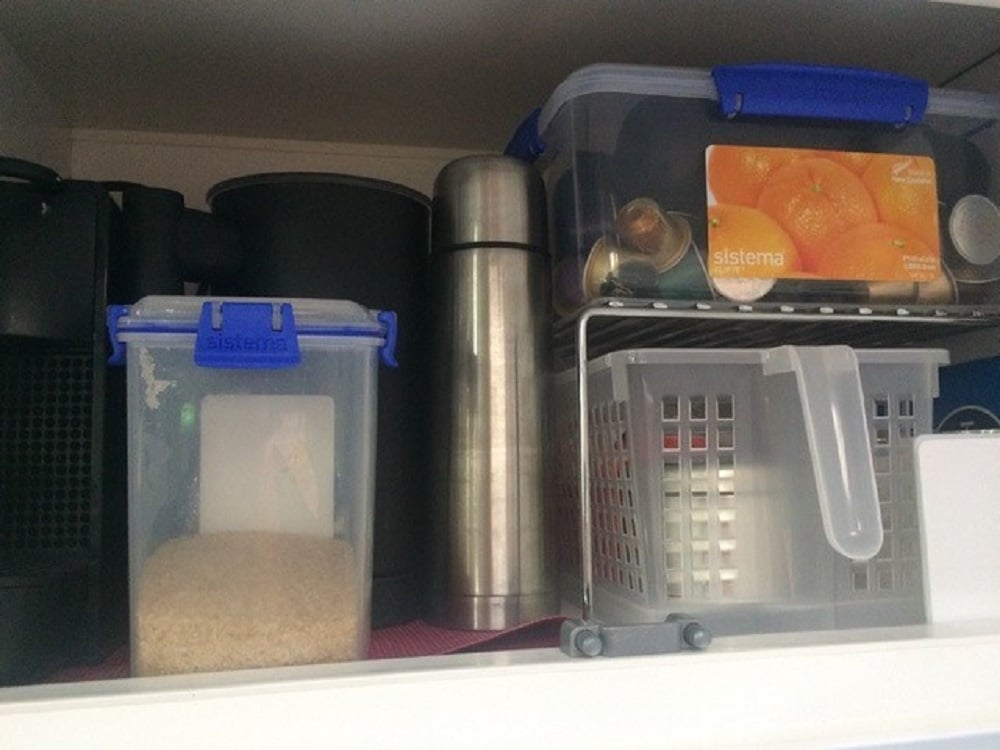 Mmmmm, coffee
While this may be contentious for some, we are coffee snobs. We have a whole cupboard dedicated to coffee and tea. We have an Essenza minipresso that uses disposable aluminium pods. We use this and an Aldi powered milk warmer/frother on power. Off-grid: We have a Wacaco minipresso. I love the coffee crème and flavour this produces but it is a workout for the hands. We heat milk in a small stainless milk jug and froth with a battery-operated frother. We have tried plunger (tastes muddy and looks cloudy to me) and even bought an Aeropress after reading reviews and were disappointed with it. We also have a dripper that we use to make cold brew coffee for our summer iced coffees. We bought this at a caravan show; it works well with grounds for hot coffee too.
And, alcohol
We can't forget Happy hour!  We' have found that it is much easier to travel with two-litre wine casks for wine, supplementing when in towns with some bubbles. Wine can be spritzed in a soda stream (against their recommendations). Apart from cask wine, we carry a few bottles of spirits in a drawer under the bed with more of the Howards Storage World 'fences' to divide them. We carry a soda stream and an extra cartridge too.
The cutlery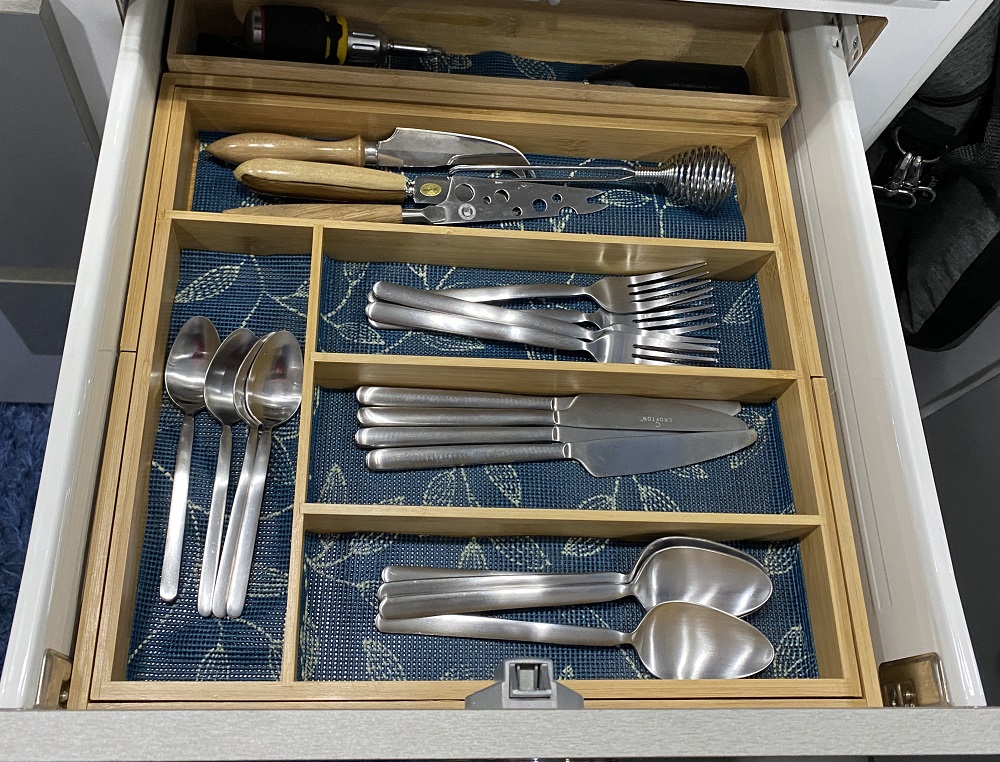 We store cutlery in two places (some may think it a bit much, but we love the convenience). We have standard four-place setting cutlery in a drawer in the van in a bamboo tray from Kmart and another set in our external kitchen.
The Utensils
Inside, we have utensils divided in bamboo storage trays to make stuff easier to find. One standard drawer has four sharp knives/cleaver, a few serving spoons, egg flips, silicone egg-poaching cups, egg rings, silicone dressing container, etc. It optimised storage and ensured we don't fight knives to find other stuff. A couple of extra utensils are under the external kitchen.
Extra stuff
A teppanyaki plate from Aldi to use on the external kitchen
A poffertje griddle (Dutch mini pancakes)
Two bigger bowls for salads
Four small stainless bowls for nuts, dukkah, etc. – 5 o'clocksies
A set of collapsible silicone storage containers
Most of this is stored in the lowest cupboard where the wheel arch is. We added a core flute roofing sheet shelf in that cupboard to optimise storage. It also houses a few cookbooks and a Ryobi One handheld vacuum.
A neat little hack is this: Tissues hang off a 3M hook on the wall.
We have a mirror in the ensuite but also fitted a small one inside the top pantry cupboard at a height convenient to us. There's also a great overhead light at this spot. Handy for doing my hair while hubby is in the shower.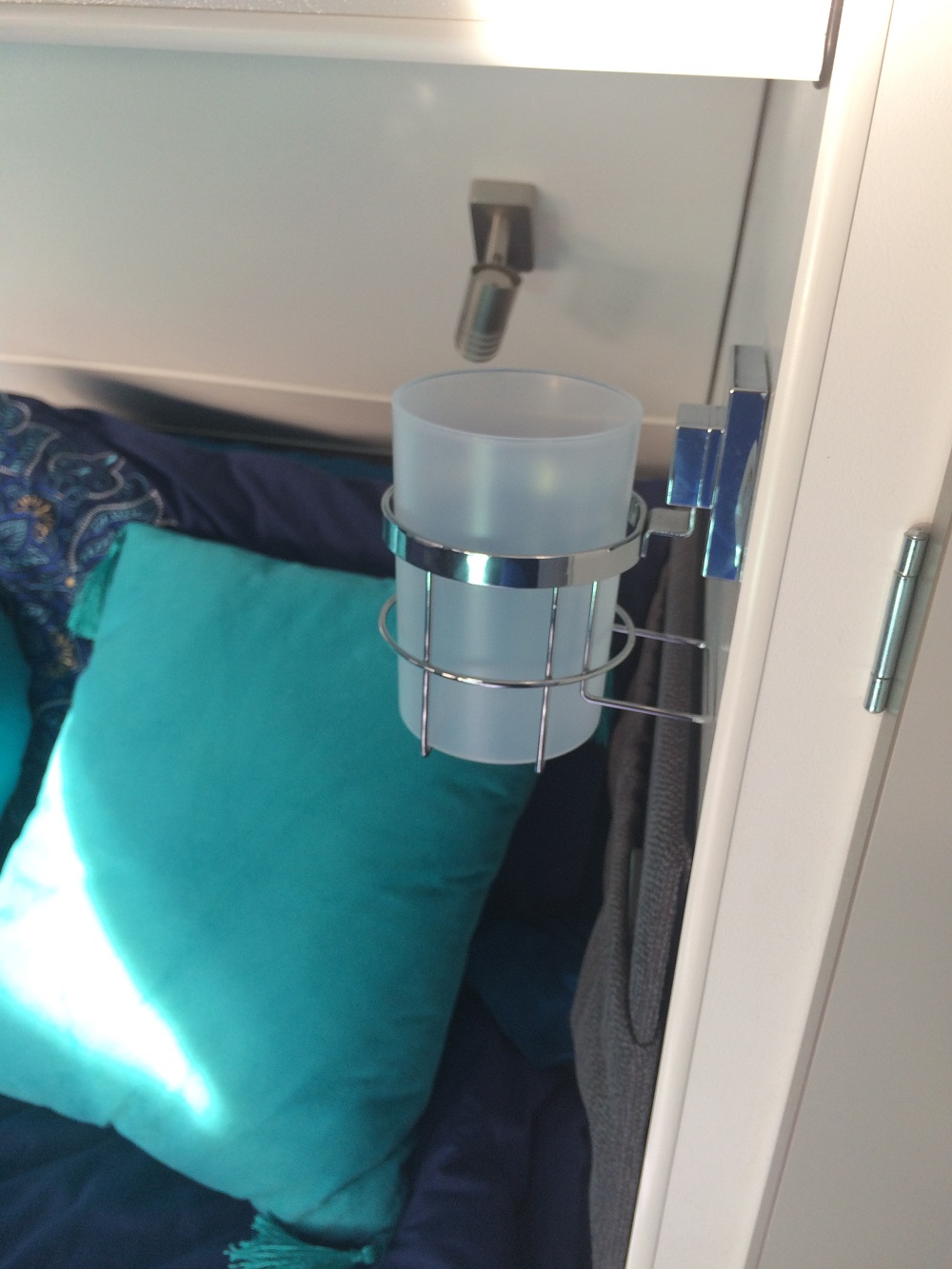 Next to the bed we have two Fusion-Loc bathroom cups that we use to hold our glass of water at night, and have had Fabric pockets made to hold our reading glasses, iPad, etc. We've also had pockets made for three other wall spaces to store brochures, torches and other small items.
Our Clothes
Our clothes cupboards consist of a shelving cupboard next to the bed, two overhead cupboards above the dinette and an odd-shaped cupboard above the bed. Smalls are stored in the odd-shaped cupboard in hessian storage 'baskets' I got at Big W. Our clothes are stored in packing cells to make accessing clothes easier, neater and more compact.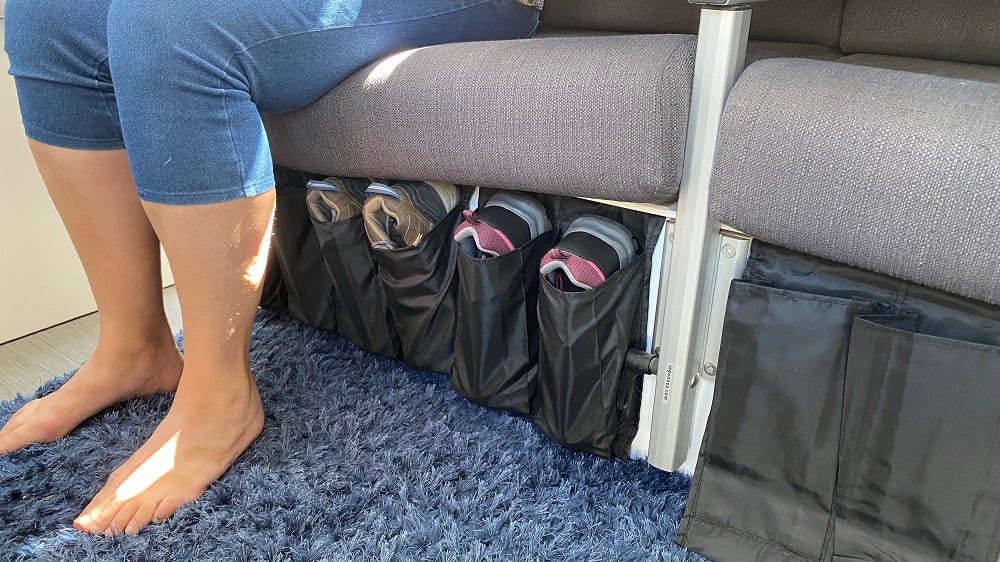 Shoes were initially stored in sturdy storage boxes we found on eBay. They are rated to 100kg to sit on and we use them as leg rests/extra seating. Kmart and Bunnings now have similar; check the weight-bearing rating if you plan to sit on them. We recently changed this to shoe pockets from Ikea fastened to the front of the bottom of the dinette. This gains more floor space in our compact van.

Doing the laundry
We have a 15-litre plastic tub mounted in a gas bottle holder on our rear bumper. It's under the external shower for ease of adding water. We put clothes in, add wool wash and either drive or roll it around. It works well. We also have a Scrubba brand wash bag, which is good to scrub ingrained dirt or to do a few small items.
And drying it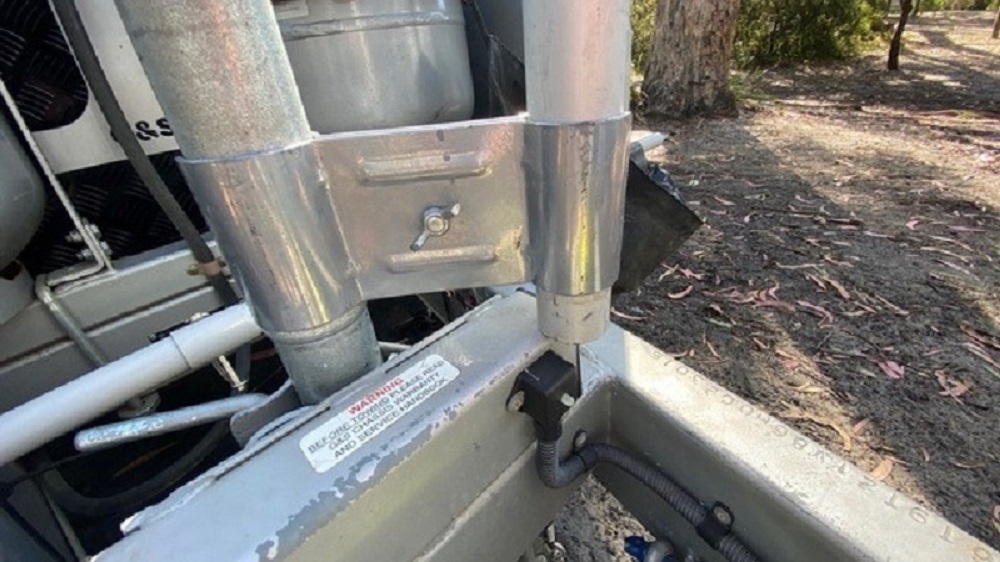 We bought an Aldi foldable washing line but found it quite tippy even with tent pegs or a bungee cord supporting it. We have since bought a clamp from Award RV at a caravan show; it clamps to the jockey wheel and the shaft of the line. It works so much better and the line is more compact without the feet. We store this in the front boot. We also have a travel 'pegless' clothesline to hang under the awning or between trees. It is great but don't use them with heavy clothes in windy weather as they break. A good old rope and pegs work well too.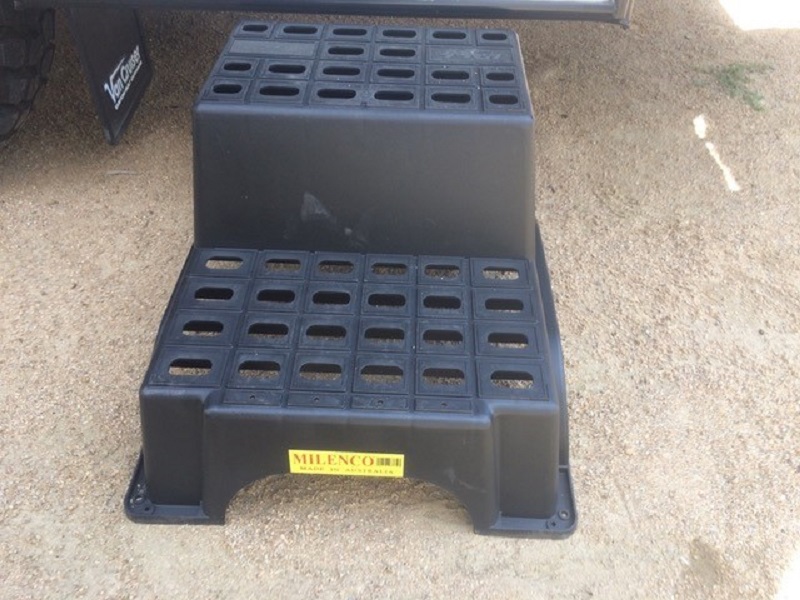 The step
We opted to not have a standard van step as I find them narrow with our big feet. We got a Milenco 2 tier step instead. It has wider treads and is non-slip. It's also great on uneven ground. It stores upside down in the footwell when travelling. We've also installed a solar-powered, lithium motion sensor light near the door, which we sourced from Bunnings. We use a couple of 3M hooks to mount it and take it down when travelling. Even though we have external lights, it's handy having a sensor light that activates if anyone approaches our van after dark. We got it at Bunnings.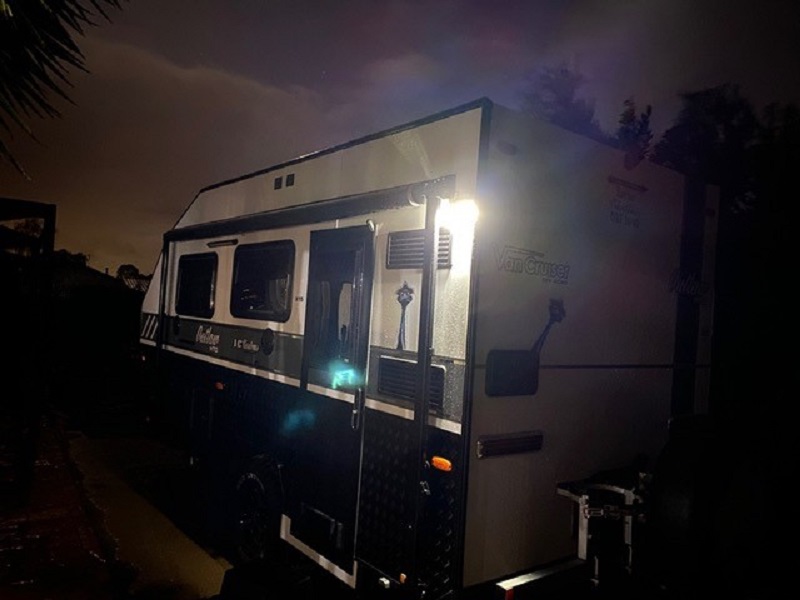 There are so many great ways to optimise storage in the compact spaces offered in caravans and campers. All it takes is some creative thinking. Just be mindful that each item you add affects your payload so measure spaces and seek the lightest weight solutions for you. It can be quite fun fitting out a caravan, but quite expensive too. We hope that by learning from our travels helps readers make some great choices with the caravan storage hacks we've shared.
Words and images Korker Adventures