If you've made the decision to head off on the big trip, you may want to look at how to plan your trip, decide where to go and how to get there. Fortunately, there are plenty of options available but deciding which one suits you can be a difficult choice. Here are four tools we have used quite successfully to plan our travels and navigate our way around the country.
When I first started out travelling around Australia 25 years ago, I didn't do a lot of actual planning of my trips. I would pick a few tourist traps to see and places to stay but most of it was done on the fly. Navigation consisted of nothing more than an Australian Road Map, yes a paper one. Later, as I started to venture into remote areas, I had a basic handheld GPS to tell me where I was on that map. That was about it. If I wanted to find a caravan park or a campground, I would drive around until I saw a road sign pointing me in the direction and off I went. It was all pretty simple with no set plan.
Today, we have the internet, mobile smart devices and social media to help us plan our trips and then we rely on GPS navigation to get us to where we want to go. The information available to us these days allows us to plan every minutia of our journeys without even leaving the comfort of our lounge chairs. And when we are finally on our way, our sophisticated GPS navigation gets us there quickly and safely.
Well, that's all good in theory. The reality is there is so much information out there and so many ways of searching through it, its hard to know which tools are the best and offer the most reliable data. After all, no one wants to go to a caravan park with filthy amenities or a campsite infested with biting insects. Here are the four tools we use to plan our trips, find places to stay and navigate to those places.
WikiCamps:
Without question, the WikiCamps app is our number one go-to source of information for looking for places to stay, both free camps and paid caravan sites. All the information is generated by the users of the app meaning the data is continuously updated. As new sites are found, they are added. As sites close, they are removed from the app. WikiCamps also has detailed information about visitor centres, dump points, public water outlets and places to visit. The amount of detailed information about caravan parks and campsites is incredible. You can easily see if a location is dog friendly, caters for larger rigs, requires 4wd to access, even what mobile phone reception is like. Users of the app can contribute reviews and photos. The mapping that is included with WikiCamps is some of the best we have ever used. It's every bit as good as Google maps and more up to date than the onboard GPS in our car. The only issue with WikiCamps is the very thing that makes it so good. User information can be unreliable, reviews can be inconsistent and specific details of a particular site may not be correct. Changes to the app's layout have come in for a bit of criticism from long term users who liked the original interface. We have found it to be very user friendly. The application includes a users' forum where you can chat to other users about any caravan and camping related subject you can think of. If you venture into regional or remote areas, much of the content in WikiCamps can be downloaded to your device and accessed offline. WikiCamps is so good and such a complete package, you could use it alone and rely on no other tools to plan your next holiday or trip around the country. It is simply that good and at just a single payment of $7.95, it is amazing value for money. It is available for Android, iOS and Microsoft devices.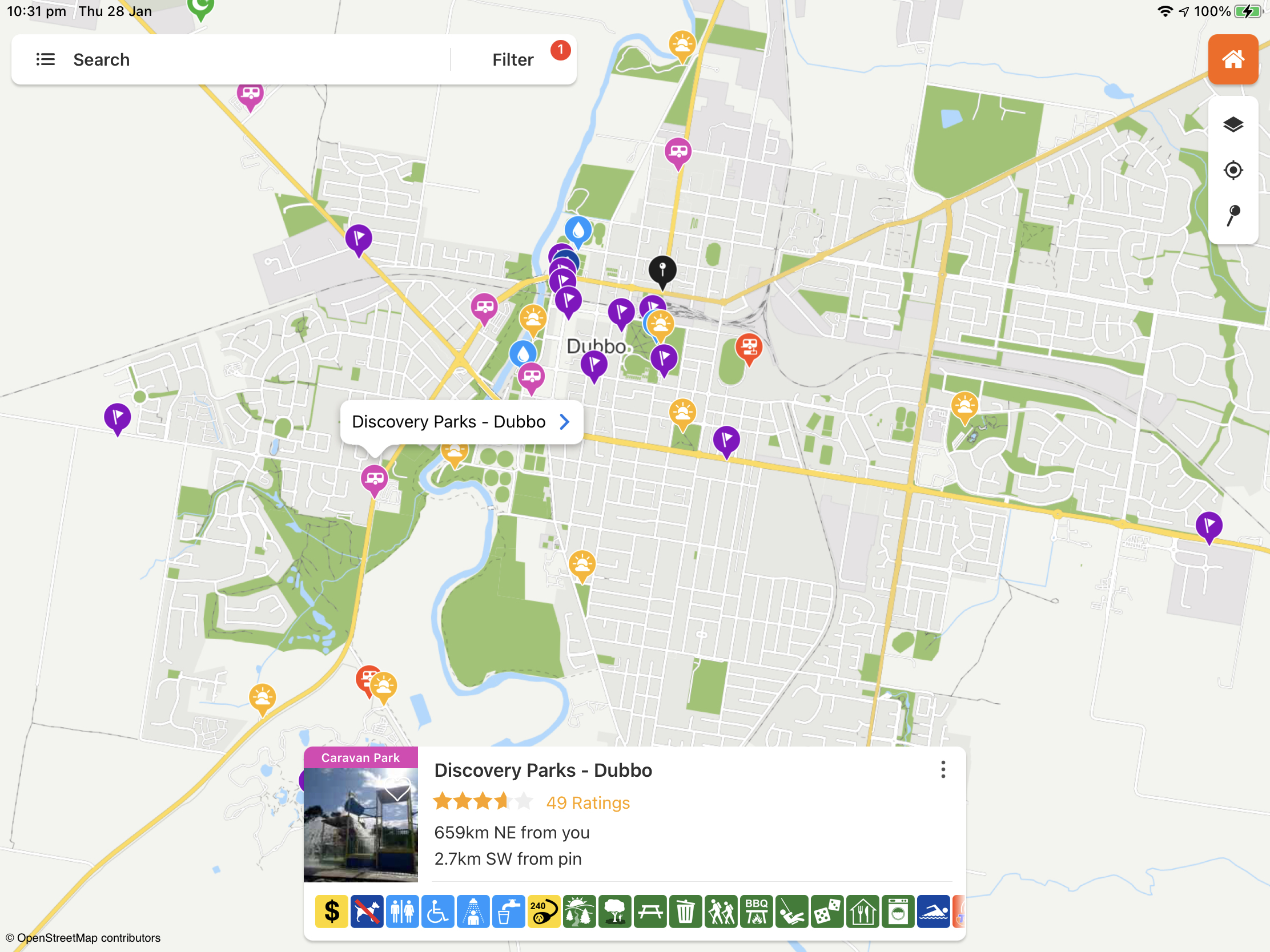 Google Maps:
Google Maps is another smart device application that we use more and more as time goes on. It doesn't have anywhere near the functionality of WikiCamps but the sheer volume of information available is incredible. Google Maps data is also the most up to date of all the tools we use and, because it ties in with Google's mapping data, you can easily navigate your way to your chosen location in confidence. When searching for anything on Google Maps, simply type what you need into the search bar and Google will go out and find it for you and display the options on a map so you can easily see where everything is in relation to your location. 'Near me' searches work the best. If you want to find a caravan park near you, just type in 'caravan parks near me' and you will see all the parks in the area, how far away they are from you and general information including review star ratings. You can scroll through the results, tap on one that looks to meet your needs and you'll see all the contact information, rates and photos. Many caravan parks are using Google as a gateway to their business. Search results often show special deals on offer and the option to check availability and book online. To give you an idea about how widely used Goole Maps is, we upload reviews and photos of every place we visit. In just 3 years, our reviews have been read 160,000 times and our picture views have exceeded 3.5 million! It is a massive user community. Google Maps is free to download and free to use however there is no offline content except for downloadable maps.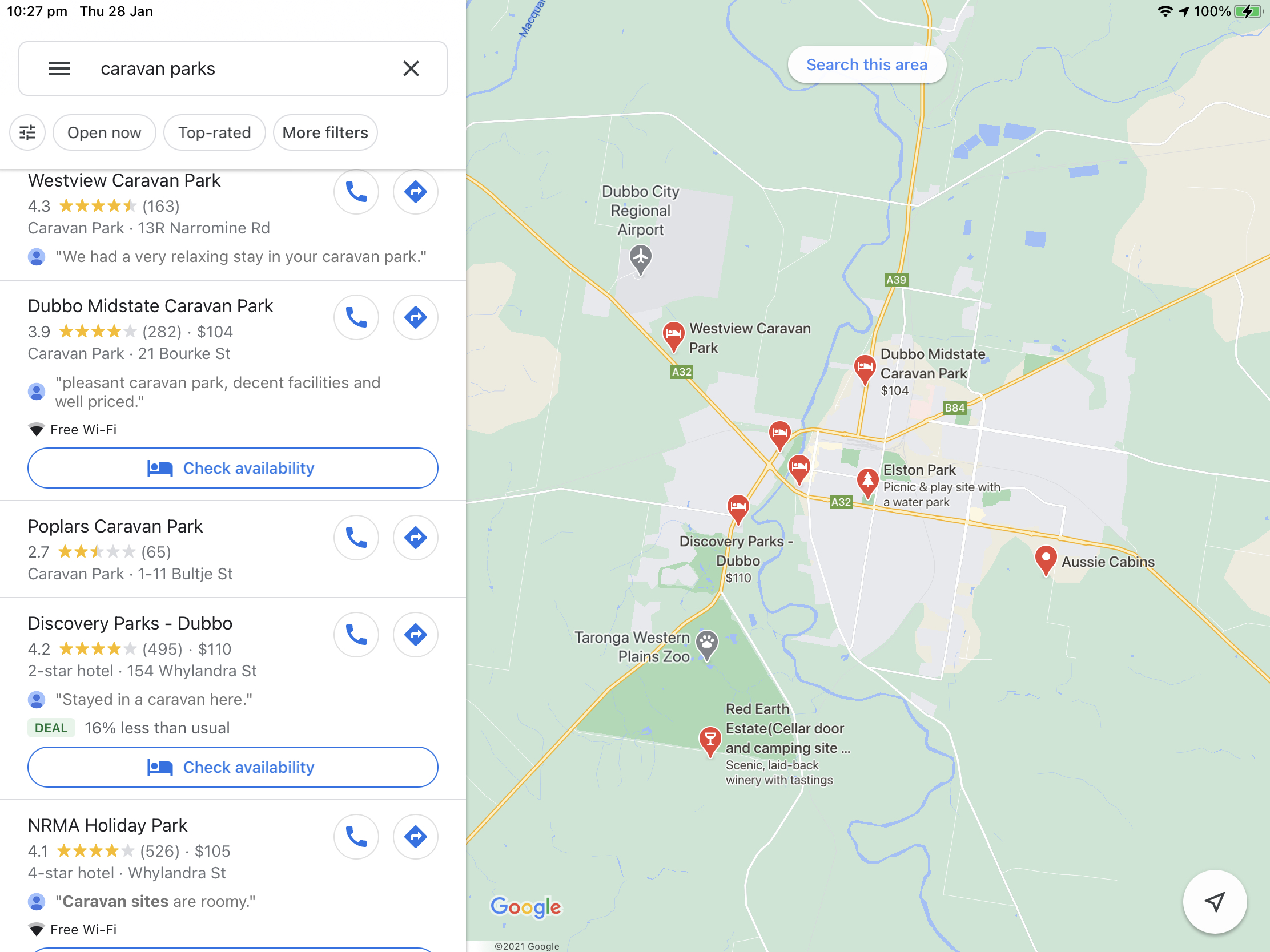 Camps Australia Wide Book:
A good as all the digital information sources are, there is nothing like being able to look at a paper map to see where you want to go, what accommodation options are available and what to see along the way and at your destination. Camps Australia Wide is currently in revision 11 and is also available as a smart device application. They have a pretty good website as well so they have all angles covered. But it's the book we like the most especially for trip planning. If you want to sit down and plan a full year of travel around Australia, I think the Camps Australia Wide book would be the best tool especially if you're from an older generation or if you find smart device applications too difficult to master. Camps Australia Wide rivals WikiCamps for details about individual caravan parks and campsites. My wife loves her Camps Australia Wide book as she can write planning notes on the pages that we can refer to later as we travel along. There are just two issues with the Camps Australia Wide books. Firstly, the information is potentially out of date the day you buy the book and to update it requires purchasing a new book. That said we haven't found too many inaccuracies and ours is an older edition. The second is the cost. The cheapest version of Camps Australia Wide 11 is $69.95. When you consider the cost of the WikiCamps application and that it is far more up to date than any book will be, Camps Australia Wide is a bit expensive but it doesn't require electricity or the internet to function. Sometimes the old ways are the best.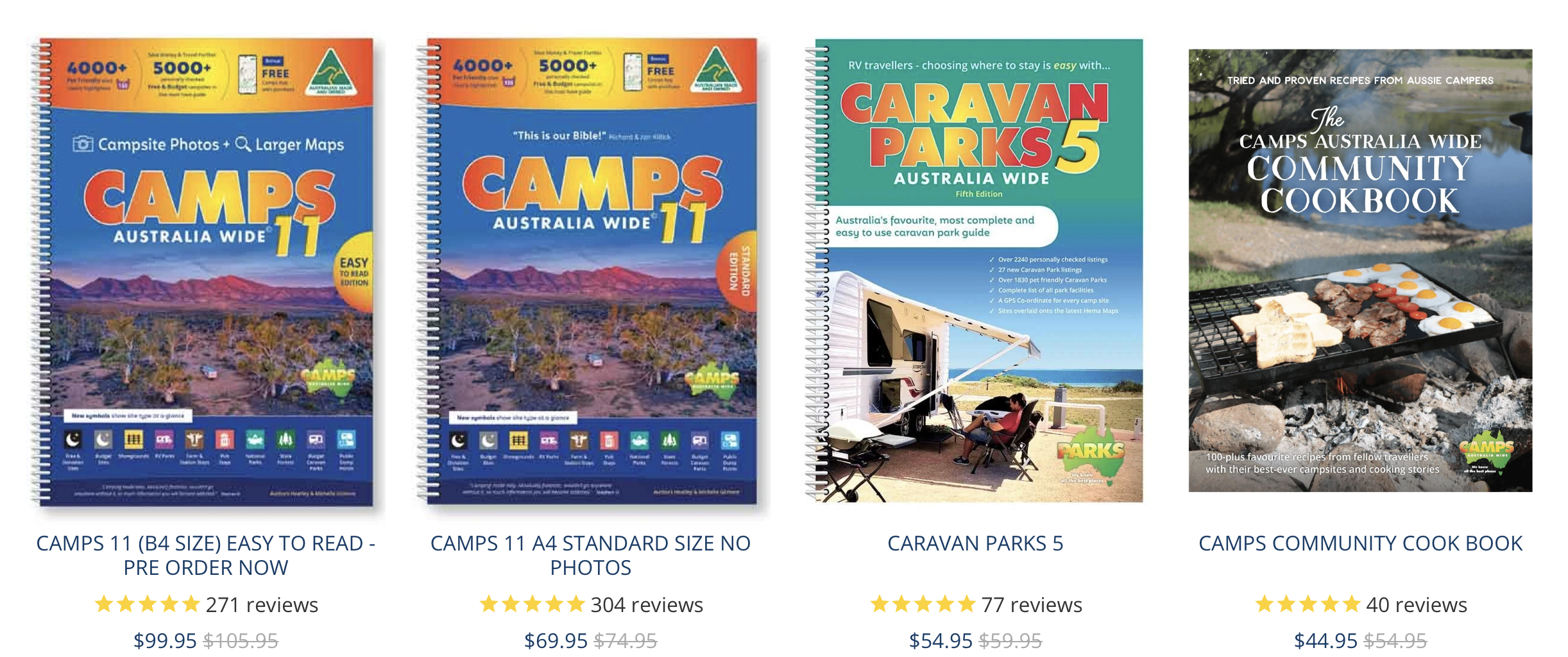 HEMA HX-1 Navigator:
We have recently acquired a HEMA HX-1 Navigator to do all our on-road and off-road navigation. The GPS system in our Toyota Landcruiser was out of date the day we picked up the car and, as time passes, it has just gotten worse and worse to the point where upgraded sections of major highways are not in the unit. It has become a real pain and Toyota's asking price for map updates is exorbitant, to say the least. The HEMA HX-1 is based on a small Android tablet that has been optimised and locked to function with the HEMA software. The GPS unit itself is a high-quality piece of kit. The 7-inch screen is bright and very easy to read. The touch screen is responsive and the on-screen keyboard has large 'keys' so fat fingers like mine have no trouble operating the unit. The HEMA HX-1 includes two distinct modes of navigation. On-Road and Off-Road. The on-road navigation software and data are provided by iGO. Its been around for years and was the navigation software of choice for just about all cheap GPS units. It has come a long way since those early days and it is now an elegant, easy to use program. HEMA has thoughtfully included the full Camps Australia Wide data (revision 10) and the Caravan Parks Australia Wide in the HX-1 so you can search through the Camps data for destinations and navigate directly all on the one unit. It's very good. HEMA also include their own points of interest as well as Here Map POI data. If you can't find what you're looking for with all this information at hand, it probably doesn't exist. If I had one criticism, it would be the iGO menu can be a little clumsy and finding the data you want may not come up depending on which menu option you chose. The off-road navigation program is HEMA's own digital mapping application and includes HERE Street, HEMA Explorer and Geoscience Australia map layers. You can download more detailed maps directly to the device through its own WiFi connection to your network. The HEMA HX-1 costs $699 RRP. That's a hell of a lot of money for what is essentially a locked-down Android tablet with some fancy software however when you consider all the maps and software are updated free for the life of the unit, the value for money actually gets better the longer you own the unit.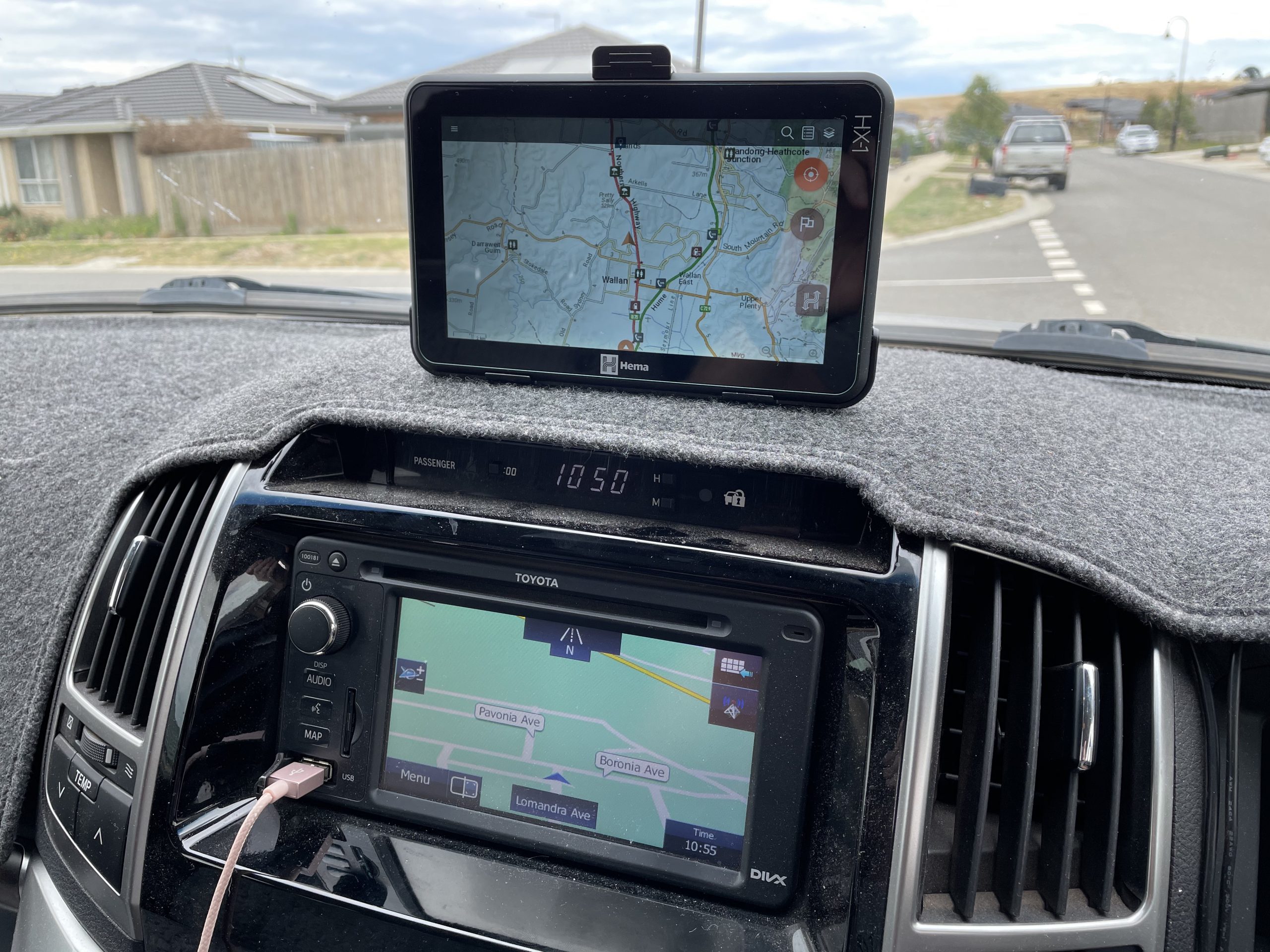 Planning the big trip and navigating around Australia has never been so easy. The sheer volume of information available to the traveller today is mindboggling and the technology to access that information is getting better and more user friendly. Deciding what tools are right for you will probably be a bit of trial and error. What works for us may not necessarily work for you. Just be sure that, whatever you use, it has the most up to date information available. Don't just rely on one source of information and always have a paper backup in case your digital device fails or has a flat battery.
Safe Travels.