If you're looking for a pair of LED driving lights but your bull bar can't fit 9″ lights, the LightFox 7″ Iconic Laser LED Driving Lights with Daytime Running Lights (DRL) may be an option.
When it comes to purchasing a set of driving lights for your 4WD or tow vehicle, most people will tell you to get the biggest and brightest lights you can afford. So you end up scouring the internet looking at ratings like lux and lumens, distance, and colour temperature and you probably end up with a set of lights that look good in the advertisement but don't live up to expectations in the real world. That's not how I would purchase a set of driving lights and it's why I think these LightFox 7″ Iconic Laser LED Driving Lights from Vic Off-Road are worth considering.
When I look for driving lights, there are three things I look for:
Solid construction. They have to be able to survive the harsh conditions of the outback.
Solid mounting. They have to be able to hold their position and alignment over hundreds of kilometres of corrugations.
Decent light output. They have to be an improvement over the standard lights on the car.
When the guys at Vic Off-Road sent us a prototype set of their new LightFox 7″ Iconic Laser LED Driving Lights with DLRs, I was keen to give them a try. Pricewise, these lights sit in the low to the midpoint of the market, selling for $349.95 for the set. For that money you get:
Pair Lightfox 7″ Laser/LED Driving Lights
2 x Clear Protective Covers
2 x Blackout Protective Covers
2 x Mounting Brackets
2 x Rubber Pads
2 x Mounting Hardware
2 x Extension Harnesses
1 x Wiring Harness
If the packaging was anything to go by, you'd be very impressed before you took the Lightfox lights out of the box. There's a touch of class here. The lights themselves look and feel top quality. All metal construction, large heatsink, and solid mounting hardware all bode well.
The lights come pre-terminated with female Deutsch plugs and a single yellow wire for daytime running lights. You might want to consider putting some conduit around this wire when installing the lights just to give it some extra protection.
The mounting brackets are secured with three bolts and locknuts with rubber pads under the bracket. This results in a very strong installation that should survive the worst corrugations. Each light is secured to the mounting bracket with two bolts and spring washers so, once aligned and tightened, they should not move either.
Installation is reasonably straightforward. The 'plug and play' wiring harness comes with two male short leads to connect to the existing driving light harness with pre-terminated Deutsch plugs. We couldn't find a high beam pick up and the install requires termination to positive and earth at the relay and the switch. This wouldn't be an issue for an experienced installer, but a novice might struggle. This could be just an issue with the prototype lights we had and should be remedied with the production units.
In use, the LightFox 7″ Iconic Laser LED Driving Lights certainly impress. The daytime running lights are very bright. You will definitely be seen by oncoming traffic. In fact, at night, you could almost drive with the illumination provided by the DRLs alone.
As far as overall performance goes, I wouldn't say these are the brightest lights I've ever seen but they do a very good job considering, at 7-inches in diameter, they are smaller than most other lights. They are also a third of the price so you have to be realistic about your expectations. They definitely provide a marked improvement over the high beams on the test vehicle which was fitted with after-market headlights that were much better than the originals on the old HiLux.
These LightFox lights are marketed as 'laser' style so they are intended to provide more long-distance light than a spread beam. In use, I found the spread was reasonable and the depth not quite as long as higher-cost laser style lights. If you're looking for extreme distance light penetration, you might be disappointed but if you're after a decent set of all-purpose driving lights, I reckon these do a very good job. Check the video below to see how they perform.
In summary, I liked the LightFox 7″ Iconic Laser LED Driving Lights. Being a smaller diameter light, they are suitable for a variety of vehicles, especially with limited available mounting space. The quality of the lights and the strength of the mountings means they should be able to survive the worst of conditions. The DRLs are fantastic and provide a high degree of safety and the general performance is more than adequate for the average driver. At just $349.95 for the set including an impressive 5-years warranty, I believe they are excellent value for money.
For more information, visit the Vic Off-Road website.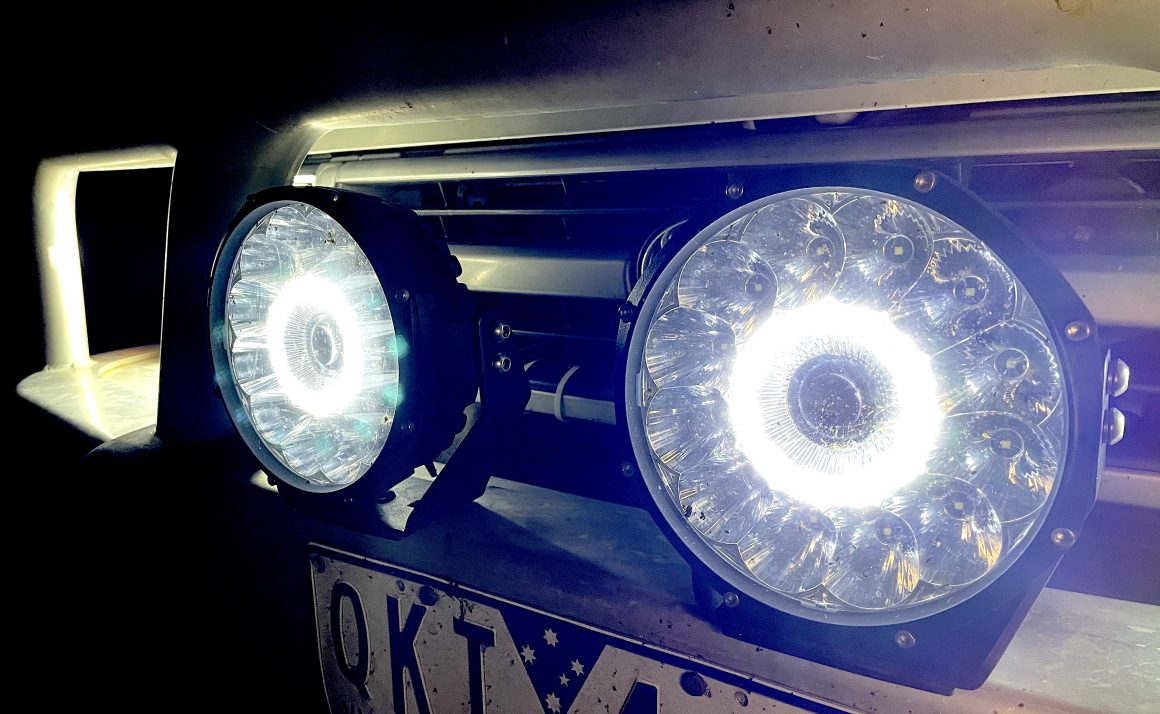 Specifications:
Brand: LIGHTFOX
LUX Rating: 1Lux@1,066m(Pair)
Lumen: 10,834 (Pair)
Dimension: 7''
Waterproof: IP68 Rating
Bulb Type: Laser/LED Hybrid
Chip: OSRAM
Laser Beam: 3°
Driving Beam: 15°
Colour Temperature: 5700 Kelvin
Housing Material: Aluminium
Heat Sink: Aluminium
Lens Cover: Strengthened PC
Bracket: Stainless Steel
Sealing Material: Silicone
Relative Light Intensity: 78% (150°C)
Expected Lifespan: 50,000 Hours
Operating Environment: -40 – 150°C
Gross Weight: 5.7kg
Package Dimension: 56cm x 27cm x 16.5cm