If you're in the market for a 4×4 wagon that can tow 3.5 tonnes and still function as a practical daily drive, the latest Isuzu MU-X should be on your shopping list. We drove one for 5 days to see if it cuts the mustard as an all-round tow vehicle.
Anyone wanting to purchase a new 4×4 dual-cab ute as a tow vehicle with 3.5-tonne towing capacity is spoilt for choice. But, if you need a wagon, perhaps with the option of seven-seat capacity, the list of suitable vehicles drops rather dramatically. There are the obvious choices of either a Toyota Landcruiser, Nissan Patrol, Jeep Grand Cherokee, Land Rover Discovery as well as a small number of European contestants. While all these vehicles have their merits, the problem is these are all either very expensive, extremely large or they have service networks that don't extend far outside the major capital cities and regional centres. Surely there must be an alternative that can function as the family car, weekend off-road escape machine, daily drive in the CBD, and can take the crew on a family holiday with a big caravan in tow. Enter the 2021 incarnation of the Isuzu MU-X.
On paper, it appears to be more than up for the challenge. The "Australian-specification" 4JJ3-TCX 3-litre, turbo-diesel engine outputs 140kW at 3,600rpm and a very respectable 450Nm at 1,600-2,600rpm. It features a new, stronger, and more efficient 4×4 drivetrain with 2WD-High Range, 4WD-High Range, and 4WD-Low Range, an electromagnetic locking rear differential (rear diff-lock), and 'Rough Terrain Mode'. It has enough seats to accommodate a family of seven and it is smaller and lighter than many of the other vehicles mentioned earlier making it more manageable in the tight CBD, urban streets, and low car parks. Best of all, the new MU-X is rated to tow up to 3.5-tonnes. It all sounds too good to be true.
Isuzu was kind enough to let us have a new MU-X for 5 days which meant we were able to really put it through its paces and test it in a variety of conditions and situations. On top of that, Roadstar Caravans loaned us their new GT-Sport 5-berth 22-foot family van with a TARE weight of 2.5-tonnes so we could give the new MU-X a proper tow test.
First impressions:
The new MU-X is a good-looking vehicle that is definitely not as imposing as a Landcruiser or a Patrol. It looks and feels more like a medium-sized SUV. Getting in and out is no struggle at all. The interior is modern in appearance and ergonomic in function. The centre dashboard is dominated by a large 7-inch multifunction display that features Apple Car Play and Android Auto. The stitched leather seats are firm but comfortable although some may find they lack support under their knees. The second row of seats is just as comfortable and there is plenty of legroom for taller passengers. The third row offers enough room for two medium-sized adults but the view out the rear side windows is limited. With the third row up, there is still enough boot space to fit a few full shopping bags or a couple of small suitcases but not much more. With the third row folded flat, the cargo area is positively cavernous. A family of five would have no trouble fitting enough gear in the MU-X for an extended holiday. Things were looking promising from the outset.
On the road:
Start the engine and there is no hiding the fact this is a diesel donk with truck origins. You'll definitely hear it outside. Inside it's not too bad and no worse than any other diesel-engined car I've driven. Once the engine is started, the instrument panel goes through its start-up cycle. The number of warnings and status lights is staggering…! There is a digital information display between the speedo and tachometer which gives the driver enough useful (and useless) information to keep you entertained for hours. The text on this display is a little small and my 53-year-old eyes struggled to read some of the information. The driver's seat features enough electronic adjustment to find a comfortable driving position.
If you're used to driving a petrol car, the MU-X will feel a bit reluctant to get moving when you put your foot down. This is due to Isuzu recognising the MU-X has to function as a 4×4 and the accelerator has a long travel. With a little more right foot pressure, the MU-X gets up to speed very quickly and can easily keep up with the traffic. In fact, it feels slower than it actually is. A check of the speedo often surprises.
The steering is very light. Almost too light but it does make negotiating city traffic, parking, and maneuvering the vehicle in tight spaces very easy. All-round vision is good even through the small rear window. When reversing, the large display and rearview camera make backing and reverse parking a breeze. As a city/urban vehicle, the MU-X scores highly.
Out on the highway, the MU-X continues to be a good performer. The engine feels punchy getting up to higher speeds and, once at cruise speed, it hums along quite nicely although the over-assisted steering makes it easy to wander in your lane, triggering the lane departure prevention. While on the subject of safety, the sheer number of safety features in the MU-X is staggering. Adaptive Cruise Control, Autonomous Emergency Braking, Blind Spot Monitoring, the aforementioned Lane Departure Prevention, and something called Misaccelaration Mitigation, all seem to make their presence felt in one way or another. It's like having your dad sitting beside you whacking you with a stick every time you do something wrong.
The transmission is also slightly annoying in that it tries its best to stay in the highest gear possible, resisting all but the most determined effort by the driver to make it change down a gear to go up a hill. If you're on a motorway with a 110-kph limit, it's not a problem at all but at 100-kph, the MU-X feels like it's in too high a gear. To be fair, I have encountered this with many new vehicles. There seems to be an obsession among manufacturers with achieving good fuel economy at the expense of drivability. In any case, it seems to work, with the MU-X getting between 8 and 10-l/100km fuel consumption indicated on the trip computer.
There is one safety feature on the MU-X I really did appreciate; the speed limit indicator. It appears to use the cruise control camera system to detect speed limit signs and display the limit on the dash. It does away with you ever wondering what the speed limit is in any section of road and potentially being booked for exceeding it. As a driver who has succumbed to this very situation in the past, this feature is amazing and it seems to work regardless of the size of the sign and even in road work areas. Top marks Isuzu..!
Off-road ability:
The MU-X has, without doubt, a ton of good gear to make it work off-road. High and low range 4wd, traction control, and rear diff lock all combine to ensure you can get out of any tricky situation. We took the MU-X up to the Tallarook State Forrest to see how well it went off-road. The first issue we noticed was the very low front spoiler which inhibits the approach angle. The MU-X also sits quite low to the ground. I wouldn't want to take it on any severe bush tracks like some you find in this area. On the more moderate tracks, the MU-X was more than capable. The conditions were quite wet and slippery but posed little challenge to the MU-X and its excellent 4wd systems. The light steering made negotiating tight tracks a breeze. On long gravel roads, the MU-X was stable and, although the suspension is on the firm side, it wasn't upset by mid-corner bumps or corrugations.
When it comes to after-market modifications, I don't think you would have too much trouble with the MU-X. Its popularity, along with that of its dual-cab-ute sibling, the D-Max, means there should be plenty of aftermarket accessories available. One thing you might struggle with is fitting a second battery in the engine bay. There doesn't seem to be enough spare space to fit one. That said, you could easily fit a slimline Lithium battery in the hidden floor compartment in the boot behind the third-row seats.
Towing ability:
This is where things start to get very interesting. I have to admit to a certain amount of doubt that the MU-X could function as a heavy-duty tow vehicle. When I first hitched up the Roadstar 22-foot GT-Sport van to the back, I thought to myself that is a very big van behind that poor little car. The on-road performance of the engine/transmission also didn't bode too well. As it turned out, I could not have been more wrong. It sounds strange to say this but putting a reasonably heavy van on the back of the MU-X totally transforms the vehicle into a very competent tow tug.
The engine is very willing to pull away from a standing start and it cruises along easily keeping up with the CBD afternoon traffic. Out on the highway, the transmission holds onto third and fourth gears longer than it did without the van on the back and, once into gear, the MU-X cruises quite comfortably. It's no V8 Patrol but it is honest and capable. At one point driving along the Hume Highway towards Seymour, I looked down at the dash to check my speed to find I was doing 120-kph. Again, it just doesn't feel like it's going that fast. Slowing back to legal speeds, sixth gear is achievable with 2.5-tonnes on the back but not recommended. I would switch to manual mode and put the transmission in 5th gear where the MU-X feels happiest.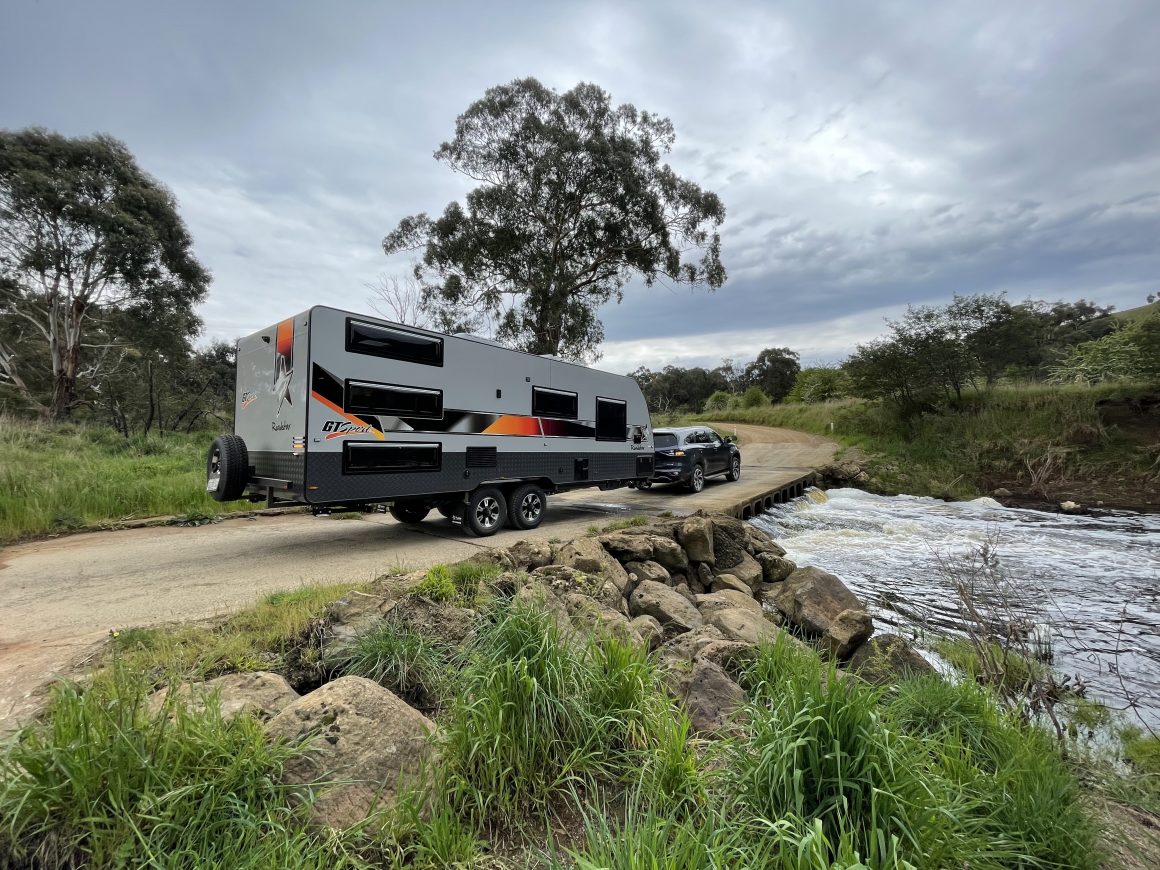 When it comes to towing on secondary country roads, the MU-X again defies expectations. Switching back to fourth gear, the engine feels responsive and in the right rev range to accelerate when needed. All but the steepest hills present a challenge. At one point we were climbing up a steep section of road towards Murchison Hill, the MU-X dropped to a lower gear and climbed the hill holding 60-kph with very little strain at all. I was impressed. Add to that a fuel economy of 16.5-litres/100km while towing 2.5-tonnes and I was really starting to like the MU-X.
Roadstar caravans are known for their excellent towing manners and behind the MU-X, the GT Sport was no exception. That said, while the MU-X remains stable on these less than great roads and it does inspire confidence, I could feel that there was a big caravan there. When you get hit by a gust of wind from the side or the pressure wave of a passing truck, you notice it more in the MU-X than you would in a large 4wd like a 200 Series Landcruiser. It did make me wonder what the experience would be like towing a caravan approaching the MU-X's 3.5-tonne towing limit. And that brings us to the next question.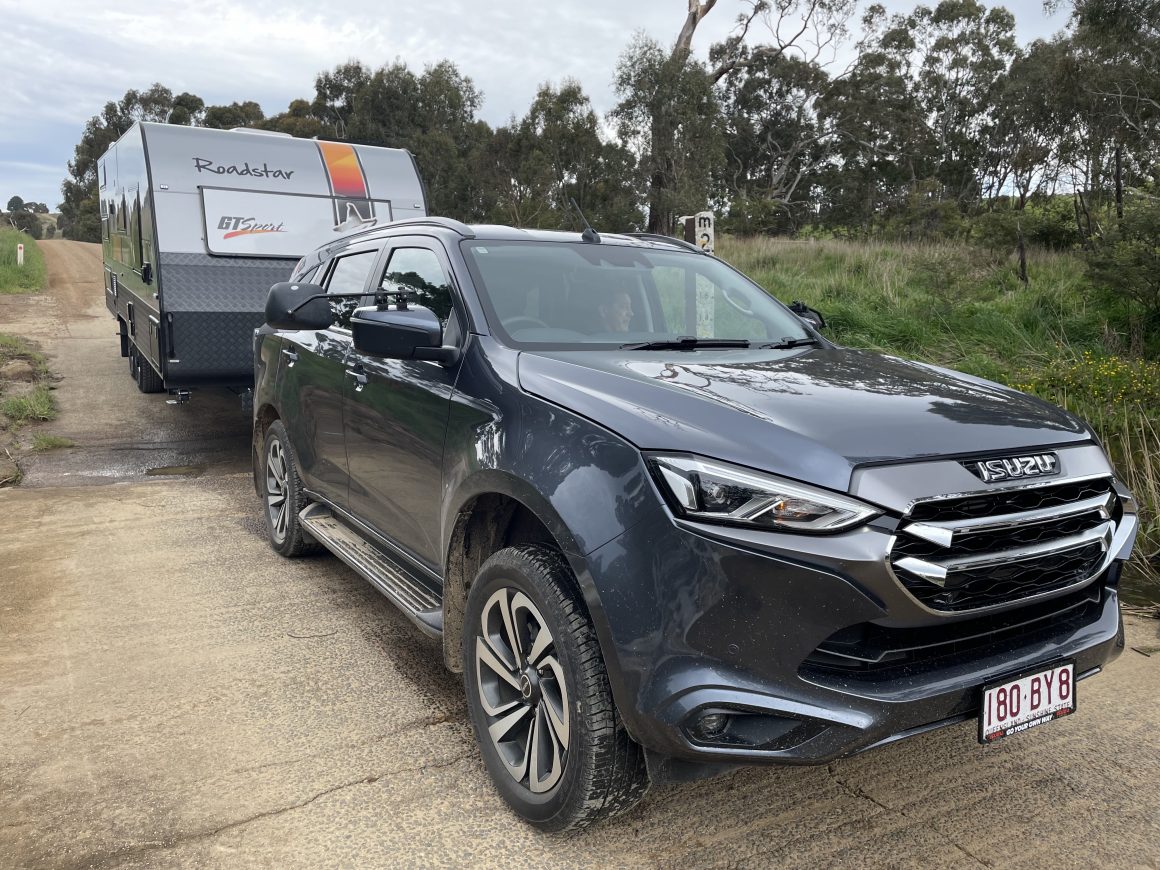 Can the MU-X tow a 3.5-tonne caravan?
It is my opinion that MU-X has an engine and transmission combination that is capable of towing that sort of load. It would be at its limits but that is equally the case with other vehicles in the 3.5-tonne towing class. In standard trim, the chassis and suspension would also be up to the task but not in the same class as a large 4wd. You would want to load up the MU-X a bit more in order to feel in control of such a heavy load but this is where you start to hit a slight snag.
According to Isuzu, the MU-X LS-T 4×4 we tested has a kerb weight of 2,175-kg and a GVM of 2,800-kg giving a load capacity of 625-kg. You could expect a 3.5-tonne van to exert a tow ball load of 350-kg leaving just 275-kg remaining cargo capacity. If you have two adults in the car weighing 90-kg each (180-kg total), you're left with 95-kg for all their luggage and any vehicle accessories. It's not a lot. Looking at the maths against GCM, the situation is even worse. The MU-X's GCM is 5,900-kg. Take away 3,500-kg for the van and 2,175-kg kerb weight for the car and you're left with just 225-kg cargo capacity and just 45-kg remaining with two adults onboard. You might be able to remain legal with just two adults but, in reality, it would be impossible for the MU-X to be loaded with a 3,500-tonne van and a family of five to remain legal. In fairness to Isuzu, to a greater or lesser extent, this problem plagues just about all other 3.5-tonne towing capable 4×4 wagons on the market.
Now here's the thing. You don't need to tow a 3.5-tonne caravan in order to accommodate a family of five on an extended holiday. The Roadstar van we towed had a TARE weight of 2.5-tonnes and an ATM of 2.9-tonnes. With this fully loaded van attached, the MU-X's GCM is no longer a problem and against GVM, you now have a 335-kg cargo capacity assuming a 290-kg tow ball load. This is a much more realistic proposition.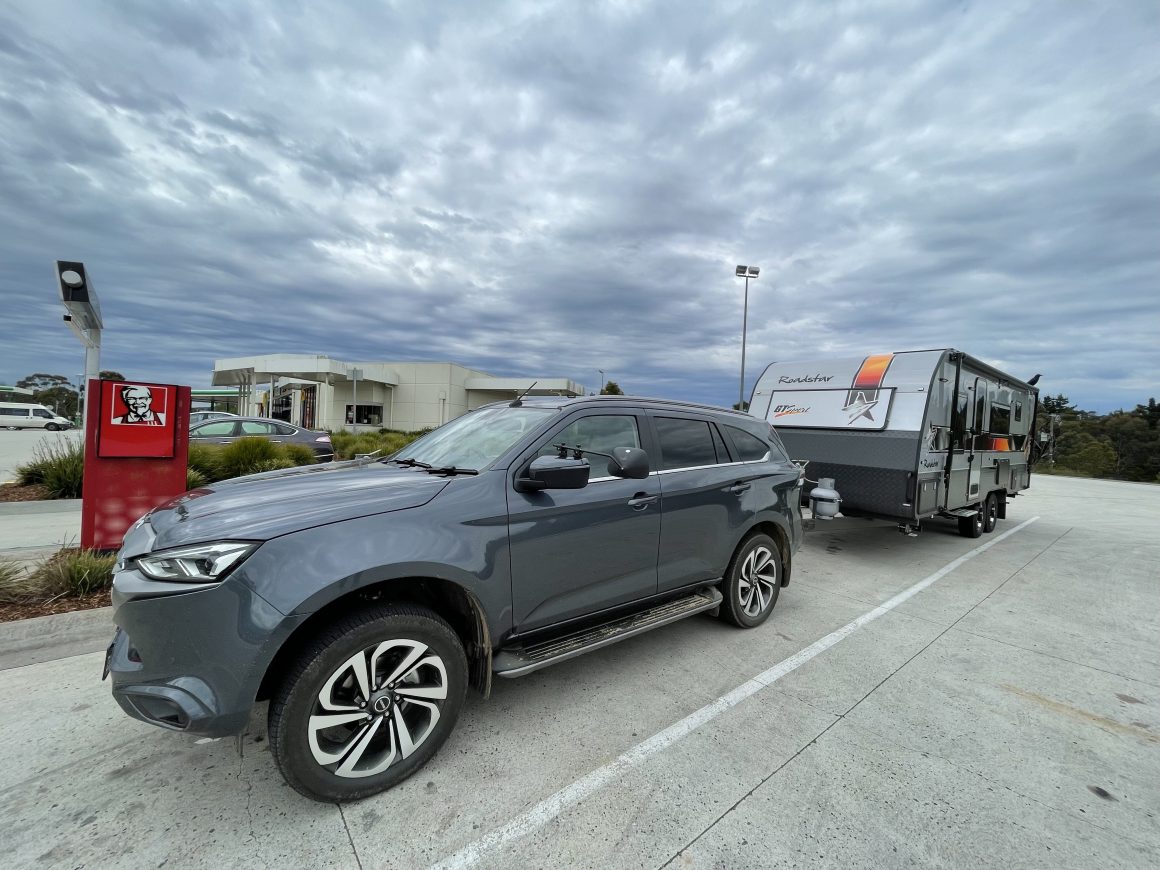 Summing up:
I came away from this tow test very impressed with the new Isuzu MU-X. I'm a Landcruiser man and I have to admit my expectations were exceeded to the point I didn't want to give the MU-X back. It really is that good. Yes, there are a few minor issues with the gearbox and I don't think I could get used to all those annoying safety features, but these are issues you will get with any new car on the market these days. The low GCM all but rules out any intentions of towing a 3.5-tonne van, but, if you accept the fact that you don't have to tow that sort of weight to comfortably accommodate a family of five on the road, then the MU-X puts forward a very convincing argument in its favor.
The MU-X we tested was the range-topping LT-S 4×4 with optional metallic paint and has a price tag of $66,882.95 including on-road costs. That's a lot of car for the money especially when you consider you could almost buy two MU-Xs for the price of a single Landcruiser 300 series.
The new Isuzu MU-X is a family 4×4 that is easy to live with in the city, a competent and economical highway tourer, a solid tow vehicle up to around 3.0-tonnes, and a capable medium-duty off-roader. Isuzu has an enviable reputation for toughness and reliability that is backed by a six-year warranty, seven years roadside assistance and seven years capped price servicing.
If you're in the market for a 4×4 wagon as a tow vehicle, the new 2021 Isuzu MU-X should be at the top of your list.
Safe travels.