The Large Towed Recreational Vehicle Rebate Scheme is now open, and motorists can claim tolls dating back to June 1, 2020.
In June, RV Daily published a story about a petition launched by NSW MP for Wallsend, Sonia Hornery. The petition was set up to counter the move by Transurban, the NSW toll operator, that saw a hike on the tolls charged to drivers of larger caravans (formerly Class A vehicles) to put them in the category as semi-trailers, or Class B. For some, this meant a huge impost and understandably annoyed recreational road users at being charged the same rate as large commercial vehicles.
The changes on the Transurban website show the differences in the tolls between a Class A and a Class B vehicle for various NSW motorways. For example, the capped charge on the M7 Motorway is $8.19 for a Class A vehicle, whereas a Class B vehicle charge is capped at $24.57.
For the last 12 months, Sonia Hornery has been campaigning for the reclassification of vehicles towing a boat, caravan or trailer after Transurban reclassified these vehicles in category B. In a recent statement, Sonia Hornery said she had called on the Roads Minister, Andrew Constance, to use ministerial regulations to reclassify these vehicles back to Class A. Such a move would have kept them at the same rate they had paid since the beginning of tolls on these roads.
As has been reported, instead, the minister introduced the Large Towed Recreational Vehicle Rebate Scheme, which sees NSW taxpayers reimburse drivers across NSW the difference between Class B and Class A tolls, which on the M2 and M7 can be as much as $31 per vehicle per trip.
The new rebate scheme applies to Sydney's toll roads, with the exception of the Sydney Harbour Bridge and Tunnel which have a single toll for all vehicles. The scheme will also apply to motorways that will open to traffic in coming months, including NorthConnex and the WestConnex M5 East/M8.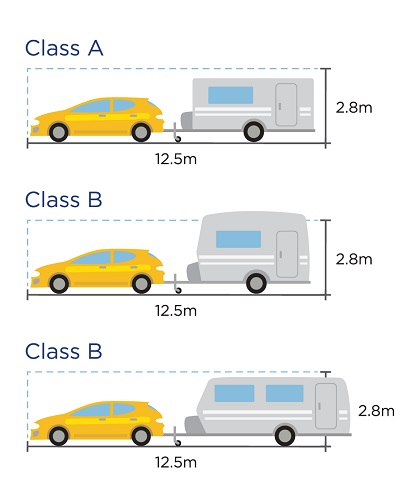 The scheme will provide rebates on tolls for large caravans, boat trailers and horse floats with a combined length of car and towed vehicle greater than 12.5 metres long or more than 2.8 metres high.
To register for the rebate scheme, motorists will need to go to their toll tag provider's website, select Register for the Large Towed Recreational Vehicle Toll Rebate and follow the prompts to complete their registration. The rebate is capped at eight tolled trips per monthly billing period.
Trips from June 1, 2020 will be eligible for the rebate. Transport for NSW is working to have the claim system up and running by November 2020. Eligible customers can register for the scheme from October 22, 2020.
However, to be eligible for the rebate, you must:
Be a NSW resident
Have both the car and towed recreational vehicle registered in NSW for private, pensioner or charitable use
Have travelled on a NSW toll road with a car, caravan, boat, or horse float combination detected as a Class B vehicle, and had a Class B toll charged to your toll account
Have paid Class B tolls with your NSW issued electronic tag
Have paid the toll in full
Claim your rebate within 12 months after you receive your toll statement.
Note: The Rebate Scheme is NOT available for motorhome road trip tolls.
For more information click here