An addition to the AOR range seems to rise to the occasion, with a full-height camper called the AOR Quantum Hard Top.
I've reviewed a lot of AOR campers and spoken to a lot of owners over the years. Quality and innovation are two themes that keep coming to mind. The AOR Quantum is a hybrid camper that has been around for a few years now and has a couple of variations to suit different needs. So, is there room for another?
In my opinion, yes, and that is a resounding yes. The Quantum Full Height/Hard Top makes a lot of sense for a number of reasons. It is likely to attract those who like the idea of a caravan but still like spending most of the time outside. Not having to put the roof up when you arrive somewhere makes life easier. There will be no need even to put the awning out if the weather is clear. The kitchen sets up in seconds rather than minutes; in fact, I reckon I could do it in less than 90 seconds.
Although you will see AOR campers in caravan parks, they are more likely to be found off the beaten track in national parks and other hard-to-get-to places. AOR campers are built to be taken where others may fear to travel. The Plenty Highway or Oodnadatta Track are the types of places you'll more likely see a Quantum. Given their ability to handle tough tracks, what goes into the AOR Quantum Hard Top?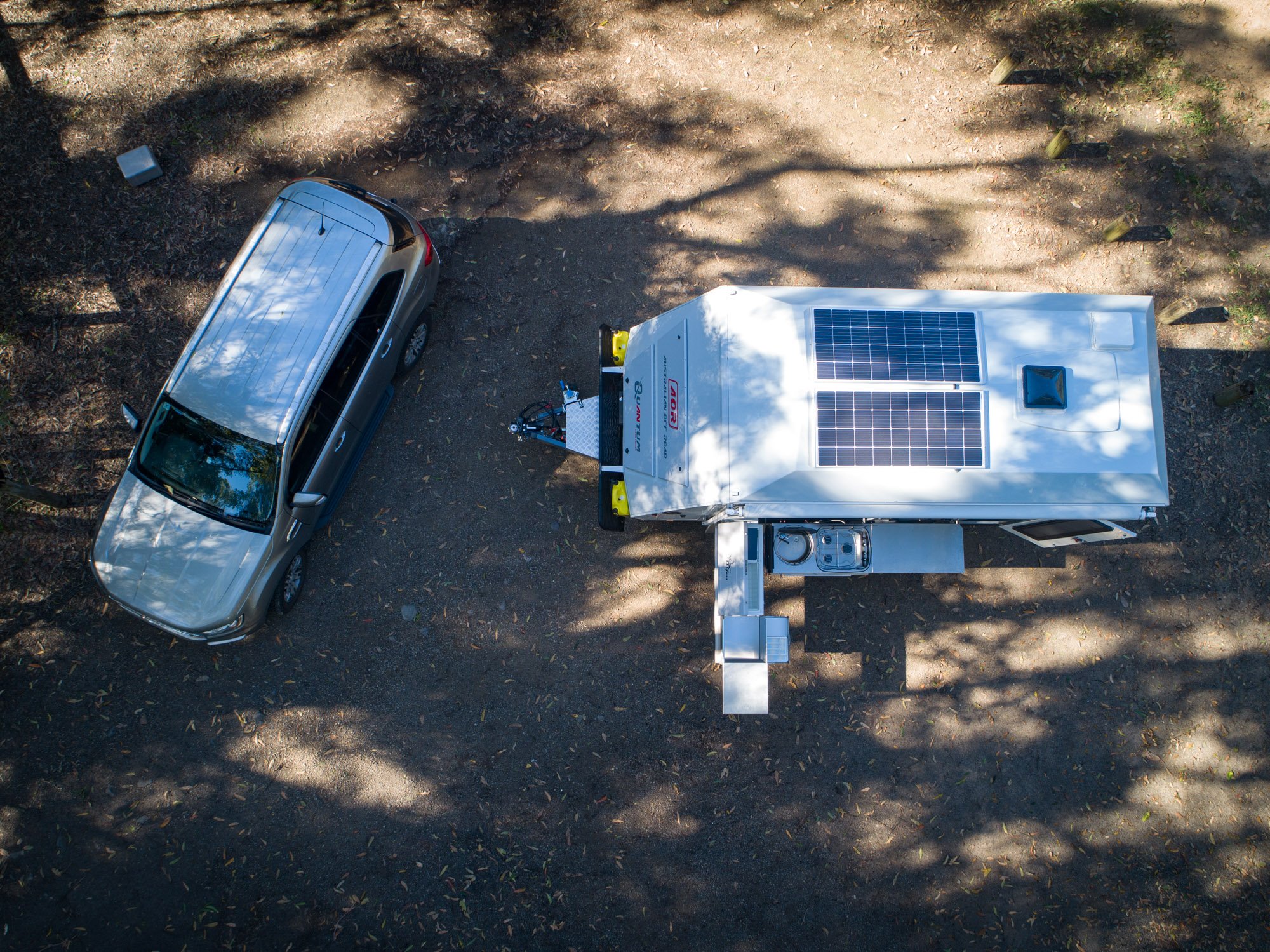 Outside
As with all the AOR campers, the Quantum Hard Top (HT) shares the fibreglass monocoque body, which provides strength and stiffness while allowing a light Tare weight. The use of composite panels also provides insulation against heat and cold. It has a narrow body of just 1950mm, allowing easy access to those more difficult locations and 4X4 tracks.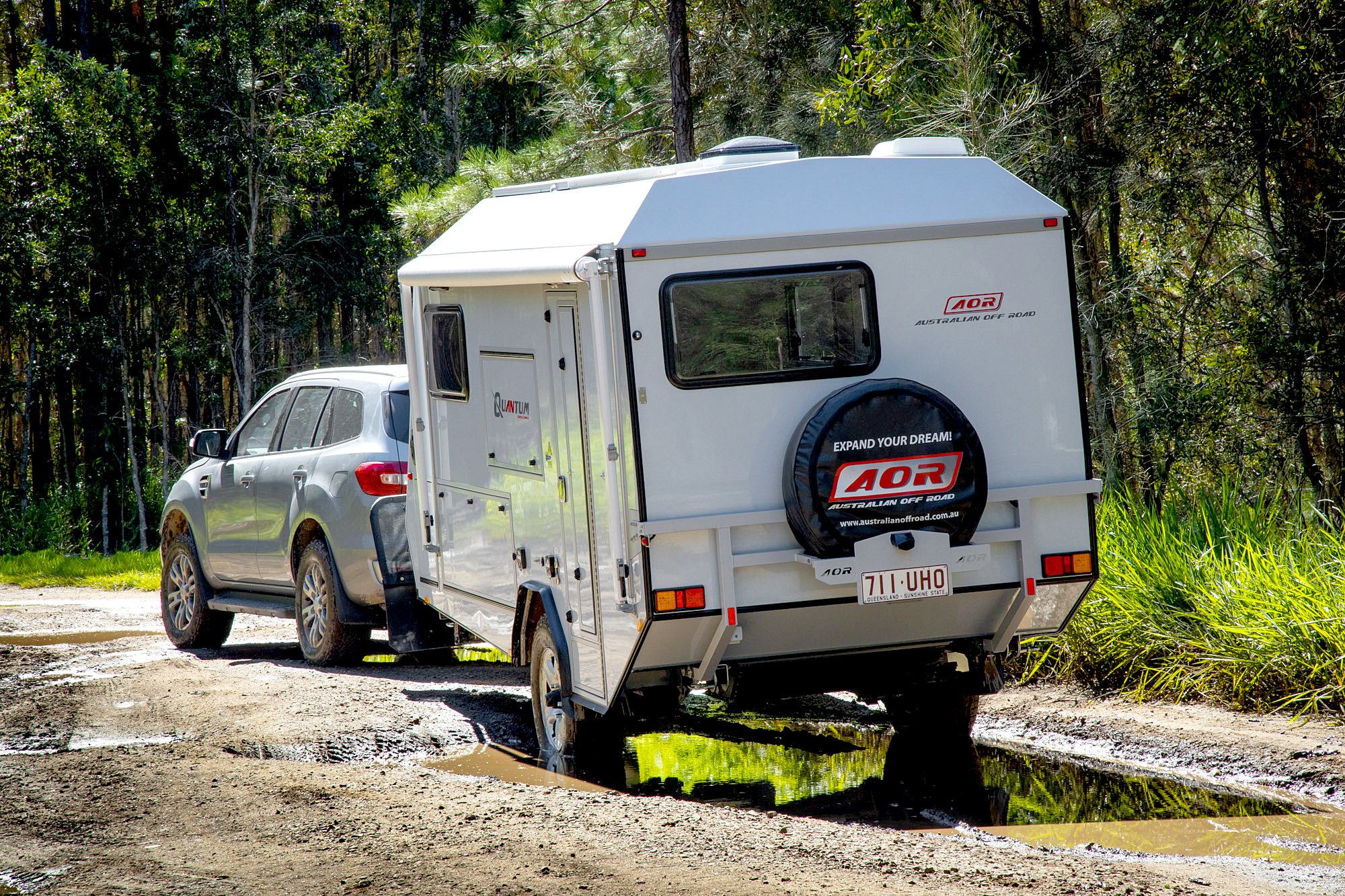 The new full-height Hard Top has an increased external height of 565mm. This may come into play if travelling down tracks with low-hanging branches, although that won't be in issue in the outback. The rear and sides of the roofline are angled away from the body so the extra height shouldn't cause a problem on tracks where the body is on a lean. The Quantum HT will be able to access tracks that would cause problems for a standard designed full-height caravan.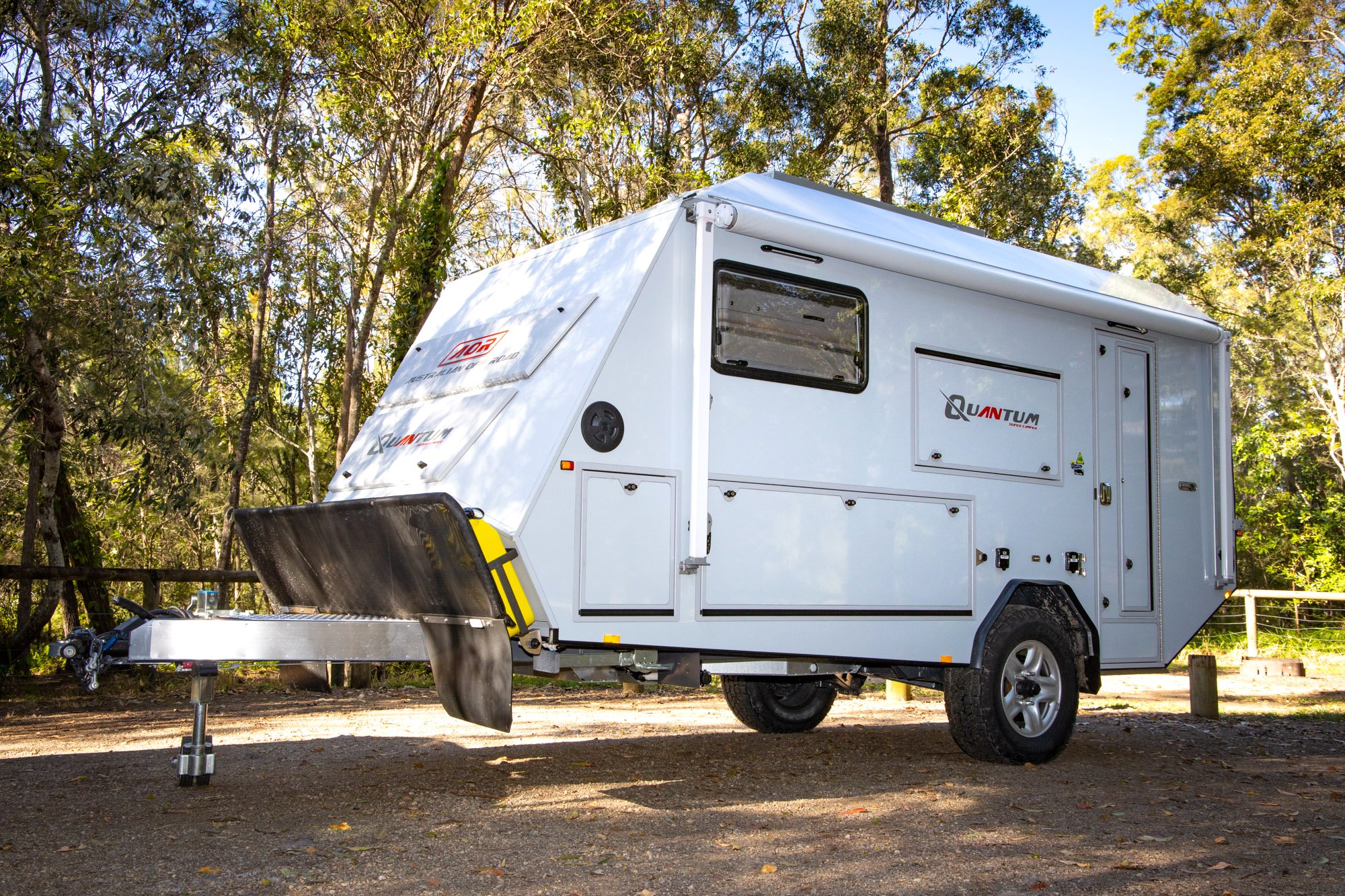 The front of the Quantum HT is angled more steeply than the Matrix HT, which may cause a little more wind resistance but is appreciated when able to fully sit up while in bed. On the roof are fitted two 150W solar panels totalling 300W of potential input. There is a skylight hatch above the sitting area and another ventilation hatch above the shower/toilet.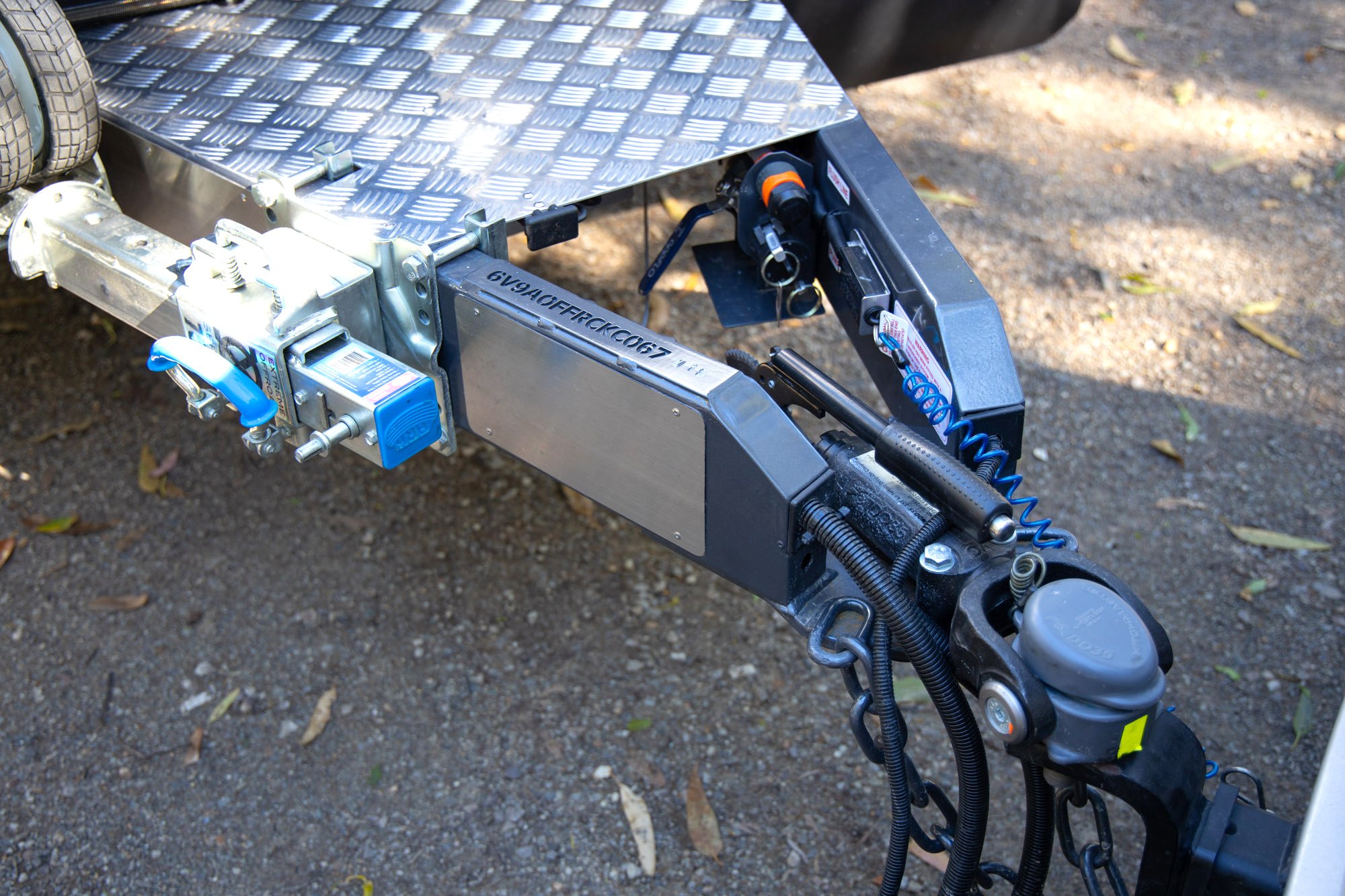 AOR realises that when people travel, they take stuff. There is loads of externally accessible storage available for all those chairs, tables, sporting goods and other items often taken on a trip. One storage area has an aluminium box capable of holding 50kg of gear. This would be perfect for dirty or wet fishing gear. Another is full width and accessible from both sides. Gas bottles are stored out of harm's way with their own storage area.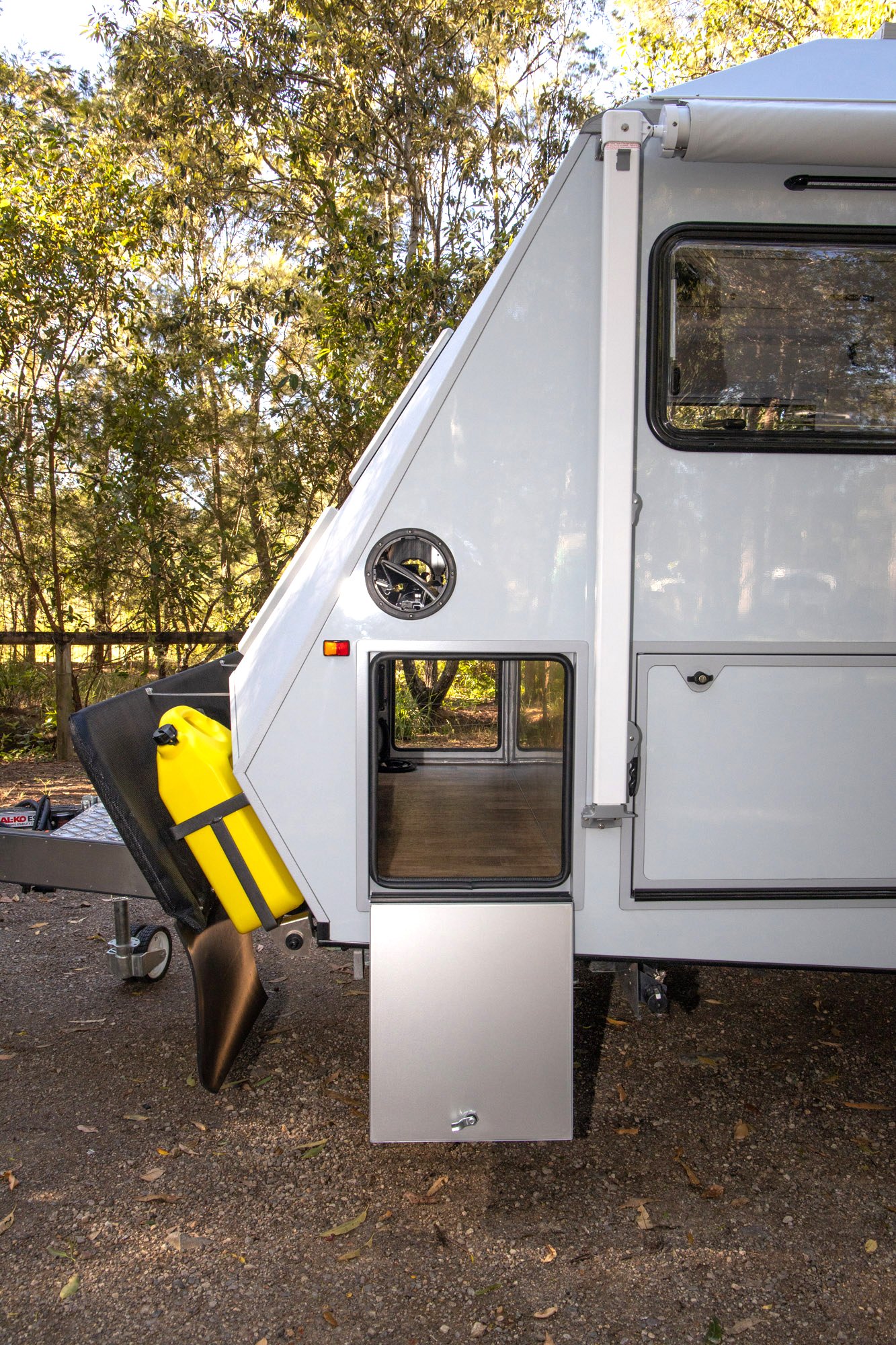 The kitchen on the AOR Quantum has to be one of the best in the business. Plenty of bench space, storage and fridge at hand. It folds out and back in again very easily. It is clear why Quantum owners spend much of their time outside enjoying the great outdoors. Towing the Quantum on the highway at 110km/h did not present any problems, and a rough dirt road at a slower speed was also a breeze. The whole AOR camper line use the same in-house independent suspension with different springs/shocks to suit each of the different campers.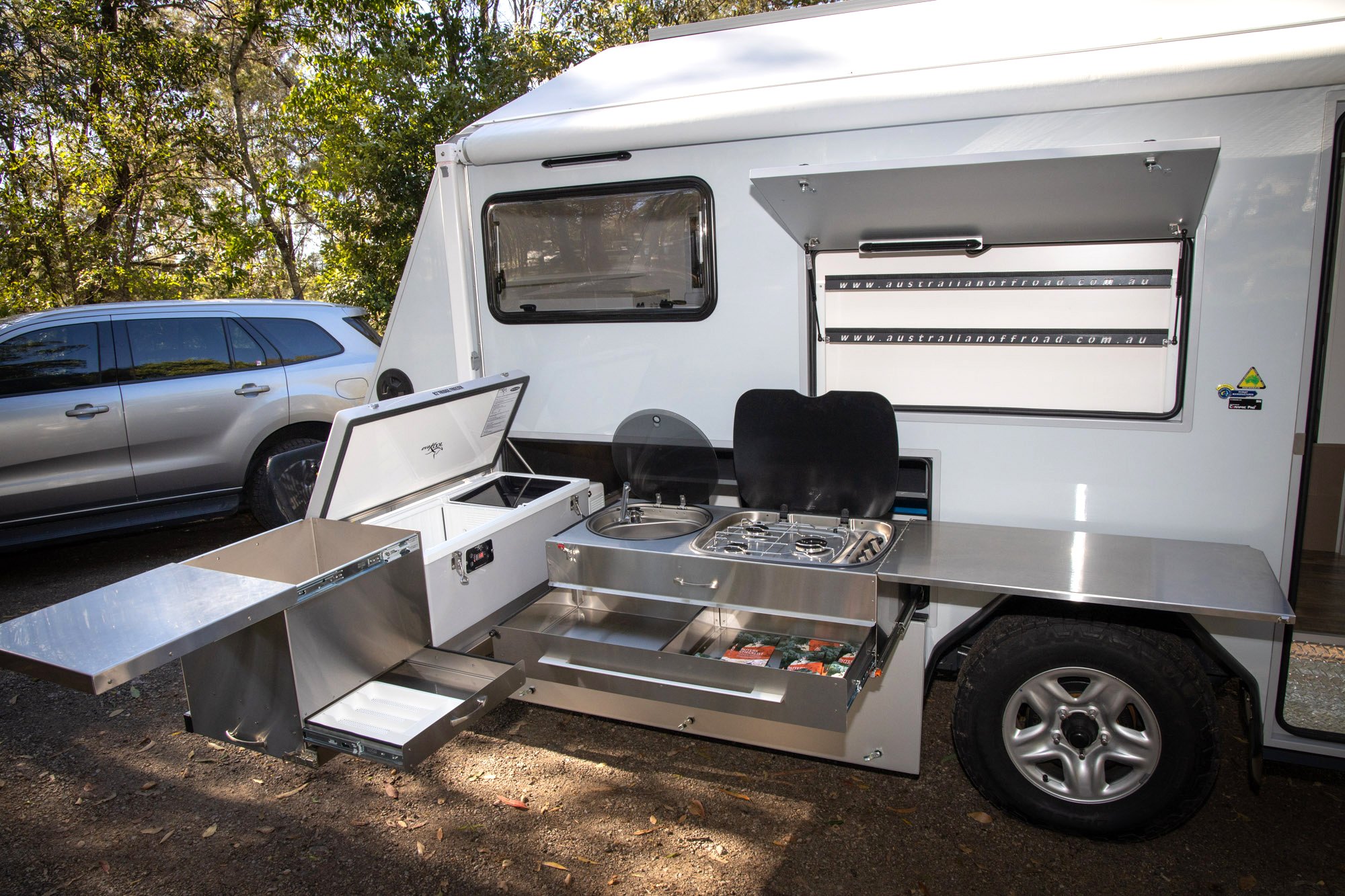 Inside
The Quantum Hard Top feels light and airy when you enter, as the roof gives plenty of headroom as well as providing multiple storage areas not available with the pop-top. Another major difference to the pop-top is the addition of a window on the rear wall. This is above the bench and internal sink and adds natural light at the end of the camper even when the door is closed. A 2000W induction cooktop can be included on the top of the rear bench next to the sink as an option. Below this bench are three large drawers. Above the bench and to the side are three types of electrical outlets. There are plenty of 12V and USB outlets throughout the trailer and it now comes equipped with auto change over mains outlets, depending on whether you're using inverter or mains power.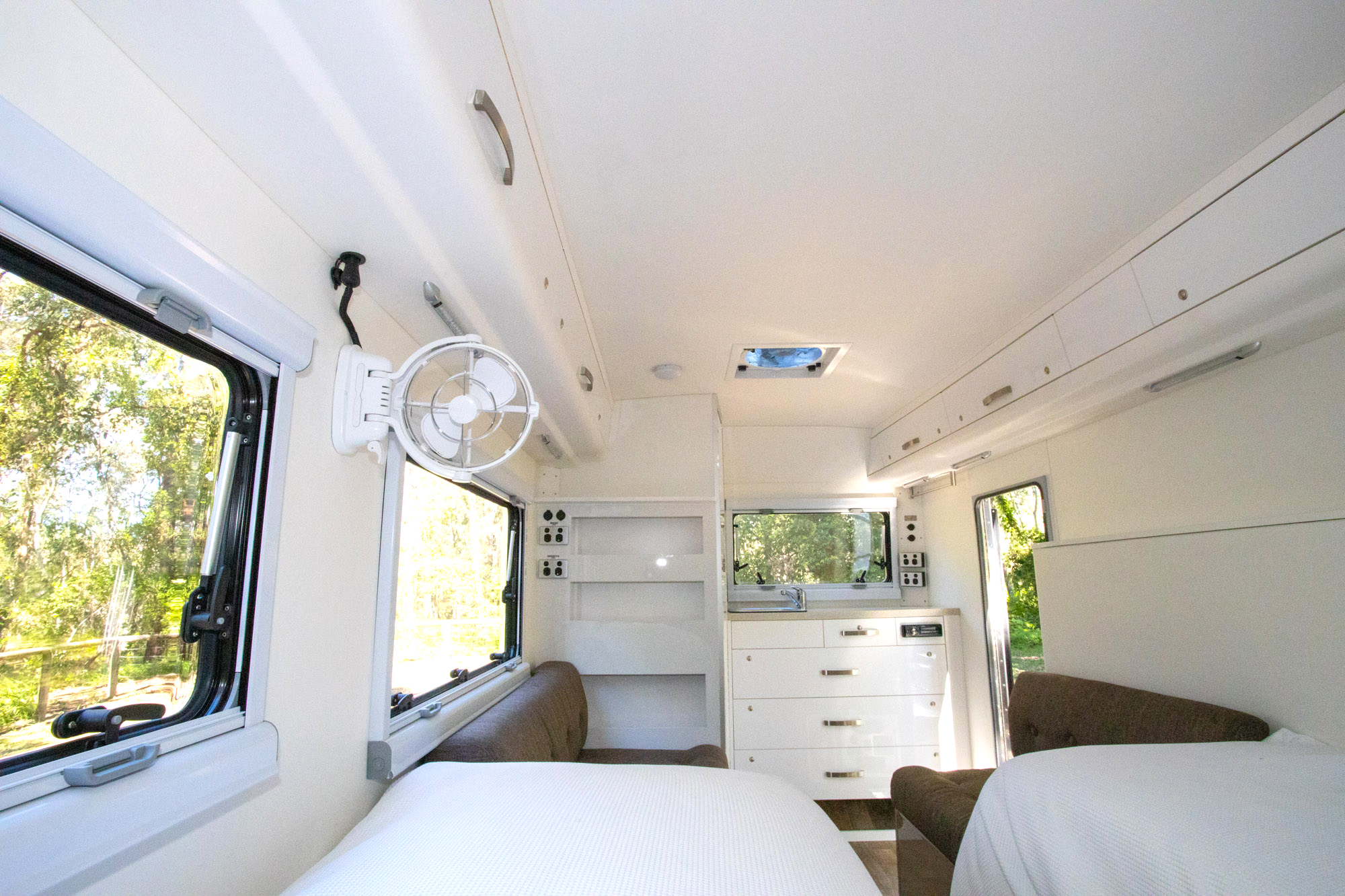 To power the inverter, lighting and power outlets, 200Ah of lithium batteries are supplied as standard. All of the electrical, battery and solar requirements are managed by the FINSCAN POWERCORE Management System located under the seat next to the door. Everything is clearly labelled and easy to access should you blow a fuse on the road. Heating is supplied by a Webasto air heater and water is gas heated. An air conditioner is optional, but with four large windows around the camper letting a breeze in through screened openings, it wouldn't be too often that you need aircon. There is also the macerator toilet and shower located internally. To store waste there is a 140-litre black water tank which will allow extended stays in national parks without facilities. The list of inclusions and features is long and best left to a brochure.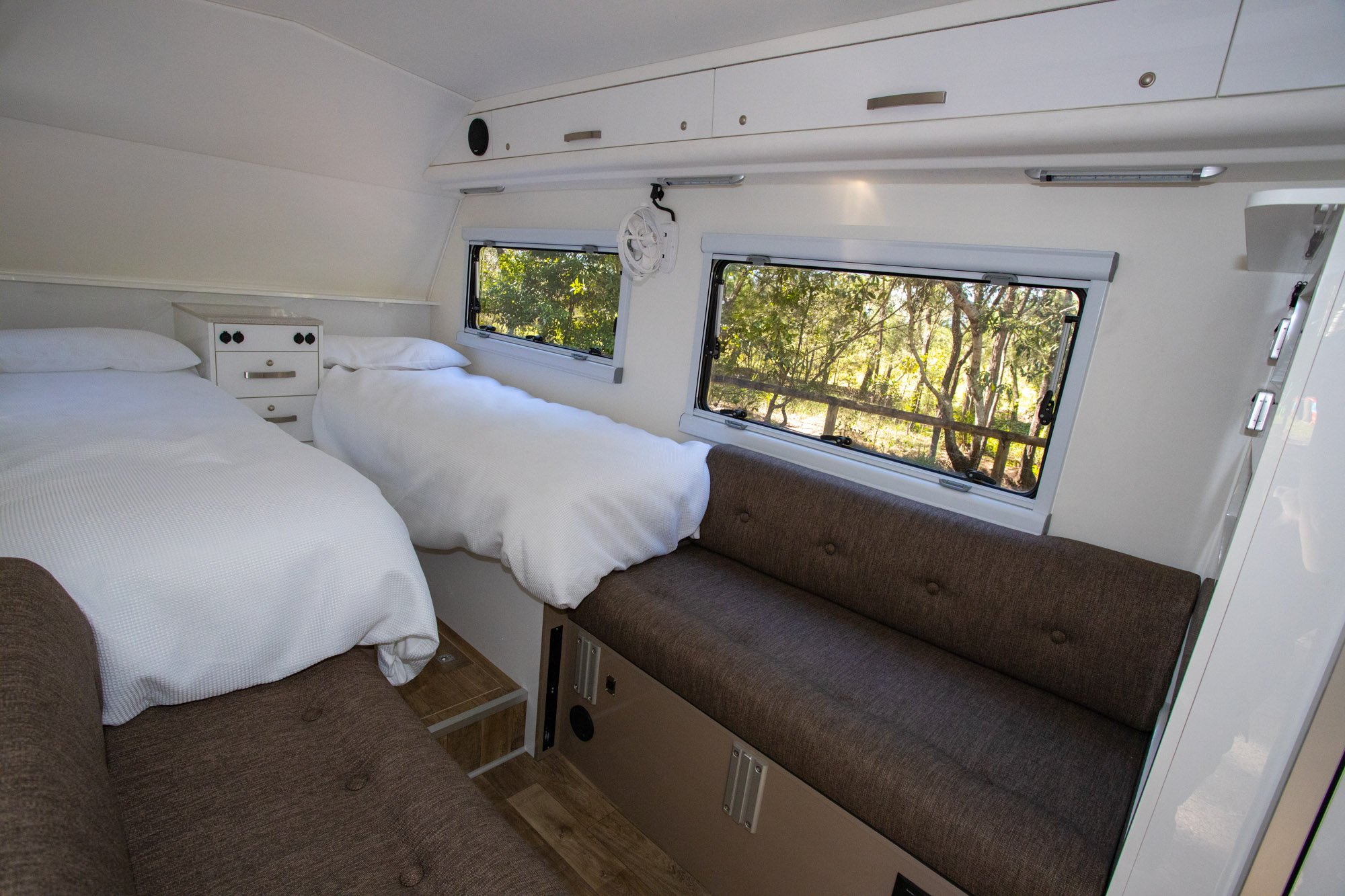 Verdict
If you are in the market for an off-road camper that can be towed by a Prado or similar, and one that packs a lot of features into a light but strong camper, the AOR Quantum Hard Top would be worth considering. I feel that there will be many who would have been happy with a pop-top but will readily see the value in the Hard Top.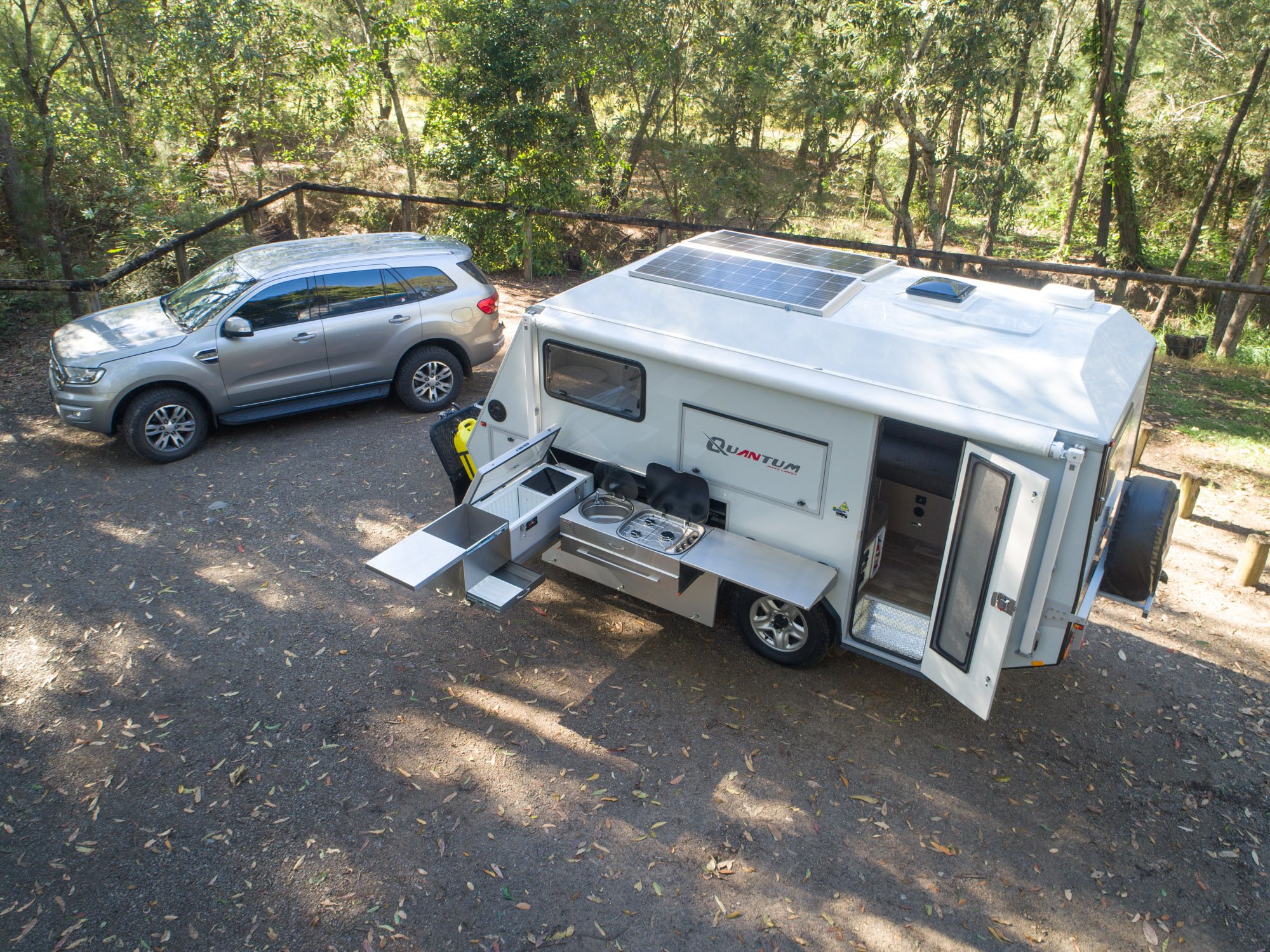 PROS
High level of quality and inclusions
Proven off-road ability
Light but rugged build
CONS
No fold-down step as standard
Higher external towing dimensions
You will need to enjoy outdoor cooking
Brief Specifications
AOR Quantum Full Height
Overall length: 6400mm
External body length: 4910mm
External body width: 1950mm
Travel height: 2840mm
Tare: 1840kg
ATM: 2500kg
Ball weight: 185kg
Price: RRP $110,900
For more AOR information click here
Words and images Gary Tischer.