NOT ALL ROADSIDE ASSIST IS CREATED EQUAL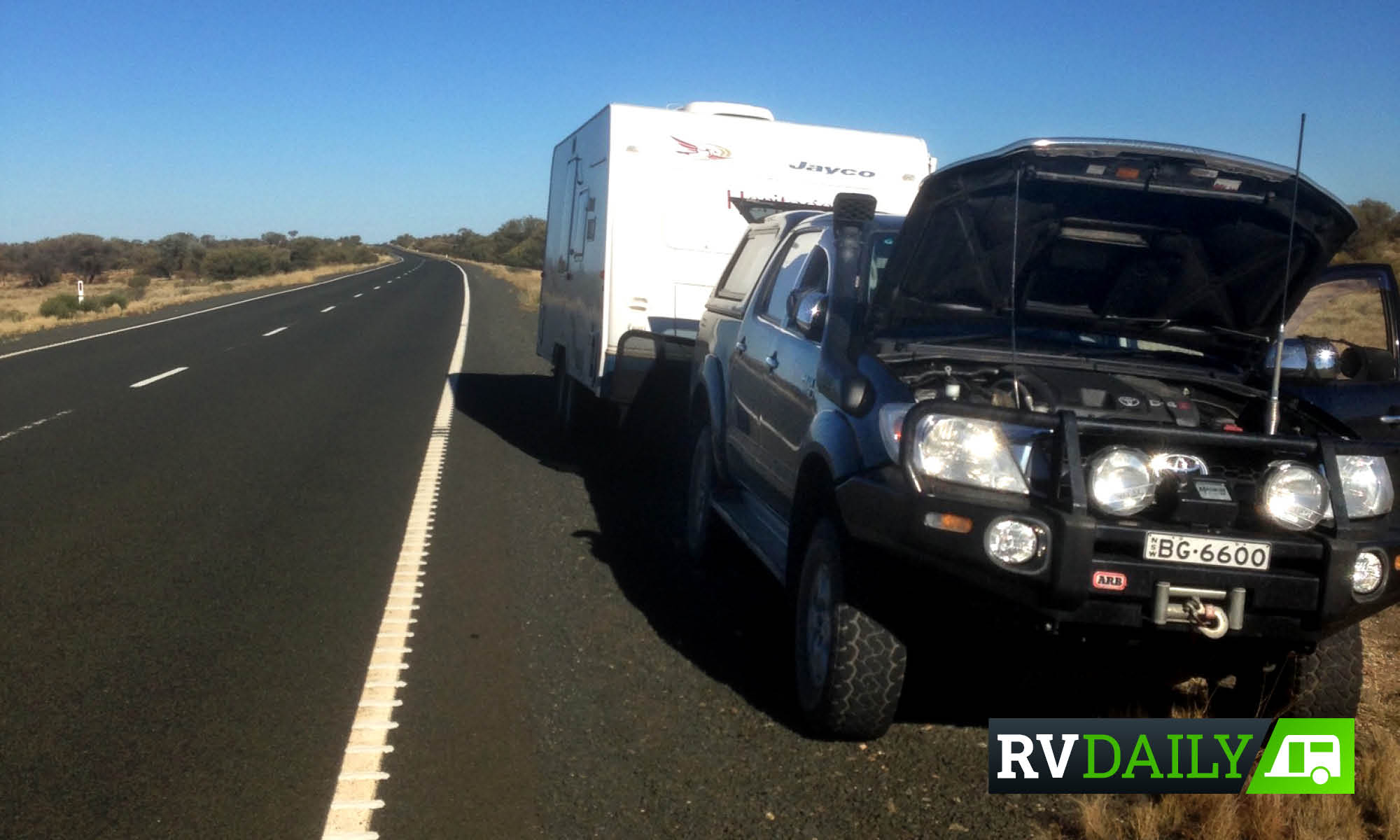 While we wrestled with the fine print, thanks to the town of Marla for its true Aussie hospitality
WORDS & IMAGES CLAIRE GARNER
After weeks of planning a trip from South West Rocks on the east coast to Uluru and back via Mt Isa, the day had arrived. From the first three hours of setting off on our trip and most days thereafter, we had issues of some kind: nail in tyre, broken mud flaps, broken flush on the toilet, split water hose, loose stone guard, and even an extension mirror getting ripped off by an oncoming road train. In hindsight, these were easy fixes. By day eight, we left Coober Pedy to go through the Centre up to Uluru via the blacktop. We got within 40km or so of the NT border when the car started shuddering and billowing smoke out the back. After pulling over, we stopped the car and tried restarting to no avail – nothing, not even a murmur. We had broken down on the side of the road with a car, caravan, a three-year-old child and no phone reception. Luckily, we had a UHF radio. We made several attempts to call for help but no-one replied. After half an hour, we managed to hail down a lovely passerby who took our details and drove an hour to an emergency phone to call for help. He returned to inform us that the police were on their way. We waited two hours on the side of the road for the SA police to get to us. Upon arriving, they used their satellite phone – to call our roadside cover and insurance – which kept losing signal and disconnecting the call. The police originally planned to tow us to the nearest free rest area and leave the car on the side of the road, so that we at least had somewhere safe to stay while we waited for a tow. After pulling out all our belongings from the car and into the caravan, it turned out the police van could not tow our caravan and we were to remain on the side of the road, praying that someone could tow both car and caravan. We had managed to breakdown in an area that backed onto an Aboriginal community that was known for causing problems with travellers. It wasn't safe for us to be left alone, so the police waited with us for three long hours with nothing more to do than play a simple game: throwing rocks at a stone to see who could get closest. Our little boy found the whole experience exciting; he was thrilled when he got to sit in the police van! After the three hours, the police had to leave to finish their daily drive to the border but said they would drive back that way in a couple of hours to check on us. Another three hours later, two tow vehicles finally turned up to tow the car and van back to Marla – 90km in the opposite direction to where we were heading, back the way we had come. The owners of the roadhouse at Marla were expecting us as they had been contacted by the police, and even though there were no camping spaces available, they made room for us and the van, allowing us to put our power lead into a room to get power for the night. The Marla mechanic assessed our car the next day, only to tell us he thought it was a turbo issue and that he was unable to fix it. We ended up being stuck at Marla for four days until several phone calls later (thankfully phone reception was available there), a local mechanic at Port Augusta (recommended by the Marla mechanic) agreed to assess the car. We were so relieved … until he said that he could not take us in the tow vehicle because our son was too young, so he could only take our car and van. We had no idea how to get us, and our belongings, to Port Augusta – we rang Greyhound buses to see if my son and I could travel with them (while hubby went in the tow truck), but they only travelled during the night. We weren't happy doing that, and we didn't want to be split up. No hire company wanted to hire us a car as we were in the middle of nowhere and needed to travel over 700km. After many calls, the friendly mechanic in Port Augusta managed to get hold of a car for us and put it on the back of his tow truck. The plan was to follow the mechanic to Coober Pedy, stay over and continue the next day. When he met us at Marla we were told that Coober Pedy were not taking any more travellers as the influx of tourists during the school holidays had caused them to run out of fresh water. Our plan B (or at this point it may have been plan X) was to continue driving in the dark to Glendambo. We had always made a pact to not drive through the night due to animals on the road – the stories we had heard had always warned us off doing so but on this occasion, we just couldn't avoid it. The drive to Glendambo was quite possibly the longest drive ever, with our eyes fixed on and to the side of the road; the sight of dead cows, kangaroos and other roadkill filled us with dread. Thankfully, we made it without any incidents and continued to Port Augusta the next day. There was a drive-thru site where the mechanic dropped off our caravan; we stayed there for the next four days, trying to arrange hire cars until one hire company allowed us to drive from Port Augusta to South West Rocks (four days' drive away). The results of our 'experience' are that we are currently at home on the East Coast and our car and caravan are both in Port Augusta. My husband is still yet to fly to Adelaide and hire another car to drive three hours back up to where the car is being fixed. He then needs to clock up 1000km on his new motor and have it serviced before towing the caravan back on a long, four-day homeward bound trip.Although the holiday did not end the way we had hoped and we didn't see the sights we had so long looked forward to, we can still say we have met some incredibly friendly and helpful locals in some extremely remote areas, who went above and beyond what they needed to. It also taught us that no matter how many checks you do, how many spare parts you carry with you or how carefully you drive, you always need to be aware of what could and does happen. But even then, you still don't really know or understand the vastness and extremities of our beautiful country – until you are out there experiencing it!
Roadside assist
You'd be mad to head off without a roadside assist policy in place wouldn't you? But it does it happen. It's important to make sure that a policy you arrange actually covers the things you need. For example, does it cover tow vehicle and trailer – many do one or the other and if you didn't ask… Then there's the limitations. Is there a limit on the weight the recovery service contracted to do the job will transport? If you have a motorhome this is even more relevant. Is there a clause that says you must be on a gazetted road, or no 'off-road' recovery. How many hire cars can you use? How many night's accommodation will be paid for? Will you get home with everything looked after or will links in the complete chain be missing meaning you are out of pocket? Remember, any dispute probably won't be settled for a while so
up-front costs are all yours.