Following a spate of incidents where gas leakage from "leisure-sized" LPG gas cylinders have caused explosions and fires resulting in serious injuries and even deaths, a new gas cylinder valve will be rolled out in the coming months.
According to an announcement from the Western Australian Department of Mines, Industry Regulation and Safety, "concerns have been raised regarding incidents resulting from leaked gas due to a known weakness in the current Type 21 'POL' cylinder valve. After considerable consultation, Standards Australia have published AS/NSZ 5601.1:2013 Amendment 4 and AS/NSZ 5601.2:2020 which include a change from the current Type 21 'POL' connection on an LPG cylinder to a new safer leisure cylinder connection (LCC27). The standards refer to this as the Type 27 connection."
Amendments have also been made to the following Australian Standards:
AS 4627:2017 Amd 1; Quick connect devices for gas;
AS 2473.2:2015 Amd 1; Valves for compressed gas cylinders, Part 2: Outlet connections (threaded) and stem (inlet) threads;
AS 2473.1:2006 Amd 1; Valves for compressed gas cylinders – Specifications, type testing, and manufacturing tests and inspections; and
AS/NZS 5263.1.7, Gas Appliances, Part 1.7: Domestic outdoor gas cooking appliances.
LPG cylinders between 3kg up to 9kg that is commonly used with portable barbecues and patio heaters, will be affected by this change.
Larger LPG cylinders including those typically used for domestic home connections will not be affected by the change.
"The transition of LPG cylinder outlet connections from the current type 21 'POL' design to the new LCC27, is progressing rapidly, with the first changes to occur in April 2021, when the LCC27 valve will be permitted on cylinder outlets."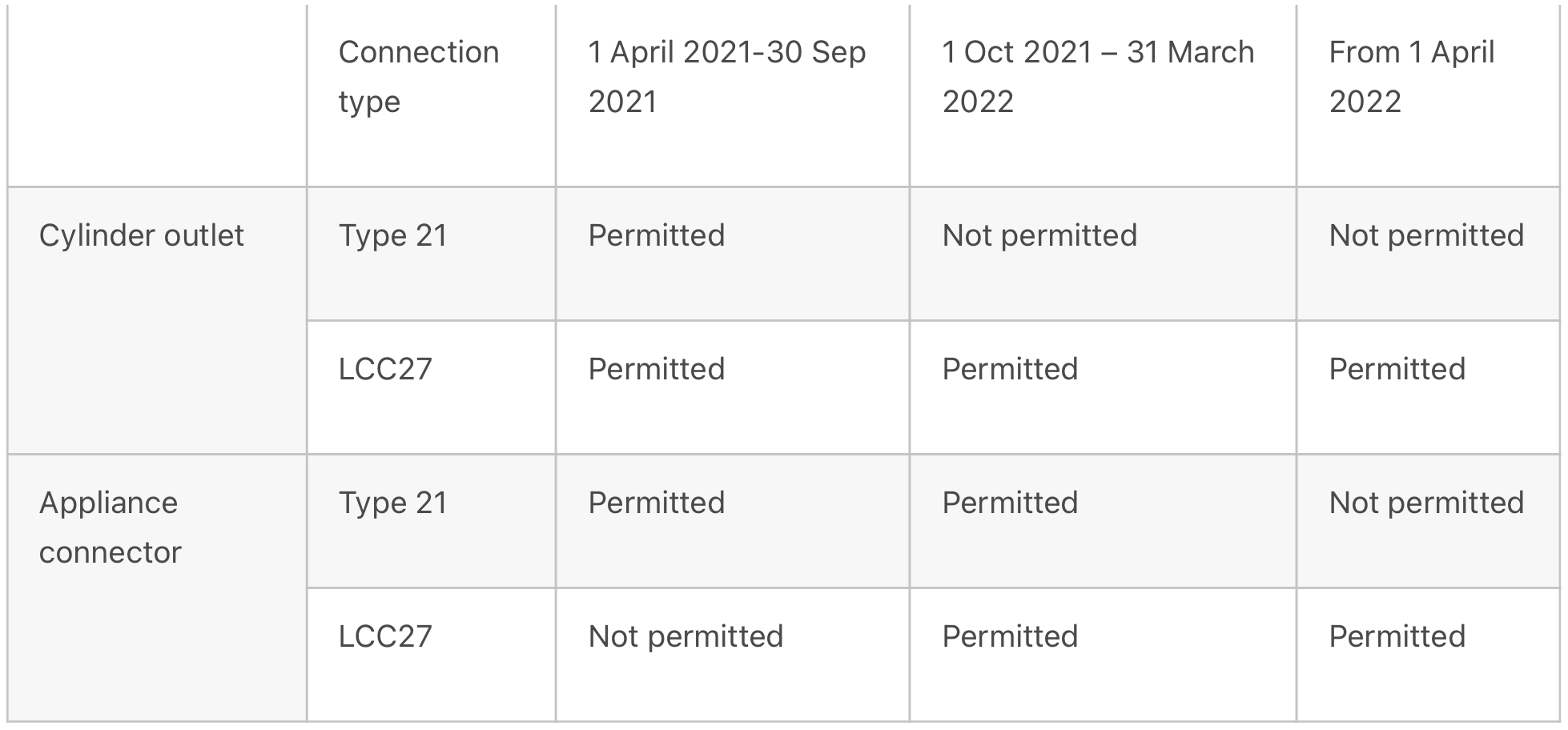 Fortunately for consumers, the new cylinder connection is compatible with the connections used on existing RV and gas appliances so there is no need to modify your existing connections. However, the new appliance connections will only be compatible with the new cylinder valves. In other words, if you purchase a new RV or gas appliance with the new LCC27 valve connection, you will need to ensure your gas cylinders have the new valve.
"Eventually, all leisure cylinders and associated gas appliances will be operating with the new connection. Leisure LPG cylinders have a 10-year test cycle, it is expected the transition will be complete within that timeframe."

"The new LPG cylinder connection has additional safety advantages over the old Type 21 connection that are expected to significantly reduce the number of cylinder connection fires and injuries. The new cylinder valve incorporates a check valve that will only enable gas to flow when a gas-tight connection is made, reducing the risk of high-pressure gas escaping if the cylinder valve is opened during transportation or disconnected during use."
"The new connection features a large diameter right-handed thread that is able to be operated without the use of tools. Perishable rubber seals are located with the body of the gas valve, which means they can be assessed for damage during the refilling process, and are replaced with the cylinder valve every 10 years as part of the cylinder test process. The connection also incorporates a thermal shutoff that allows the internal check valve to close and remove gas supply if the connection is exposed to a fire."
All Australian RV manufacturers should be aware of this change as the Caravan Industry Association of Australia (CIAA) has advised its members through the RVMAP program.
The new LCC27 valve will be mandatory on all new and retested gas cylinders from 1 October 2021.