We visit the Horsepower Factory for a Diesel Tune Australia power-up kit including an ECU re-map
More grunt for towing is on the mind of almost every tourer on the road. Campfire stories abound about getting up that murderous hill in first gear and nearly cooking the motor or having to start on a hill in low-range to get the van moving. Then there's "I couldn't overtake that drongo doing 60 in a 100 zone because I had nothing in the tank to pass him safely." These are very common scenarios, and, of course, the debates range on how to get more grunt. Hot topics in the power debate are chips versus ECU re-mapping or bigger turbos and intercoolers, right through to comments like 'dial in more fuel mate and she'll be right,' or 'just sell the bloody van – it's too heavy!' All viable of course. They do need to be done right though, for several reasons, not least of which is not blowing up the motor from either too many horses, too much fuel or way too high exhaust gas temperatures.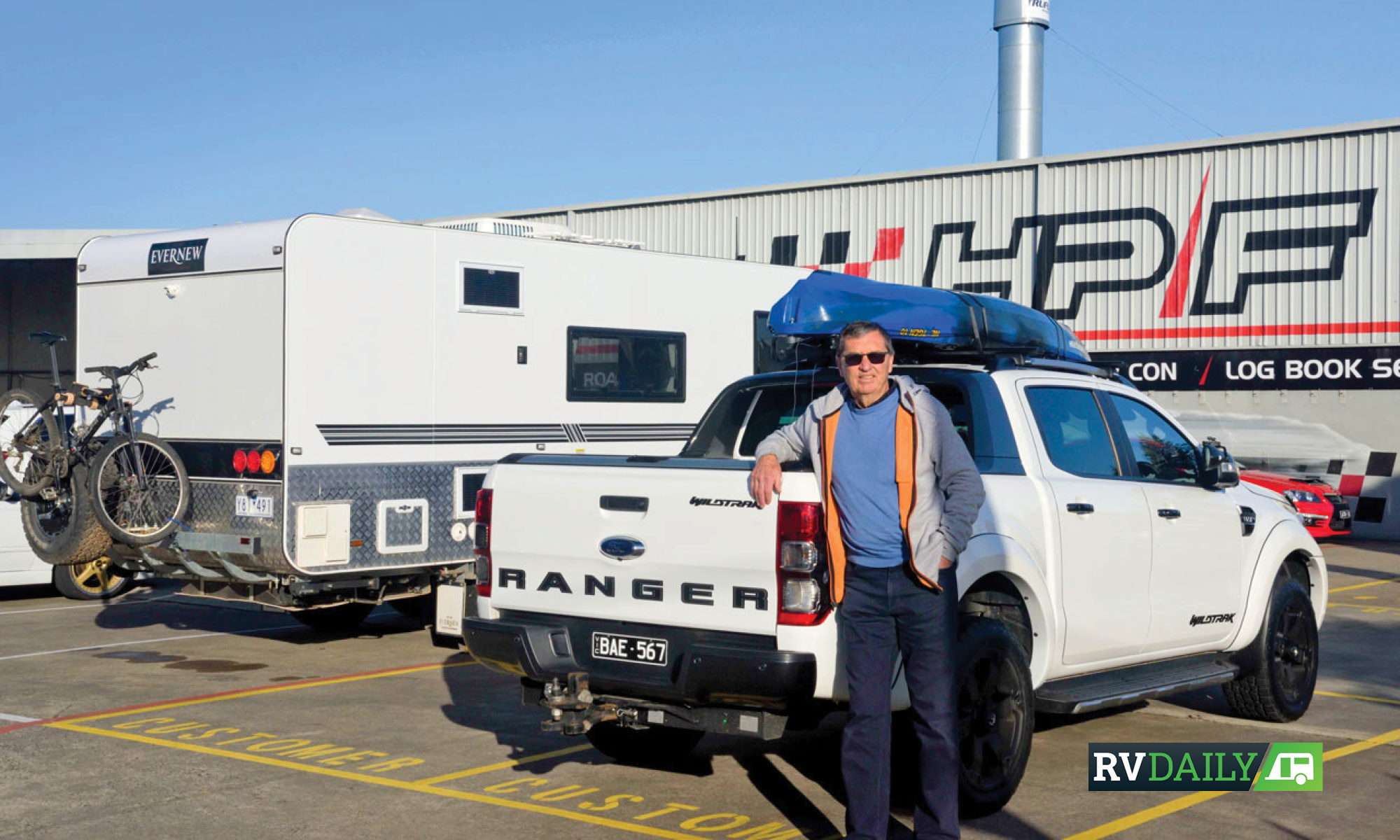 OUR TEST SUBJECT
The best way to find information about power-ups is in the real world. We managed that recently. Our subject is Peter, who has a brand-new Ranger and a hefty, year-old Evernew van that's nearly three tons when loaded. Peter was originally towing his Evernew with an earlier model Ranger and found he struggled on many of the long hills getting from Melbourne to East Gippsland and on up to the Sapphire Coast for holidays. With his retirement in full swing, Peter wanted to trade his old, high-kay Ranger and buy a new one to modify it to extract some extra towing grunt.
I met Peter at the Horsepower Factory (HPF) in Dandenong, Victoria. Peter was kind enough to haul his van in for this story. We hooked it up and went for a drive along Eastlink and up a fairly long, steepish hill on Ferntree Gully Road to give us a good seat-of-the-pants feel for how the standard Ranger towed. I thought it was pretty good and while the Ford changed down gears on hills of varied inclines, sitting on 80km/h was easy, and aside from a little bounce and sway, the ride was acceptable.
THE MECHANICAL PROCESS
When back at the HPF, we unhitched the van, and put the Ranger on the dyno for its baseline runs, which showed us power measured at the wheels of just under 100kW at roughly 96km/h. More importantly, it showed us the air to fuel ratio from take-off starting at 25:1 and dropping steadily to around 22:1. These figures gave us a solid baseline to work from. (See Dyno Chart A.)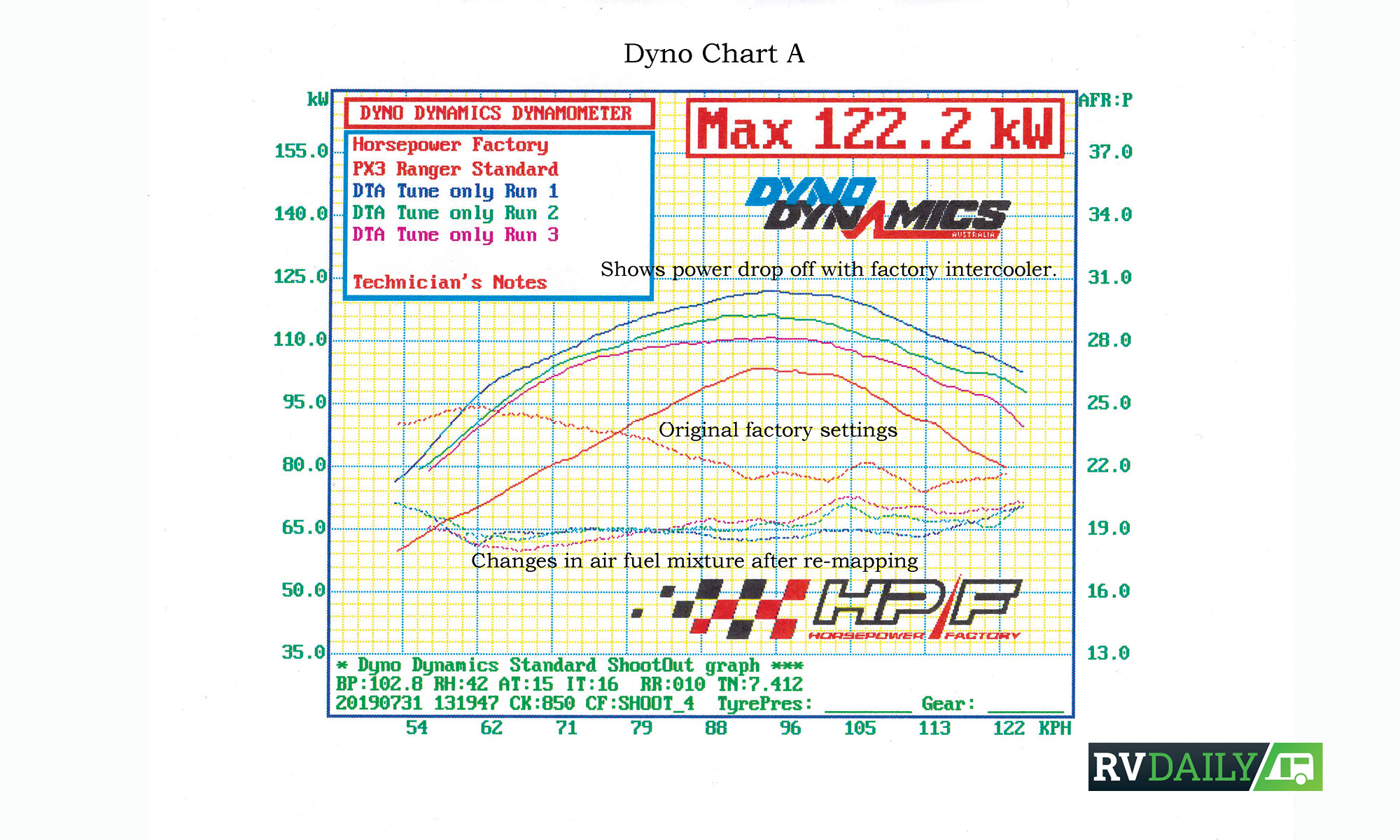 Dyno Chart A
The first job was to re-map the original ECU with the standard intercooler in place. This process was to highlight on-road conditions when towing with the Ford's standard intercooler. We'd then re-test it with the bigger aftermarket cooler fitted. The intercooler's primary job is to take hot air from the intake and cool it down to help get optimum burn and therefore power. As the intercooler heats up, it reaches a point where the cooling effect is negligible, and a subsequent loss of power occurs.
The re-map takes a few hours and involves several dyno runs to ensure the air-fuel mixture holds true and that a sensible power/torque gain is achieved; one that won't damage the motor in any way. According to Matt Jackson, HPF Sales Manager, it's all in pursuit of reliability. Our second chart shows four runs back to back, highlighting how the efficiency of the intercooler drops and shows the changes in power and torque – measured at the back wheels. This process simulates what occurs when driving up and down hills. (See Dyno Chart B.) At this point, our dyno expert, Martin Rogerson, passed the Ranger to mechanic Sam Maxwell who started the spanner work.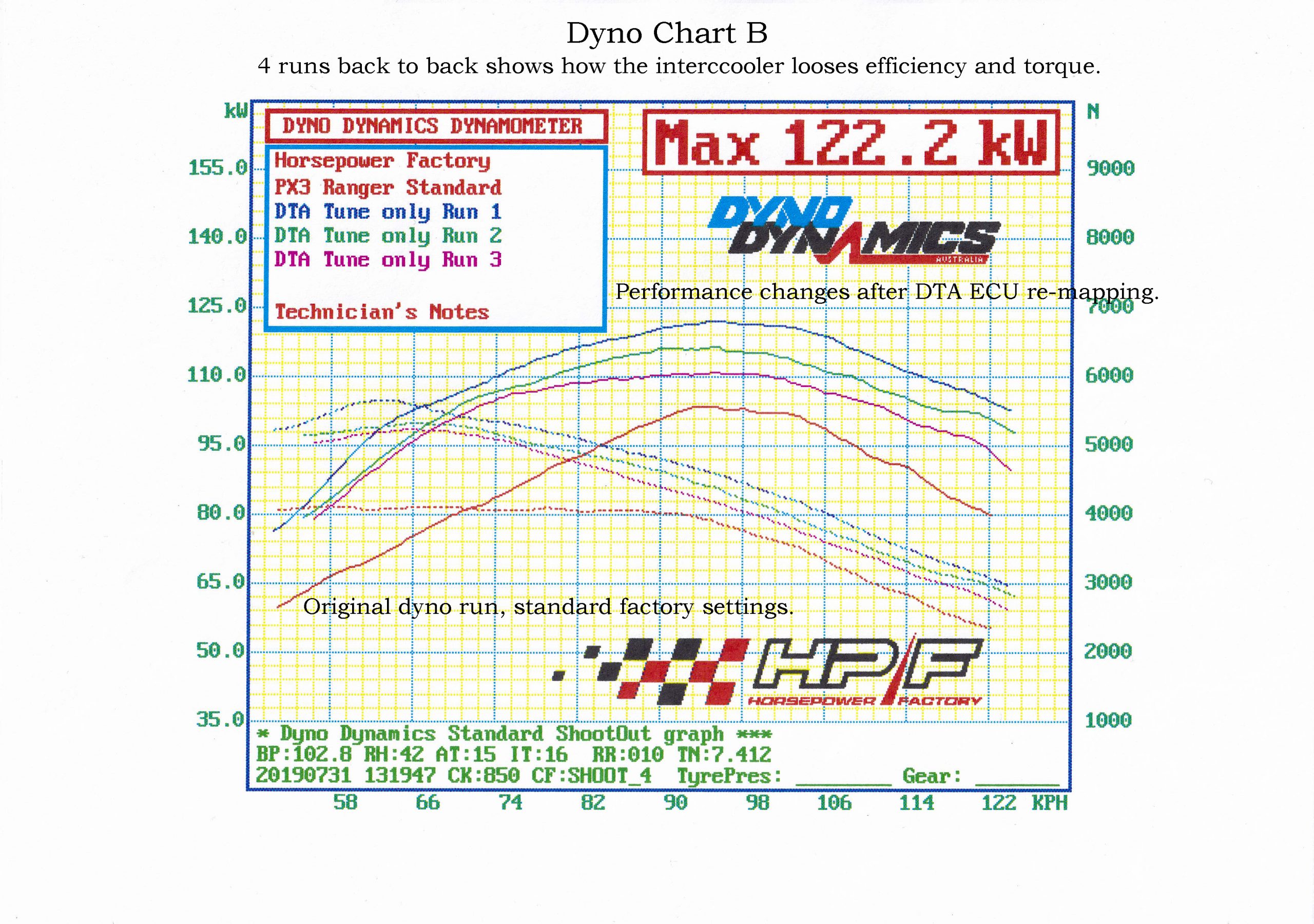 Dyno Chart B
In the Ranger's case, Martin removes the front end and the factory intercooler is swapped out for a much larger Process West intercooler. Pretty exciting, size matters, and while it might not offer more grunt, it means the engine will handle the uphill and down dale scenario so much better. New stronger hoses are plumbed in because it's not uncommon for hoses to heat-age and collapse in on themselves or split and create a massive slow down.
The next component fitted as a part of this kit is a Process West Sepr8r Catch Can. Any blow-by gasses produced by the motor are fed through it, and oil separated from the air, before allowing that air back into the engine to be re-used in the power-making process. The retained oil mist is trapped and cleaned out every 10,000km, which is an easy DIY job at home.
With everything bolted back in place, it was onto the dyno for more tuning checks and what a difference an intercooler makes. Again, we did four back-to-back runs, and it's easy to see the difference between results on Chart C and the earlier Chart B.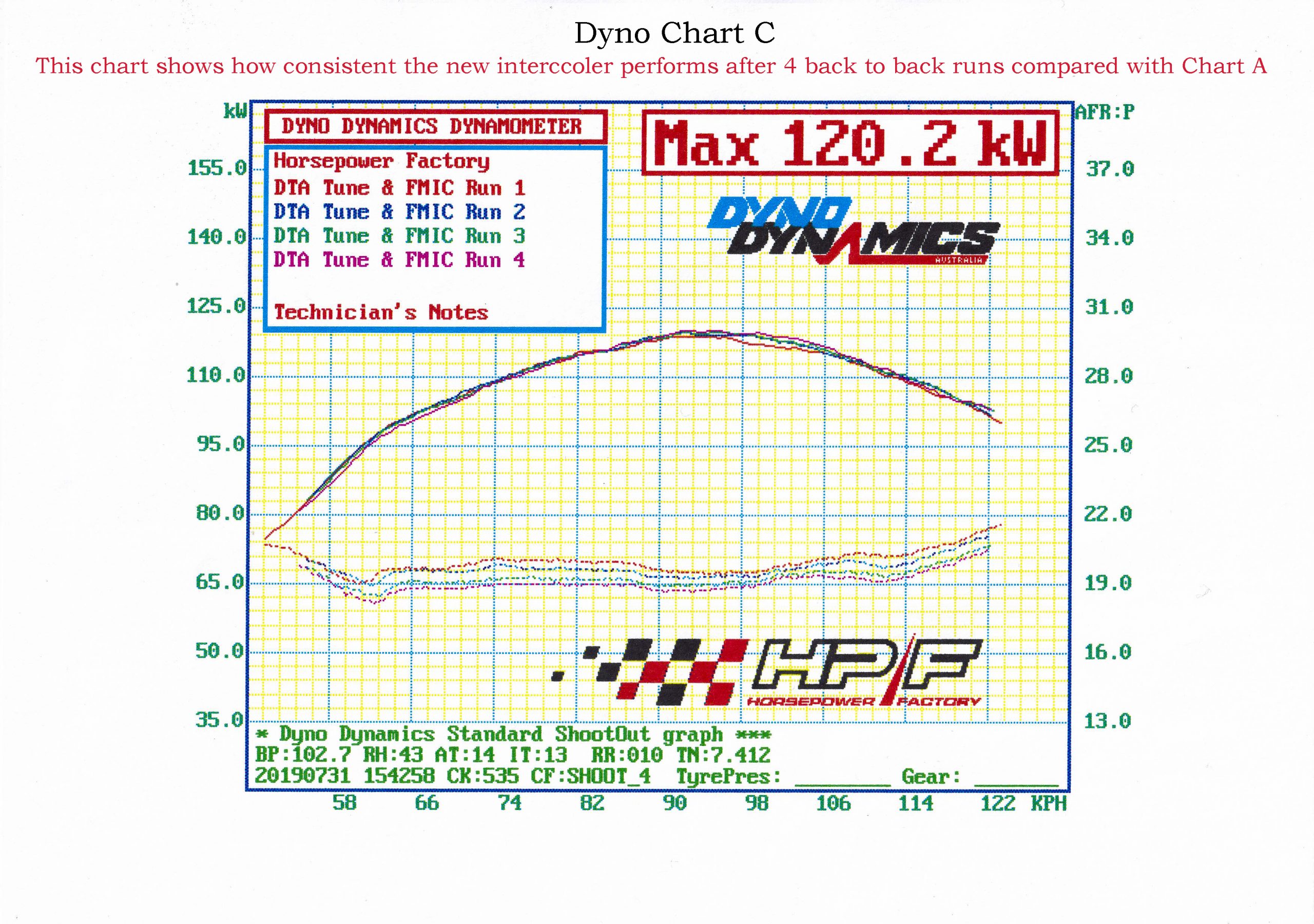 The run kilowatts are consistent, and the air-fuel ratio holding steady at 19 to 1 is perfect for the Ranger to get more power to the ground and still be reliable. It's a great result.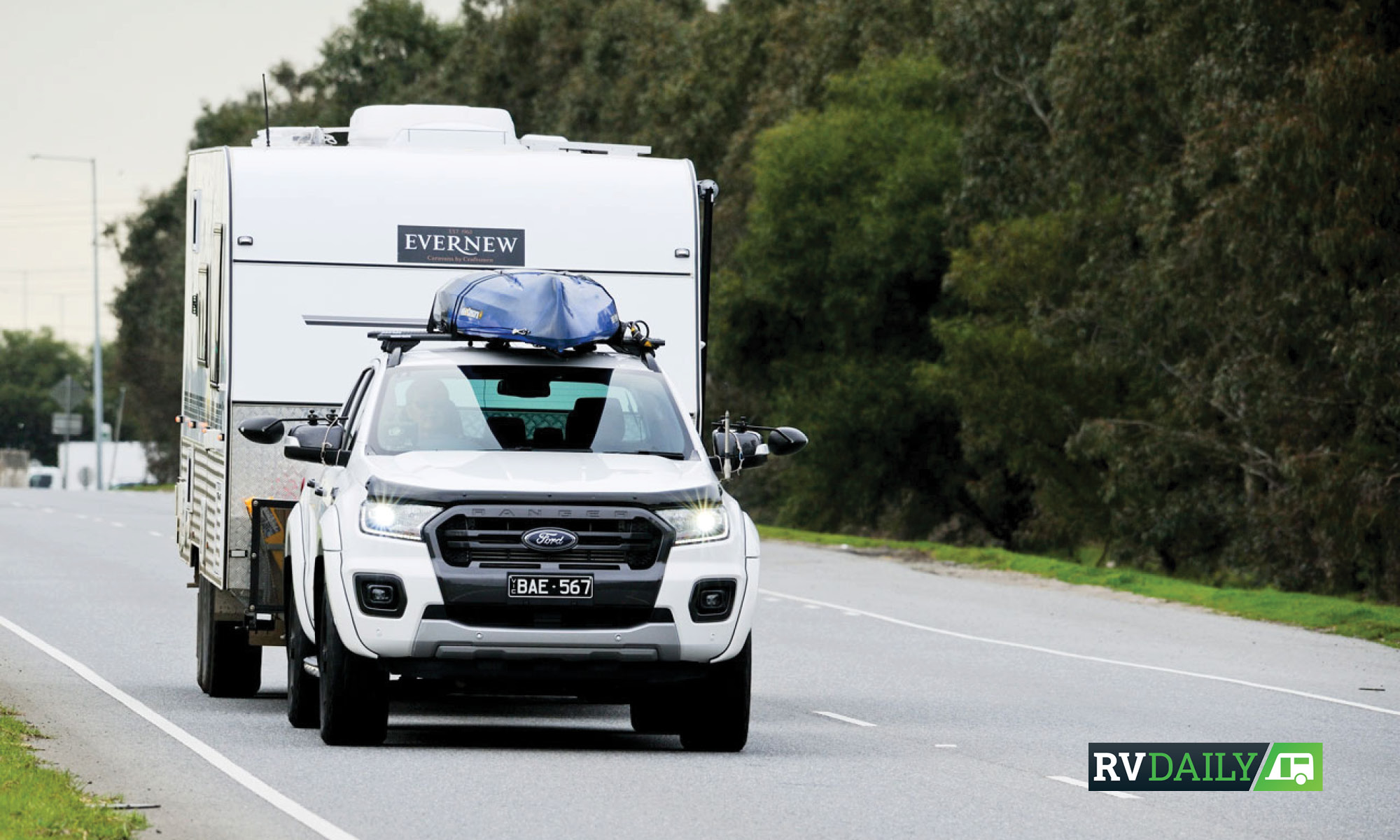 OUT ON THE ROAD
Great result or not, it's only on the road that these things can be understood – seat of the pants stuff and was it different. Peter couldn't wipe the grin off his face. On the day before, the Ranger sat nicely on 90 until it hit a hill and kicked back a gear. Now, on the same hill, it wanted to pull to 100 and didn't drop back a cog. Going up our big hill it held top gear all the way, only dropping a couple of kays per hour at the very top of the incline. The biggest improvement though, was just how responsive the Ford was when taking off from the lights. I was lucky enough to drive the Ranger before and after the work. I hated the sluggish take-off beforehand until it slotted second gear. After fitting the kit it was smooth, and the power was on tap from just a little depression of the go pedal – this was awesome.
Initially, I thought the kit cost was a bit up there but having experienced the changes I reckon it's worth every cent. The quality of the parts used was amazingly good and how much do you pay for the experience? The Horsepower Factory team know what they are doing. They understand the limits and back their work to the hilt – priceless.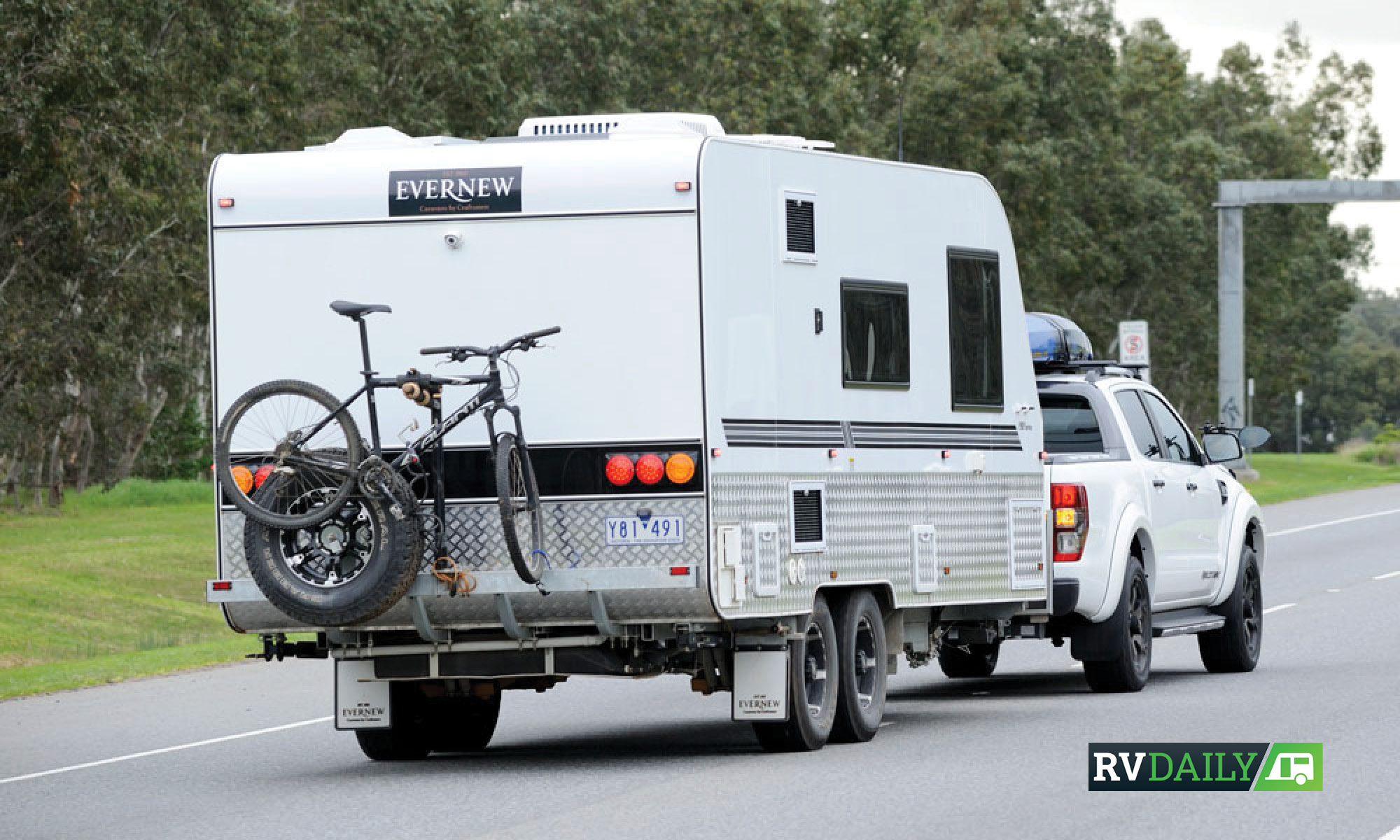 OWNER'S VERDICT
We have arrived in Kiama south of Sydney after many hills in East Gippsland and the NSW South Coast, and verdict on the HPF/DTA tow package is: awesome. The trip to Lakes Entrance was much the same as with the old Ranger, as we just sat on 90-95km/h and did not need extra power. But through the hills, it just kept going, and I was able to actually accelerate up many of longer gradients if I felt like it. Mostly we sat on 80-90km/h except where conditions required us to travel slower. Previously many of those hills would have seen me at 70km/h in 3/4th gears with no real issue other than it could not go any faster, but now I could go faster if required. The first hill to slow us down was Bellbird just out of Eden, which is long and steep. We started at the bottom at 100km/h and went over the crest at 72 in third gear. Not bad, when previously I was about 40 in second gear. Another big hill just before Kiama had us in 3rd gear and again doing 70 but not really struggling. Fuel consumption is interesting because to Lakes Entrance it was 14.9L/100km. From memory, I have never been better than 15. Through hills, I have achieved 15.7 to Merimbula and 15.9 to Kiama whereas previously it would have been 16-18. So it would seem fuel consumption is marginally better, but I only have my memory as evidence. I am really happy with the result. – Peter D'Ambrosio
COSTS
The Stage 1 Towing Kit retails for $3645. It includes the much larger Process West intercooler with all new piping, Process West Sepr8r Catch Can including fittings and pipes, ECU re-map and the dyno runs. It takes a day-plus to fit. Everything comes with a solid warranty, and if for any reason a person wants the ECU changed back to standard they can do that too, as HPF saves the factory program and hands it over at the end of the job. There is a 90-day satisfaction guarantee and a 12-month warranty of the job.
For more information visit the Horsepower Factory www.hp-f.com.au