Caravan covers – are they worth the hassle?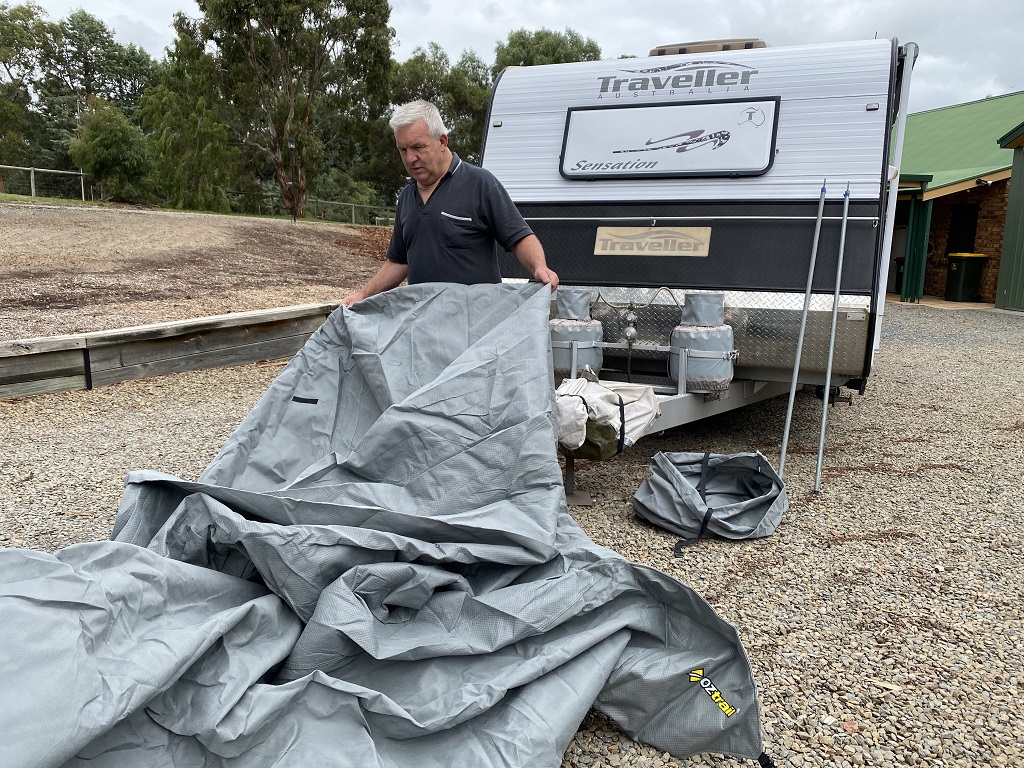 Caravan covers can help protect your asset, but how easy are they to put on? Here's what we found when putting one to the test on our own caravan
BEFORE YOU BUY
Before forking out any money for a cover, it's plain and simple that the cover needs to be fit for purpose. So what should you be looking for? Start by considering where your covered RV will be parked. Will it sit out in the elements or be stored under an open carport? It's important to know all covers aren't equal and they don't all do the same job. The quality of materials also differs and that means the price does too. You'll find the type of fabric plays a big part in a caravan cover's quality. At the end of the day it's the fabric that will be protecting your RV which potentially needs to withstand rain, hail, the sun's UV, bird droppings, tree sap and general dust/grime.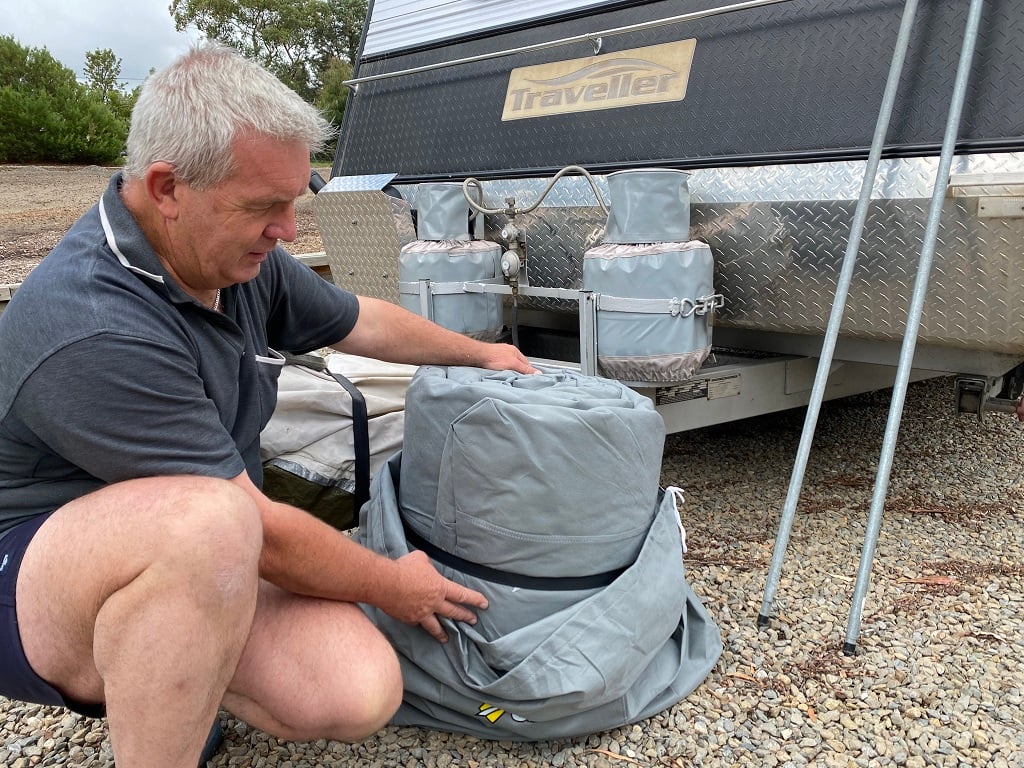 An entry-level priced cover is generally a mass-produced lightweight, synthetic throwover cover that will keep the dust off, but that's about it. Take a look around and you could get one of these covers for under $100. At the other end of the scale, custom-made covers can use multiple layered and waterproof, breathable materials designed to withstand harsh weather conditions. These are priced accordingly and can be upwards of $1000.
The more popular known brands on the market will fall somewhere in the middle. These types of covers still have multiple layers of fabric on the roof section to help withstand the elements. While the sides have been designed to allow trapped water and hot vapour to escape. The covers have reinforced stitching throughout and come with adjustable tension straps to prevent the cover from flapping in the wind. This style of cover is generally priced between $200-$600 (depending on size).
WHAT WE TRIALLED
We gave our own, unused 22-24ft OZtrail cover a go on our 22ft caravan to see how it would perform. The roof panel has a triple material layer that is UV stabilised and the cover has a waterproof outer layer. The sides also roll up to allow easy access to the caravan when the cover is fitted. Straps and tensioning points have been provided to secure it from flapping in the wind. And the cover has been manufactured with elasticised reinforced corners and tensioning points. One drawcard for trialling this cover is its pole sleeve inserts, which are designed to help make the fitment an easy, two-person job. The whole thing fits in a large storage bag (supplied) when it's not in use. Shop around and you can pick up this particular cover for under $350.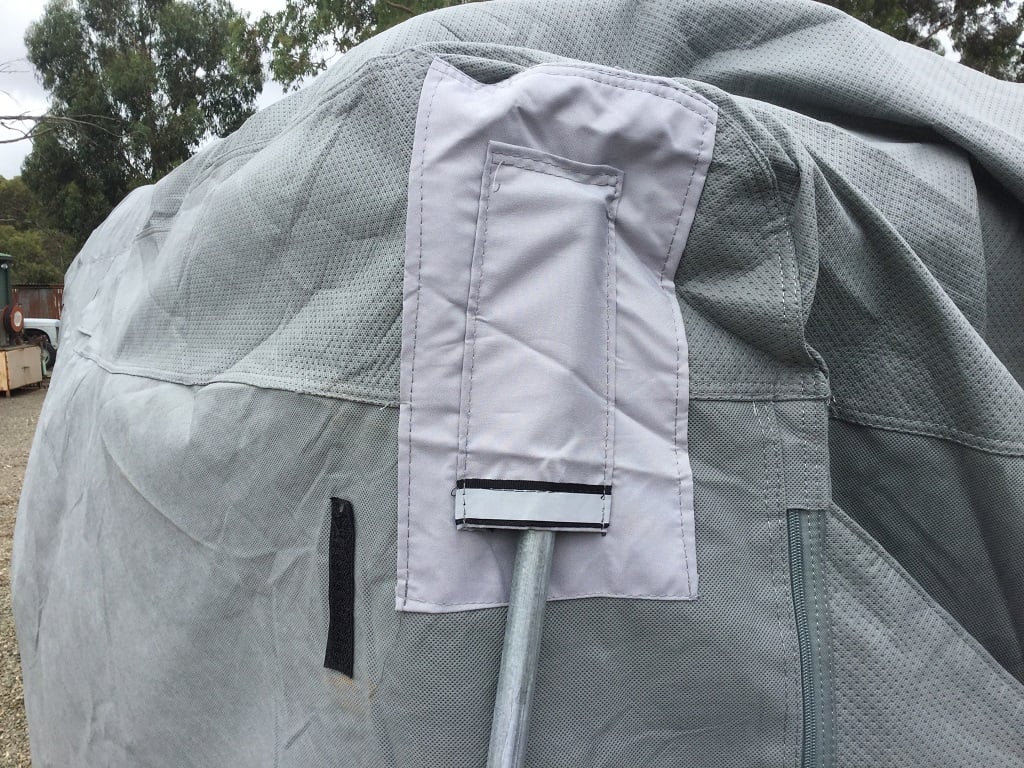 HOW WE WENT
We followed the instructions (always a good thing!) and started by washing the caravan to remove any road grime and dust. The instructions also recommended paying particular attention to areas where the cover could catch and inspected the roof solar panels, aerials and other sharp objects for any concerns. The 14kg cover was then unpacked and carefully laid on the ground to avoid collecting any dirt which would otherwise transfer onto the caravan. We supplied our own poles to help lift the cover so it was high enough to drape over the roof's air conditioner and hatches. It took us a moderate eight minutes from us removing the cover from the bag to having it in position on our caravan. It took a further six minutes to clip in and adjust all the tensioning straps plus unzipping the cover and rolling it up by the caravan door.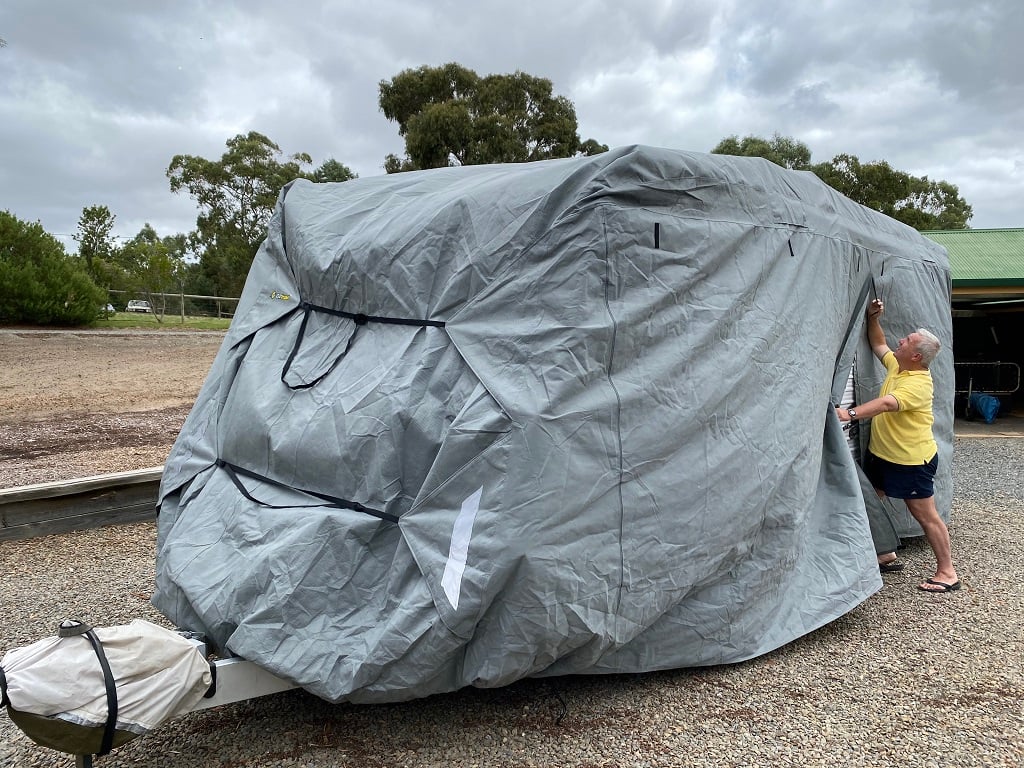 THE VERDICT
Our initial thoughts are positive. We think our first attempt of nearly 15 minutes isn't too bad and we'll only improve that time with some practice. The cover fits well over our caravan and we like how we can unzip and roll the cover up to still access the caravan door. And using the pole inserts to fit and remove the cover means we don't need to climb a ladder – something we were both reluctant to do. The tensioning straps were a little tricky at first, but we soon got them sorted. Having now used a caravan cover, we're confident this one is going to deliver what it's intended to do, and that's to protect our caravan. It's now just a waiting game to see how the cover stands up to the elements over time.
Caravan covers are available from a wide range of outlets. Ours was a personal purchase from OZtrail www.oztrail.com.au 
Words and Images Grant Hanan and Linda Bloffwitch.