If you've been on social media in the last week you've likely seen the unfortunate event that was making headlines for all the wrong reasons. Splendour in the Grass. Due to extreme weather and flooding, festival-goers who decided to camp have left this year with nothing but ruined camping gear. Swags and tents were flooded with water and the rest of their gear was covered in mud.
For many, this means a huge restock of gear. To save you the effort of searching, we've listed our favourites to get you sorted.
Swags
For those that love an easy set-up and a quick pack-up, a swag is likely your resting place of choice when you're sleeping under the stars. With the heavy canvas typically keeping the warmth in, it's also a favourite for those that get a little chilly through the night.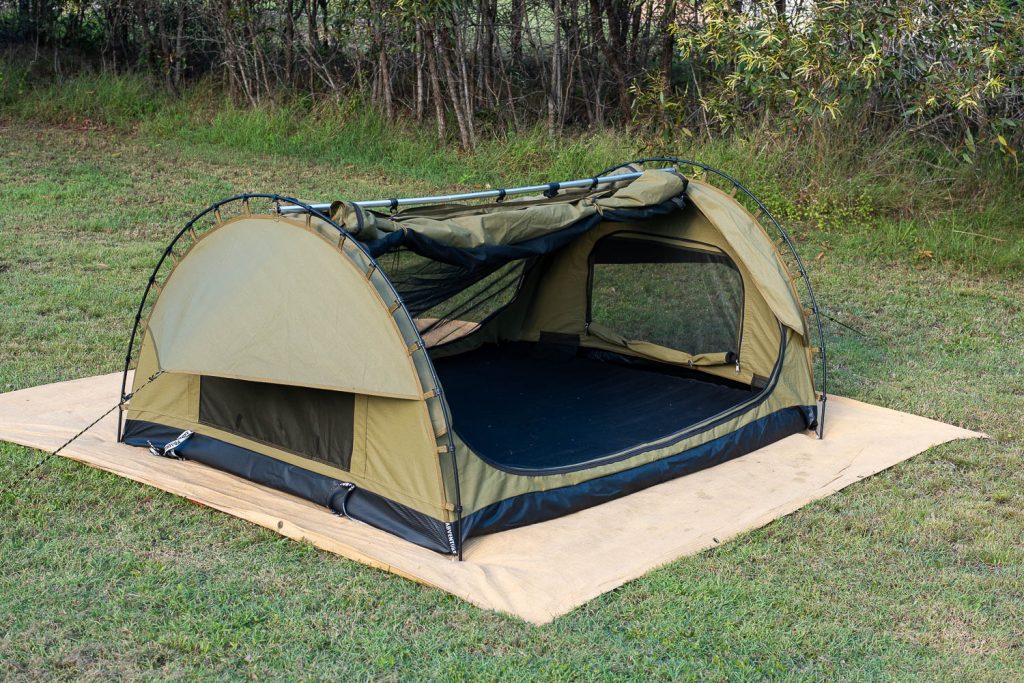 Kings Big Daddy Deluxe Swag
The Kings Big Daddy Deluxe Swag hits the sweet spot between affordability and value and it comes in a generous size. It fits two sleeping bags easily, so you won't have to brave the spiders alone and the mattress is thick enough to encourage a comfortable rest after a day of adventure. There's a load of space inside and thanks to its one-metre size, you can even get changed inside, as you would a tent.
If you take it away during the hot Australian summertime, you'll be pleased to learn that airflow is possible. Both sides of the tent roll up, allowing just the fly tent down. The two ends also have a window under the storm flaps that can be opened.
If you're planning on taking this swag to the next Splendour, make sure to season it first by setting it up, soaking it with water and sponging the water into the canvas and repeating this process three times in total. The reason behind it? The process causes the canvas to contract and expand, which then removes any holes caused by the stitching process. Trust us, do it for future you who will look back and thank you for it!
Oztent Ultra-Light Single Swag
If you prefer to sleep alone (understandable) the Oztent Ultra-Light Single Swag may be for you. This high-quality, lightweight swag is built specifically to endure the elements, so you can head off-grid but still have a comfy night's rest. For those that attended Splendour you'll be pleased to hear that this swag is waterproof and features a heavy-duty PVC floor tub and seam sealed 8oz polycotton canvas. It's not a pain to carry, as the name suggests it is ultra-light and weighs a mere 2.7kg, packing down to a teeny 15cm x 43cm roll.
If the ground has copped it a little from the rain, the soft ground support system will be your saving grace as it provides structural support on soft ground. Those that braved the Splendour mud may feel a little triggered just thinking about the instability of that ground, but let's hope you never have to camp on something like that again.
Rooftop tent
If you've decided you don't trust camping on the ground after your experience at Splendour, fair enough, you may want to try out a rooftop tent! You'll be high up off the cold ground away from the bugs and they're a quick set up once installed.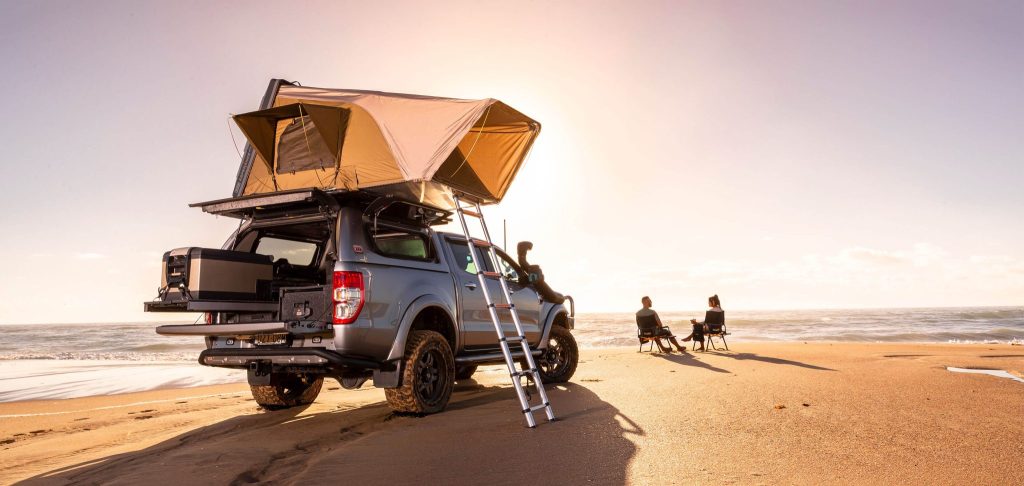 ARB Esperance Compact Hard Shell Roof Top Tent
A little more on the pricey side starting from $2995, the ARB Esperance Compact Hard Shell Roof Top Tent is ARB's first ever hardshell tent and is named after one of Australia's most picturesque beach towns. For those that want to invest in a rooftop tent, you may be further sold on the idea due to the stargazing moonroof. You'll have the ability to unzip a window in the roof and check out the dazzling stars we so often don't get to admire in the city.
Not to mention, it also features integrated vents, three zippered windows that have midge-proof mesh, internal and external LED lighting, storage pockets inside, and a telescopic ladder stored internally. If you're a beginner, don't fret as it comes with the mounting kit and hardware needed to install. ARB describes it as "a super lightweight, slimline and contemporary looking hardshell rooftop tent."
Bushbuck Armourdillo Aluminium Rooftop Tent
We spotted this one recently at the National 4X4 Show in Sydney and thought it looked like an awesome home away from home. Again, also on the pricey side as you'd expect with a rooftop tent, the Bushbuck Armourdillo Aluminium Rooftop Tent is $3,599.99 for the 1.5 x 2-metre model and $4,099.99 for the 1.9 x 2.1 metre-model. What sets this one apart from the other rooftop tents on the market is the hard-top design which is made from ultra-durable aluminium. Ideal for the active outdoor adventurer, it even enables you to add mounts on top to carry bikes, kayaks and surfboards.
A good night's sleep is almost guaranteed as the shell has been insulated to help keep you warm in winter and cool in summer. Plus you'll be laying on a comfortable 50mm high-density foam mattress.
Tent
If you love to hit the bush in your classic tent, you may enjoy being down and one with nature, surrounded by sounds and critters. It's also a great challenge and a way to be one with nature before you return home to your known comforts.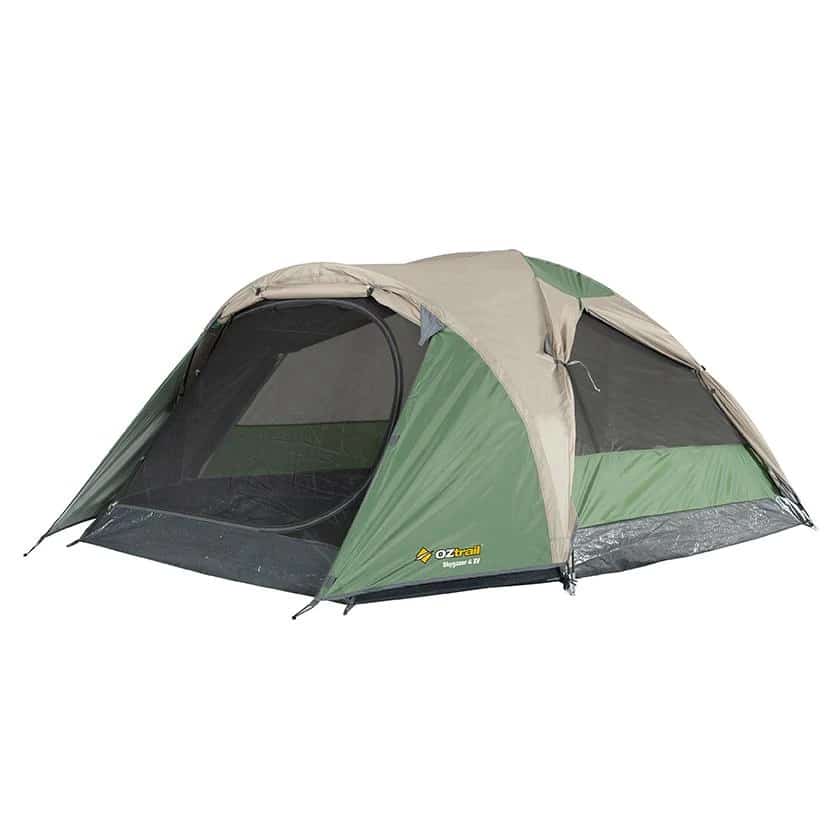 Oztrail Skygazer 4 Person Dome
Bring the entire friend group along, or have extra room for your bags and equipment, in the Oztrail Skygazer 4-Person Dome. Ideal for your next festival, Oztrail say that it can be set up in only minutes, giving you more time to do what you love. It's longer, wider and includes 30% more head height than the Skygazer 3 or Skygazer 3XV tents that came before it, meaning more freedom to move around inside and less crouching. Its cross pole construction offers greater strength and increases its water shedding ability for when the weather is giving you a hard time. We have had a rainy old year on the east coast of Australia, so this may be a selling point for you.
Oztent RV-4 Tent
Another great one for the group is the Oztent RV-4 Tent which sleeps 4-5 festival goers. The innovative folding frame enables it to be set up and packed back down within 30 seconds, which is pretty impressive for anyone who's ever spent up to an hour wrestling with a tent at their campsite. Made from premium waterproof Ripstop canvas you can feel safe and secure that the elements won't be raining on your parade while you're protected inside. Instant ventilation is provided via the two side windows and the rear window of the tent, or simply sit out the front underneath the shady attached awning to get some fresh air.
If your beloved gear was destroyed at Splendour we feel for you, but as a silver lining, you now get to take the opportunity to check out what's new on the market. If you were looking for an excuse there's no better than not yet having a nice place to rest your head at the end of an outdoor adventure.