If you're thinking about buying a new set of outdoor adventure gear, now is the time! The National 4X4 Outdoors Show is – for the first time – coming to Sydney. Taking place from 22 to 24 July 2022 at the Sydney Showground, it's going to be an exciting weekend for families, adventurers and 4WDers alike.
A treat from us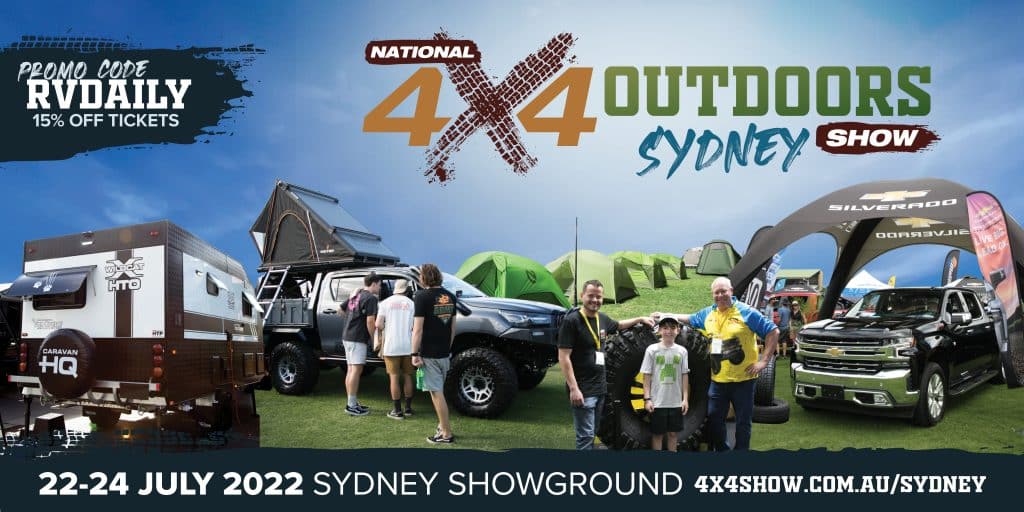 To say thanks for being here on RV Daily, we've got a discount code just for you. Use the code RVDaily at the checkout and you'll get 15% off adult tickets.
What's on at the National 4X4 Outdoor Show?
Entertainment galore
The National 4X4 Outdoors Show doesn't just feature products. The team have put together an epic line-up of entertainment, spanning right the way across the entire weekend. Get ready for 4WDing demos and rides, reptile shows, celebrity meet and greets, fishing experiences and even BMX stunt shows! From comedy to education and inspiring stories, you'll want to clear your whole schedule for this.
Product displays
Of course, there will be an abundance of product displays, featuring everything from 4WDing kit to camping gear and hiking must-haves. If you've got your eye on something, this is the time to check it in the flesh.
There's more!
You'll be please to know that there will be heaps of bargains up for grabs, plenty of prizes on offer, and presentations on the Outback Stage by exclusive special guests including Pat Callinan (Mr 4X4), Jock, Graham and Shauno (4WD 24-7), Bri and Bridget (Red Dirt Diary) and many more.
Key information
Location: Sydney Showground is located at 1 Showground Road, Sydney Olympic Park
Date: Friday 22, Saturday 23 and Sunday 24 July 2022
Times: 9 am to 5 pm Friday and Saturday and 9 am to 4 pm on Sunday
Remember, you can save 15% off adult tickets with code RVDAILY.
Find out more about the National 4X4 Outdoors Show.