You hear a lot about remote travel, but what does it actually mean for us caravanners? And perhaps more importantly, how remote can you (safely) go?
I was talking with the Ed (Tim) the other day, and the conversation went something like this:
ED: You used to do a lot of remote 4WDing, didn't you?
ME: Yup (thinks 'done the Canning Stock Route five times, the Simpson Desert 16 times, most of Len Beadell's tracks, and a lot of cross-country hikes'). ED: But now you're into caravanning?
ME: Yup (thinks 'the arthritis says I'm too old for cross-country shit').
ED: But you still get to a lot of remote places with your van?ME: Yup (thinks 'that's why we got a custom-built off-roader… so we can stay out there as much as possible').
ED: So why don't you do a story on what you've learned from your 4WD days about remote caravan camping. Tips, hints and the like, but keep it brief!
ME: Okay ('I'll write it on a square of toilet paper').
You can see why we get on so well … he talks, and I listen.
CONSIDER THIS: About 85 per cent of our landmass is classified as 'remote' or 'very remote', and only about 2.3 per cent of our population lives there – take a squizz at the map above for an official breakdown. These areas are characterised by the significant distances between populated centres (often hundreds of kilometres), where services are problematic (try getting your van fixed in Laverton), and weather conditions can be variable (think dust storms, floods, and drought). So, self-reliance is a big factor.
Keep in mind that within remote areas, you can travel on sealed roads and pretty much stay in regional towns – Barcaldine, Mt Isa, Alice Springs, Katherine, for example. So while within the definition, they're not really high-risk travel. In these areas, you can usually get towed, get repaired, get a slab in a park, etc. Fuel might be a little more expensive. Lots to see, great travelling, but modestly comfortable.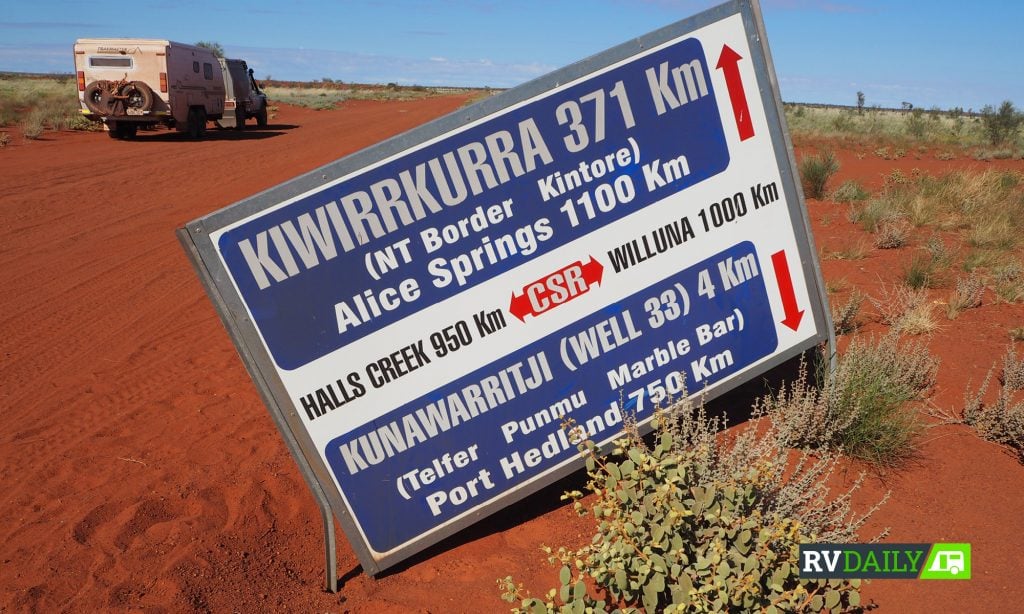 But we like to get a bit deeper into 'remote' and leave the worn sections. Maybe it's a hangover from our 4WDing days. But what do you do when the arthritic body calls a halt to rough 4WDing? Obviously, you switch to caravanning that is as close to 4WDing as you might want to get. That means a road or track but not cross-country. There are two main caveats to vanning in remote areas. Firstly, troublesome soft sand is a no-go; vans are like an anchor. So, the Simmo, the Canning and cross-country desert work are off the list. Secondly, seriously overgrown, winding and washed-out tracks are simply too risky.
But there's still a lot of 'deep remote' travel we can do with the van – that is, almost zero passing traffic, assistance a long way off, roads (sometimes tracks) problematic and no emergency roadside phones! Not much out there, but, that's in part what makes it so exhilarating. These are the spaces I want to talk about. Here are a few examples to give a feel for it:
• This winter we travelled north from Silverton, NSW, and tracked along the dog fence for a short while before turning back to Milparinka. Not much out there. A few locals in utes, and maybe two other happy campers.
• A few years back we took the old Eyre Highway/Old Coach Road west from Nullarbor Roadhouse, went north to Forrest before exiting back on the highway at Mundrabilla.
• There's a track between Tobermorey (on the Plenty Highway) and Camooweal. It sort of follows the Queensland and NT border and passes through the tiny town of Urandangi.
• From Birdsville you can wind your way east through Betoota, south through Arrabury, Nappa Merrie to Innamincka. Then continue to Cameron Corner and Tibooburra.
• Over in Western Australia you could try the Gary Junction Road, the Gunbarrel Highway or the Buntine Highway. Even the Great Central Road (to a lesser extent) is 'deepish' in places.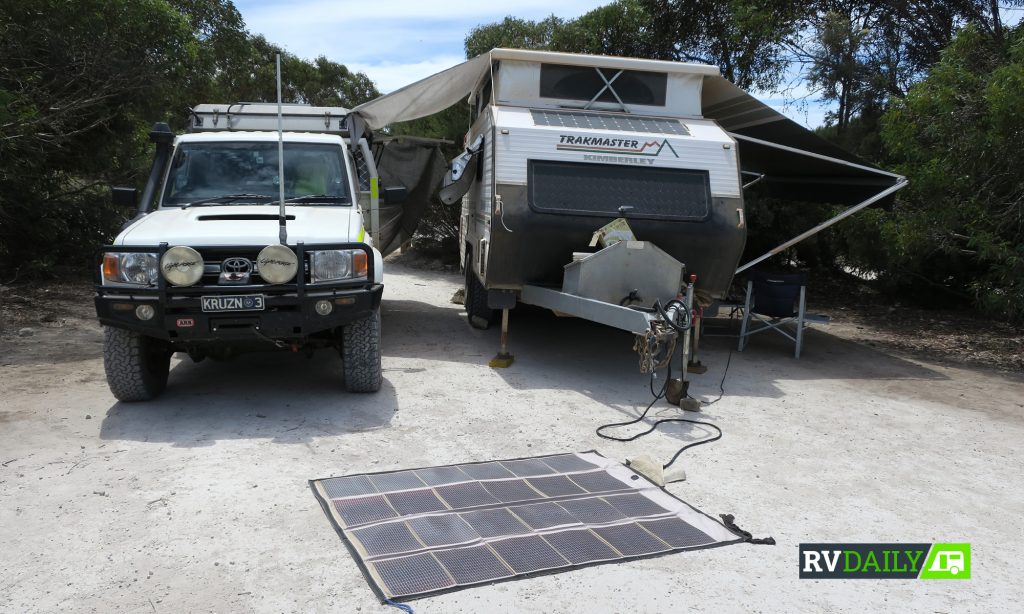 Reliability and safety
With this type of travelling, the reliability of the rig is the big one. All the pre-trip checks, repairs, and upgrades to vehicle and van are critical. Especially suspension, bearings and tyres – they will take a hammering, so take spares. We carry spare shockers and bearings and assorted other bits (like belts and hoses). We make sure that vehicle and van wheels and tyres are compatible. Then, of course, oil, grease, fuses, tools, duct tape, a small roll of wire and all that stuff.
Never leave home without a sat phone. We had to get medical advice on a couple of occasions, as well as technical guidance on a faulty electrical system; we've also used it to order spare parts from an ARB outlet about 300km away and made many a comforting call to family and friends. Just don't forget the charger!
You might also need a splash of creativity, as you can't pack for every eventuality. If there's a problem that seems insurmountable, stop for a cup of tea or a beer or even set-up camp. Sit, think, chat. One time we lost a bearing cap and nearly the wheel. We replaced the bearings (with the help of a battery angle grinder to get them off) and used a stubby holder secured with a cable tie as a cap/dust cover. It lasted for hundreds of kilometres.
Sustainability
If you're waiting for help, you might need to be self-sufficient for some time. Back in the day, we'd always carry a few extra meals, even if only some tinned meatballs. If you think the trip will be, say, five days, then carry 10 days of food. The same with water; and be conservative with how you use it. While 4WDing we used to budget on five litres a day for the two of us.
That means no showers, and believe it or not, you won't disintegrate without a shower for a few days. We wash up after meals using a spray bottle of six parts vinegar, four parts water, and a squirt of detergent; quick, easy, very hygienic and very water-friendly.
You'll need to keep powered-up. Hopefully, your solar set-up will do the trick. Sometimes that's not good enough, so we carry a solar mat for extra grunt; it's light and easy to pack away. And we take a generator, just in case we need to boost the batteries or charge the sat phone or iPads. In an emergency, you can always run the vehicle motor a couple of times a day.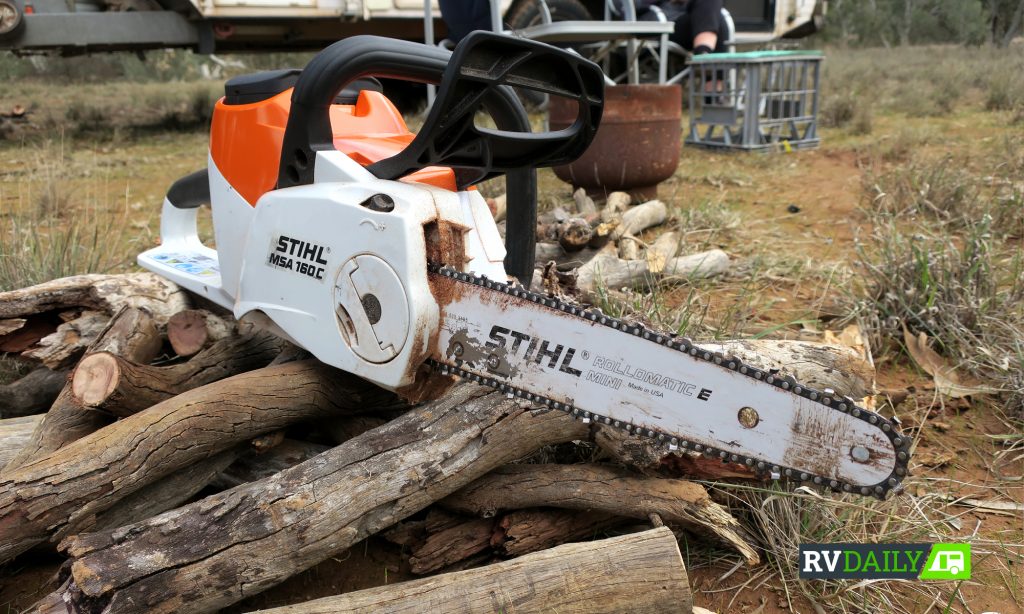 Remote comfort
We need a small, cosy fire for warmth and ambience. If you're in deep remote, wood probably won't be an issue but I'd recommend a small chainsaw. We have a STIHL battery-powered job, and it's a ripper. It's compact for a chainsaw, no need for fuel and pretty quiet. A cut-down 9kg gas bottle makes an ideal firebox.
Perhaps the most important comfort predictor is attitude. If corrugations or little rocks hitting metal will drive you crazy… don't go. You'll end up tighter than your suspension under pressure. And that's when you make mistakes (too fast or not spotting a deep rut), or argue with your companions – a crappy time, all-in-all.
When we travelled in places like the space north of the Madigan Line or Geosurveys Hill in the Simpson, we went out with the understanding that we might just have to walk away from everything. It might sound dramatic, but that is the reality of remote travel. It's unlikely to happen with the van because you'll always be on a track of some sort, but if you take an "it is what it is" attitude, difficult situations can be more bearable.
Words and images Greg Cartan.