When it comes to DIY caravan builds, pop-top vans are pretty rare. This month we feature Gavin Bassant from NSW who not only took on the challenge of building his own pop-top caravan but he made an extreme off-roader that almost never left the garage. Wait till you see the pics!
If I was to ever decide to build my own caravan, a pop-top would not be my first choice. I just don't think I could do anything that complicated. Then to throw into the mix it being a full off-road capable van with all the bells and whistles would simply count me out. Gavin Bassant not only accomplished this, but he did everything from scratch himself and the result is very cool.
Gavin has one very important piece of advice to anyone contemplating building their own caravan. We'll leave it as a surprise for you to read towards the end of the story.
What did you build?
I built an off-road hybrid caravan. The caravan is 4 meters long, 2 meters wide (plus awning) with a 1700mm drawbar and follows the wheel track of my Ford Ranger which helps when off-road.
I wanted to build a caravan that didn't look home built, there's no point spending the time and money on building a custom caravan if it looks like a box on top of a trailer that somewhat resembles a caravan. I wanted it to look and be built to the same quality as the high-end hybrid campers on the market.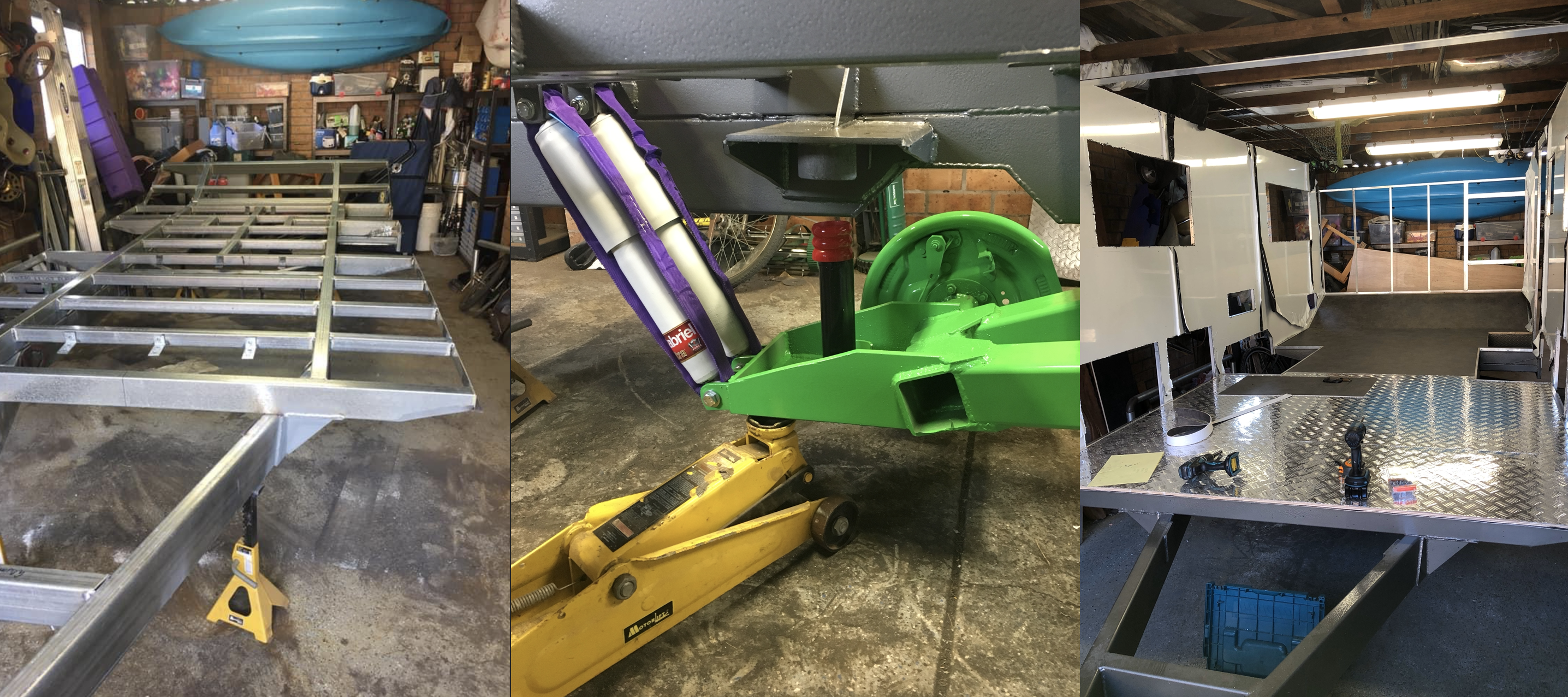 Why did you build your own caravan?
After working in the industry I knew what I wanted in a caravan and after seeing the dodgy actions and cover-ups that go into a lot of caravans as well as the exorbitant markups, I knew I could build a better caravan for a fraction of the price. I would also know every single nut and bolt in the caravan should anything go wrong while on the road.
What are its special features?
The special features to me are that 100% of the van is built by me, I built the entire chassis, suspension, wall frames, furniture, electrical, had, plumbing is done by me. Even down to applying the decals and making the upholstery.
What type of construction is it?
The chassis is constructed of Australian steel with 150×50 main chassis rails running the entire length of the van.
The body of the van is made from a fully welded aluminium frame with the interior lined with composite panels and the exterior covered in one-piece composite and black checker plate with the body 100% insulated with foil-board.
For the furniture, I have used aluminium extrusion for the framing and have covered the frames with composite panels. With the cupboard doors and drawers made from heat and moisture resistant MDF.
The pop-top is made from pop-top roof extrusion that has a built-in sail track around the perimeter. The frame for the roof is an aluminium frame with a one-piece internal and external composite lining. I have also included an aluminium 'H' frame for down the track when I add an air conditioner.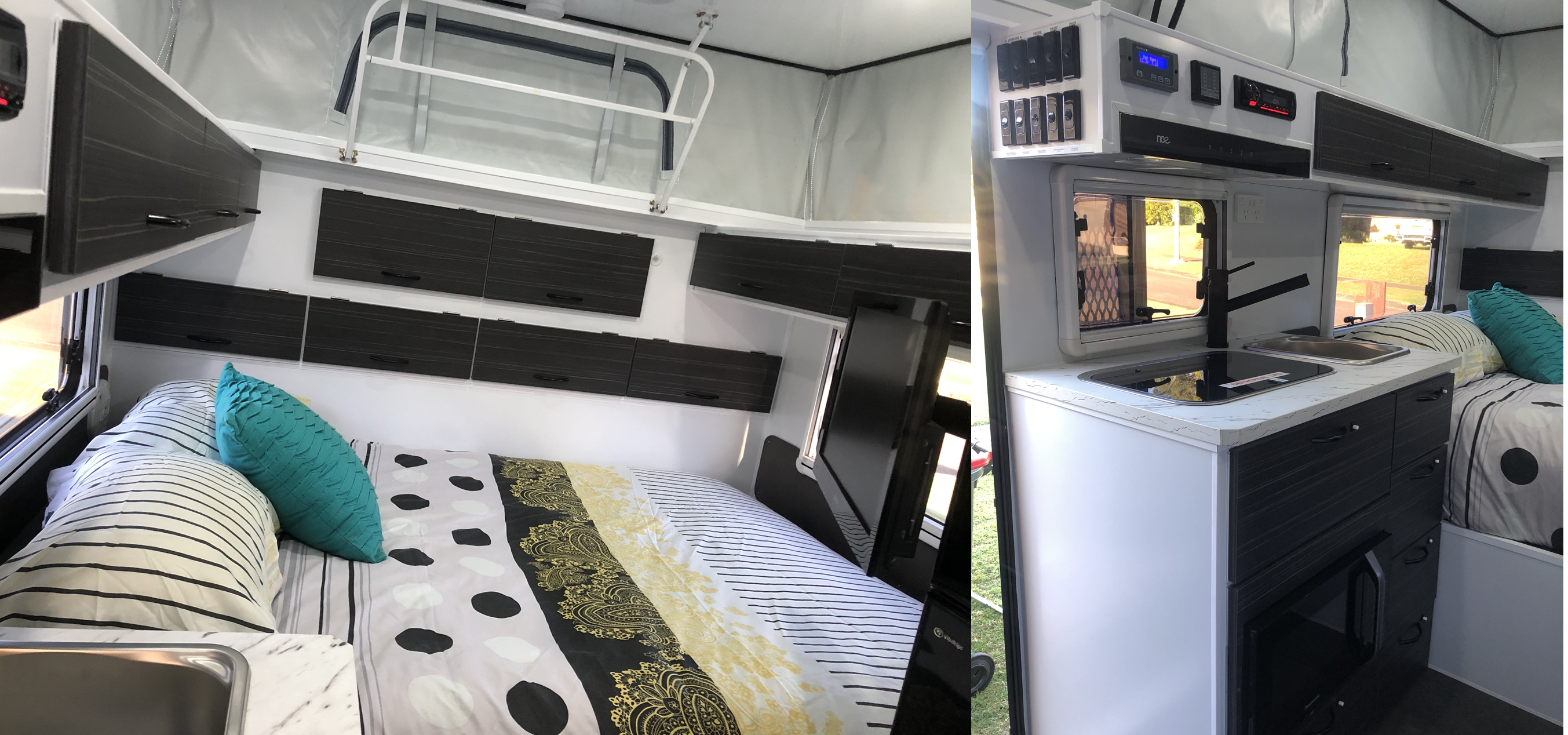 What's your experience in building anything?
When I left school at the end of 2005 at the age of 15 I started my apprenticeship as a caravan repairer and I stayed in the caravan industry until 2015 when I had a career change and I have been in the funeral industry ever since which I thoroughly enjoy and have never looked back.
Did you get any help from any companies you'd like to acknowledge?
I had some great support from some amazing companies throughout the build and I would love to thank NCE RV accessories, Ezi Metal Heatherbrae, Auto One (Mega parts) Warner's bay and Kingston caravan repairs Heatherbrae. Without support from these businesses, the build wouldn't have turned out the way it did.
How long was the build time?
From start to finish it took around 18months working on the caravan an average of 2 days a week. I did spend a few months prior to the build designing and drawing every aspect of the caravan to scale to make sure it would all work once the build started
Any changes planned to the final result?
The only things I really want to do to the caravan is to add a slide-out kitchen, hot water and air conditioning. I designed the caravan to include all this so all the wiring and gas is all plumbed ready to fit all these.
Anything you would do differently?
Build a bigger garage first. Building in a garage barely bigger than the van presented its challenges and definitely added a lot of time and challenges to the build. Other than that I wouldn't change anything. I would also film the process to help others if they want to do something similar which may be a possibility down the track.
Any other comments, details or info you want to include?
I built the caravan in a garage that had less than 1 meter around the entire caravan. I also had to take the suspension out of the caravan in order to get the caravan out of the garage and driveway. I literally had under 5mm of clearance getting the caravan out of the garage and driveway and that was with the roof of the caravan and the chassis riding on dolly wheels.
The caravan weight came in at 1800kg with an atm of 2400kg (suspension rated to 3000kg.)
The specs of the caravan are below.
150L virtrifrigo compressor fridge.
220L of drinking water tanks.
110L of greywater.
260ah of battery.
40amp battery charger with an internal monitor.
30amp dc-dc charger.
40amp battery protector.
1500kg wheels with BFG mud tyres (2 spares)
Full LED auto lamps lights throughout.
Checker plate under flooring to prevent rock and stick damage to flooring.
External shower.
Internal kitchen with external to come.
Roll out awning.
2x 9kg has bottles
2x Jerry can mounts
Tri-fold table
Audio player with 4 internal and 2 external speakers.
Microwave.
Foil board insulation.
50amp Anderson plug.
12 pin trailer plug.
7 double seal external lockers.
Evopex mains pressure plumbing.
12v water pump with by pas valve to fill water tanks from mains pressure.

We had a 7-week trip planned to North Queensland in April last year which the van was due to go on. We had to postpone the trip until October 2020 due to COVID-19 when, unfortunately, the Queensland borders closed to NSW and we were forced to once again cancel this trip. We are now due to leave in mid-April, so fingers crossed the borders stay open.
Other than getting some brackets laser cut and some friends helping with the heavy lifting I completed the entire build myself. I feel so proud that I can now go on holidays in a pop-top caravan that I built.
If you have a DIY caravan build that you reckon Australia would love to see, drop us a line at sayhello@rvdaily.com.au or use our contact form by clicking here.