Caravan owner's review: Roadstar Safari Tamer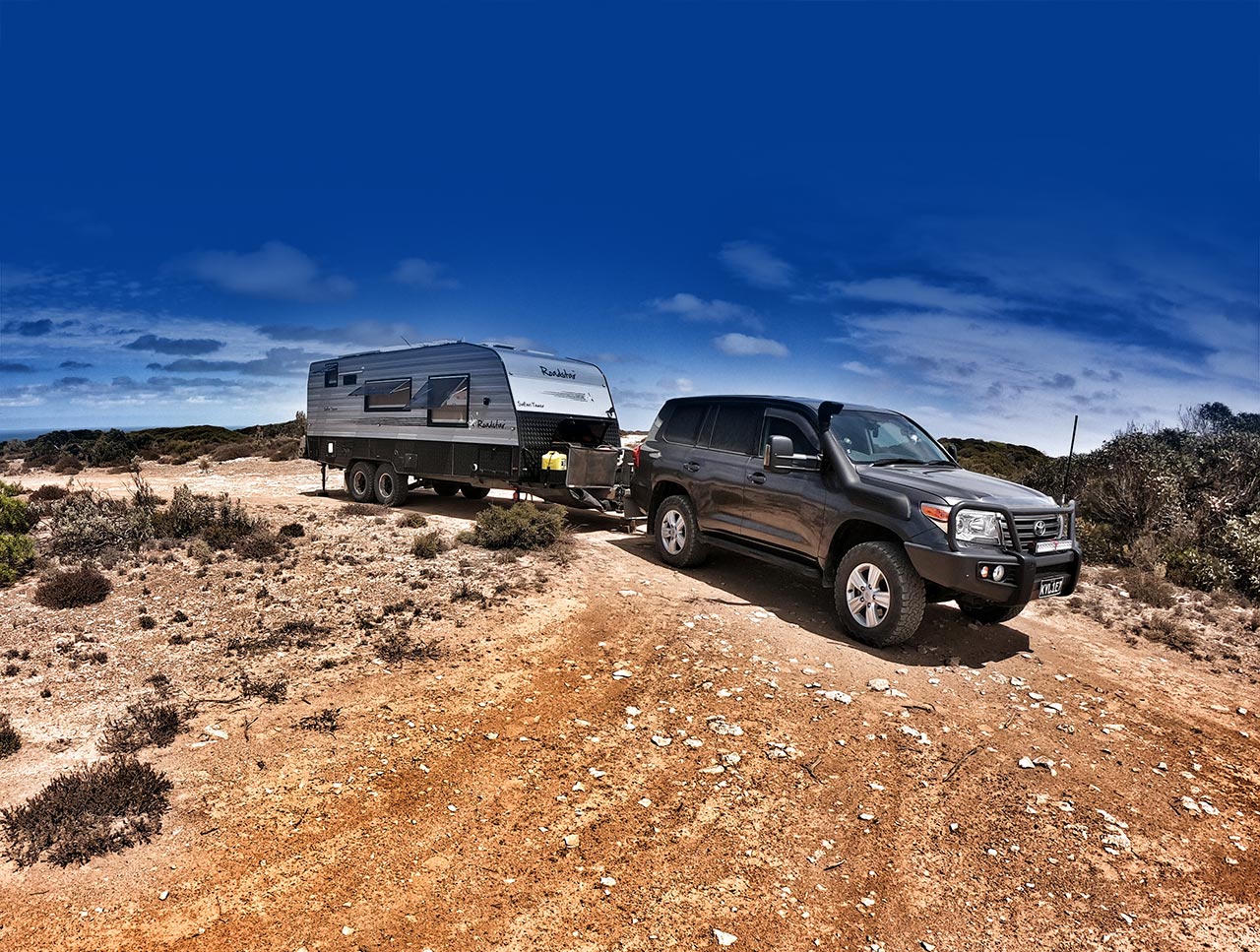 After four Years, 50,000km, 18 months full-time on the road and crossing some of the country roughest tracks, has the Roadstar Safari Tamer lived up to its name? Marty Ledwich gives us the review of his own Roadstar Safari Tamer.
Most reviews you see in caravan magazines are written after a very quick test drive and perhaps a couple of nights camping. They're fine for getting an idea of what a caravan is like upfront, but they can't give you an idea of what a van will be like long term. So in a break from the norm, we will give you our warts and all assessment of our four-year-old, well-travelled Roadstar Safari Tamer off-road caravan.
The Safari Tamer was the result of Roadstar's owner, Ken Nizam's, desire to redesign his range of caravans and bring them into the 20th century. Roadstar had always enjoyed an excellent reputation for quality and durability, but to compete in the modern age, it needed a refresh. The Safari Tamer was the flagship model, and it was an immediate success, winning several accolades over the years.
Build it and they will come (and go)
The Safari Tamer is a true off-road caravan. Built on an extremely rugged six-inch galvanised chassis that incorporates rear bump stops and heavy-duty recovery points. The underpinnings are solid and up to the task. The suspension is the proven Cruisemaster XT coil springs with dual shock absorbers all riding on Cooper Discoverer 16in All-Terrain tyres, and the tow hitch is the dependable DO35 also from Cruisemaster. Our Safari Tamer was the first to roll out of the factory with an aluminium frame.
Inside, the Safari Tamer is pure luxury. CNC finished ply cabinetry looks good, and it won't (it hasn't) fall apart on the rough roads. It's a very clever design that uses the available space to great advantage. With soft-close drawer runners, a stylish splashback in the kitchen, leather seating, large windows and storage galore, the interior is purposeful yet very pleasant. You can sit inside this van for hours on end in complete comfort.
So how does it function?
On the road, the clever storage design, solid chassis and running gear all combine to deliver excellent towing characteristics. The big van just sits behind our Cruiser steady and true regardless of the conditions. It's totally stable at highway speeds and, on rough tracks, it seems to beat the bumps and corrugations into submission.
All this good stuff would be pretty useless if it didn't function as a living space and this is where the Safari Tamer excels. There are myriad little touches here and there that just go to make the van a pleasure to live in. For example, there are so many power points and lights throughout the van, we're never left wanting for our electrical needs. The ensuite design is the best we've ever seen in any van, with loads of storage, a 3kg top-load washing machine and a generous shower. Again, it's a brilliant use of the available space.
Outside, the storage options continue with a large toolbox on the drawbar that includes a dedicated section for a generator on a slide-out as well as two jerry cans. There's a full-width tunnel boot that's gal-lined while, at the rear of the van, there's a huge storage cupboard that extends the full height and almost half the width of the van. It's fantastic for storing items such as chairs, tables, fishing rods, all those items you need easy access to every day.
If we could change anything – we did
As good as the Safari Tamer is, we have made a few modifications to better suit our needs. We replaced the standard jockey wheel with a BOS 370 unit (Click here to read the review) that is operated by a battery drill. It can be left in place on the drawbar, doing away with the hassle of removing and refitting the supplied jockey wheel at every stop. We also fitted the BOS stabiliser legs, which can jack up the sides of the van with sufficient height to change a tyre. Doing this meant we could do away with the Trail-A-Mate jack which weighed almost 30kg on its own.
We live in our van, so our whole life is contained in it and, because of that, weight is a huge issue for us. The van came with 600kg of cargo capacity, but we needed more. We removed the two AGM batteries and fitted a single 200ah ProPower lithium battery. We also removed the scrub bars from the underside of the van. We couldn't envisage a situation where we'd encounter sufficiently difficult terrain that these would be necessary. These changes alone scrounged us another 90kg.
Defining the term off-road
As I mentioned earlier, the Safari Tamer is a dedicated off-road van, and we have certainly put that claim to the test. In the last 12 months, we've towed the van across the Plenty Highway, up the Peninsula Development Road to Cape York, across the Great Central Road and finally along the Oodnadatta Track. That's a lot of rough dirt roads and the Safari Tamer has stood up to it all with barely a fuss. We broke one of the hinges on the shower door and damaged the doorstep beyond repair. But that's it, everything else has held together. Not a single cupboard has come loose, the microwave oven has stayed in place, and all the appliances have worked as well as they did from day one.
One major complaint with many so-called off-road caravans is dust ingress. We've had no such issue, only finding a very small amount of dust had squeezed in through a gap in one of the plumbing entry points under the van following a particularly bad section of bulldust along the Plenty Highway, and it has not been an issue since.
Underneath, the Safari Tamer's vital components are relatively well protected. The water tanks are all shielded from stones by galvanised guards. The plumbing is tucked away reasonably well as are all the electrical cables. Just to be sure we still put extra protection over all cables, hoses and pipes.
The Safari Tamer was supplied with two spare tyres on the rear bumper. In hindsight, this was probably overkill. We haven't experienced a single puncture in the whole time we've had the van. We've also had no issues with worn bearings or broken stub axles. We're very careful with tyre pressures but, even so, this is a testament to the Cooper tyres and the Cruisemaster suspension on the van.
Anything to add, or take away?
If we were to change anything on the Safari Tamer it would be minimal but, with weight being such a huge issue, there's room for improvement. The shower door in the ensuite is glass and, while it's beautiful and easy to keep clean, it's heavy and unnecessary. A perspex door would be much lighter and less strain on the hinges.
The Safari Tamer comes standard with three 90-litre water tanks. One is plumbed separately to the other two as a dedicated drinking water supply. It's a good idea but in practice, we've never needed that much potable water.
One feature that we have really appreciated is the Vitrifrigo 12V compressor fridge/freezer. At 240-litres capacity, its got ample room for a few weeks food supply and it has never let us down even in the hottest and most humid weather. It is worth noting these fridges do require periodic defrosting if being used for extended periods, particularly in humid conditions.
Verdict
We've been extremely impressed with our Roadstar Safari Tamer. It has performed well beyond our expectations and has proven to be a comfortable luxury apartment that can traverse all terrains with ease. Yes, it's a heavy van – most good off-road vans are – but that weight does translate into the strength needed to survive the very worst conditions this country can throw at it.
If you're in the market for a luxury, off-road caravan, the Roadstar Safari Tamer should be on your shopping list. Available in sizes from 18ft to 22ft and built with either Durabond or composite construction (marketed as the Sirius), its a thoroughly modern van for a life off the road. Click here for more.
PROS
Construction Strength
Interior build and comfort
Standard gear
CONS
It's heavy
Glass shower door is overkill
As usual, too many keys!
SPECIFICATIONS
Interior Length: 5640mm
Interior Width: 2250mm
Interior Height: 1940mm
Exterior Overall Length: 8240mm
Exterior Overall Width: 2500mm
Exterior Overall Height: 3000mm
Average Ball Weight: 220kg
Average Tare Weight: 2700kg
Average ATM: 3300kg
Price: As bought $110,000 as configured.