Is Brisbane to Airlie Beach the ultimate QLD coastal road trip?
Is Brisbane to Airlie Beach the ultimate in Queensland coastal road trips? Well, if you drive the whole 1,097km in one go then probably not. However, if you take your time and spend a few nights in the iconic coastal towns on the way up … then absolutely!
Road Trips don't always mean driving all day and are often more fun when they don't. With thanks to NRMA Holiday Parks, I recently tried and tested this route, dragging hubby and two kids along for the ride and breaking up the drive into smaller chunks.
The verdict? … Amazing! Here's how to break up your Brisbane to Airlie Beach road trip so that it's more enjoyable.
Brisbane to Woodgate Beach (342km)
The first leg of the ultimate Brisbane to Airlie Beach road trip is 342km from Brisbane to Woodgate Beach. This place is beaut so shhh … it's one of Queensland's best-kept secrets. If you leave nice and early, you'll get there just in time for fish and chips on the beach.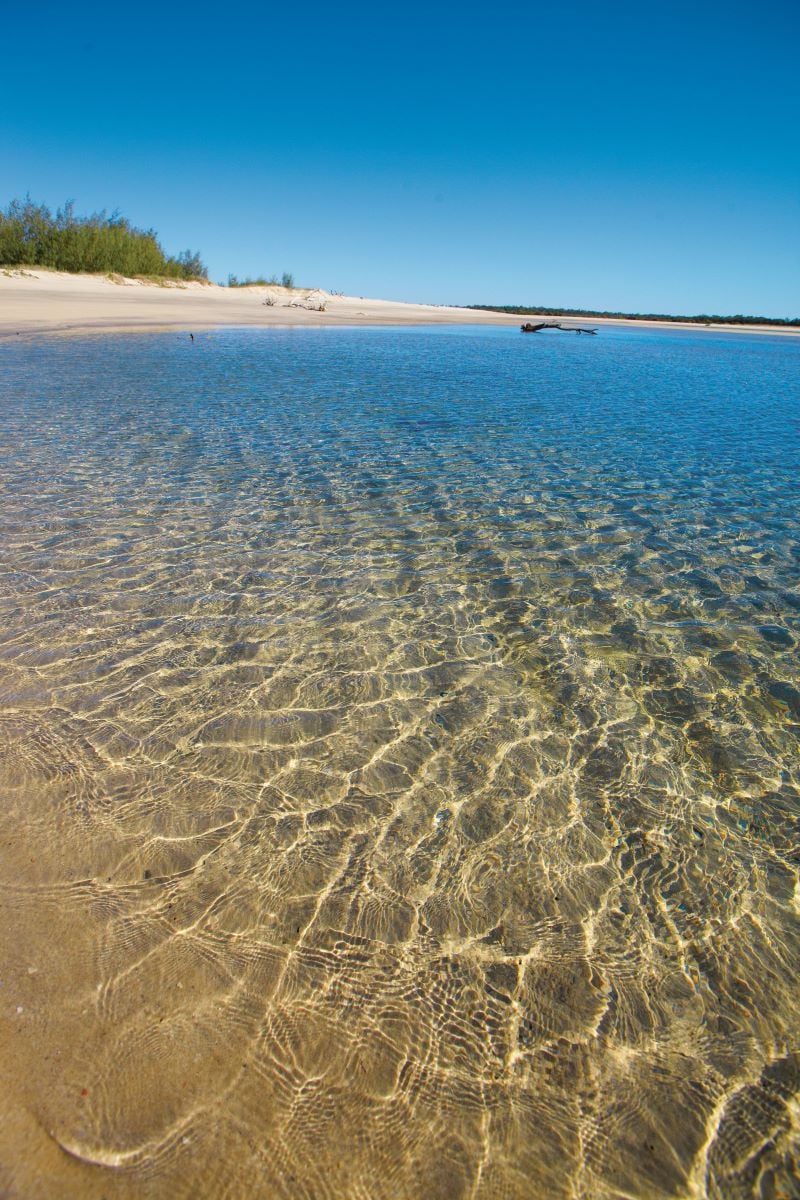 What you can do in Woodgate for a few days
Woodgate features 16km of beach and it usually has nice clear water that's perfect for swimming. Fishing and boating are tops here too so it's worth bringing along your tinny or kayak. Those with a 4WD can cruise the tracks at nearby Kinkuna and from the Woodgate Beach township along the beach to the Burrum Point area.
If you feel like a stroll, check out the 5.2km Banksia boardwalk track or head 90km into Hervey Bay to stroll the esplanade and enjoy the sheltered beach. A visit to Mon Repos (65km) can be enjoyed by all ages where from November to March, you can book tickets to join QPWS Rangers to watch nesting or hatching marine turtles. We've done this twice now and I'm still not sick of it!
Where to stay at Woodgate Beach
The NRMA Woodgate Beach Holiday Park is quiet and directly across the road from the beach. There are both powered grass and slab sites and you can even bring your furry friend. Villas, cabins and glamping tents are also available.
Facilities include an onsite cafe, clean bathrooms, tourist information, camp kitchen and BBQs, dump point, car and boat washing area, fish cleaning station, laundry and free WiFi. Kids activities are available during the school holidays.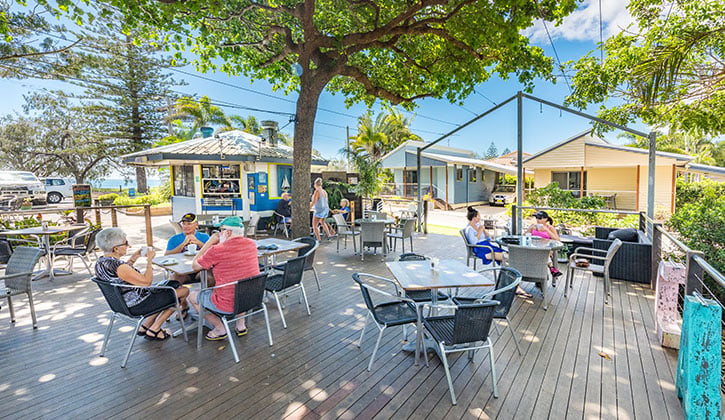 Woodgate Beach to Agnes Water (176km)
The second leg of the Brisbane to Airlie Beach road trip is 176km from Woodgate to Agnes Water. Agnes Water is the southern gateway to the Great Barrier Reef and is also Queensland's most northern surf beach. Relaxed coastal vibes are on the cards for a few days here.
What you can do in Agnes Water for a few days
Agnes Water has safe swimming beaches that are patrolled during the holiday season. The Point Break is the place to head if you've bought your surfboard and of course, there's the Great Barrier Reef. Head over to Lady Musgrave or Lady Elliot Island for an unforgettable day trip of sunshine, snorkelling, reef and sand.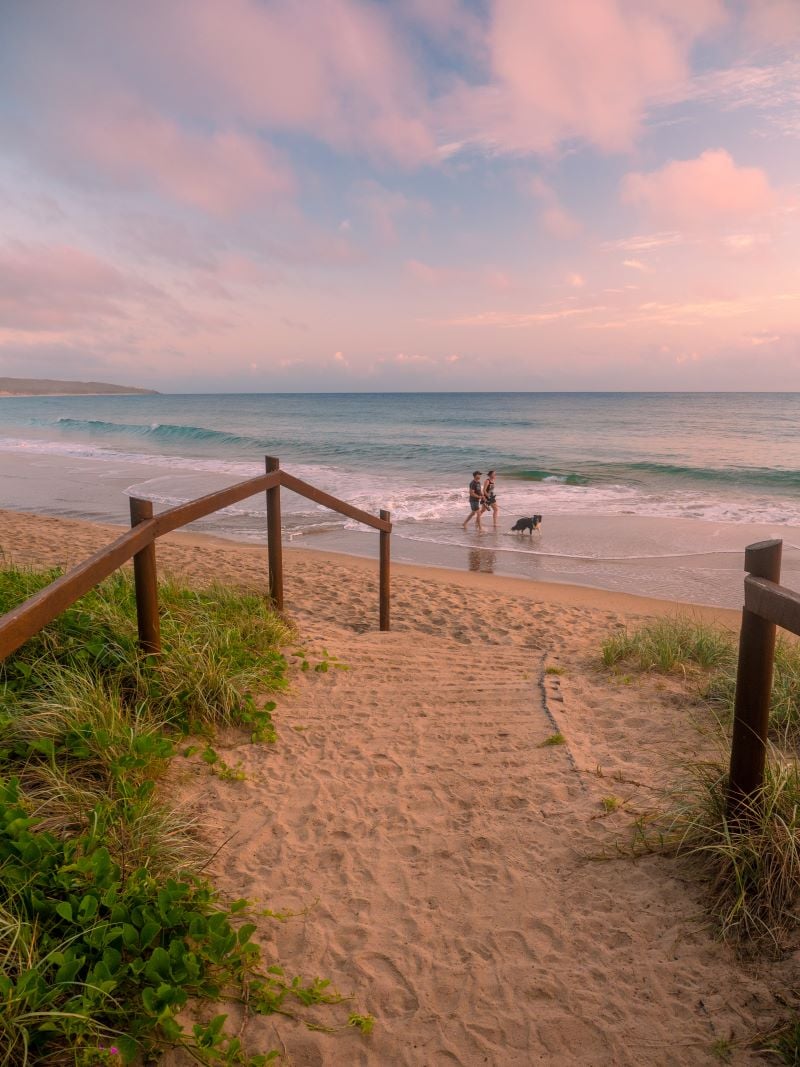 For those looking to stretch their legs, hike the 3km Red Rock Trail which includes a dip in nearby rock pools once you get to the end. Alternatively, the paperbark forest walk is a popular option as is the 30-minute Discovery Trail walk that features a great lookout.
Don't miss the nearby town of 1770 where you can stand in the same spot Captain Cook's crew first came ashore. Kayak or SUPboarding is perfect here or you can jump on the LARC, a bright pink tour bus that can go on both land and water.
Where to stay in Agnes Water
Agnes Water NRMA Holiday Park is in prime beachfront location. It's pet friendly (small dogs) and has both powered and unpowered grass and slab sites. Villas, cabins and glamping tents are also available. Facilities include camp kitchen, clean bathrooms, cafe, laundry, tour bookings, onsite cafe, dump point and picnic tables.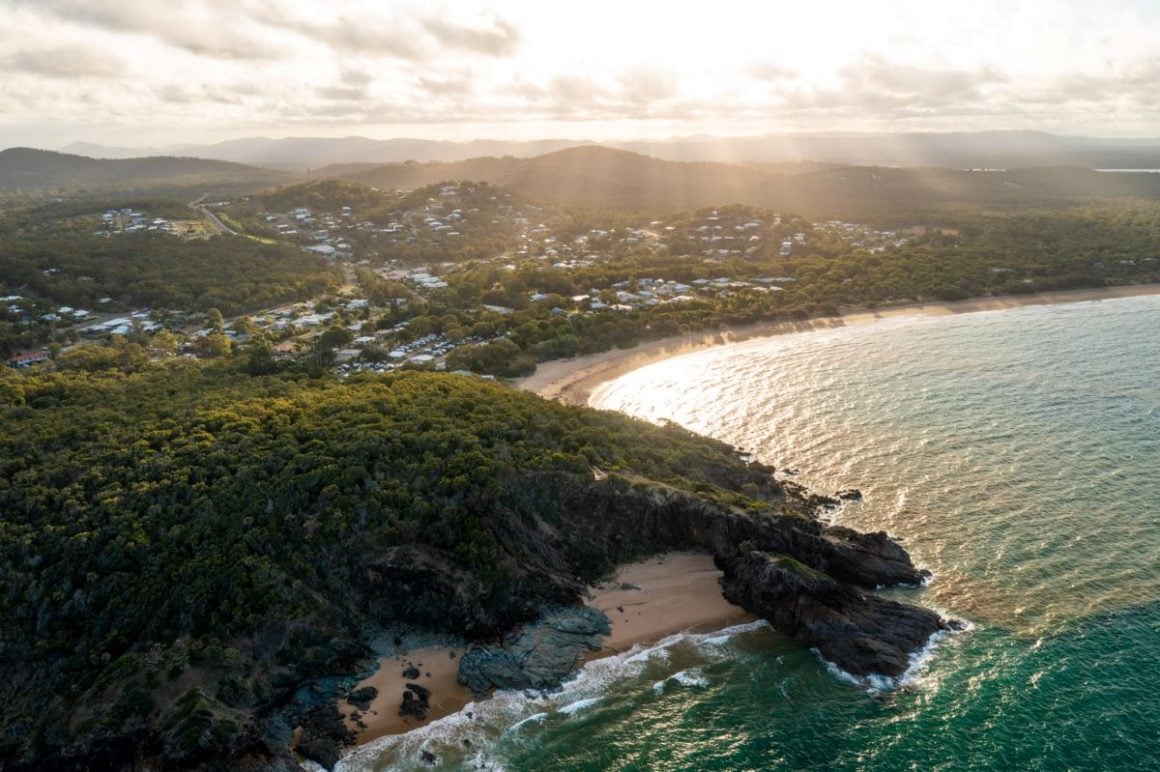 Agnes Waters to Yeppoon (265km)
The second leg of the Brisbane to Airlie Beach road trip covers 265km from Agnes Water to Yeppoon. There are tonnes of things to do in Yeppoon but sometimes it's just as fun to take it easy. Yeppoon is the perfect place to alternate between fun in the sun and doing nothing.
What you can do in Yeppoon for a few days
The first thing you'll want to do is check out the free-to-use Yeppoon Lagoon, a 2,500sqm resort-style pool with a swim-up infinity edge that looks out over the Keppel Islands.
Now that you've noticed the Keppels, make plans to head on over to Great Keppel Island for a day of sunshine, sand and snorkelling with Freedom Fast Cats. Alternatively, take your pick of 12 beaches between Yeppoon and Emu Park, where you will also find the famous singing ship sculpture. The Cooberrie Park Wildlife Sanctuary and Koorana Crocodile Farm are popular with families but if you want to get moving, the 2.3km Bluff Point Walking Track has amazing views of the Keppel Islands.
For those looking for sandy 4WD tracks, Byfield National Park offers a moderate challenge with both inland tracks and beach driving.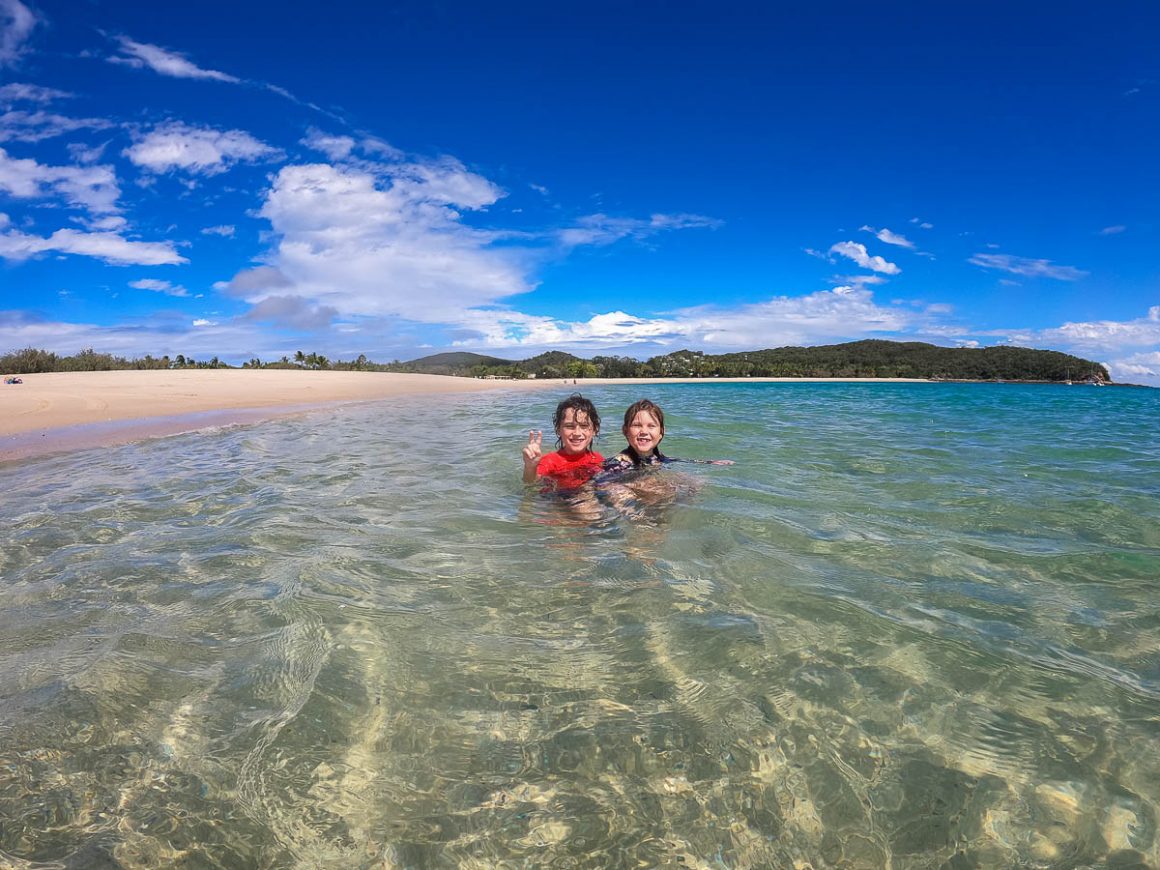 Where to stay in Yeppoon
The NRMA Capricorn Yeppoon Holiday Park is in a quiet area not too far from Mulambin Beach. This park is a great option for families as it features all the fun stuff like a big twisty waterslide, jumping pillow, playground, outdoor cinema and pedal carts. However, don't let this put you off if you're not travelling with kids and want some peace and quiet as the caravan and camping site is located a short walk towards the back of the property with well-maintained grass and slab underfoot. Cabins and cottage style accommodation is also available.
Facilities include free WiFi, immaculate bathrooms, camp kitchen, kiosk, dump point, laundry and BBQs. Kids activities are available during the school holidays.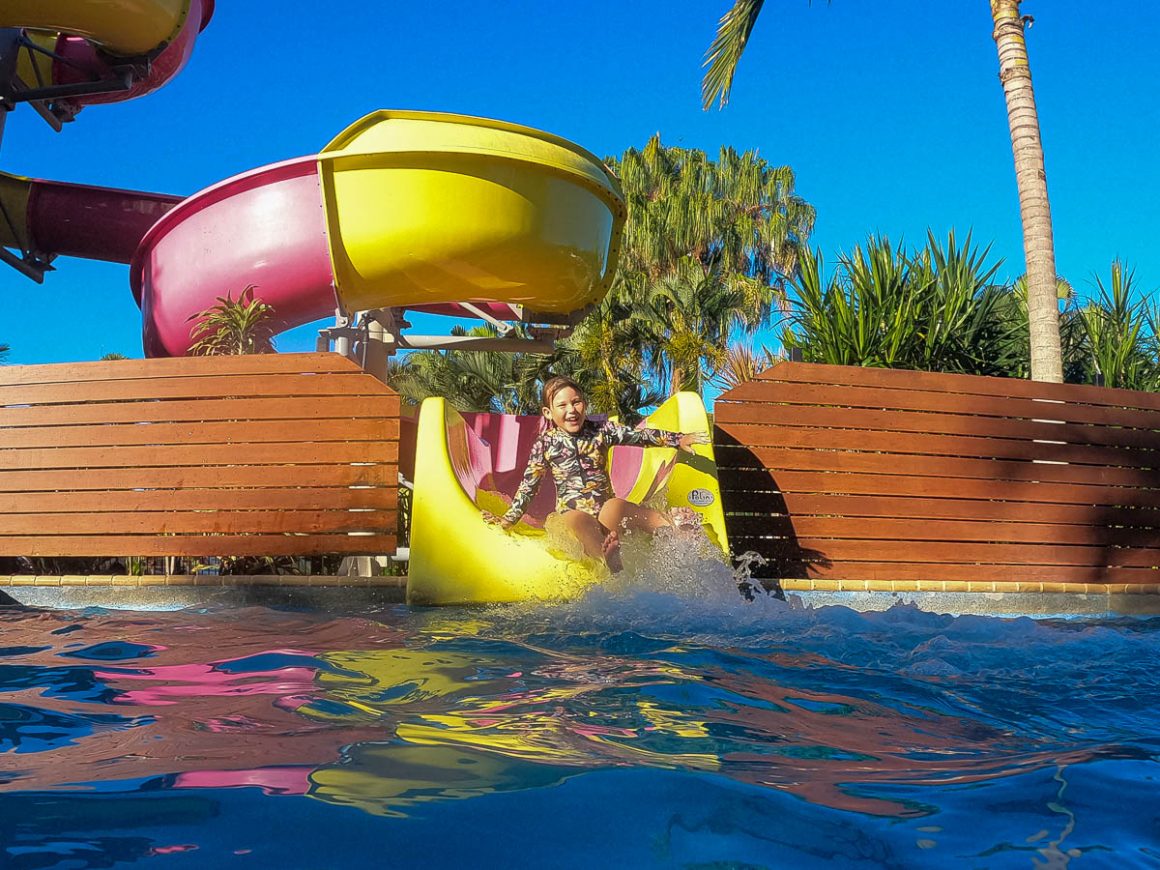 Yeppoon to Airlie Beach (506km)
The final leg of the Brisbane to Airlie Beach road trip stretches 506km from Yeppoon to Airlie Beach. To be honest, it's a boring drive but once you arrive you will not be disappointed. Airlie Beach is known for being the gateway to the beautiful Whitsundays but this doesn't mean that Airlie itself is boring. In fact, it's far from it!
What you can do in Airlie Beach for a few days
The Airlie Beach Lagoon is the place to be, a 4,300sqm swimming pool on the foreshore area that features several pools ranging from wading depth to 2.5 metres. Best of all, it's free! If it's a Saturday morning, head down to the Whitsunday Markets on the foreshore.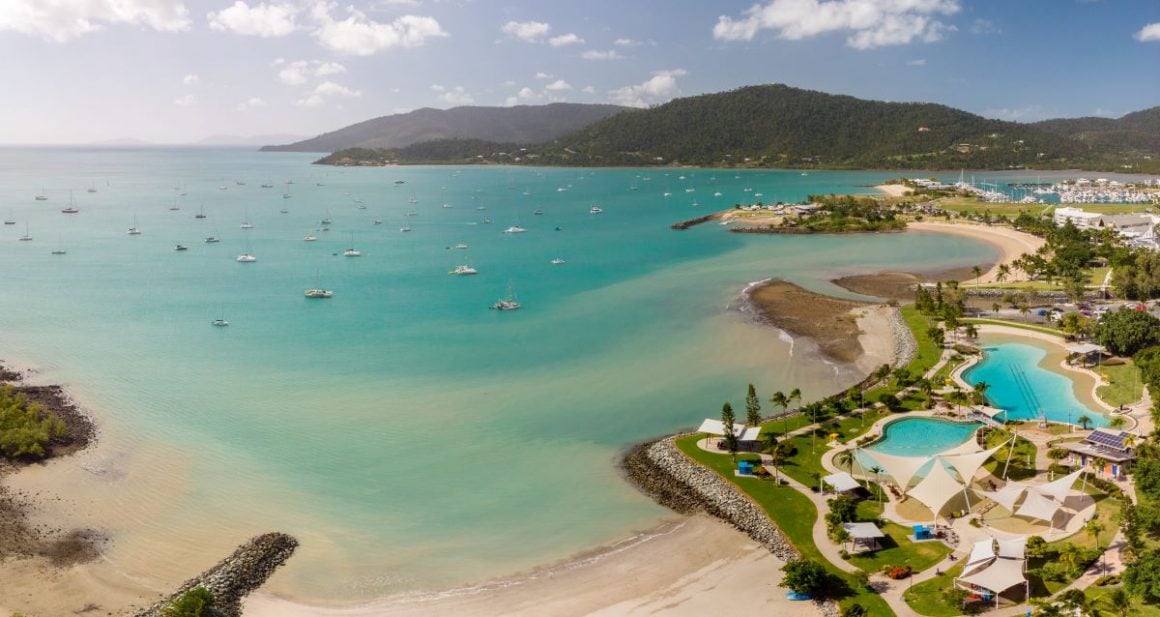 30 minutes drive from Airlie Beach is Cedar Creek Falls. You can swim in the freshwater under the falls but be careful as they really thunder down after some rain and you never know when a big rock may tumble over the top.
You could spend a week alone exploring the islands of the Whitsundays and the Great Barrier Reef but if time is short, jump on a tour. We visited Whitehaven Beach and Hamilton Island with Cruise Whitsundays on a day tour that included lunch. Whitehaven Beach was definitely the highlight!
Where to stay in Airlie Beach
The NRMA Airlie Beach Holiday Park is a palm tree-filled tropical oasis, making it a great base to explore Airlie Beach and the Whitsundays. If you like mangos, they're free for the picking and campsites are shady and pet friendly. Cabins, bungalows and villa-style accommodation are also available.
Facilities include clean bathrooms, camp kitchen with plasma TV, laundry, pool with kids' play area, tour booking office, BBQs and free WiFi. Shibby's Fish and Chippery is located at the entrance for when you don't want to cook.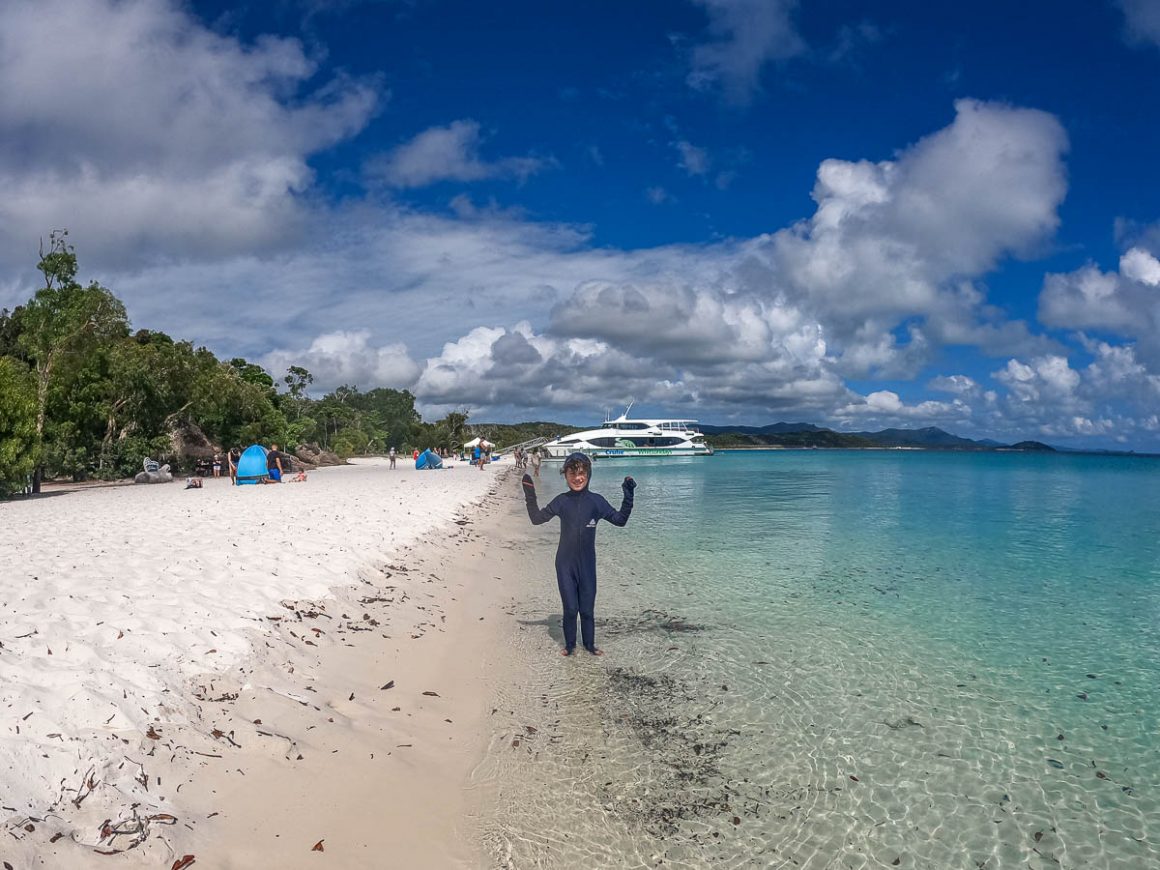 How quickly you take the road trip back to Brisbane is totally up to you. If time is on your side, you can linger a little longer in all the good places and if not, well crank those tunes and enjoy your holiday memories.