Think of Pod campers as little RVs in that they share many of the convenient features that make caravans great but in an undeniably smaller package.  Just like caravans, most pod campers have hard walls to protect those sleeping inside from the elements and there is no set-up.  Just park the pod and climb in! 
While not everyone will appreciate the compact size of a pod camper, there's no denying the advantages. Their compact size means they are lighter to tow and can fit down narrow tracks, thus allowing you to take them more places off-road. It's also a lot easier to find a place to store them when you're at home. As you would expect, the compact size is also reflected in a significantly lower price tag. 
Also, pod campers just look really cool!
While there are many off-road pod campers on the market, we're comparing stats on two popular yet similar-priced models, the Jayco JPOD Outback and the Lumberjack Sheoak.
Let's start with the basic specs:
Specs
Lumberjack Sheoak
Jayco JPOD Outback
Price:
From $27,990 + on roads
From $27,990 + on roads
Sleeps:
Queen size bed sleeps 2
(4 with a rooftop tent)
Queen size bed sleeps 2
(4 with a rooftop tent)
Tare:
1040kg
904kg
ATM:
1500kg
1204kg
Dimensions closed:
4.75m(L) x 2.2m(W) x 2.1m(H)
4.40m(L) x 1.86m(W) x 2.3m(H)
Suspension:
Independent suspension with dual shocks
JTECH Outback Independent Coil Suspension
Brakes:
12-inch electric brakes and handbrake
n/a
Chassis/drawbar:
Drawbar bolted and welded to the frame
unknown
Tyres:
16-inch alloy mud
235 tyres on 15-inch rims
Coupling:
3 tonne 360 degrees poly block system
Trigg swivel coupling
Awning:
Standard 2m x 2.5m
Standard 2.1m
Water tank:
65L
80L
The setup
Set up for both pod campers is similar in that you drop the legs and climb in for a good night's sleep. The JPOD has two legs at the back and relies on the jockey wheel at the front but the Sheoak has four legs. The Jayco has the option of a tent that opens from the back hatch but this requires further set-up, as does any rooftop tent (RTT) that has been mounted. Given the JPOD's low ATM, any RTT would eat a large chunk of your weight allowance.
The layout
This is where you start to see some marked differences. The Lumberjack Sheoak steers towards a traditional teardrop style camper in that the kitchen is built into a hatch in the back. The kitchen is separate from your sleeping area which is accessed by two side doors with fly screens.
On the other hand, the JPOD Outback sleeping area is accessed by the back hatch only and you will find the kitchen on a slide at the front of the van. There are both drawer storage options and tie-down points for your fridge at the end of the bed on the floor. However, stay tuned as when Jayco releases the new JPOD X later this year, this layout will completely change.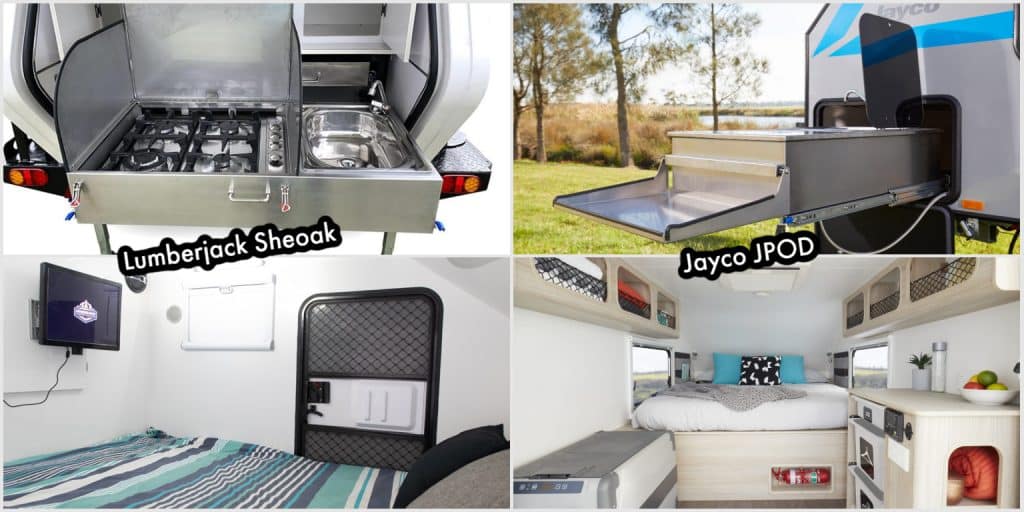 Offroad capability
The JPOD Outback features Jayco's own JTECH 2.0 independent coil suspension with shock absorbers as well as checker plate protection. The hitch is a trigg swivel.
In comparison, the Lumberjack Sheoak has independent coil suspension with dual shocks, electric brakes and a steel frame stone guard with mesh. Hitch is 360 degrees poly block system.
So we're not talking about the same level of off-road sophistication as the likes of Patriot Campers, but it's still a large step up from any onroad offerings.
Storage
The Lumberjack has a large toolbox at the front with a dedicated fridge slide and room on top of the box to strap anything that can handle the weather. Cargo railings can be found on the top for a rooftop tent or fun stuff, like kayaks. Two storage drawers, two decent-sized cupboards and a set of plastic hanging tubs can be found in the kitchen at the back. Another cupboard can be found in the sleeping quarters behind the TV. The Sheoak comes standard with a 4.5kg gas bottle holder and a 20L jerry can holder.
The Jayco JPOD Outback has one great advantage over the Lumberjack Sheoak in that there is under-bed storage for your clothes and spare blankets etc. Cupboards have been mounted on the wall up high and at the end of the bed, you will find a bed-side box with three drawers and a little shelf. Cargo railings for fun stuff are also found on the roof. Tie-down points are included on the floor at the end of the bed for your fridge or potentially another storage tub. Although anything you put in the middle on the floor will need to be climbed over to access the bed. A toolbox can be found on the drawbar at the front.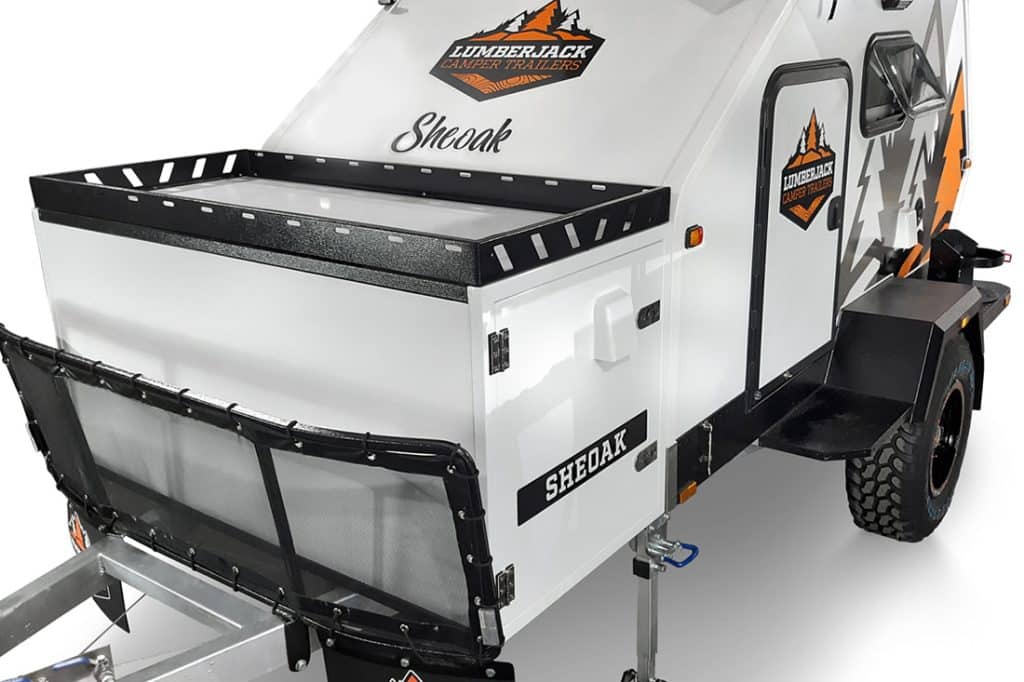 Kitchen
The Jayco JPOD Outback has a kitchen slide towards the front of the van. Grab yourself a portable hot water system if you want such luxuries as although the water is plumbed in, a hot water system is not included. The lid to the two-burner stove folds down and acts as a preparation bench.
Lumberjack seems to have forgotten that you have to prepare food to cook it as there is no preparation bench in sight. I think you are probably supposed to cut up your food on top of the slide-out kitchen before opening up the gas cooker. The prep bench problem can be solved by getting a chopping board cover for the sink.
One other kitchen design niggle is that when the cooker is set up, the two storage drawers behind them cannot be opened so you'll want to make sure you have everything you need out before you start cooking.
Like the JPOD, the sink is plumbed into the water tank but a portable hot water system is needed to get hot water. Lumberjack has mounted a second set of taps on the drawbar for such a system so you can also score a hot shower if you do decide to get one.
Electrical
As you would expect with pod campers, the electrics are simple. Lumberjack Sheoak comes standard with a 12V deep cycle battery, two 12V ports, two USB chargers, LED lighting and an inside control panel that shows your water and battery level. It does not come standard with solar panels but they can be easily connected.
The JPOD Outback offers a little more with a 12V lithium power system, 100AMP auxiliary battery, control panel, tyre pressure monitoring docks, 240V outlet and a 180-watt solar panel.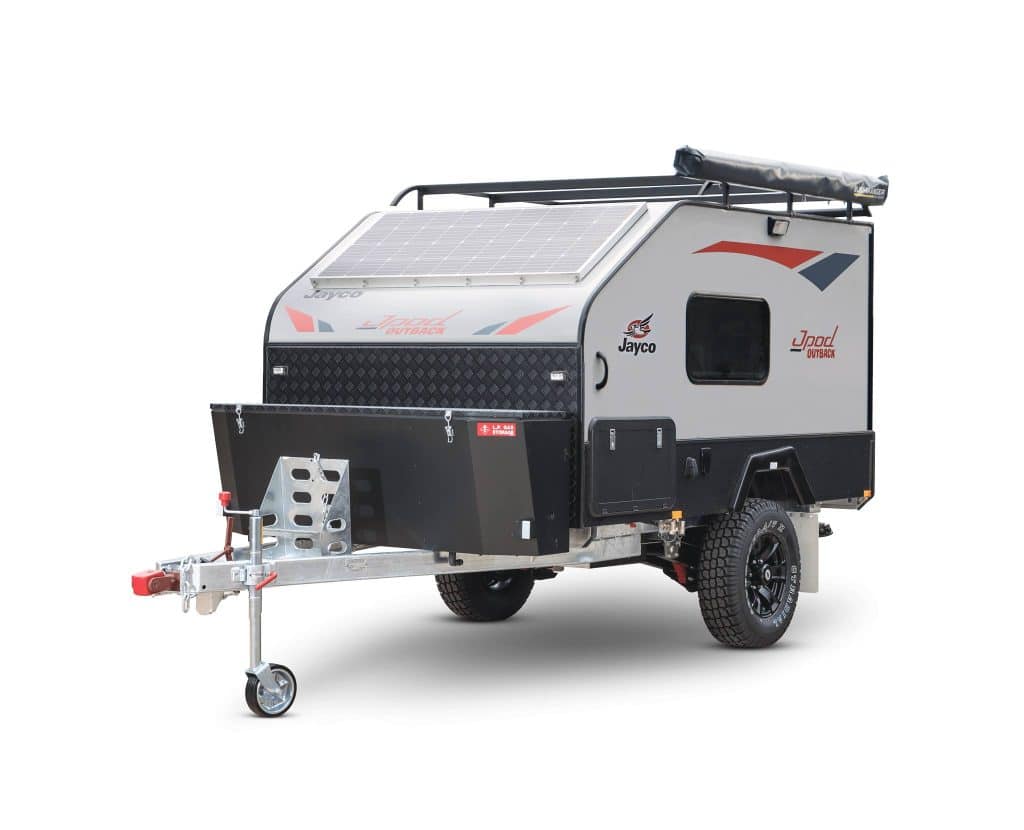 Luxuries
This is where it gets fun. The lumberjack has a TV mounted inside with a DVD and Bluetooth stereo system. The two side doors feature block-out flyscreen panels and there are two wall ventilation fans. The smooth white interior feels slightly more luxurious in person than the laminate wood of the shelving in the Jayco however this boils down to personal taste.
JPOD comes standard with two 12v fans, a 45L-12V Sphere fridge and an inner-spring mattress. You also have the option of more space via a tent that can be mounted onto the back for extra room. But doesn't setting up a tent defeat the purpose of a pod camper? If I wanted to muck around with poles I would buy a traditional camper trailer.
The Verdict
Given they are both around the $30,000 mark, I think the Lumberjack Sheoak is better bang for your buck. While it doesn't come with solar panels as standard, it has a significantly higher load rating, allowing you to legally load your rooftop tent and kids on top and still have weight left to fill the water tanks and carry a large fridge. Besides, you can always grab some portable solar panels and strap them to the storage space on top of the front toolbox.
However, I'll be watching closely when Jayco officially announces more details on their new JPOD X later this year, as it will feature the kitchen at the back and side access doors to the sleeping area like the Lumberjack Sheoak.
Check it out here: