Why boating tech makes great sense in caravans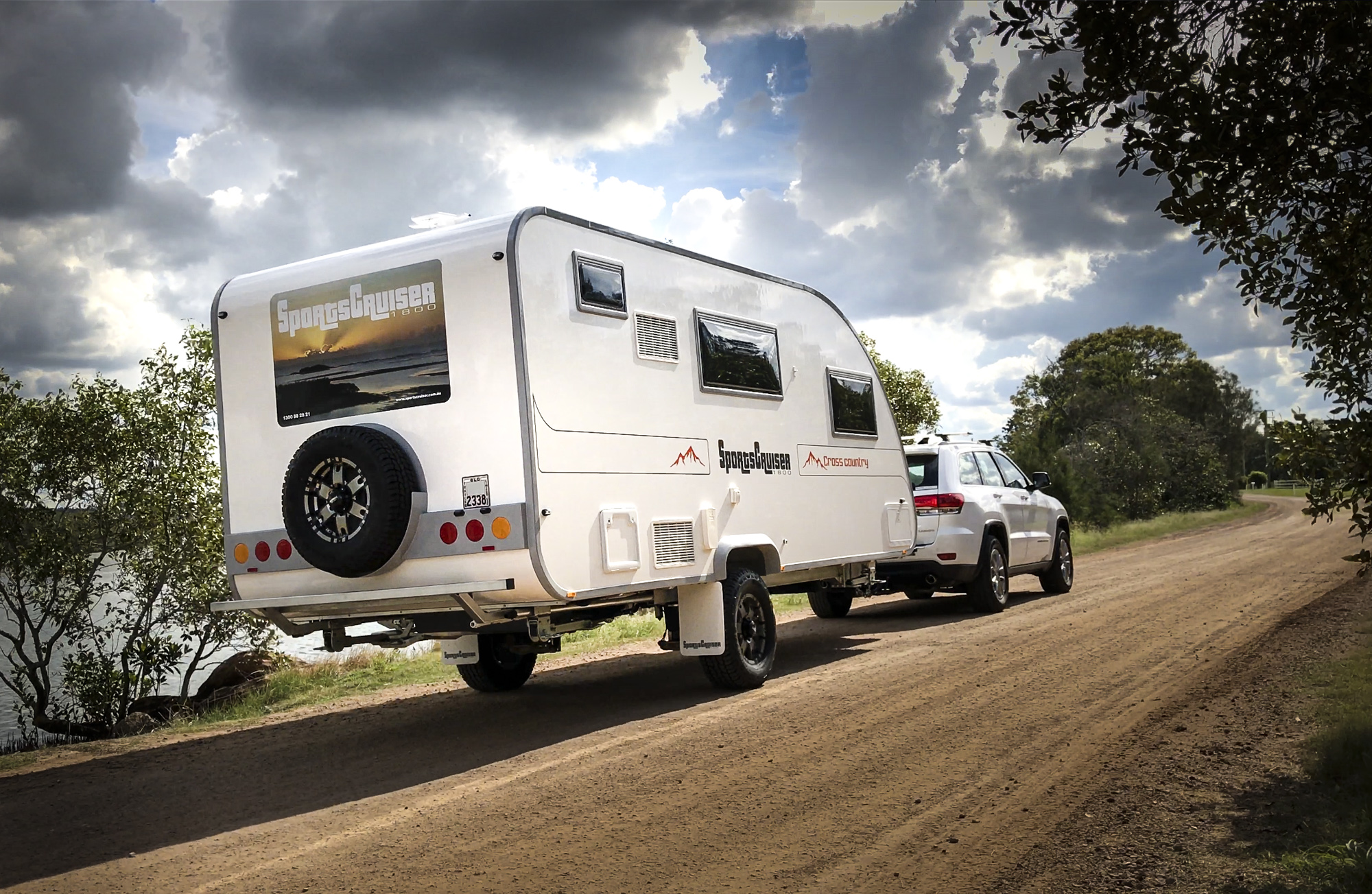 Light on the wallet and heavy on features, the Sportscruiser is a concept that floats… and it's why boating tech makes great sense in caravans
Top-notch airbag suspension, a shower larger than some houses and a price that will leave you smiling. These are just a few of the surprises found in the Sportscruiser 1800 Cross Country.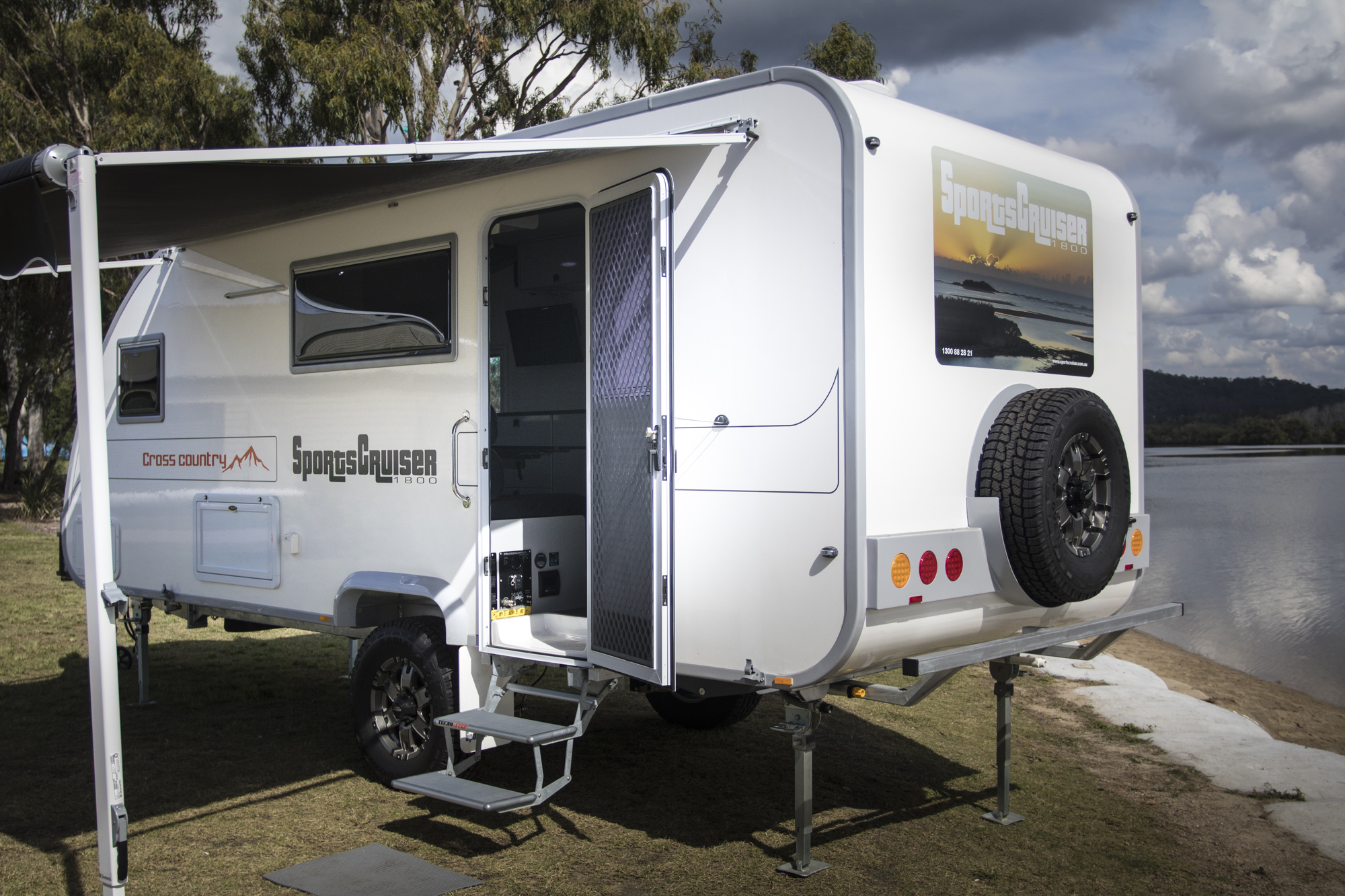 It seems that a lot of the current caravan innovation comes from manufacturers with a boating background. This makes sense, as durability, weight and space restrictions (and keeping the weather out) are attributes common to boats and vans. John Smallwood, Sportcruiser's recently [semi] retired founder, has a lifetime of competitive sailing and travelling on yachts – so he well understands these issues. Combine this with a business background in quality management and the ability to do business with quality suppliers, and you have the ingredients of a great product. Joel Netting started with Sportscruiser in 2013 and has been building the vans since then – and is a major part of the renowned Sportscruiser Quality.
John retired in mid-2019 and Joel took over full responsibility and ownership – and brought all production back to south-east Queensland using 100% local suppliers. Stringent quality controls are in place during all stages of the manufacturing process so that the finished van is a top-quality unit at more than competitive prices – in fact, much lower than similarly built and equipped vans.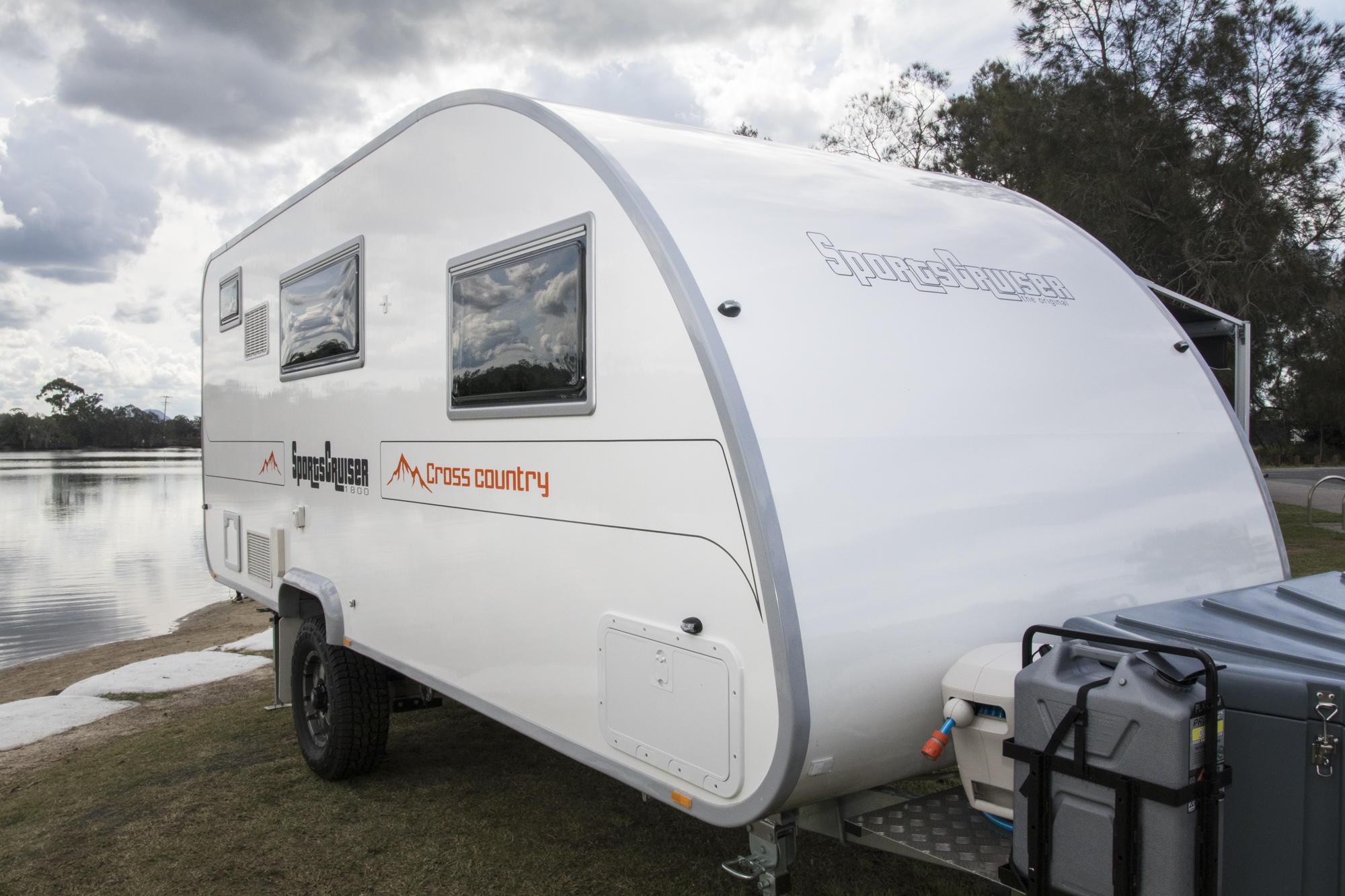 BUILD 
The chassis is manufactured in Brisbane by Cruisemaster, a leading Australian supplier. It is a super-strong double frame that is hot-dip galvanised and has its top-of-the-line ATX independent suspension fitted. On top of this sits a vacuum-bonded composite body, with floor, walls, and roof fibreglassed at the joins to create a strong, sealed unit – like a boat. Some of the internal walls are the same material also fibreglassed in place. The roof, front and back walls are formed from a single piece of composite. This is curved to create the retro and aerodynamic front that is a hallmark of the Sportscruiser. It has style plus strength, can't leak, and saves on fuel at the same time.
The respected Cruisemaster ATX suspension systems can be coil or airbag. Cruisemaster designed the integrated chassis and suspension system, so the install should be good to go. The Cross Country 1800 is the staple of the Sportscruiser range and comes in at only 1950kg for Tare weight.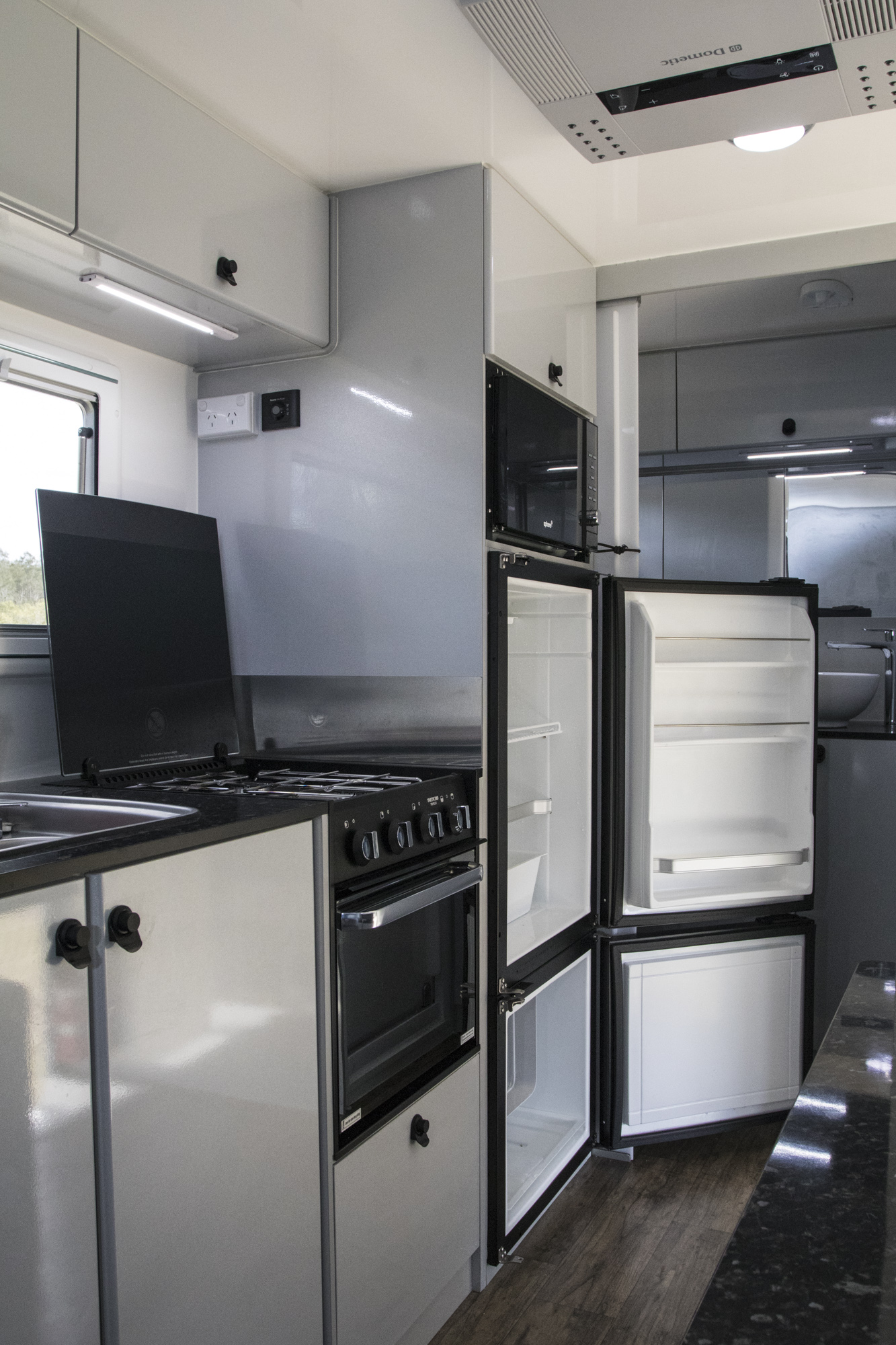 INSIDE
The Sportscruiser vans are perfect for a travelling couple, and the bed options are either two singles or a double. With this configuration, compromises with extra bed options don't need to be made, so space can be well utilised.
The bathroom has a large shower and separate toilet. After years of boat living and small showers, John made sure the shower is a size to suit everyone comfortably. There is even a washing machine that slides out from under the vanity sink. Additionally, there is a Sportscruiser 1800 family model, with a double bed and two or three full-length bunks. This could also be configured as a travelling office.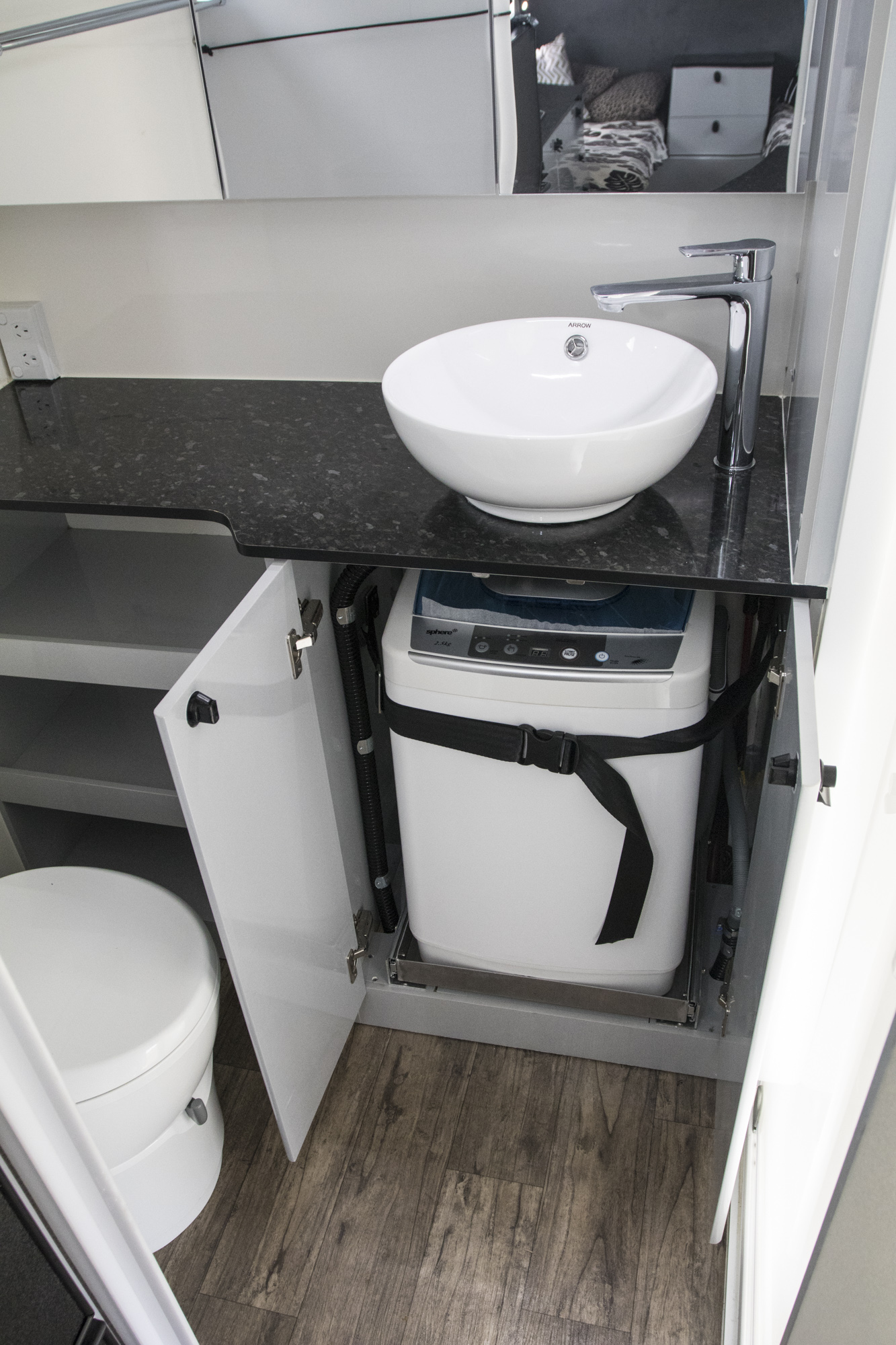 As you enter the twin single bed model through the rear door, the leather lounge and table is on the left, the ensuite on the right and the kitchen in front of you. The large 193-litre Dometic fridge/freezer with the microwave above is straight ahead and to the right of the three-burner gas cooktop with gas oven and griller. The Dometic fridge is available in identical-looking  compressor or three-way operation with no cost difference
A little further to the left is the stainless-steel sink. Both the sink and the stove have glass fold-down covers to provide extra bench space when needed. Above the sink is one of the large double-glazed windows. All windows have integrated blinds and fly screens.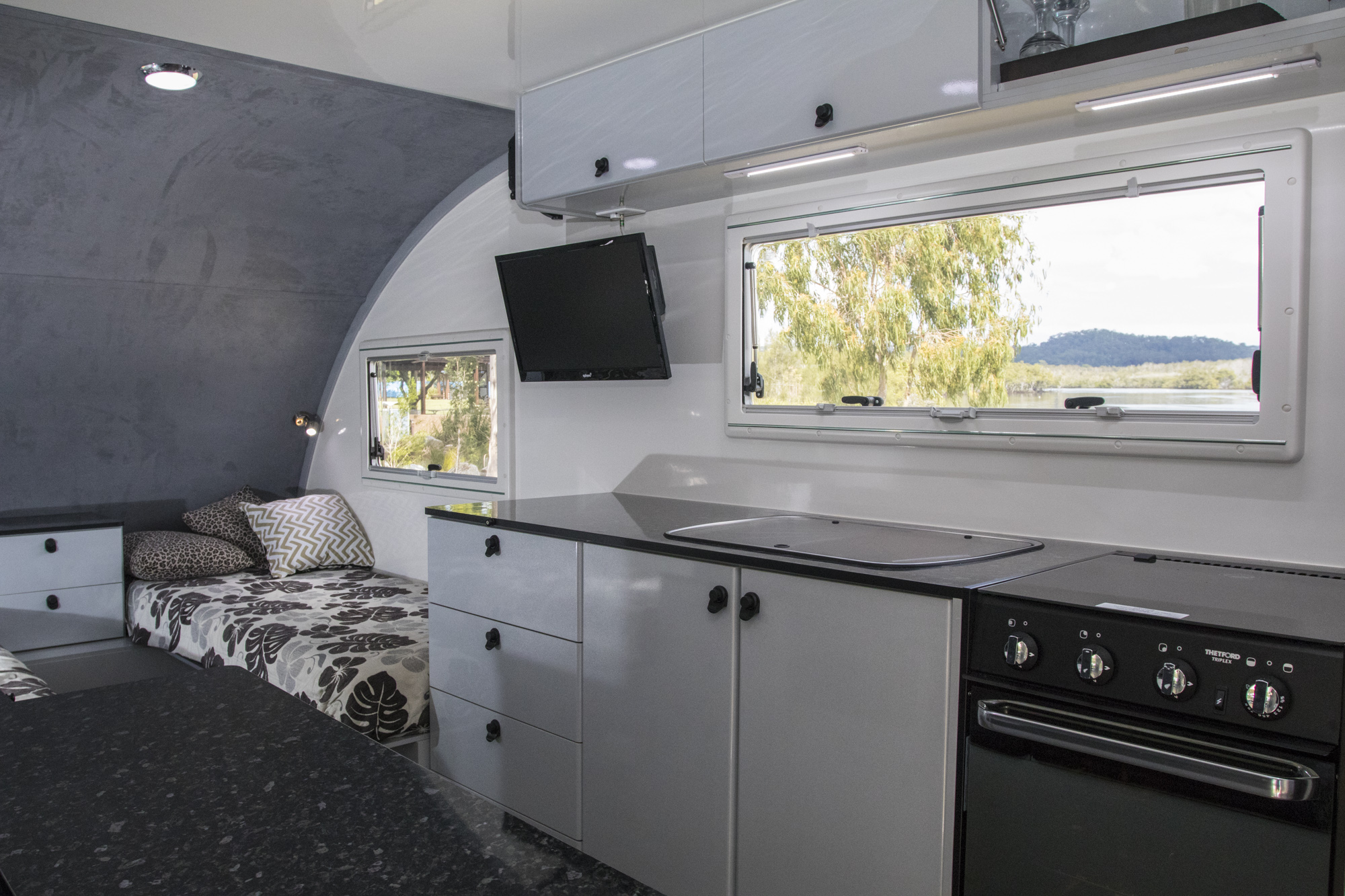 Under the leather lounge and centred over the axles are the batteries and power management systems. AGM is standard, but these can be upgraded, the premium set-up being a fully integrated Lithium system. Connected to these are the Enerdrive AC and DC-DC chargers that ensure a premium and capable systems approach to battery management even if you should install lithium batteries in the future.
A 2000w pass-through Enderdrive inverter can also be included to supply true sinewave 240V power to the van from the batteries. The inverter incorporates an auto AC transfer which helps keep your appliances running as it switches from DC to AC when connecting 240V. The inverter also has an RCD safety switch and is specially wired through the main RCD to supply all van 240V outlets.
The layout, fittings and décor of the inside of the Sportscruiser provide an elegant yet functional feel with plenty of storage space and room to move. A reverse cycle soft start air-conditioner is also included.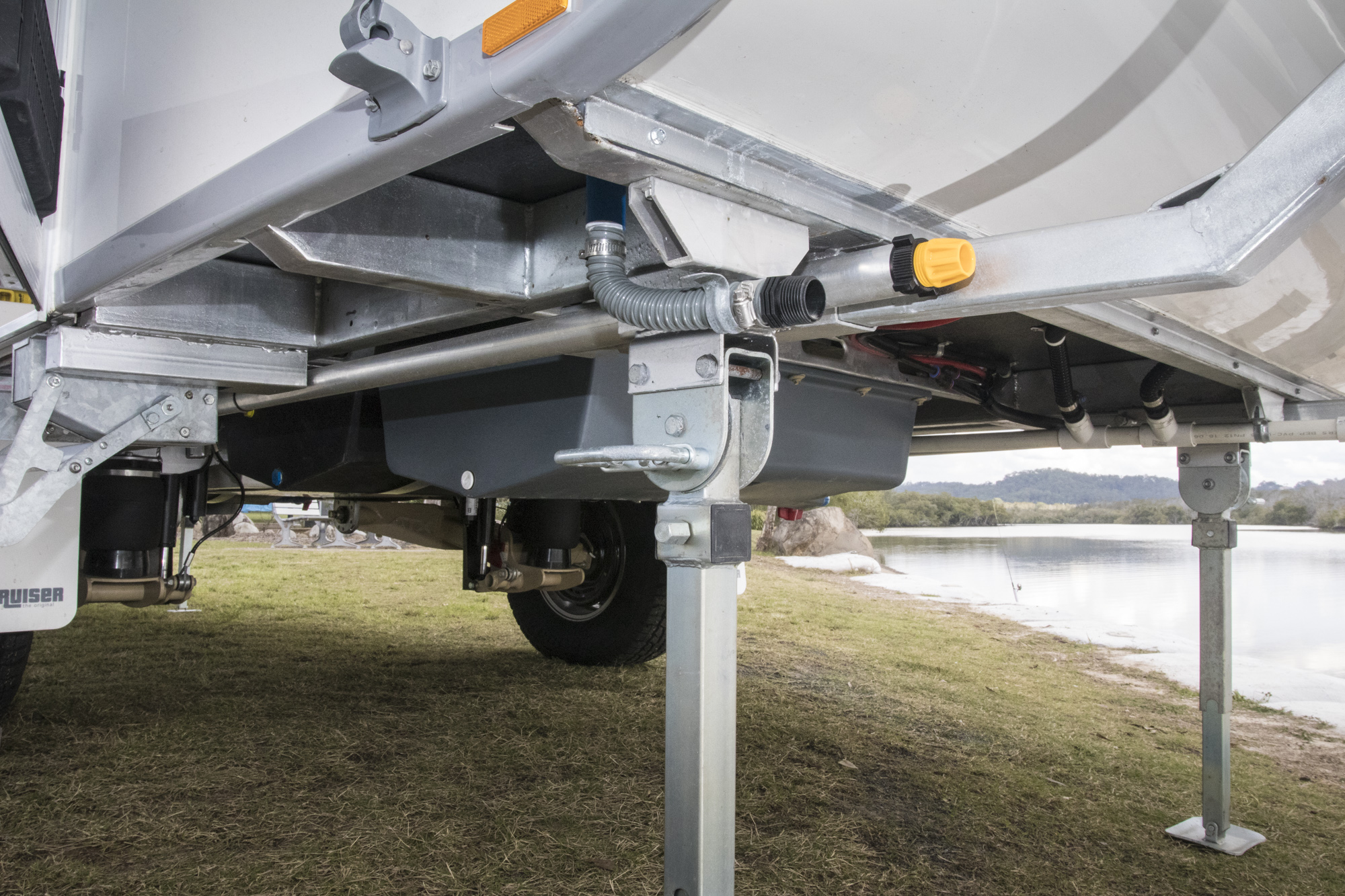 OUTSIDE
The distinctive swept-back front of the Sportscruiser will probably be the first thing people notice when they see it. The nostalgic lines not only look good; they make the Sportscruiser a breeze to tow in crosswinds (pun intended).
While on the outside, the suspension is not as noticeable. The Cruisemaster ATX air-sprung suspension is built to take the roughest of tracks while providing many advantages over standard suspension options. Even if you don't plan to go rough with the van, the ability to independently raise/lower each side of the van with the click of a remote button is magic.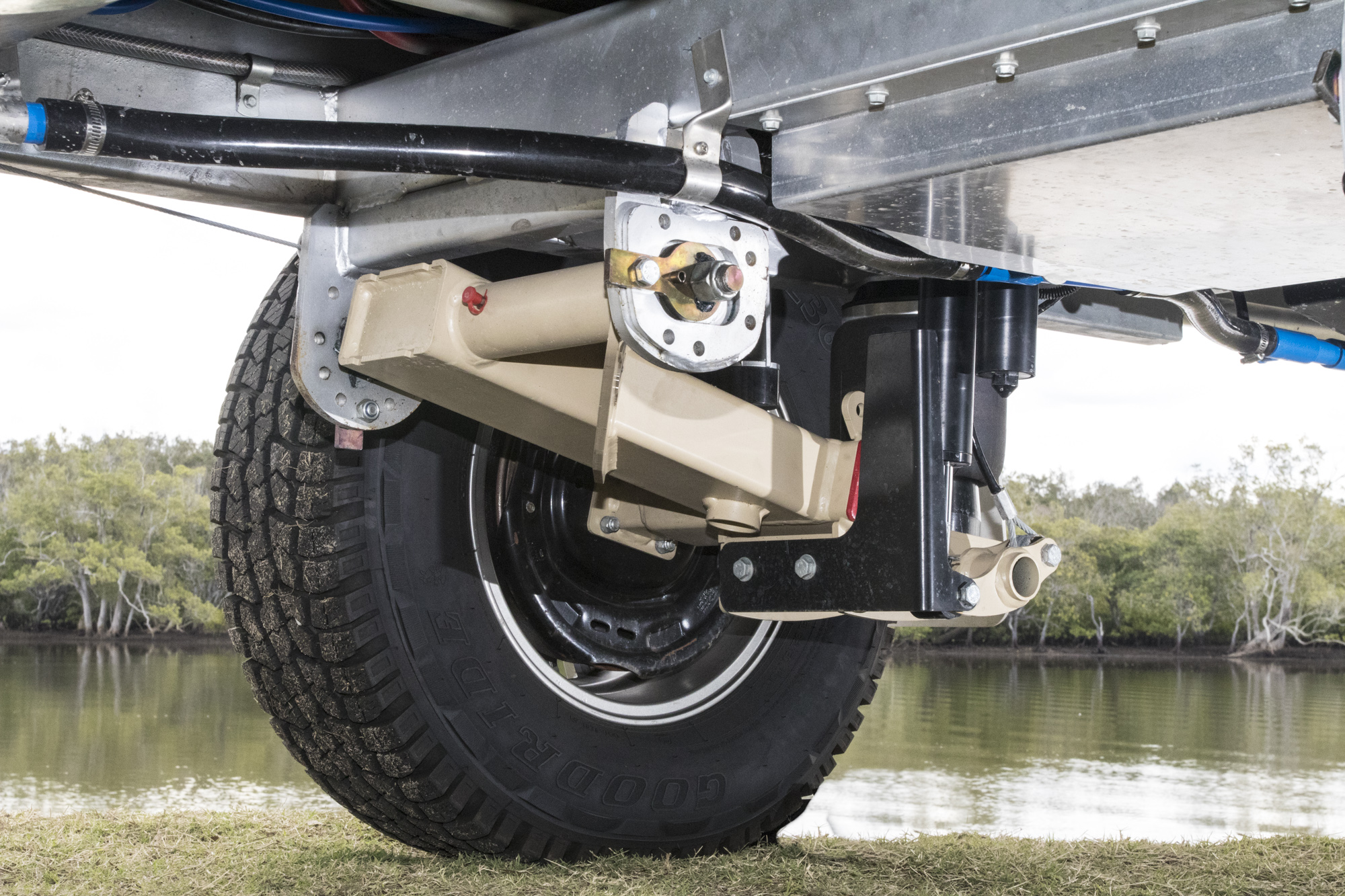 There are three 82-litre water tanks with a fourth 60-litre tank available.  One tank is directly over the axle, and the others are adjacent in front and behind. This follows Sportscruiser philosophy of keeping all weight as close to the axle as possible – which is why their vans are so well balanced.
All water to the van passes through filters. Have you ever had a full grey water tank and had to drive the van a few hundred metres to empty it, then drive the van back and set up again? This is not an uncommon scenario when staying at places like showgrounds. John has… which is why he has included a portable grey water tank as an option.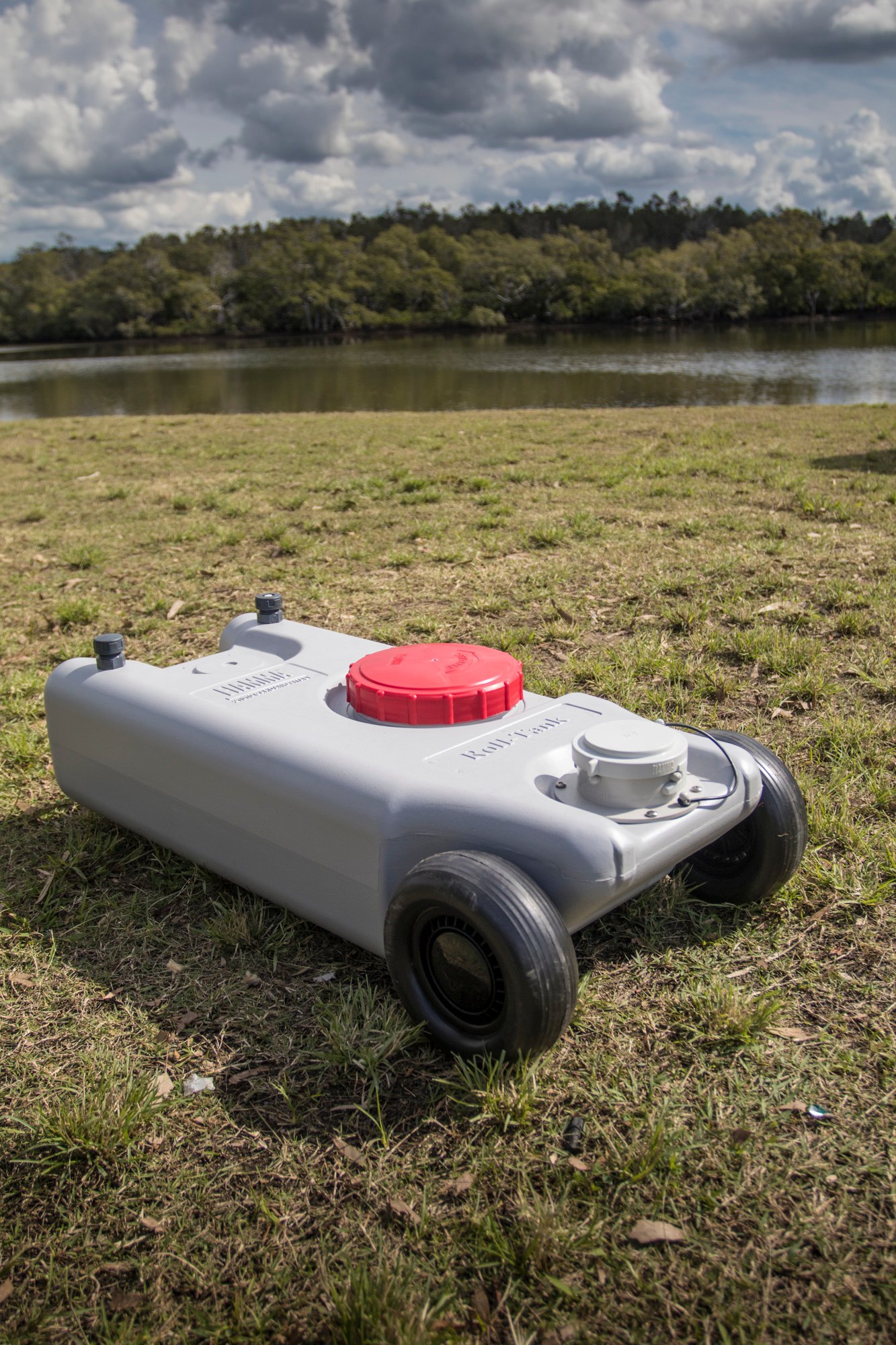 On the drawbar, the gas bottles are placed behind the large storage box for protection. A 13-foot awning provides shade and shelter when set up.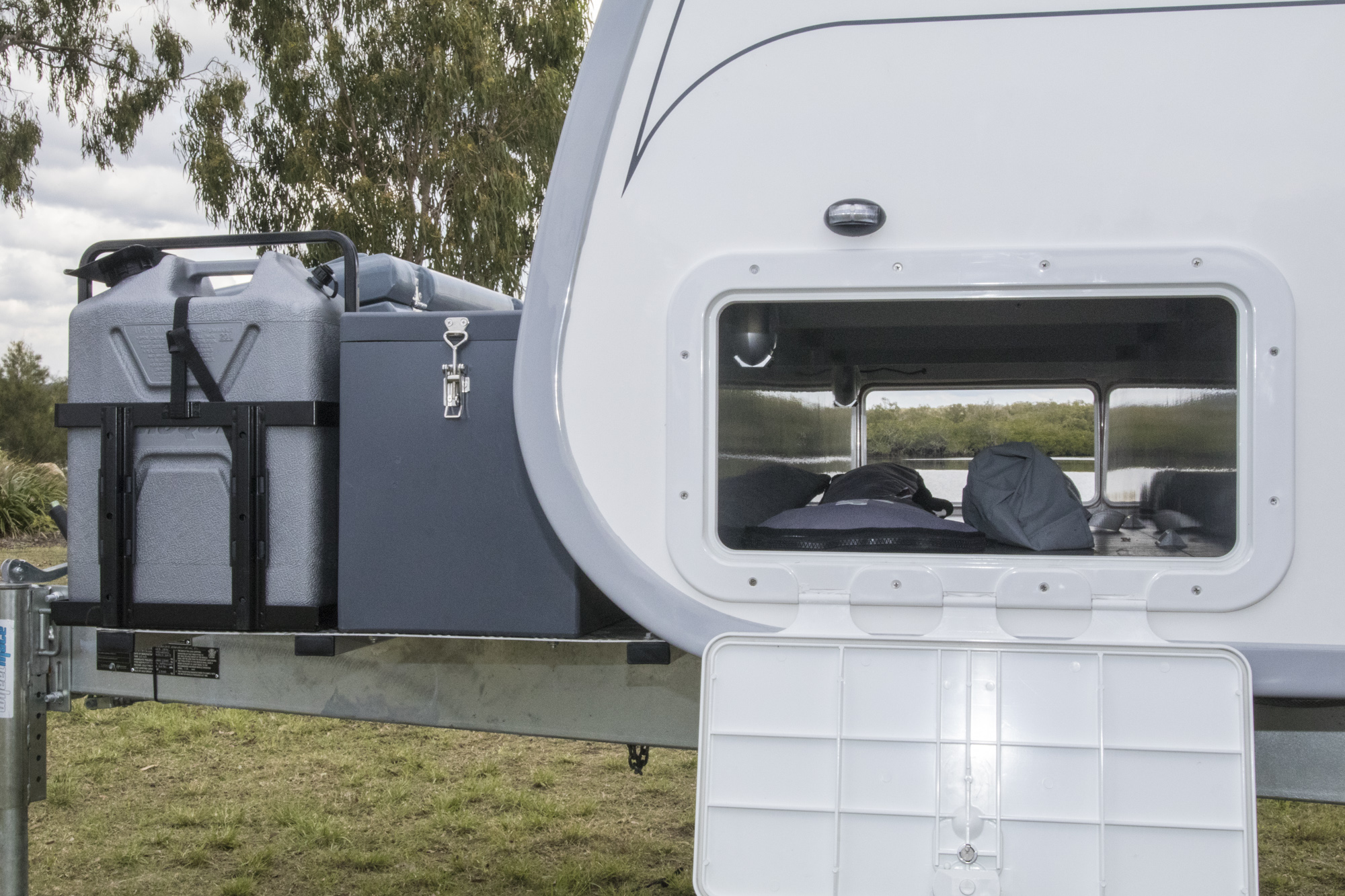 VERDICT
The Sportscruiser 1800 Cross Country is a surprise package when it comes to its quality inclusions, low tow weight and moderate price tag. Meeting Joel and John and talking though their manufacturing process makes one feel that Sportscruiser has found a great formula when it comes to creating quality vans that are easy on the eye and the pocket. All reasons to show why boating tech makes great sense in caravans!
Pros:
Attention to detail ensures a great quality product
Solid construction while retaining low weight
Fibreglass composites and joins ensure sealing and strength
Good price for the quality inclusions and build
Superb chassis & suspension
Cons:
Lack of big dealer network
Specifications:
Sportscruiser 1800 Cross Country
Overall length: 7.3m
Internal length: 5.5m
Tare weight: 1950kg (2150kg if optioned to maximum with solar and extra batteries)
RRP$76,000 plus State registration fee 1800 Cross Country 
Words and images Gary Tischer.