Preparations for the Big Red Bash event continue in Birdsville with the full support of Queensland Health and Tourism and Events despite COVID-19 lockdowns.  
Event organiser and director of the Outback Music Festival Group Greg Donovan said, "We are working closely with Government officials to ensure that our approved Covid Safe Event Plan continues to meet or exceed current requirements to keep everyone safe." 
"The situation remains fluid however, we are pleased to report that based on the latest advice from Queensland Health, and under the current level of restrictions, the Big Red Bash is able to proceed. Our event team is on-site, and our site build and preparations are well advanced.  We are in fact ahead of schedule with the physical build."
"Our hearts go out to those unable to attend this year's Bash due to border restrictions.  We understand that each and every ticketholder faces a unique and difficult situation. We know that patrons are concerned about what will happen with tickets if they're unable to attend this year's Bash due to COVID restrictions."

"We want to reassure everyone that while our Terms and Conditions do not require us to give a refund or a rollover ticket, we are working to determine exactly how we can help each ticket holder. This will take time for us to work through. There are lots of moving parts, and we ask for patience. We're doing everything we can to take care of everyone, from our crew and volunteers on-site to our patrons back home and on the road."

"Our event team is now in the final stages of preparations for this year's Bash and will be unable to respond to questions regarding anyone's personal or individual situations at this time. We will be in touch in late July with an update about tickets," Greg Donovan added.
While numbers will be down because of border closures, the 10,000 capacity event will be staged on a massive 1.3 million square meter, open-air site enabling the festival to easily accommodate Covid safe rules and social distancing.
All Big Red Bash ticket holders have been encouraged to check and respect the latest restrictions from State and Territory governments with a warning that the strong Police presence on Queensland roads will mean travellers will be turned around if found to not be following the current rules.
The event line-up may change slightly however, arrangements have been made in the preceding month to ensure that most performers including headliner Paul Kelly will be able to rock the desert in a few weeks' time.  
Any performers unable to make the event will have replacement acts, with line-up announcements to follow.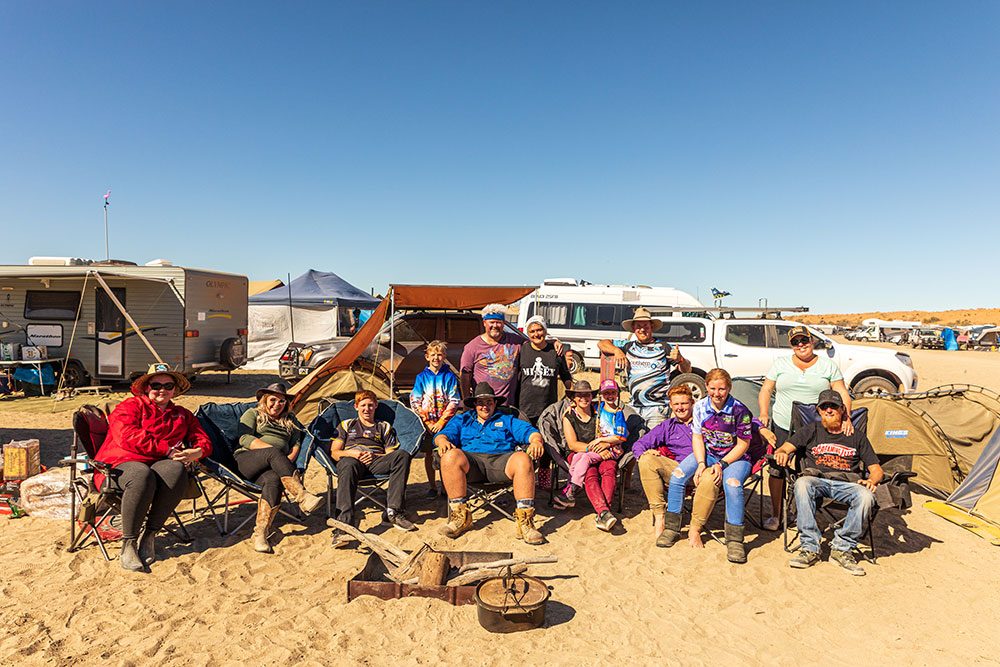 "We have worked in Outback Queensland for many years now and the health and wellbeing of Queensland locals, as well as our patrons and crew, is our number one priority. To this end we will continue to monitor the situation, working closely with Queensland Health. For those able to join us at this year's Bash, we can't wait to see you here on the red dirt. We're looking forward to sharing an amazing, unforgettable Big Red Bash with you," said Greg Donovan. 
The all-ages outback festival will be staged on the striking red sands of Queensland's Simpson Desert, in front of 'Big Red', a 40-metre high sand dune that provides a spectacular natural amphitheatre setting not found anywhere else in the world. 
Much more than just a music festival, the Big Red Bash offers up a uniquely Australian destination adventure for families, grey nomads, camping enthusiasts and intrepid travellers.
The festival features a jam-packed program of outback activities from comedy and outdoor film screenings to scenic helicopter flights, dune surfing, beach volleyball, camel rides and a Nutbush Dance World Record attempt and Bashville Drags charity fun run that combined raised close to $75,000 for the Royal Flying Doctor Service.
For more information or to get the latest up to date details of the Bash, visit www.bigredbash.com.au
More reading: Three Retro Caravan Holiday Experiences in Victoria