On the road again with the water leak fixed, it was a run along the coast to Stanley. Not far from the turn off the Bass Highway, at Port Latta, you're confronted with the most satanic looking building I have ever seen. A hulking tin shed at the iron ore port. If there was an equivalent of the evil truck in the movie Duel, this was it!
Anyway, much relieved that it wasn't lurching after me, I crossed the windblown strip of land into Stanley proper and had a quick look in at the showgrounds. At $8 a night it's a bargain but there was no evidence of a powered option and I needed to plug in. The caravan park it was, then. A gleaming reception fronted a neat and tidy set-up and I opted for a powered site, in full blow of the onshore blast because I thought it would be atmospheric. It was right by the boardwalk into town. Handy. Then I heard it. The motor/blower/generator thing attached to the toilet block. Above the roar of the wind I heard it. 'Maybe they'll turn it off come nightfall, when people are trying to sleep', I thought.
Armed with camera gear I sauntered into town, excited to be there. The docks were small but held boats in safe waters and I amused myself with the camera for ages. There's a fancy seafood restaurant in bluestone right next to the sea, but it was closed that night – probably as well for the budget. I noticed also that the café in the harbour that ran seal cruises was for sale. I reckon you'll need more than barista skills making love hearts in froth to run that.
After a long chat to a lady with the most battered LandCruiser you'll ever see, travelled for 30 years across Australia, and who was catching her own fish to smoke for super, I headed to the chip shop on the front, and ordered my first-ever striped trumpeter; and chips. Fantastic. I'd need the energy too, for as the sun was nearing the horizon if I wanted to grab a sunset shot over the town I had to ascend the rather obvious landmark – The Nut.
A massive rock outcrop that both protects and dominates Stanley.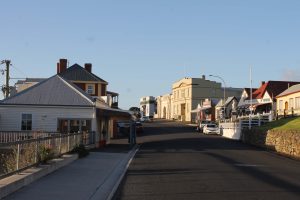 The Zig Zag ascent is 430m of thigh burn. Short and steep the sign says. I was sweating enough to then catch the chill as I made my way to the lookout. An average sunset, but a treat to have a baby pademelon tread on my foot as it hopped over the path. More muscles hurt on the way down.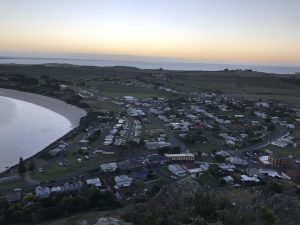 I can tell you they don't turn off the toilet block gennie-blower thing. It woke me up again at around midnight. Bloody thing. I actually brought it up in reception on the way out, apparently the owner has spent so much money on it in the first place, it's staying despite the complaints.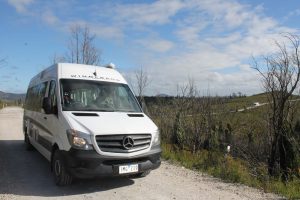 I'd been told to use the excellent visitors info centre in Smithton, to evaluate my possible success in tackling the Western Explorer route down to Arthur River. It's not manned anymore it seems, it's a shop stand within a copy centre and you can phone back to the larger and peopled office in …. Stanley. So I did. I was assured I'd be fine. She'd probably seen me drive past when I left Stanley that morning not an hour before.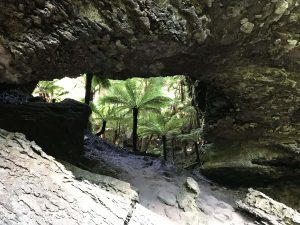 Now as drives go, this one seemed interminable. I had opted to take the Tarkine Forest route and stopped at Trowcutta Arch, which you should too, but the road to Arthur River went on forever. And as stunning as Couta Rocks and the Edge of the World were, I felt like I'd made a mistake taking this option. I overnighted at a national parks campsite; sheltered, quiet, but uninspiring.
So in the morning, prepared to take the white dusty roller coaster dirt road to Corinna, Zeehan and then Strahan, I was even more displeased to find no proper coffee in Arthur River! (If you sell coffee opposite the Parks office then I apologise.)
This next leg was to test my mood; for some reason I was down and not happy despite being among sweeping vistas and mountainous terrain. I can't explain. Corinna was fun, however, with the ferry men being very accommodating in my needs to mess about with cameras.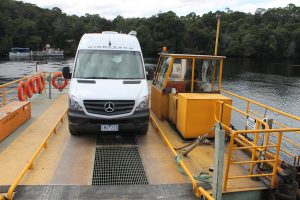 Finally, I reached Strahan, and one of my must-dos on this trip (I'd made little plans) was to take a boat out to the notorious convict settlement of Sarah Island.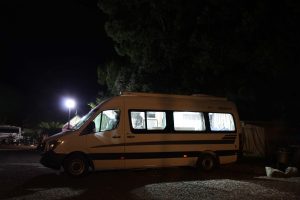 Next time, a date with Hells Gate and the Roaring Forties plus a late-afternoon run to Queenstown.