It's the last month of autumn before we head into the chilly winter season so naturally, we're jam-packing our outdoor activities! Close the search engine tab because we've done the research for you. Here are ten events, festivals and exhibitions you've got to hit up in May.
Events
1. Camping 101
When: 9 am AEST Friday 13 May 2022, 3:00 pm until Saturday 14 May 2022
Where: Centennial Parklands, NSW
If you're itching for an outdoor camping experience but aren't ready for an off-the-beaten-track adventure, you have to check out Camping 101. Located at Centennial Parklands, only ten minutes from the Sydney CBD, you can enjoy sleeping under the stars, a twilight tour, campfire stories and so much more. This nature-filled night of outdoor activities is the perfect way to bond with family and fit a quick camping trip into your weekend.
2. The Fox Superflow
When: 9 am AEST 28 May 2022, until Saturday 29 May 2022
Where: Nerang, QLD
Australia's most popular gravity enduro series is here. The Fox Superflow, located in the Gold Coast's Nerang, will kick-off from 28 to 29 May. The race will feature many 'must-ride' trails with a flexible format that allows racers across a wide range of age categories to ride and race together all day. Each race has three race stages with five possible timed runs on each. The fastest one counts!
3. The West Macs Monster Trail
When: 9 am AEST 20, 21 and 22 May 2022
Where: Larapinta Trail, NT
Ultra runners have the opportunity to test themselves across 231 kilometres of spectacular trails along the iconic Larapinta Trail. The West Macs Monster race isn't an event for the faint hearted. Located in the Tjoritja/West MacDonnell National Park in Australia's Red Centre, you have the choice of five distances to tackle, from the family five-kilometre run to the whopping 231-kilometre Sonder Monster.
4. Curdimurka Outback Ball
When: 29 April until 1 May 2022
Where: Marree Racetrack, SA
Pack your dancing shoes, grab the family and head to the outback for this year's Curdimurka Outback Ball, located at Marree Racetrack in South Australia. This three-day camping and music festival features a wide range of entertainment and offers a uniquely Australian destination for adventurers. Tickets range from $290.00 for an adult, $90 for children aged 13-15 and $30 for kids under 12.
Festivals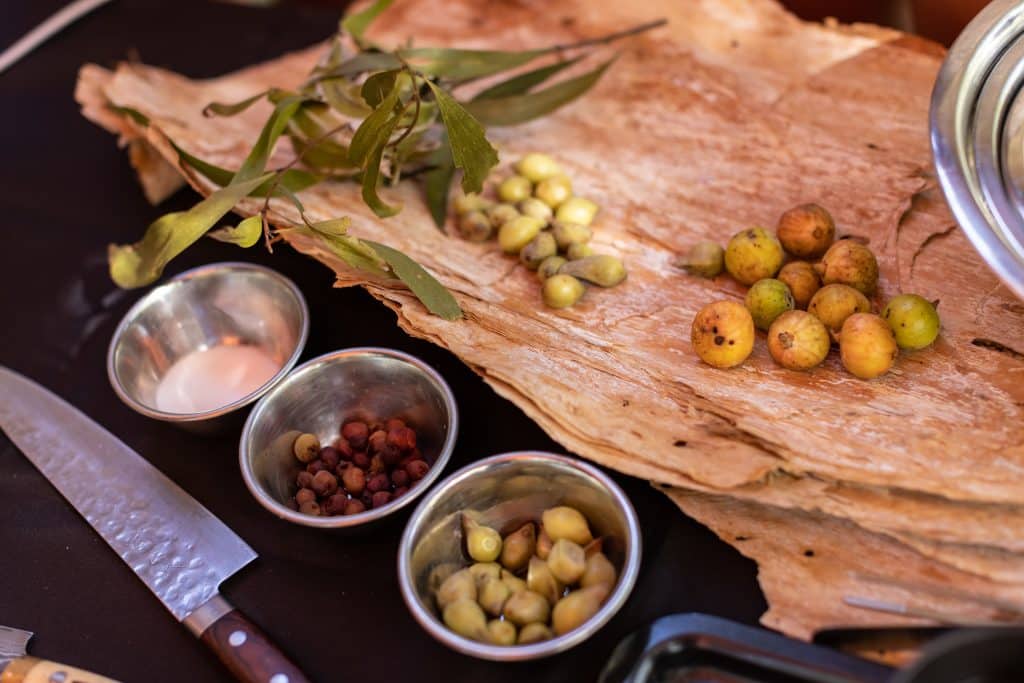 5. Taste of Kakadu
When: 20 May until 29 May 2022
Where: Kakadu National Park, NT
A 10-day long amazing taste, sound and visual journey awaits you at the Taste of Kakadu festival. The festival shares the stories and foods that have sustained the world's oldest living culture, Australia's First Nation People, for more than 65,000 years. Located in the UNESCO World Heritage-listed Kakadu National Park, you can partake in a Bush Tucker Experience, Dinner Under the Stars at Warradjan Aboriginal Cultural Centre, Indigenous guided bush tucker walks, Yellow Water canapé cruises and Indigenous ground oven and cooking classes.
6. Fisiocrem Tri Port Stephens Festival
When: 7 May until 8 May 2022
Where: Port Stephens, NSW
Take a quick trip up the coast from Sydney for a great weekend filled with racing. The Fisiocrem Tri Port Stephens Festival is based in the stunning weekend destination, Port Stephens, and is the last chance in the season to grab some triSeries points. On May 7, there are Standard, Sprint and Super Sprint distances, finishing with a presentation and 'Party at Port' located at the Cheeky Dog Bar – Soldiers Point.
7. Regional Flavours
When: 13 May until 15 May 2022
Where: South Bank, South Brisbane, QLD
If you're an avid foodie you won't want to miss South Bank's signature food and drink festival, Regional Flavours. Running from May 13th to15th, this ultimate grazing table event brings together chefs, producers, farmers, winemakers, graziers, brewers and distillers for a delicious and intimate culinary experience. Entry to the festival is free-of-charge, but you have the opportunity to purchase tickets to curated masterclasses and an opening party.
8. Escape In The Scenic Rim
When: 29 April until 29 May 2022
Where: Scenic Rim, QLD
Noted as Lonely Planet's Top 10 Region, Best In Travel 2022, the Scenic Rim is home to World Heritage-listed Gondwana Rainforests – the world's most extensive area of subtropical rainforest. Escape In The Scenic Rim is a month-long celebration of the region, allowing you to explore and soak up this incredible landscape from 29 April until 29 May 2022. You'll have the chance to participate in more than 55 adventure-based activities, including hand gliding, bushwalking, art, yoga and meditation and connecting with Country.
Expos
9. Hunter Valley Caravan, Camping, 4WD, Fish and Boat Show
When: 27 May until 29 May 2022
Where: Maitland Showground, Hunter Valley, NSW
Held at Maitland Showground from May 27 until May 29, Hunter Valley's number one outdoor event with over 200 exhibits is back and going into its 25th year. You can cover all bases and check out the 4WD display, camp oven cooking, the fishing show, the reptile awareness show and the freestyle bike show! Tickets are sold at the gate upon arrival and you can bring your furry friends, provided they remain on a leash.
10. The Sanctuary Cove International Boat Show
When: 27 May until 29 May 2022
Where: Maitland Showground, Hunter Valley, NSW
Featuring a massive lineup of over 300 exhibitors, you won't want to skip the 2022 Sanctuary Cove International Boat Show. Explore the latest marine gadgets and must-have technology, as well as an impressive display of trailer boats and superyachts. On top of all these new launches, you'll have the chance to participate in exclusive VIP experiences in The Lagoon Lounge, activities, fishing demonstrations and street performers.