Port Macquarie: you'd be mad not to have a crack at this!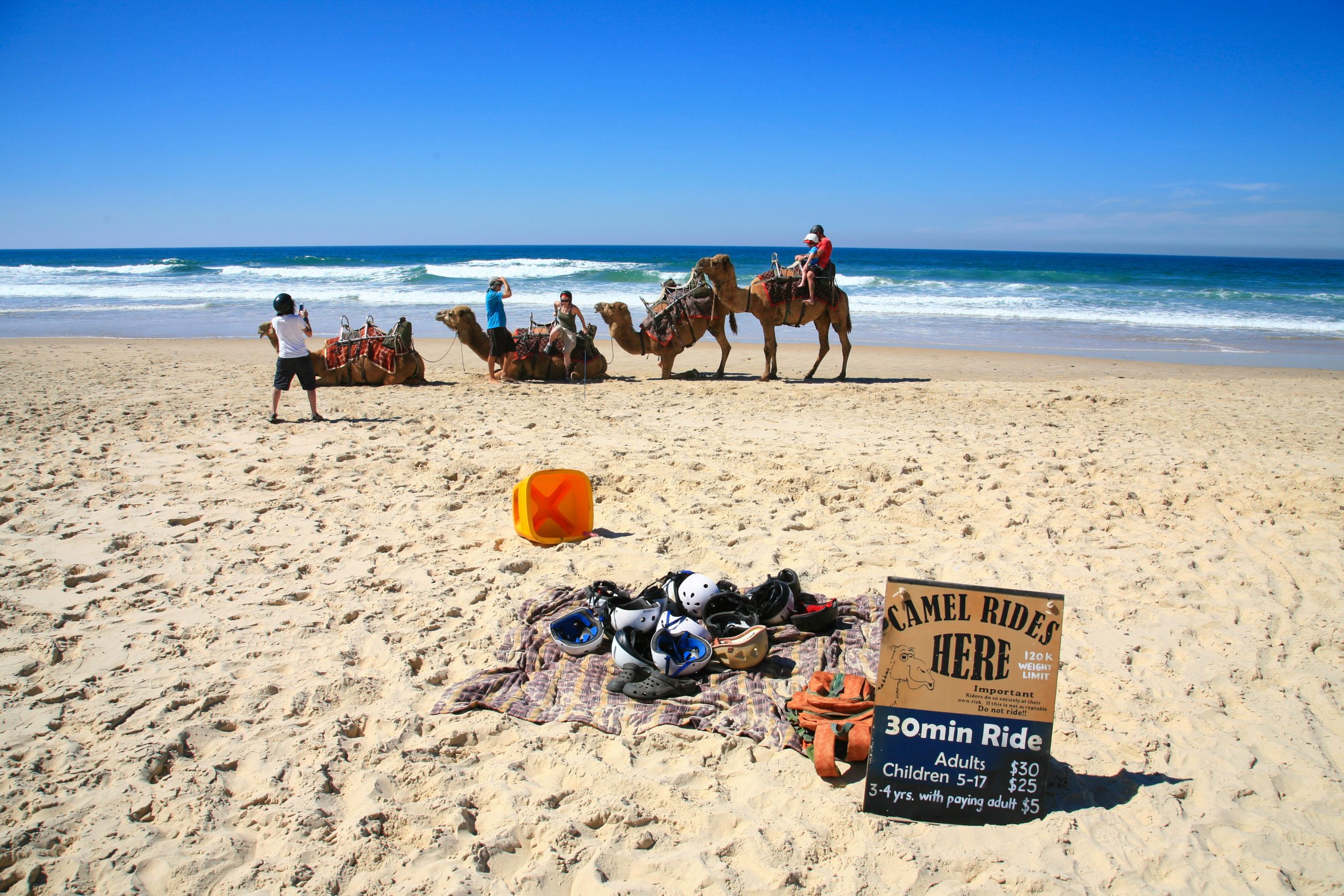 Port Macquarie has strawberries, homebrew, fishing and camels that don't spit… as well as pristine beaches and lush rainforests. You'd be mad not to have a crack at this eclectic degustation.
Of course, there's all the expected fun stuff that can be had in and around Port Macquarie – you'll get to fish, bushwalk, laze about on the sand, hang your tootsies off a longboard, and spot all the breeds of feathered and furry friends in the mid-north NSW coastal town of Port.
If, however, you're keen on seeking out something a little different, then Port should stuff your stockings to the garter belt. Your first job is to book into one of the many local van parks for a week, a month, or however long you've got until you need to check back in with the boss. Those with dodgy hips or bung knees will indeed be puffing and feeling the effects of some of these activities I'm about to mention, but rest assured, there are plenty of 'tame' sights for you to indulge in too. Port, you see, really is a place for all ages.
Strolling along the breakwall, which runs alongside the NRMA Breakwall Holiday Park, you'll easily spend a few hours reading the many arty, witty and funny painted rocks. While it's not my position to give the thumbs up to add more artwork (it is a form of graffiti), it does seem to be an accepted practice here.
Fishers will want to cast a line out from the breakwall to try for a fresh feed. The water flows pretty fast during tidal movements and there are plenty of rocks to snag on, so be sure you've got the right set-up. Beach, rock, river and deep-sea fishing are all on the cards in and around Port. If you have your own boat (or you can hire one), there are a number of boat ramps available from which the open seas are easily accessible. For the smaller tinnies, there are the inland waterways of Lake Innes and Lake Cathie to the south, or the Hastings River to the north.
If you're into cute and cuddly things, then head out to the Billabong Koala and Wildlife Park, which is where the koala breeding centre is based. You'll also see snow leopards, kangaroos, cassowaries, monkeys, crocs and various other reptiles. While you're in the cuddling mood, you'd best drop into the Koala Hospital, where you can get up close and personal with the many injured animals before they are released back into the wild.
The coastal walk south from Town Beach is a must-do. It's a relatively easy stroll along pathways, boardwalks and beaches with vistas that'll have the box brownie working overtime. It's along this walk that you'll discover one lesser-known piece of history that tells the interesting yarn of Harry Thompson, who decided a patch of sand at Shelly Beach would be a great place to call home. Yep, way back in the 60s, Harry unhitched his van and took residence by the beach, and despite failed attempts by authorities to move him on, he eventually became the unofficial caretaker.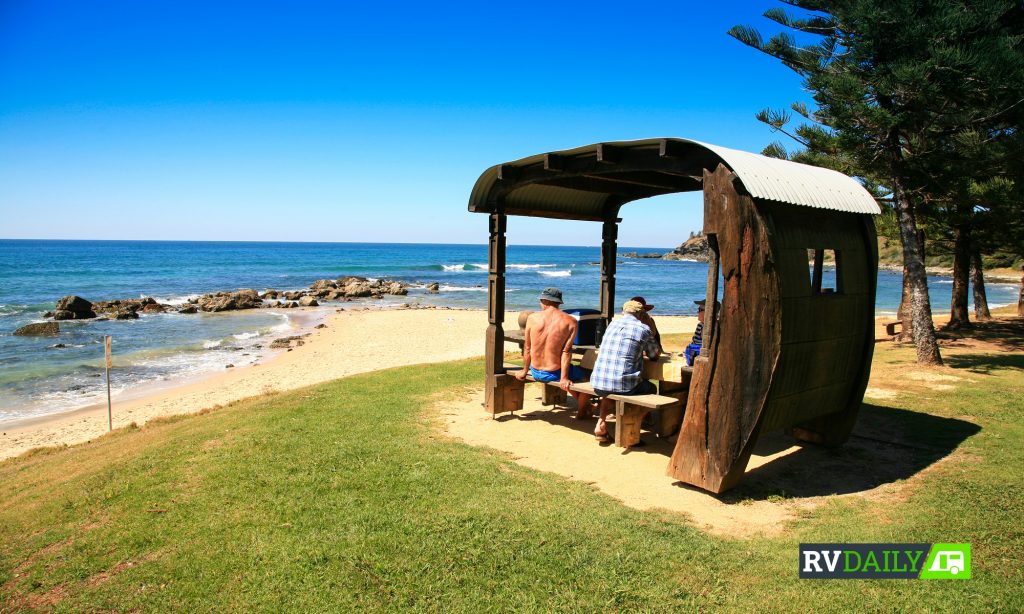 Having passed away in 2000 after 40 years of looking after the area, creating the stairs to what was later named Harry's Lookout and clearing vegetation for all to experience the beauty of the coastal lands, there are now some wonderful reminders of his endless work. Some give you a giggle at how he endured the powers that be, which couldn't shift him, others are simply remarkable pieces of art dedicated to an old-timer with a passion. The picnic tables and chairs are nothing like you've ever seen before; the carved pillars are amazing and the picnic shelter by the beach that takes the form of a vintage caravan is simply brilliant. It's even got the interior décor carved into the timber work. Best drop into Shelly Beach yourself to have a gander while munching on fish and chips.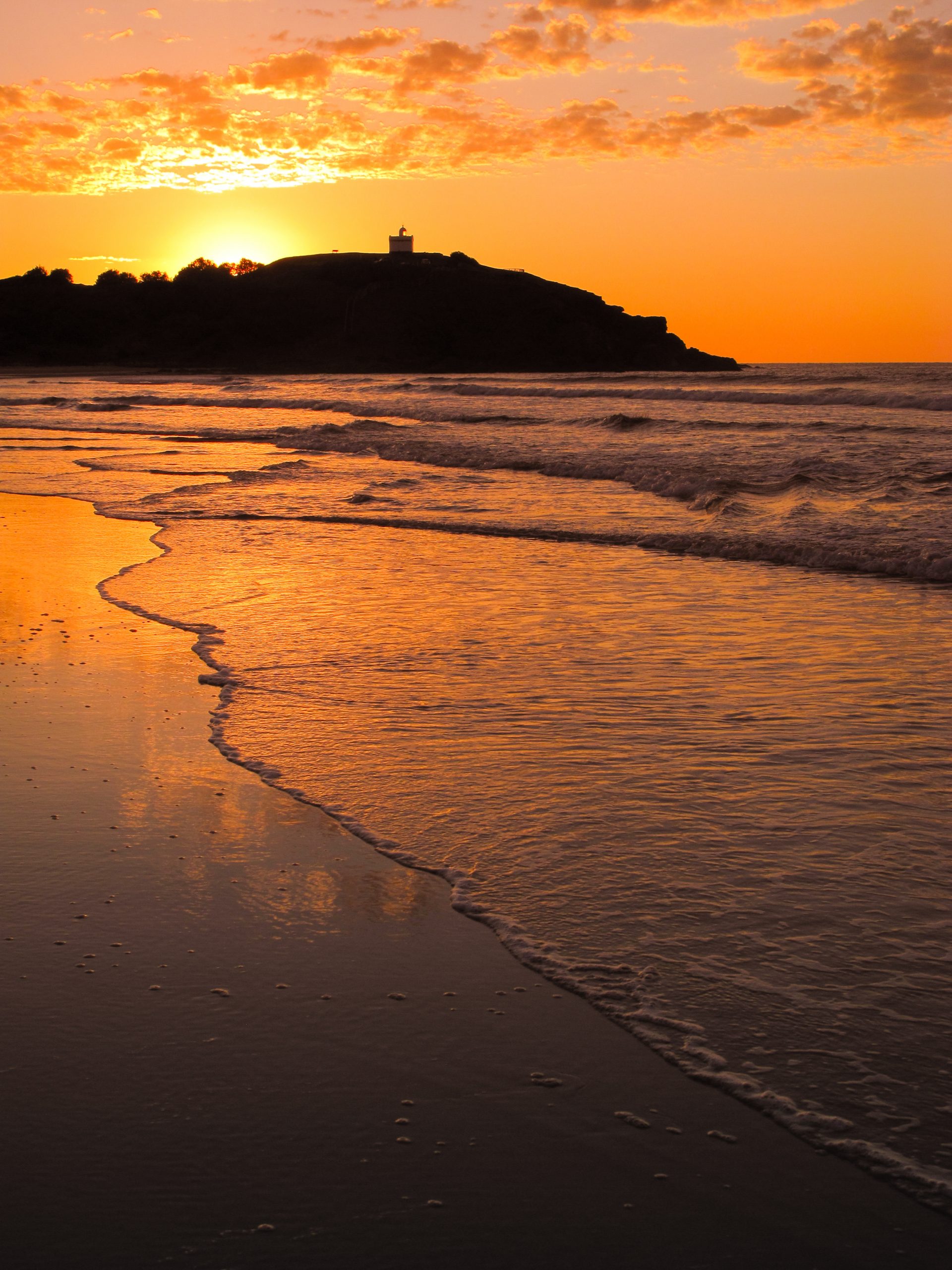 Nearing the end of the coastal walk is Lighthouse Beach, a worthy spot to lay down a picnic rug on the grassy headland and recover from the long walk, while you chance your luck at spotting whales (in season). But that recovery could be short-lived for those that are still nimble enough to throw a leg over. Yep, the single-humped camel rides start a few hundred metres along Lighthouse Beach from 9:30am till 1pm daily (except Saturdays) and will take you a good distance south along the beach to Lake Cathie, via some interesting beachside Coffee rock – although the visibility of this rock does depend on recent tides and weather conditions. The bearded cameleer is indeed reminiscent of Ned Kelly and his hairy gang, but rest assured he's a super-friendly chap ready for a good yarn.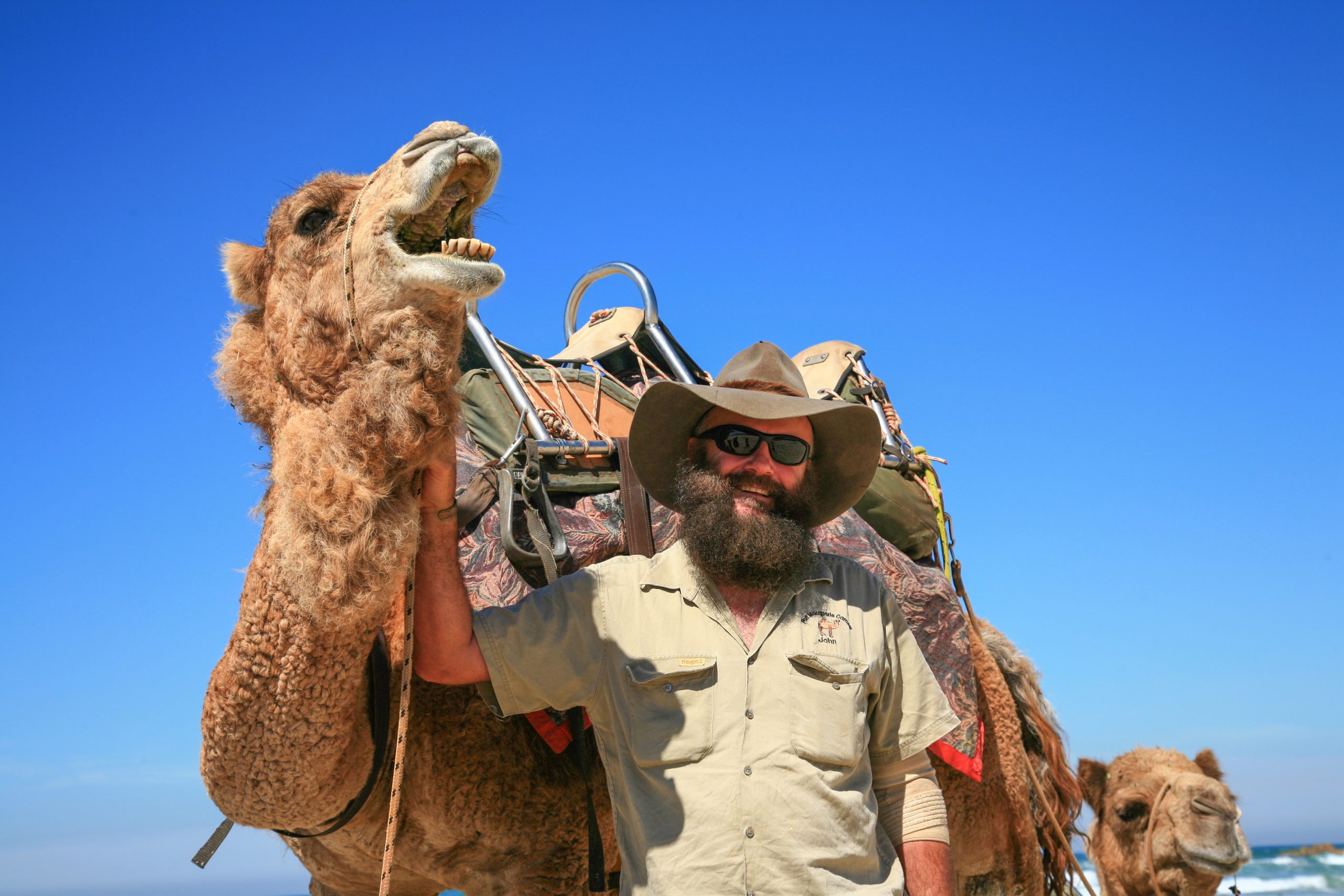 If you're not sure about chancing a bit of camel spit, but still feel the need to suffer from bowed legs, take a drive out to Bellrowan Valley Horse Riding Centre, where you'll be taken on some incredibly scenic bush trails with inclusive Billy tea and damper. If your backside can handle it, perhaps you can give the two-day pub trail tour by horseback a go – not quite sure what the state laws on drinking and horseback riding are!
If you have a 4WDs, there are a number of beaches you can drive on, provided you have the relevant permits. One 4WD entrance is at Lighthouse Beach near the Lighthouse Beach Holiday Village which is just a 100-metre stroll from the sand. A short drive down the road from this caravan park will take you to a couple of golf courses, that also offers great eating at reasonable prices.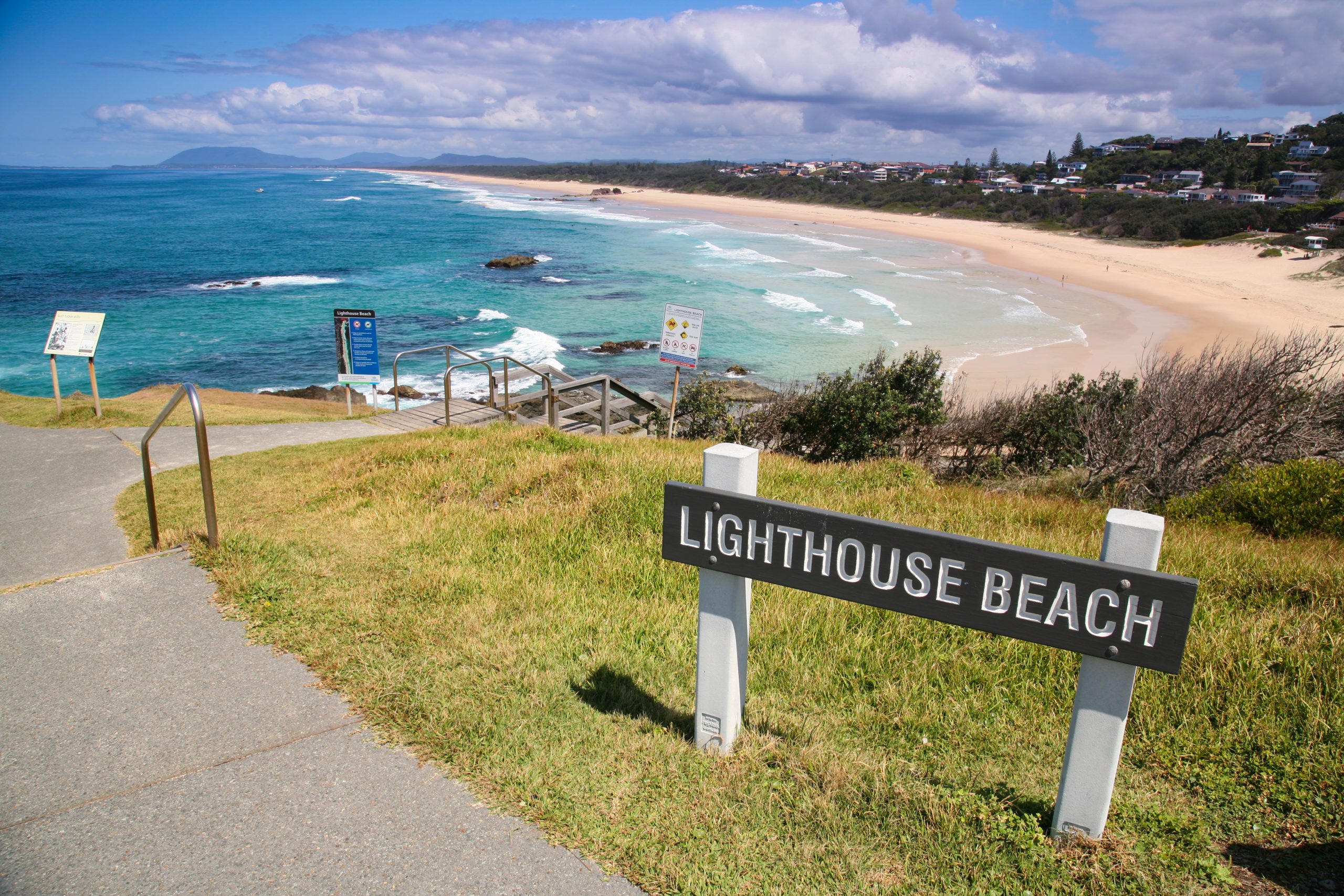 Port offers everything you could wish for in a seaside town or city, as it rightly is. If you should need running repairs to your vehicle, van or motorhome, want 'big-time' shopping centres, or just want to escape to the solitude only a long, deserted beach can provide, then you'd be crazy not to give this place a go. One big plus that Port offers right from the start is that the main highway doesn't pass through town – meaning only locals and tourists are on the local roads, not the plethora of semi-trailers, passers-by and other road transport.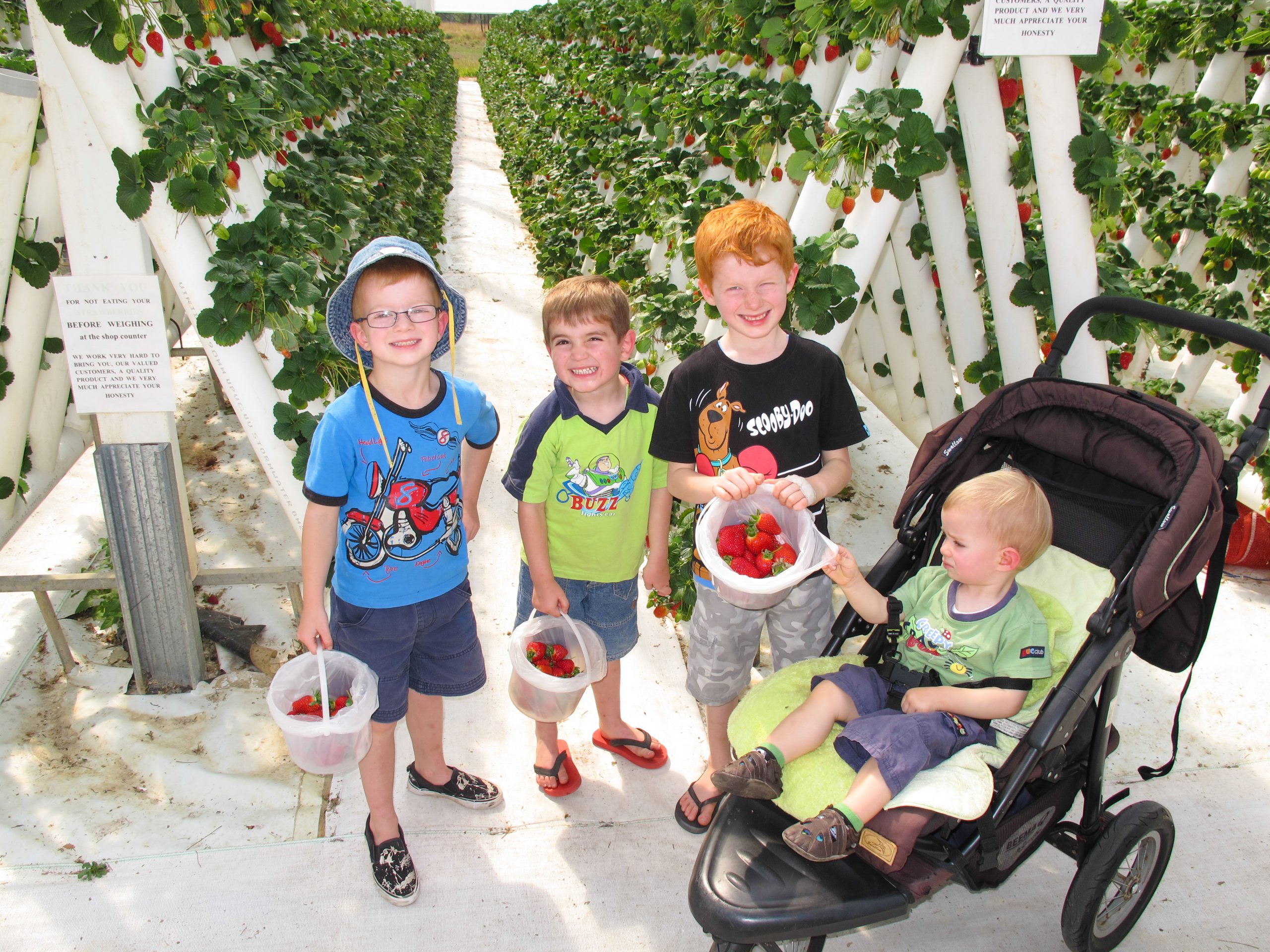 The thing that I reckon tops it all off is the joint just out of town where you can pick your own strawberries – Ricardoes Tomatoes and Strawberries happily lets you wander their couple of acres of hydroponically grown plump, luscious strawberries (and tomatoes) to pick and eat to your heart's content.
Having a temperate maritime climate, the Port district also boasts several small wineries, and there's even a handful of local brewing mobs – The Little Brewing Company, Moorebeer Brewing Company and Black Duck Brewery all turn out a great drop of ale. Now that's my type of town!
Local food from the vines and the ocean, combined with a local drop – your only problem is choosing whether to taste test it in a five-star restaurant or the seclusion of one of the many beaches. Tough life here in Port, but someone's gotta live it. Could well be you. As we said, Port Macquarie, you'd be mad not to have a crack at this!
Words and images Mark Allen.