If a weekend away in the Snowy Mountains, surrounded by wild brumbies and picturesque land is on your to-do list, you'll want to check out Yarrangobilly, a highlight of northern Kosciuszko National Park. Recently, I had the opportunity to camp in the Yarrangobilly area and took the time to explore the caves and hikes and swim in the thermal pool.
How to get there
The Yarrangobilly area is perched between Tumut and Cooma. If you're coming from Cooma, you'll need to travel south through Cooma for roughly seven kilometres. Turn right onto Snowy Mountains Highway and remain on the highway for 110 kilometres. Once you see the Yarrangobilly Caves Entrance Road, continue for another 7.5 kilometres before you reach the campground.
If you've come from the Hume Highway, at Gundagai, take the Tumut exit and follow Gocup Road to Tumut. Turn left onto Snowy Mountains Highway and head south until you reach the campground.
What's there to do?
Explore the caves
The largest, South Glory Cave, allows you to leisurely explore its lofty chambers at your own pace. You can purchase tickets at the Yarrangobilly Caves Visitor Centre. Adults are $22, concession cardholders are $18, a family is $68 (two adults and two children) and children (five years and under) are free.
Make sure to wear sturdy shoes, such as runners, as there are many stairs to climb that are often damp. It's also very cold and dark within the cave, so make sure you've brought a jumper or coat with you. Sensor lights line the cave crevices that light up to showcase the incredible features as you go along, but it also pays to bring a torch, or use your phone's light. You'll most likely want to read the information blocks detailing the cave's features and history along the path as you go.
The self-guided tour ends when you hit a ladder. Climb up and walk through the door that locks behind you. You'll find yourself a few metres from the carpark, where you can then grab your things and head off to the thermal pool.
Spoiler alert: you can take a virtual tour of the South Glory Cave here.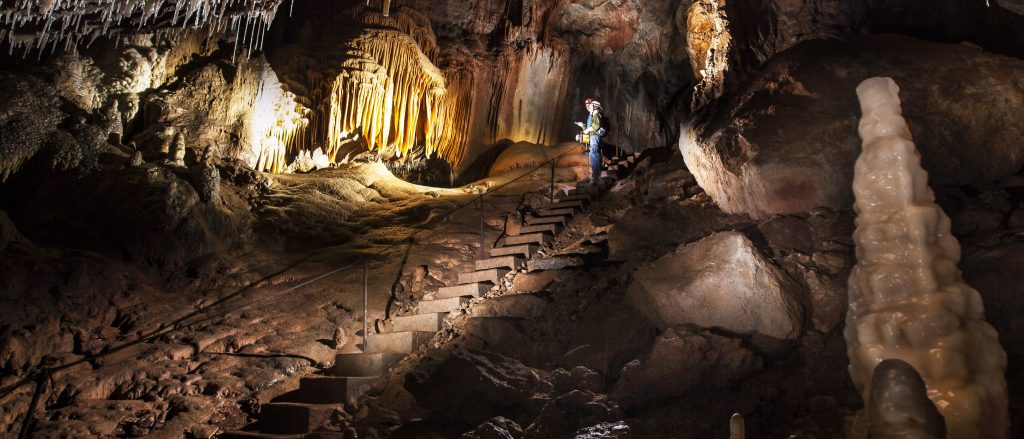 If you'd prefer some guidance, take a guided tour (which run a couple of times a day) through Jersey and Jillabenan Cave. Head to the Yarrangobilly Caves Visitor Centre to purchase tickets and receive some local information and tips.
Discover Rich Aboriginal culture
The Wolgalu People are the Traditional Owners of the Yarrangobilly land. Take a guided Aboriginal ranger tour to soak up their culture and learn hands-on skills, including how to start a fire without matches! You can book over at the Caves Visitor Centre (bookings are essential).
Take a dip in the thermal pools
If a spring-fed, natural pool that stays at 27 degrees celsius year-round sounds magical to you, then you won't be disappointed by this beauty. Follow the one-kilometre track that descends into the Rules Creek Valley to reach the thermal pools. Make sure to watch out for wildlife – we spotted two brown snakes on our walk down!
The pool is 20 metres long and 2.5 metres deep, fed by a natural spring roughly one-kilometre below its surface. It gently flows like a waterfall into a children's pool at one end, allowing the entire family to enjoy these incredible subterranean, mildly mineralised waters.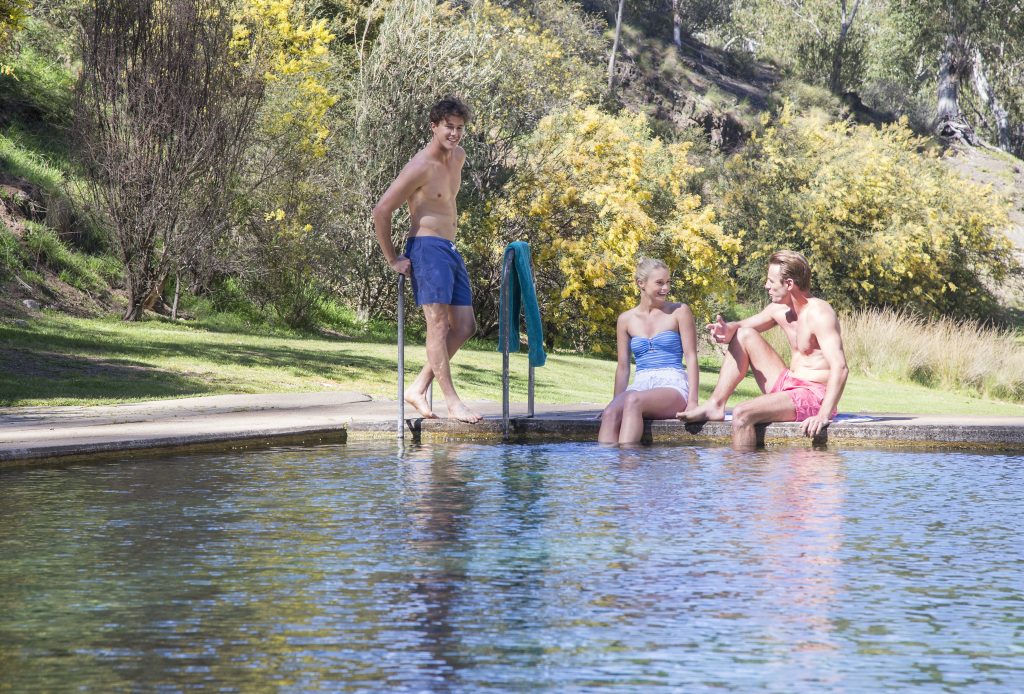 Where can I stay?
We chose to camp at the Yarrangobilly Village campground, located right next to the Snowy Mountains Highway. You aren't required to pay camping fees here however, a $6 booking fee applies. This dreamy campsite features a carpark, drop toilets and picnic tables (if you're up first in the morning you might be lucky enough to grab one for the day.) There are also fire pits located around the campground where you can light your own firewood to create a warm area for those chilly, Snowy Mountain nights or to cook some delicious campfire snacks.
The river runs along the campground, perfect for a chilly dip or casting your line to see if you can catch a fish. We spotted trout jumping around and a few keen fishermen were trying their luck at catching dinner.
Each night a mob of wild brumbies, who typically roam the land, would visit the campground. We weren't lucky enough to see any, although a fellow camper mentioned he had. Having said that, we did have to wait for an entire mob to cross the highway on the journey down … not your usual traffic jam!
I want more!
If you've hit the caves, swam in the thermal pool and conquered a few hikes around Yarrangobilly and you're craving more, check out the Blue Waterholes! Only a short drive away, the Clarke Gorge Walk is an incredible, must-do hike. It's well worth doing before you jump back in the car to head home.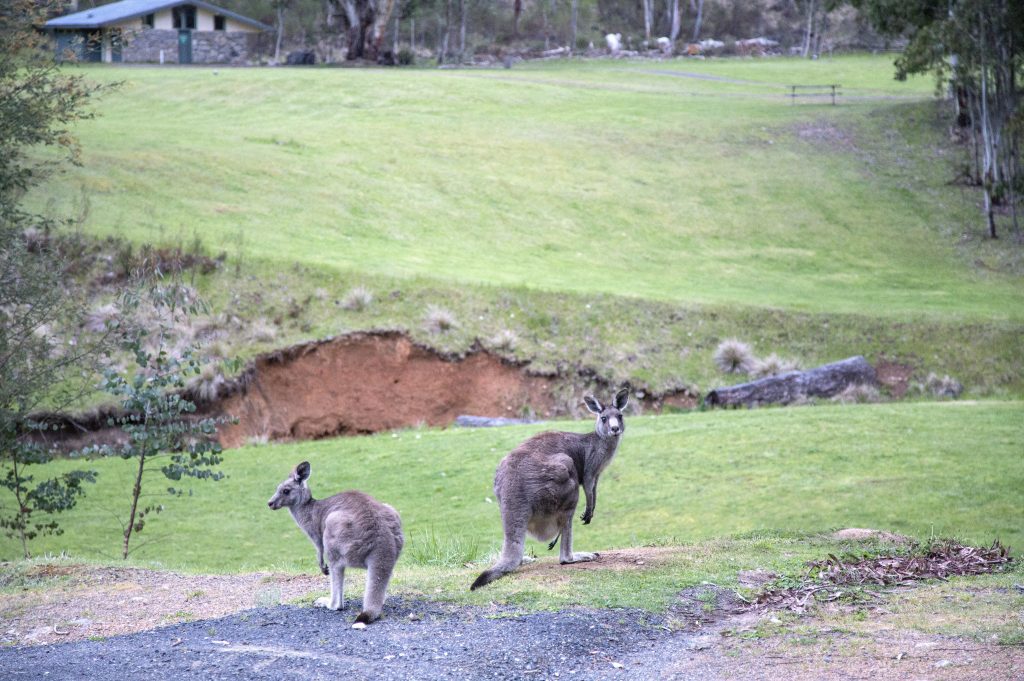 Hot tips before you go:
The campground is the exit after the caves exit. We didn't plan ahead, assuming the campground would be obvious, but we turned off one exit too early and got very lost!
Screenshot all the information you need on nationalparks.nsw.gov.au prior to your trip. There's no reception in the Yarrangobilly area and free Wi-Fi is available only at the visitor centre for a limited amount of data.
Bring enough drinking water with you to last longer than you think. We were told by the Visitor Centre when we went looking for a drinking water tap that E. coli bacteria had been detected in their water. We got around this by boiling some creek water from beside our campsite in our billy.
Pack clothes for both hot and cold weather. During the day it's very hot and muggy, but it can get icy cold at night.