Tango Caravans believes in offering quality vans at very affordable prices, so is the pricing and spec level of this Escape music to your ears?
The Tango, a dance of passion, was created in the 1880s in the Río de la Plata at the Argentina and Uruguay border and was a fusion of styles from the Waltz, Polka, Mazurka and many more. In many ways, that collaboration and passion hold sway with Melbourne-based Tango Caravans.
This passion for building vans started with Jive driven Sarah Horter in 2016 and her brother Stevie, who have a family heritage from grandfather Ian Grant of Ian Grant's Caravans, and there's been plenty of electric boogaloo (Really? – Ed) getting the business going since.
Tango Caravans has shared the passion with Essential Caravans, who manufactures the Tango range under licence. It's a fusion that will have hips swinging and feet tapping while touring this great land of ours.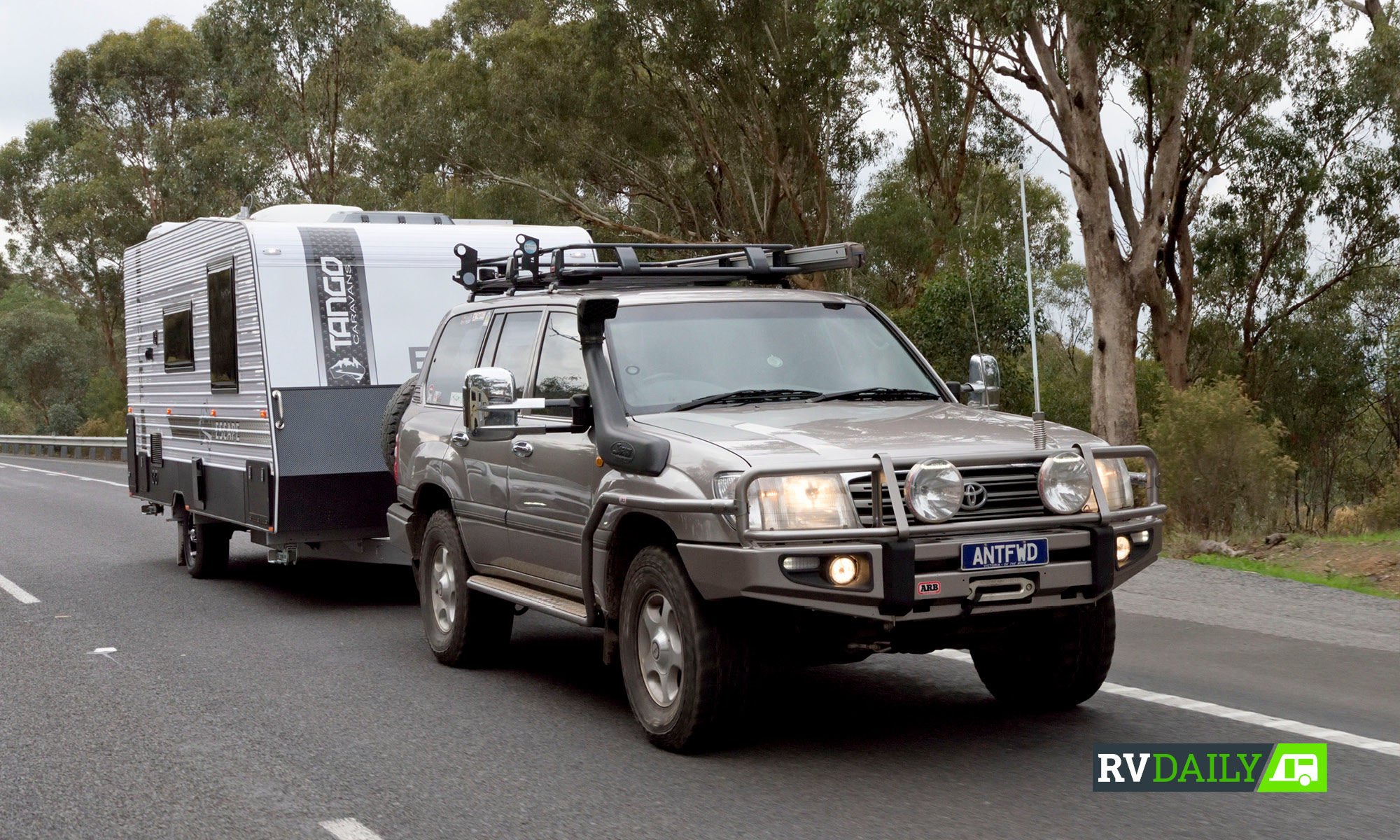 Inside
I liked the overall brightness and contrast of trim inside this van. On a gloomy day the interior offered a cosy and light feel. There are plenty of double-glazed windows and hatches for light and airflow.
LED lighting features throughout the van and a heavy-duty vinyl floor covers a one-piece treated and coated plywood base.
The access door is located towards the rear of the van and when you step inside, the ensuite runs to your right across the rear section. This ensuite features a ceramic vanity bowl with a flick mixer and a large mirror dominates the space. A Dometic toilet sits up against the driver's side wall while under the bench top is a good sized NCE top-loading washing machine. Opposite the toilet is an easily accessible shower.
One thing I liked about this ensuite is that while it's small due to the overall size of the van, there are plenty of drawers and cupboards for storage.
On the driver's side is a café dinette complete with foot rests and a tri-fold table for good use of space. There are plenty of cupboards above the dinette and a little storage under the seats. One overhead cupboard is utilised for the van's electricals, which includes a BMPRO Genius battery management and fused electrical system. Also very neatly mounted inside this cupboard are a 12V solar gauge, Suburban HWS switch, Flojet water pump switch, water tank gauge and a 240V fuse.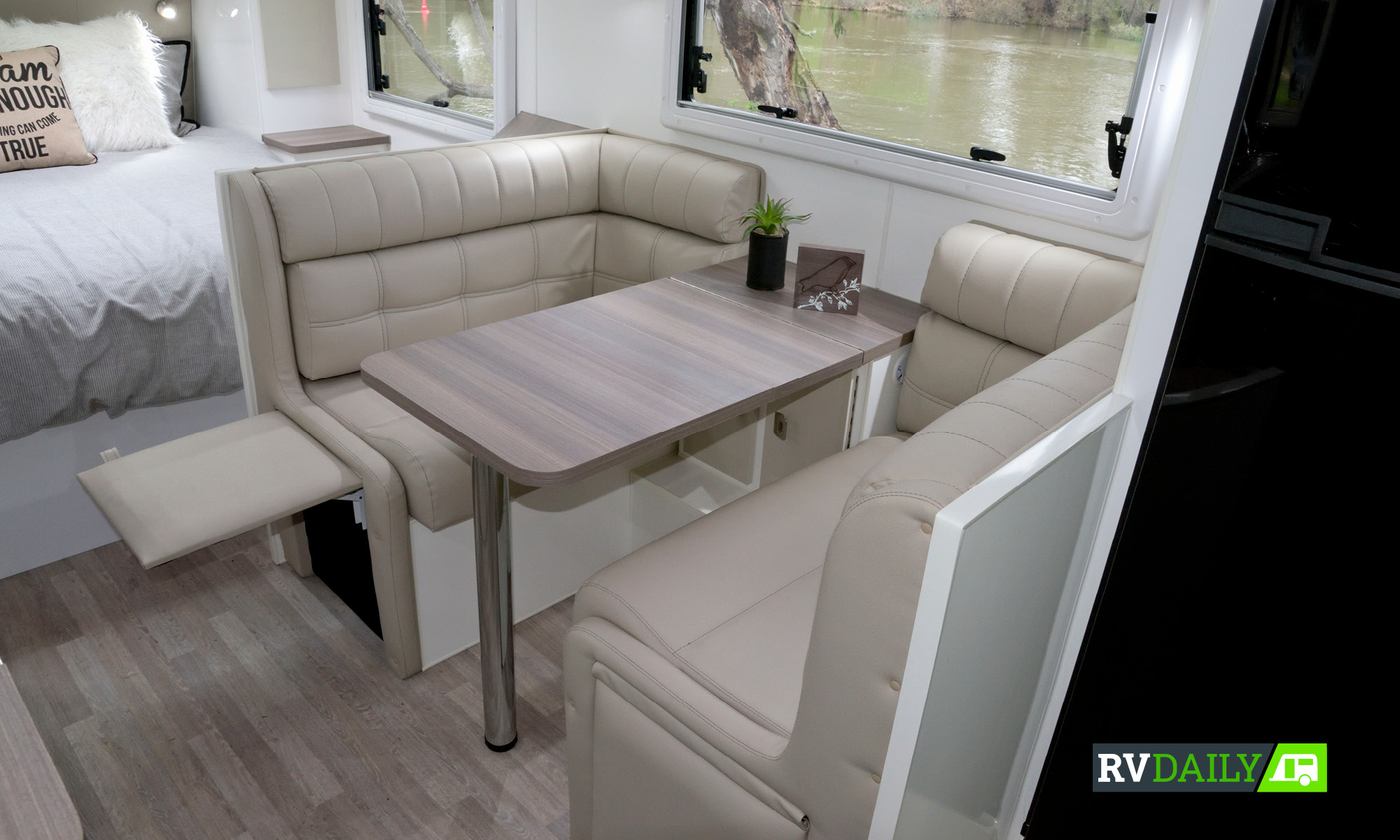 Between the dinette and the ensuite is a Dometic three-way, 190-litre fridge with tropical rating for touring in humid climates and trimmed in gloss black for contrast. Above the fridge is an NCE microwave.
The kitchen is compact. Close to the door is a slide-out pantry followed by a Thetford 3&1 cooker with grill and oven. Next to that is a cool-looking deep bowl sink with a flick mixer and water filter. The overhead cupboards offer plenty of storage as well as housing a stainless-steel rangehood and an NCE stereo system powering twin internal and external speakers.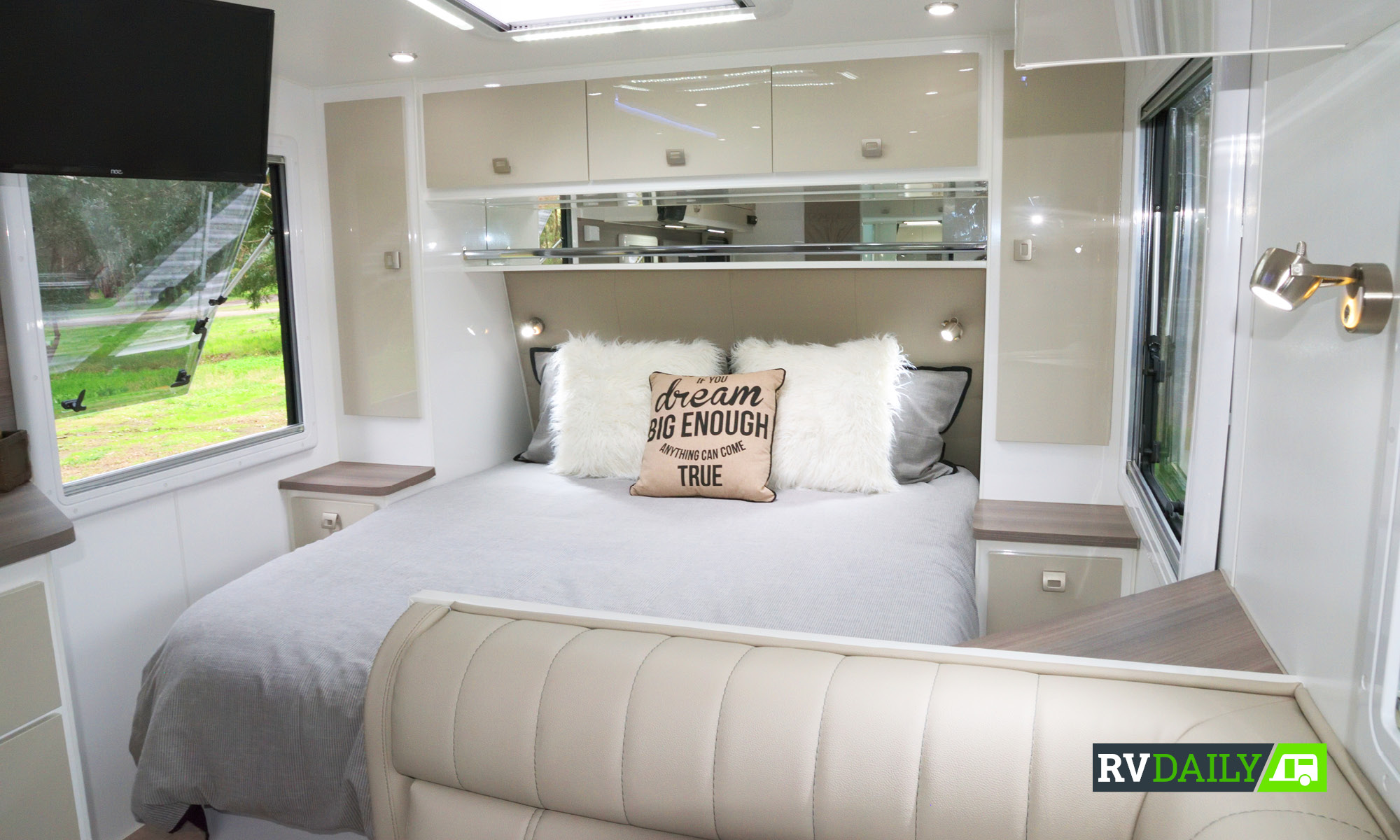 At the front of the van is the bedroom complete with a lift-up bed featuring a queen-size innerspring mattress. I liked the mirrored bookshelf above the bed with its upholstered bed head on the front wall as something different and practical. Overhead cupboards and wardrobes either side of the bed offer plenty of storage. A 100Ah battery is located under the bed where there is yet more storage. It's a neat, very homey space.
An NCE 24-inch TV is mounted between the bedroom and the kitchen end wall, making it easy to watch from the bed or the dinette. The interior is compact, practical and well put together from what I could see. It's a great package overall.
Outside
Tango uses an ARV six-inch heavy-duty Duragal chassis as the basis of its Escape model. This includes a heavy-duty rear bar with spare wheel. The A-frame features include a standard 50mm ball coupling, eight-inch AL-KO jockey wheel, shielded mains pressure tap, while twin 9kg gas bottles and regulator round out the package.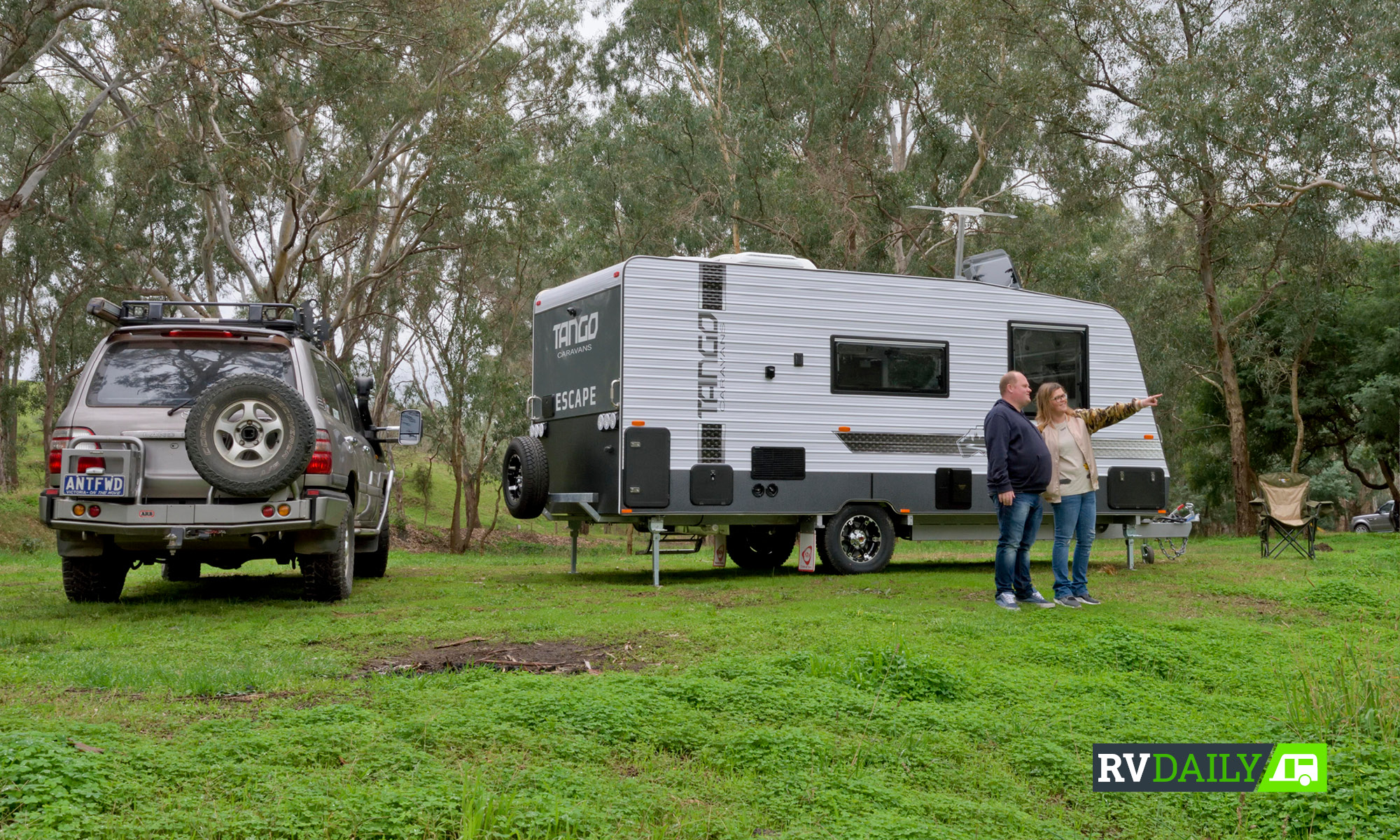 Mechanicals on the Escape include a Dexter Torflex independent suspension, 12-inch electric brakes, Break Safe unit and 235/75 R15 A/T tyres matched with 15-inch alloy rims. Standard features also include drop-down stabilising legs and twin 95-litre shielded water tanks.
The Escape body is built from Meranti timber and fully insulated. The cladding is quite neat featuring 'ONYX' X-Plate front, sides and rear combined with a charcoal composite rear panel and high-profile aluminium cladding. Add some smart decaling, plastic wheel arch spats, and the Tango Escape looks pretty cool.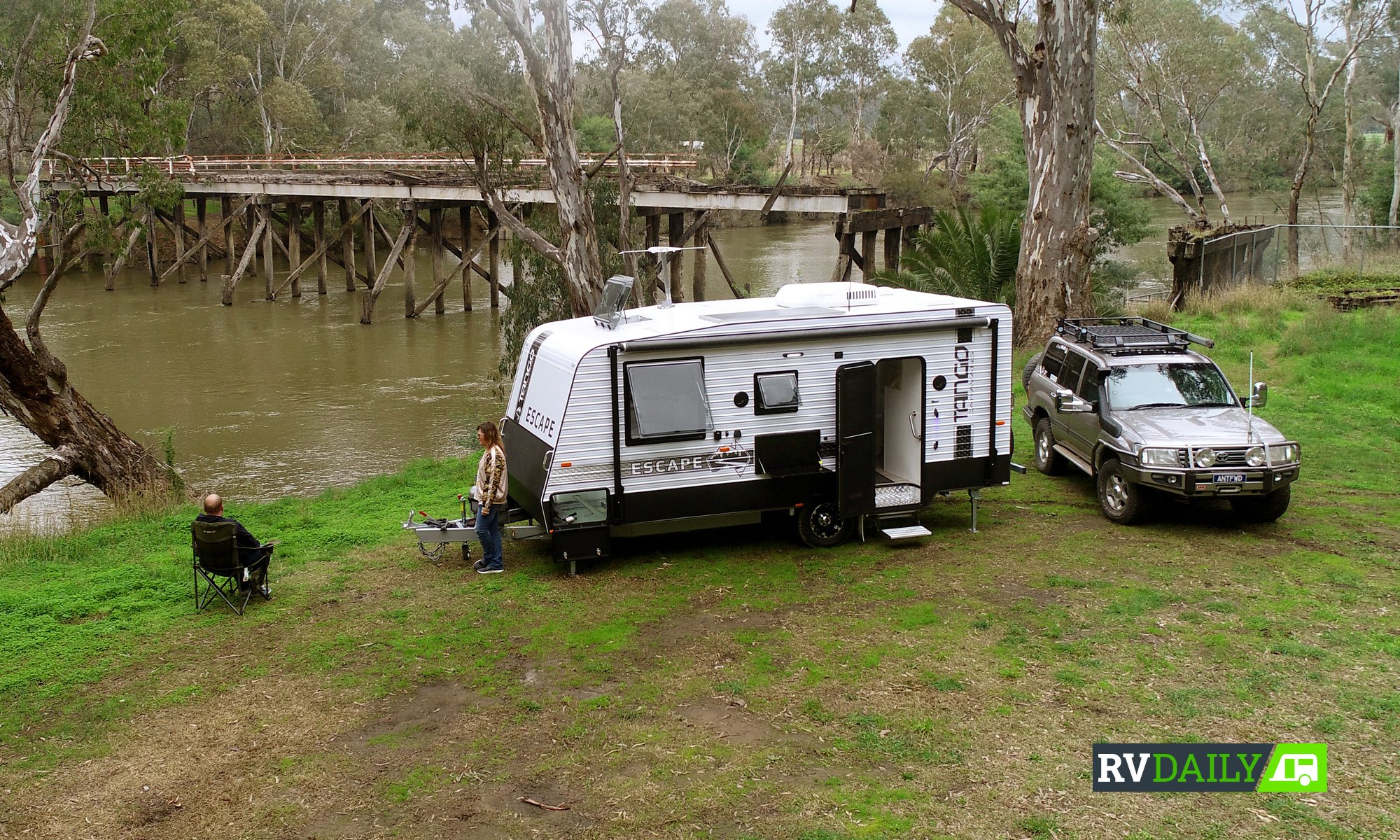 Around the body there are a raft of features that include a picnic table, full-width tunnel boot, Camec triple lock door, rollout awning, external shower, reversing camera, gas bayonet, generator locker, drop-down step and an annexe light.
Up on the roof is an IBIS 3 reverse-cycle AC unit, 150W solar panel with 30-amp regulator and a Winegard digital TV antenna.