The Satking SK-3200 might not mean your team wins in the grand final or indeed save your marriage but it's become colloquially known as 'the marriage saver' for good reason. A Satking SK-3200 will certainly help your viewing pleasure; even if you're on your own. 
From the get-go, I need to say that we try to treat our caravanning like camping.  We love being outside, cooking, eating, reading, just taking in the natural beauty of our surroundings.
We don't pull up, jump inside as soon as we arrive, turn the telly on and hibernate… we can do that at home. We are all different, so if that's your thing, then go for it and enjoy.
Our van is a pop-top, a circa 2001 (nicely made over in 2017) and we do have a TV with an antenna on top, so when the weather is against us, or there's a good game on (any sport), or maybe a news story we'd like to catch up on, we can jump inside… provided we have a signal. But a couple of years ago we went to the Flinders Ranges with a group of friends when there was an AFL Grand Final on the box… can't miss that!
I had an old lighting stand that I used for work; we already had the satellite dish from a previous connection at home and we have adequate solar power, so just add the VAST box, get the card and an LNB (low-noise block down converter) plus some cable and voila … our footy game in the Flinders is live on air. Generally, we are happy with this setup, although tuning has been a bit of a worry.
I would stand near the door to see the signal and quality indicators on the set-up screen, but what if there's a tree in the way? You have to move the dish and get the wife to guide you. Of course, there's the audible signal indicator, the beep-beep-beep that gets stronger as you get a stronger signal, a noisy pain to all, and you have to get the dish in the general area, so I reckon a visual indication is (in my opinion) better. Oh, and the added issue of me not pegging down the legs; a big wind and a broken LNB … time for a rethink.
How can we make life easier?
We don't have the room (or the budget) on top for an all auto, you beaut, swivelling satellite dish or square box thingy. It's a pop-top remember and with solar panel on there already, extra weight and space is an issue.
So I asked around. I asked mates, I checked online, I mainly wanted response from people in this situation, so I asked caravan groups on Facebook.
Good old WikiCamps Satellite Finder was a favourite. I agree, it is nice and handy to get the dish in the general direction, but you still have to fine-tune. There are similar apps out there, Dish Align is another nice one.
I had experts writing massive responses and creating heated discussions (gotta love Facebook), all good and the advice was great.
Plenty of folks suggested the inline signal finder, powered through the cable from the VAST box; this looked good and would probably be the cheaper option. But then I saw 'Marriage Saver', mentioned not once, but several times, and I'm all for that, so my attention was centred on this option.
There are different models available, some with screens to see the TV programs, some not so 'high tech'. Basically, you attach the battery-powered device to the dish, use the compass to get it in general position (28.76 degrees true north), pan the dish until you see (and hear, if you want) the signal strength, adjust accordingly.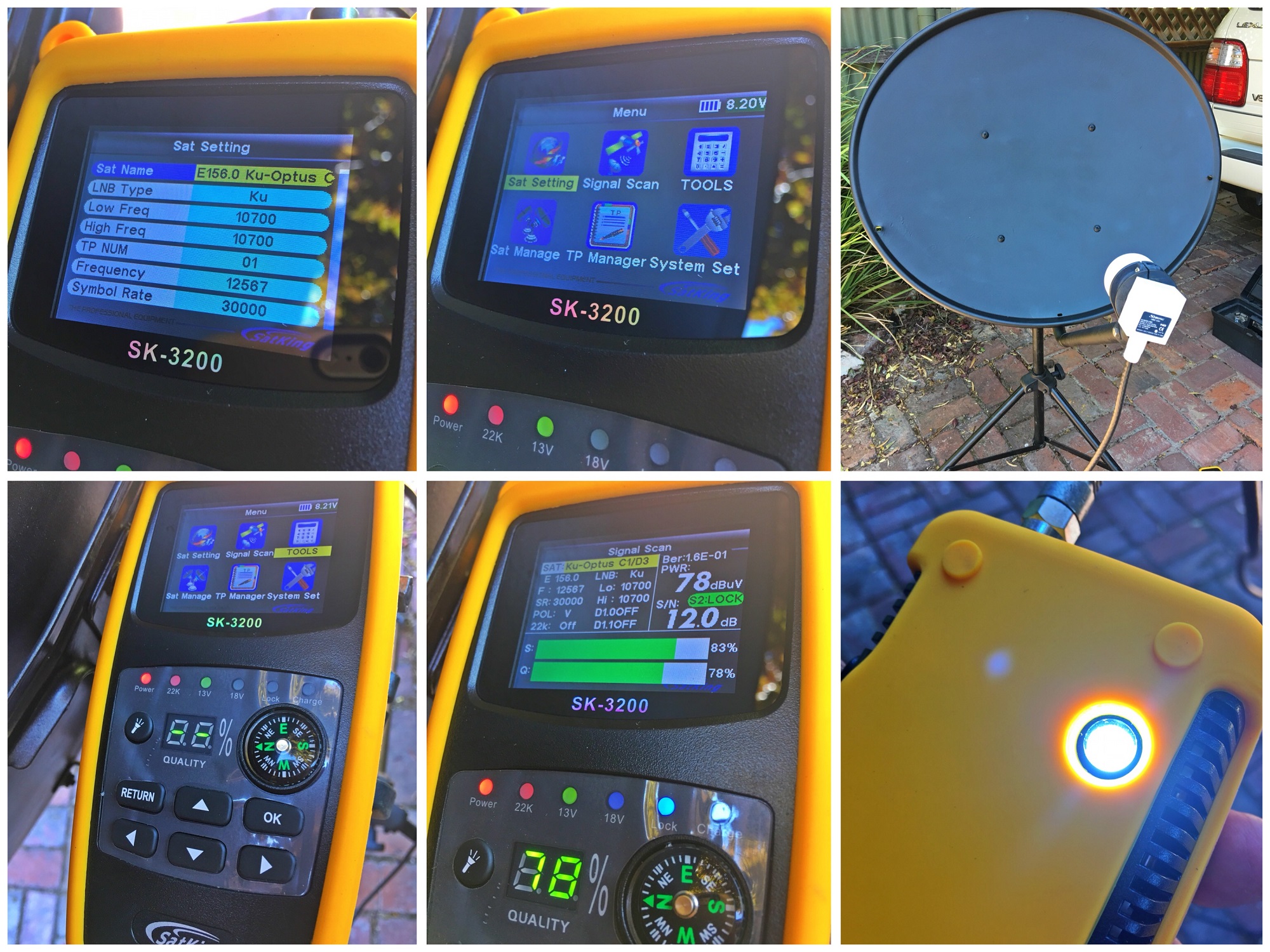 We opted for a simpler unit (no TV reception), with a nifty yellow plastic cover and built-in torch: a Satking SK-3200. This unit came delivered overnight direct from Satking after ordering over the phone. It cost $131 total, including delivery to Adelaide from Melbourne. [RRP $119 for the SK-3200.)
It was pre-set for the Optus C1 Satellite and the VAST box settings. It has satellite and positioning details available, tools and easy system settings all handy at the touch of a button. I had already aligned the dish to basic elevation and positioned the LNB. I plugged in and within one minute I had a signal. I then fine-tuned and tightened all the positions and was ready to go. This was amazingly simple! All you have to do is remove the unit and join a longer cable to an outside connection to our VAST box.
That there some cons though… it comes with a 240V/12V charger (a 12V cigarette light plug/cable would have been good), a USB cable for firmware upgrade (only PC compatible) and a CD instruction manual (an online manual would be preferable).
Read next: Why satellite TV is now a must-have
My marriage is safe, my signal is strong and I'm happy with the purchase. All we have to do is head to the Flinders for the next AFL Grand Final.  
Words and images Andrew Kennedy.