A recall has been issued by the ACCC for some Lotus Caravans due to an issue with their slide-out kitchen, where the Weber barbecue had to be modified.
The recall notice issued by the ACCC in conjunction with Lotus Caravans notes heat issues with the modified barbecue. The slide-out kitchen on certain models includes a slightly modified Weber Q 1000 barbecue in which it is mounted within the external slide-out kitchen. The way in which it has been modified will result in increased temperatures of the surrounding stainless-steel surfaces, which exceed the relevant gas standards requirements. Essentially, as the surface heats up, there is a risk of the surfaces overheating, which in turn increases the risk of burn injuries.
Lotus Caravan owners with affected caravans are urged to stop using the slide-out kitchen and contact their nearest Lotus Caravan dealership, to schedule an appointment so the issue can be rectified. It appears that the Lotus Caravans affected by the recall were built from 2016 through to 2018. The recall is for around 243 caravans in total over that time period.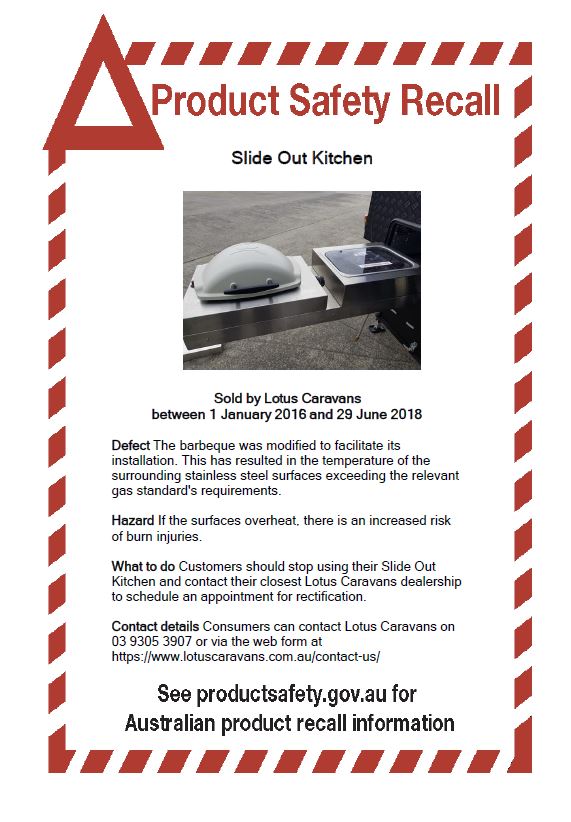 A list of the affected VINs (Vehicle Identification Numbers) can be found within this link here.
If you require any further information, owners of the affected Lotus Caravans can contact Lotus Caravans directly on 03 9305 3907 or via its webform at https://www.lotuscaravans.com.au/contact-us/
It is good to see a continued proactive approach from a caravan manufacturer when unexpected issues arise from time to time.