Trolling full-time travellers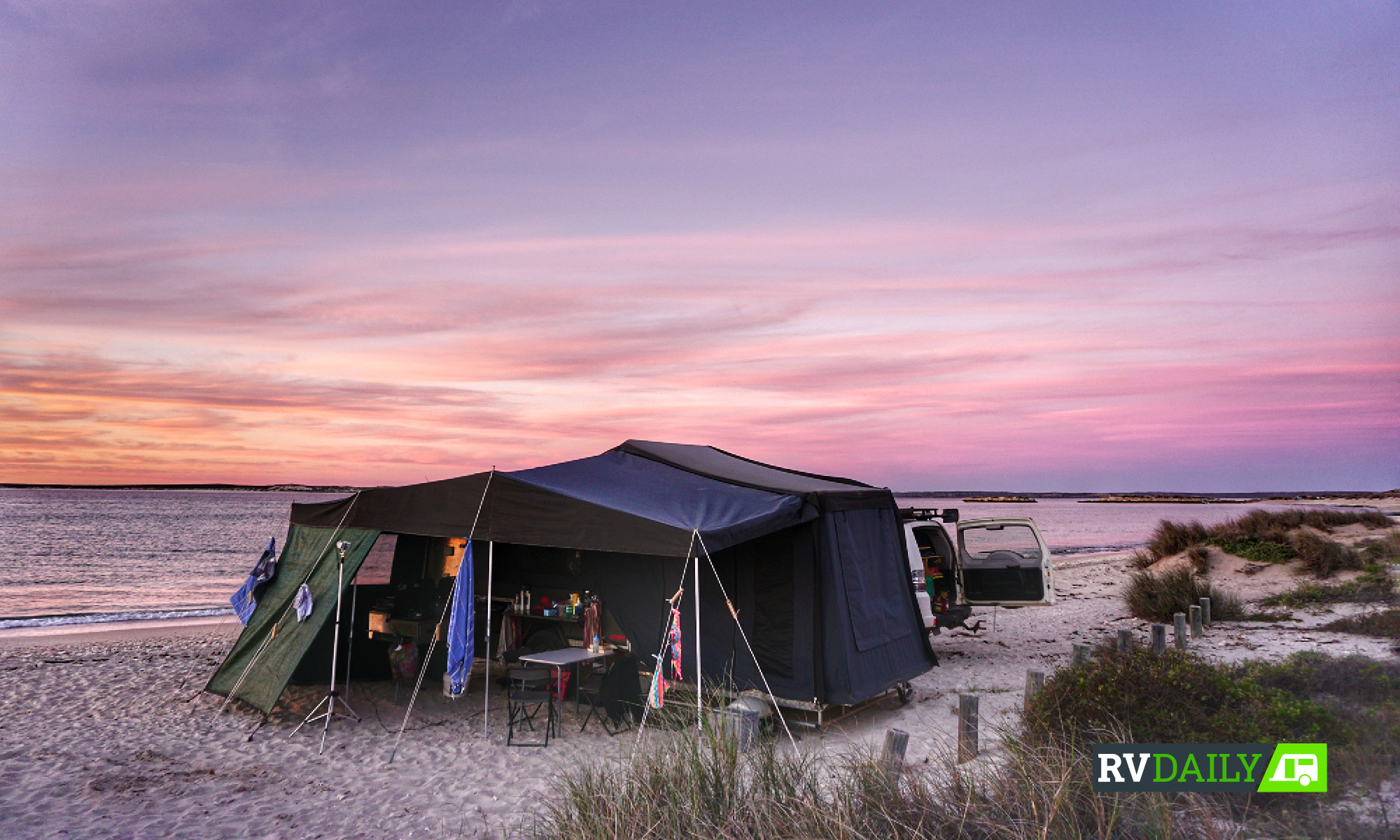 Don't be a hater: an endless lap ain't necessarily an endless holiday!
Driving to work on a Tuesday morning is rarely an exercise in relaxation, but it becomes a torturous commute through the fiery gates of a personalised hell when we come across those other road-users the working man or woman loathes: the full-time traveller. They're notable by their nonchalant elbow-out-the-window stance, wheeled or waterborne toys strapped to RV racks, linings of red dust around wheel and door rims and, most grievously, a backside covered in stickers of obscure Australian towns. Yes, these flaunters of the "livin' the dream" ethos are a little hard to take as the rest of us tighten the noose, sorry, I mean collar, around our working necks. And yes, the Grey Nomads have earnt their time on the road through a life of hard work and beneficial tax breaks, but how do they do it for years on end and what about this other mob? The ones with kids and/or a full head of hair? Why are they on the way to the next glorious outdoorsy destination while the rest of us slog it out for a paltry four weeks of annual leave?
But let's ease off the vitriol: it's worth noting that for a lot of full-time RVers, life on the road is far from a never-ending holiday. Those long-term rigs usually contain a couple of smart and hard-working adventurers including the odd dirt magnet (child). They've given up a nice 2WD and bricks and mortar existence to roam this wide land and have generally done so by doing more than sell some family assets or live on two-minute noodles and free camps. The guys from Round & Round Coffee are an excellent example of just how far a bit of innovation, inspiration and courage can take you from the nine-to-five grind.
After 23 separate weekend camping trips out of Melbourne and trudging along to jobs where boredom and mental stagnation were firmly entrenched, Jess Davidson and Andy Hoffman decided there must be a better way to live. With Jess's background in hospitality and all those camping trips highlighting a serious gap in the morning caravanning market, the idea for Round & Round, a mobile coffee caravan, was born. After setting off in late 2017, Jess and Andy have been travelling full-time up and down the East Coast of Australia, exploring and experiencing life on the road with an enviable 7:30am to 1pm work day. Before you go into a jealousy and caffeine-induced cardiac arrest, rest assured it's not all leisurely cappuccinos and cream-filled cupcakes.
Planning, saving and spending were big parts of Jess and Andy's new lifestyle plan: "We get lots of people saying 'You've got it pretty good, haven't you?' and I agree with them. But we didn't just get up one morning and hit the road. We planned this … and there was lots of hard work prior to leaving Melbourne." Ten months of it in fact, with business plans, sourcing a caravan, coffee bean suppliers, logos and outfitting their own RV to pull it all. When they finally hit the road, their savings had been depleted ("in fact, we were in debt!") and they were relying on their first caravan park coffee gig to kickstart the trip.
Thankfully it did, and as the kilometres rack up so have opportunities, with Andy using his graphic design skills to tap into another hole in the caravanning market: personal RV logo design – "mostly for younger families doing their lap of Australia". There are plans afoot for franchising the coffee van and more philanthropic pursuits such as providing barista and hospitality training to young people in Western Australia's more remote communities. For Andy, however, the greatest reward for actioning Round & Round's bold and "scary" plan is "not being stuck in one spot" – something Renee Helms, another full-time traveller, credits with actually improving her work ethic.
Travelling for well over two years in a Cub Camper with a husband and small child may sound like the seventh circle of hell for some, but for Renee, the benefits far outweigh the disadvantages of canvas walls in occasional cold, wind and rain. With rental income paying off their house back in Melbourne and a small amount of savings enough to buy and outfit a camper, the couple and their then toddler began trekking across the country. Having a sought-after skill that pays well at locum rates, Renee funds the bulk of their travels working in short nursing stints 40 percent of the time; a small amount also comes from travel writing and their website The Great Escape Australia. For this young mother, going to work as a nurse is much more enjoyable when completed in short bursts between slightly longer periods of travelling: "It's easy to be good at my job part-time and then travel for a bit."
As a carpenter, Nathan picks up the odd contract in between caring for their four-year-old son and it is this in particular that appeals to the couple: spending time together as a family and watching their son grow.
According to Graeme Vale, who runs the Grey Nomads Jobs website, those perennial Wrinkly Wanderers don't always have a never-ending supply of their children's inheritance to spend on the road either. He says there are some using the A-frame sign out the front of their caravan as a solid approach to making cash, advertising onsite services like haircuts, electrical work or even massages. But the vast majority of the 20,000 registered users on his site are specifically looking for paid work during their travels. He admits that some are looking for adventures, not jobs, but a lot need to work to ensure they can keep livin' the dream.
Having retired, Sid Whiting and wife Sandy used a fair bit of their superannuation to fund their first go at the big lap, only to get it horribly wrong with a caravan they didn't like, making all the regular RVing mistakes and blowing $81,000 on their first year of travel. They needed to make money to continue travelling in the style they'd become accustomed to, after all, it's not hard to get a good fillet steak and a drinkable red wine, but it'll cost you more than the $5 roast at the local bowling club.
Sid's penchant for filming just about everything on the road and a seemingly inexhaustible first-hand knowledge of how not to caravan has led to a series of documentaries he now sells online.
Taking his passion and putting it on a DVD has been enough to fund their caravanning habit for the past seven years plus some, though Sid reckons there's a money-making opportunity around every camping corner. With the Caravan Industry Association of Australia estimating that the industry is now worth $20.4 billion to the Australian economy annually, it would certainly seem so.
Having finished last week's locum stint and the camper-trailer set up in a free camp, poised for their week-long site in the idyllic Cape Range National Park in Western Australia, Renee admits the disadvantages of long-term travel are more than
just irksome at times: "Being away from our loved ones is difficult," she says, "you have to give up a lot, it's a big lifestyle change". But she also asserts that full-time travel is definitely achievable:
"Anyone could do it" – couldn't you?
Here are some expert tips on how to fund long-term travel
Facebook groups
Renee reckons there are plenty of Facebook groups with up-to-the-minute short-term job opportunities, especially if you have specialist skills.
Digital job boards
Graeme's site is just one of many matching up money-making opportunities for the intrepid traveller. Sign up and front up!
Chitty Chat
An invaluable job finding method is to simply pop into the post office or visitor's centre and have a chat with the locals about where the work is, says Sid.
Virtual Work
The opportunities are digitally endless according to Andy and Sid (as long as you have that internet connection!) with everything from spruiking your own creations to managing a business remotely or editing someone else's blog all available online for the camping kitty.
Want more? Visit their websites for updates, and the triumphs and tribulations of full-time life on the road via the links below.