Travelling with Pets: Animal Inclusive Travelling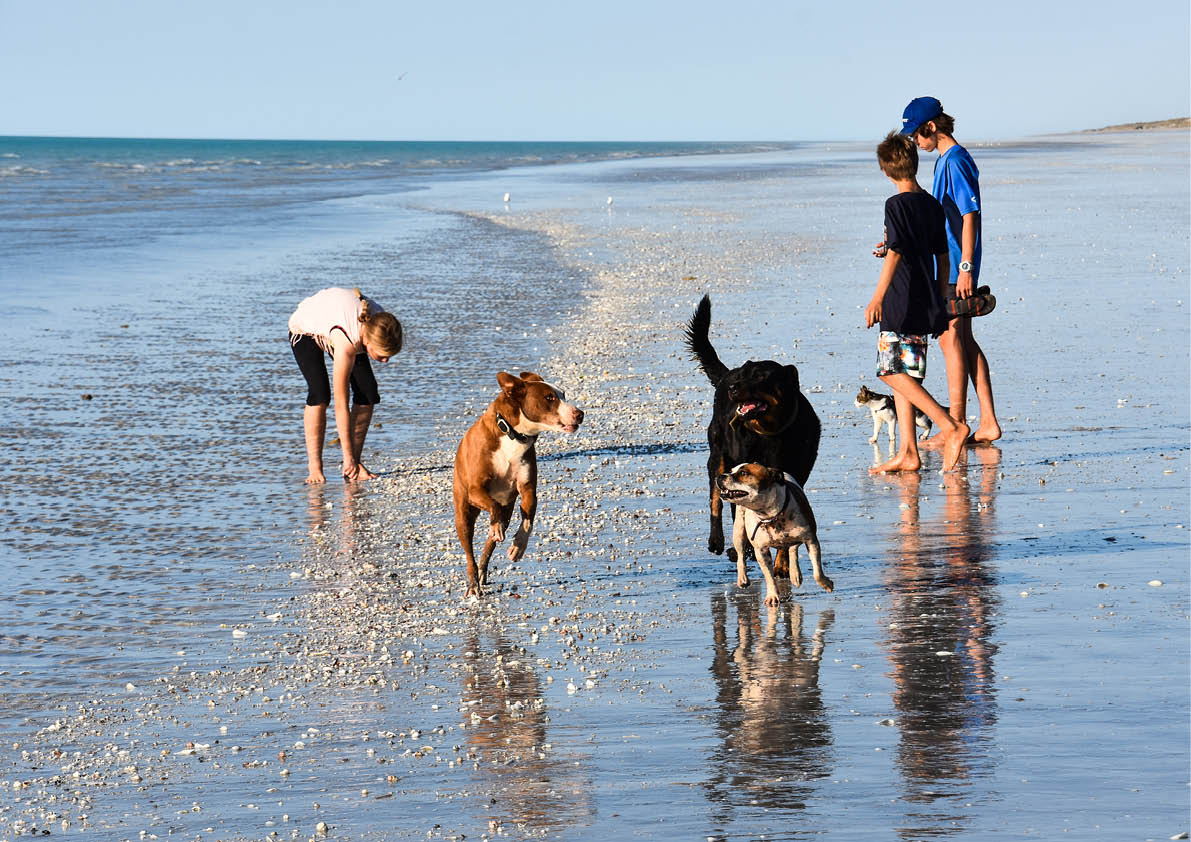 Avoid the separation anxiety on both sides and take your fur children along with you
By Glenn Marshall
These days, our cats and dogs are as important to us as our children and in some cases they are even better behaved. Leaving the kids behind isn't a consideration and it should be the same for our pets, too.
For images and the full RV Daily experience, read this in our online magazine.
WHAT TO DO BEFORE YOU LEAVE
There are a few things you have to think about before you head off with your pets, especially their healthcare. The very first thing you need to do is get a vet check and confirmation that your pet is up to date with worming and vaccinations, and that they are healthy enough to travel. Ask your vet for a print out of your pet's medical history that you can take with you. Check to see if there are any health risks for your dog or cat along your route, e.g. ticks.
Ensure your dog is registered (if required) and it's very important to make sure they are microchipped. Pets can wander off and this way you know that you can be contacted if they are found. It is crucial to take a copy of your registration papers and vaccination card in case you need to visit a vet on your travels. Have a tag attached to your pets collar with its name and your mobile phone number on it.
Pet Insurance is highly recommended by vets, not just for peace of mind but to also help cover any emergency vet bills. Accidents do happen and if you are on a strict travel budget or have a low income, paying a few dollars a week to cover your pet is well worth it.
You cannot travel all around Australia with you pets, there are some caravan parks that do not allow any pets and you cannot travel through a national park with them either. Always check where you are heading to see if you can take your pets to your destination and, just as importantly, at any stops on the way. Work out what is needed to transport your pet safely and comfortably; a harness for your dog or cat box for the kitty.
You know your dog as well as you know your kids so be prepared to deal with them in unfamiliar surroundings. Especially if you are around other animals or you happen to get stuck in a thunder storm or check out a firework display, many pets cannot handle loud noises and will try to run away.
This is one time you have to pack lots of plastic bags or buy doggy bags to pick up and dispose of any droppings. Carry two good quality leads in case one breaks or is lost and carry a length of chain or rope to tie up your pet at your campsite. Some people take temporary fencing to keep their cat or dog safe while camping.
WHAT ABOUT PARKS AND RESERVES?
Pets are not allowed access to any national parks and some state forests, reserves, beaches, gardens or private property. This differs from state to state and between municipalities.
Cats and dogs are forbidden in national parks as they are natural hunters and a risk to native fauna. The use of 1080 baiting is also lethal for your pet. In WA and NT, pets are not permitted in most parks "as consideration of the rights of other park users and to protect indigenous fauna". However, in the NT, some parks allow dogs to be in the car park of a site as long as they have access to shade, water and are tied up.
NSW allows pets in all state forests and some regional and recreation parks but it is best to check at information centres or with local government to see where you are allowed to take your pets
In Victoria, pets are permitted in recreation parks e.g. metropolitan, regional and forest parks but generally not permitted in conservation parks e.g. national parks and nature conservation reserves.
South Australia and Queensland allow pets on leads in certain parks and state forests and SA also has a number of designated dog parks that are great for letting your dog run free to play.
In Tasmania, pets aren't permitted in nature reserves but are allowed in many conservation areas, regional reserves and nature recreation areas, as well as some state reserves.
CARAVAN PARKS WITH YOUR PETS INTERESTS AT HEART
Some caravan park owners around Australia are pet lovers like us and so provide facilities to help keep our pets happy. From dog runs to pet-minding facilities there are some great caravan parks out there. The websites of the major caravan park chains give you the option to search for pet-friendly parks, with some allowing pets in cabins.
FIND A FRIEND
If you are camped near other pet owners, buddy up and discuss pet minding. If you want to go to a national park they might mind your pet and you can mind theirs when they visit the local museum.
Some caravan park owners also have pet-minding services that allow you to go off exploring knowing your pets are being well looked after.
EXERCISING YOUR PETS
Exercising while travelling is extremely important in helping keep you and your pet happy and healthy.
The benefits of exercise include:
Improves strength, fitness, flexibility and movement
Increases energy levels
Helps decrease stress and can help improve
you and your pet's mood
Improves sleep
Prevents boredom
Decreases bad behaviour
Prevents obesity
Improves travelling behaviour
So when it comes to making a decision on whether your pet can join you on your next holiday, the positives surely outweigh the negatives and you will truly see how happy you can make your pet!
pros
Your pet is a member
of your family
Pets offer comfort,
love and friendship,
companionship and
someone to talk to who
doesn't talk back or argue
(in most cases)
Pets keep you active
and entertained
They can protect you
cons
Restricted travelling
Extra gear to pack, food,
water, toys, bedding
Your pet can't tell you if they are feeling ill or are
thirsty, hot or cold
Some travellers are not
responsible pet owners,
be wary of any dogs
that aren't tied up
or on a lead