Reviewed: The Travel Buddy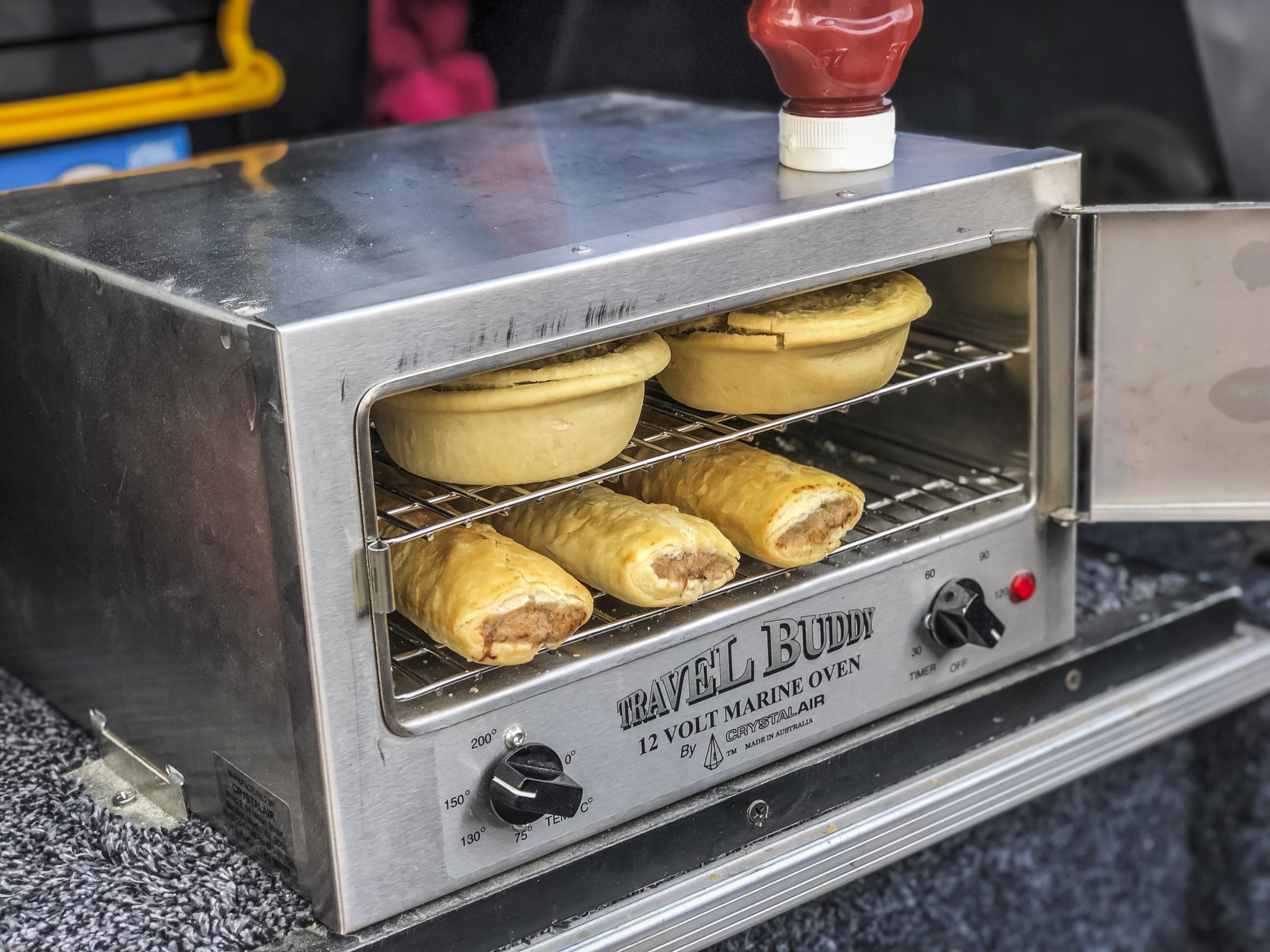 Hot pies on the go… Meet the Travel Buddy
While racking up big kilometres from campsite to campsite every day often leaves little time to worry about organising food. Especially so on those big transport legs of your trip. What if I told you, you could have some hot pies, lasagne, or roast that cooks while you drive, which makes it quite possibly the greatest addition to a touring vehicle, bar none (except maybe beer on tap in your van or tow-rig). For me, the Travel Buddy 12V Oven is nothing new; I bought mine going on about six years ago, and it sat in the shed, still in its box, neglected for all that time. It was only after a new fit-out in my trusty old 'Cruiser (and making some room to mount it), did I finally decide to get it out of the box and working, and I'm kicking myself for not jumping on it sooner.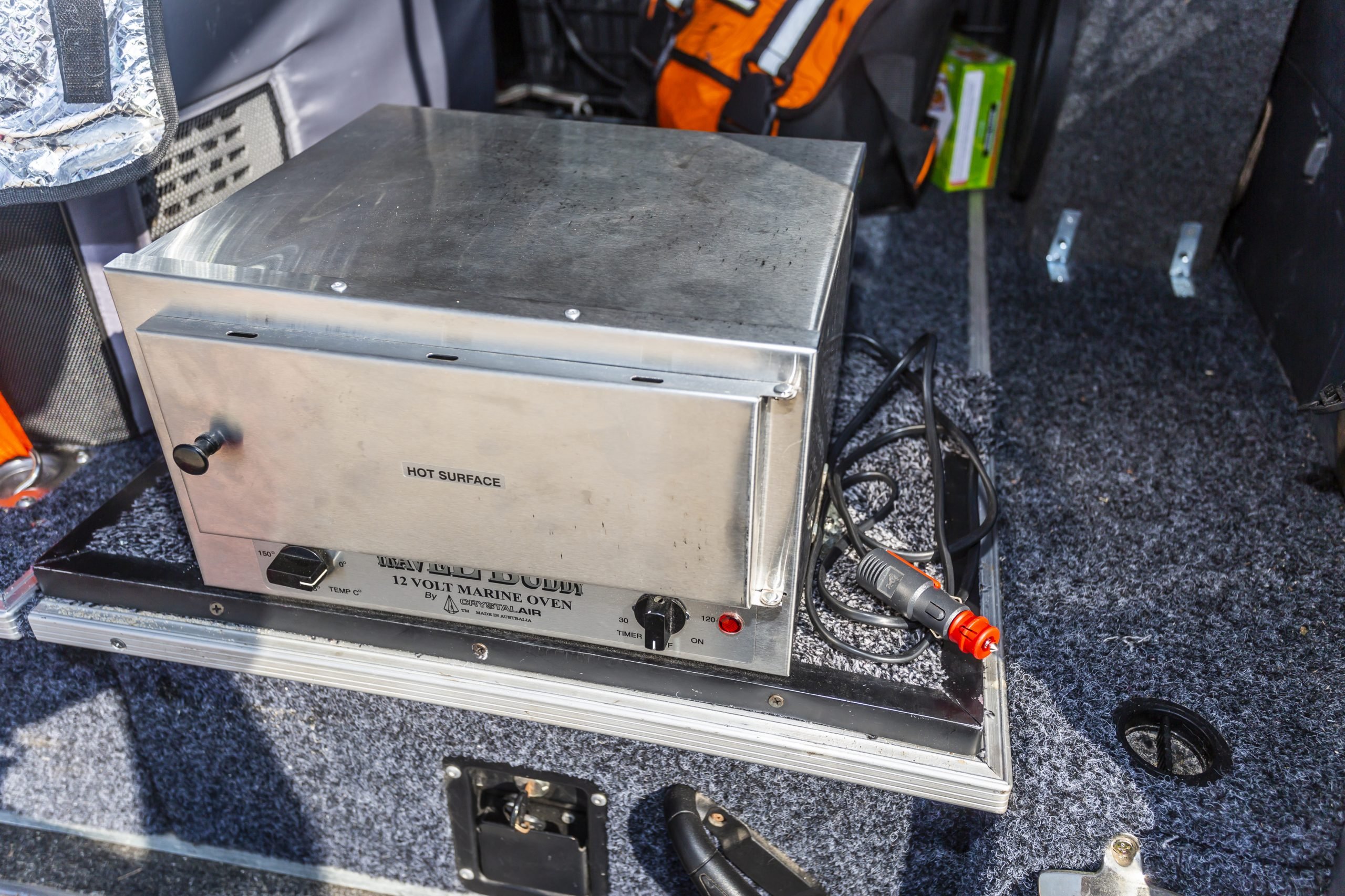 The Travel Buddy is essentially a 12V oven, encased in insulation, and wrapped up in stainless steel, with temperature and timer dials. It comes with a rather heavy-duty 12V cig-plug, however, it does suggest removing the plug and hardwiring it to make a firm connection and stop the plug falling out of your ciggy socket – corrugations are bad, right? At full tilt, it'll draw 120W (or 10A) so you'll need to make sure your socket and wiring are happy to take that sort of power draw. The factory ciggy socket in your vehicle will probably only be good for around 5A (though check the socket or your owners manual to be sure). It'll cook anything from pies and sausage rolls to lasagne, or the small roasts you can get at Woolies that come pre-packed in the tin foil dish. From there, it's just a matter of dialling up the temperature, setting the timer, and heading on to the next campsite.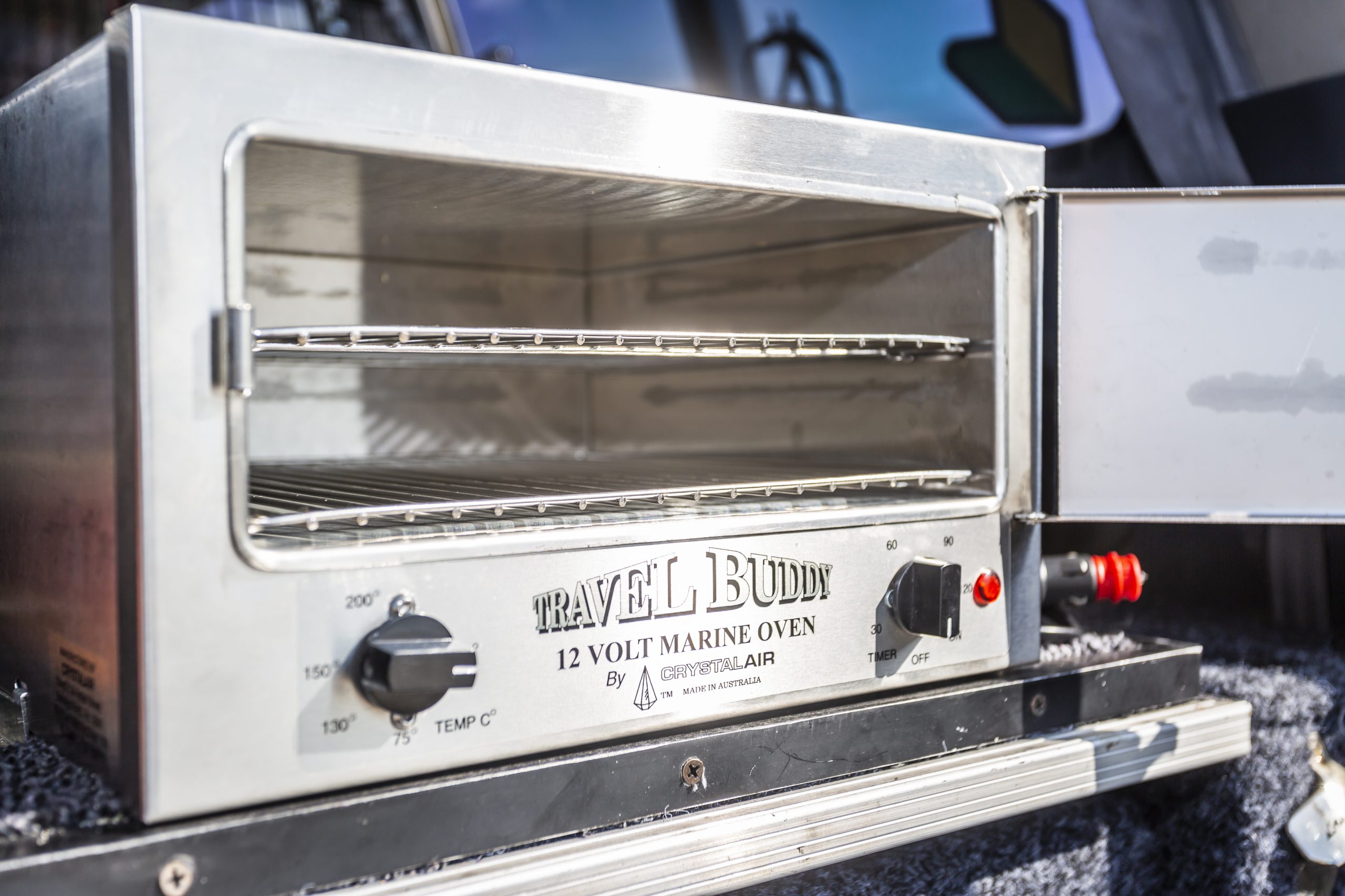 With the size of it, you can easily fit four full-sized meat pies, on each shelf, or a pair of lasagnes side by side with the shelf removed. The unit itself doesn't get too hot, with the front door being the only surface that's not insulated, however after cooking up the lasagne at 180°C for two hours, I could hold my hand to the front door without getting burnt. The Travel Buddy is also fully made in Australia (Bendigo North, to be exact), and has been around for a lot of years.
If you happen to have the room to throw one in your rig, you'll have the most popular vehicle on any trip … put it this way, lob some pies in the oven as you break camp, you've got lunch sorted a few hours later, then at lunch while you're eating your pies, throw the roast and some veggies in, and it's already cooked ready to be eaten once you get to camp.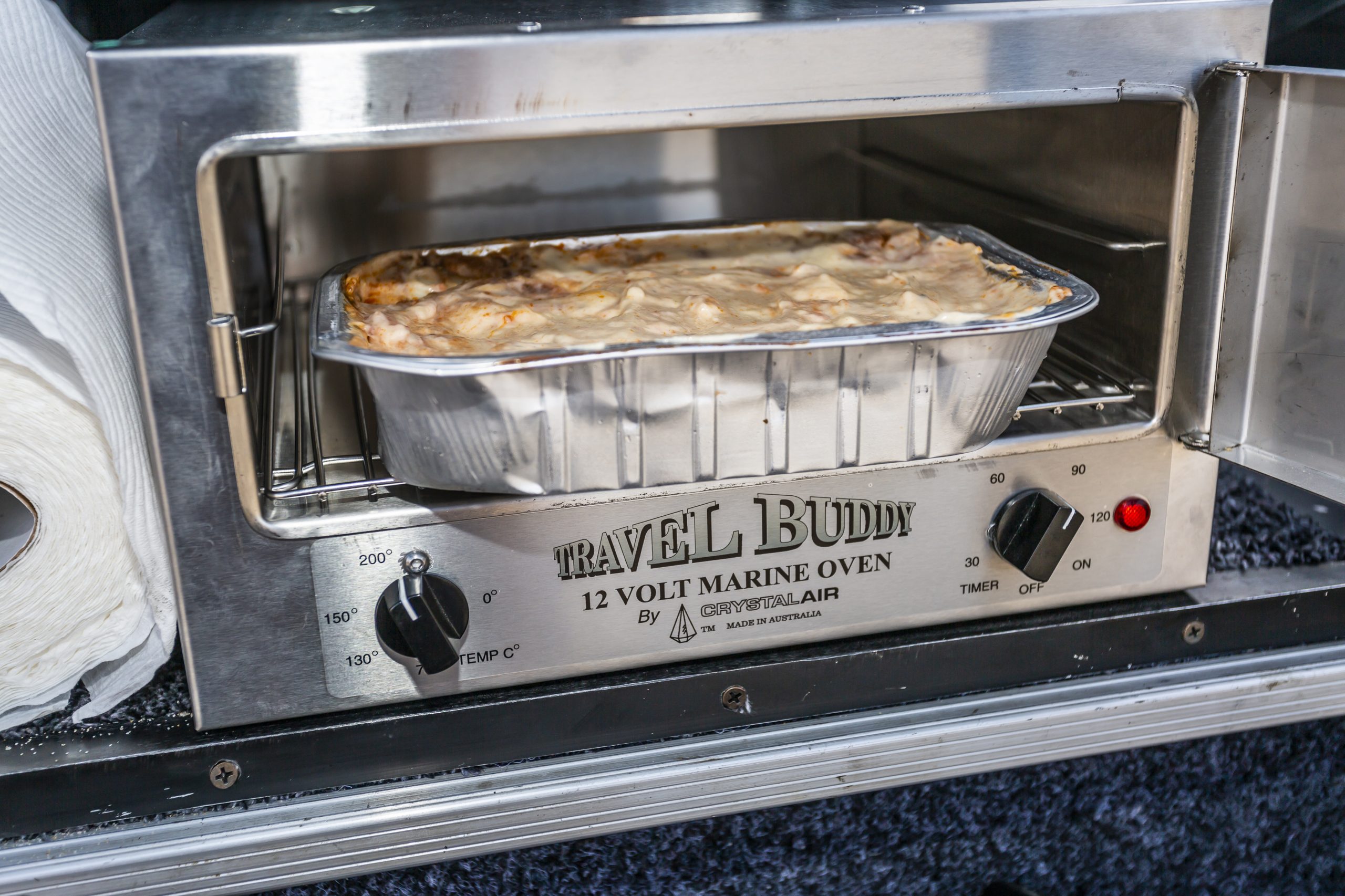 Is it worth buying a Travel Buddy?
The proof in the pudding is more the proof in the lasagne … everything we've thrown into this thing, even after we took the photos for this article, has come out absolutely perfect. It takes a couple of goes to get the timings right against the 'cooking instructions', but it works out to add about 20% more time to cooking instruction against a conventional oven. A lot of that, is due to me not 'pre-heating' the oven (never knew that was a thing?) and being in way too much of a hurry to get my mitts on the food! Just a word of warning, if you mount yours in a wagon, you can smell lunch about an hour before it's cooked… Double so if it's in the back and you switch from fresh air, to recirc. My thoughts, are you absolutely need to get your hands on one of these, if not for the ability to cook whatever you want as you're driving to camp, but the money you'll save from not buying pies from a servo.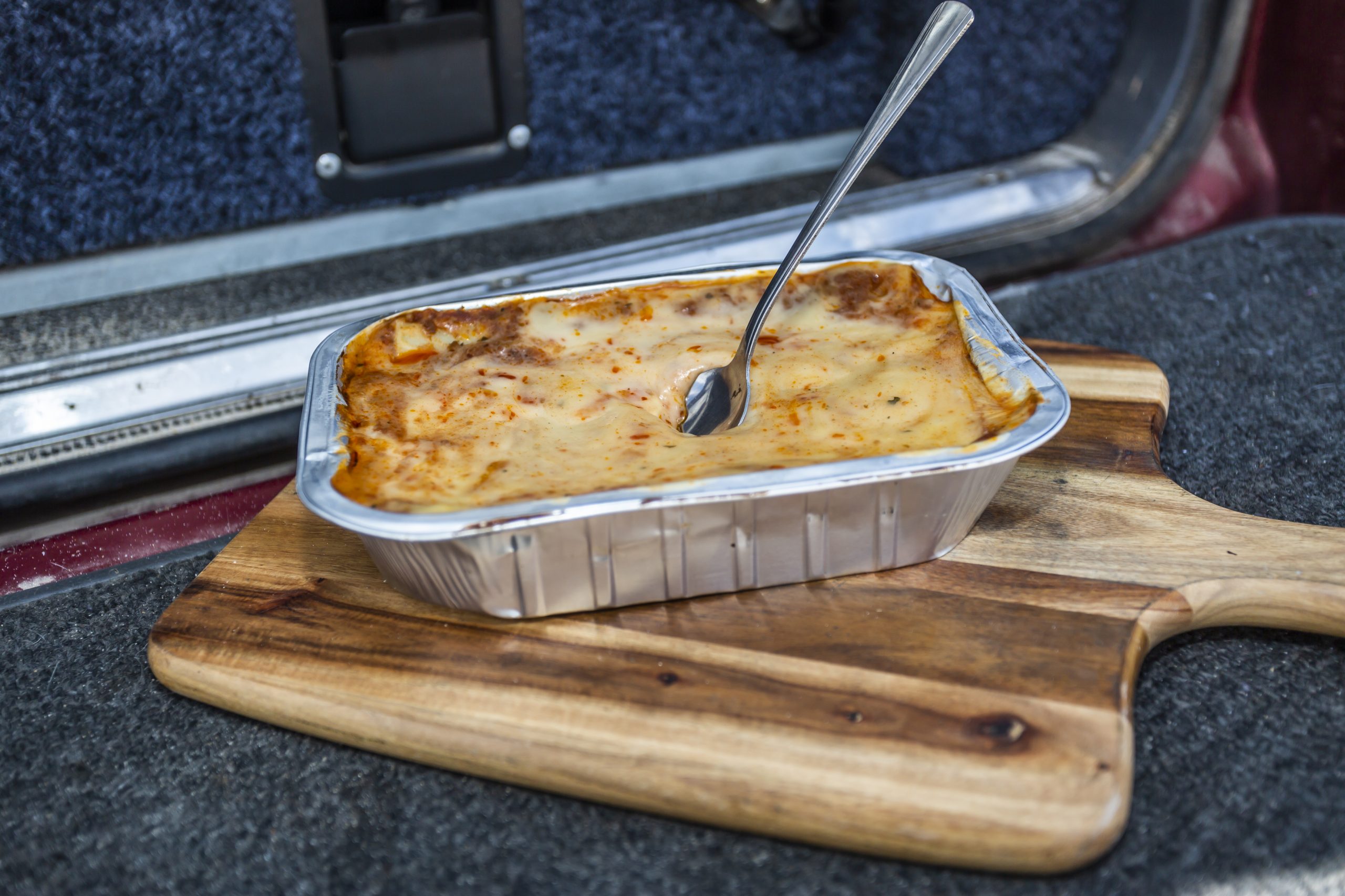 The link to the website of the folks who make this is below, where you can order them online, and there's a bunch of recipes and Facebook groups you can join surrounding cooking out of one. Bear in mind, there are some on the market that are cheap Chinese knock-offs; Wherever I can, I will always support an Aussie business and manufacturing, even if it costs a few bob more.
DETAILS
Weight: 5kg
Internal Dimensions (HxWxL): 190mm x 320mm x 280mm
Power Draw: 10A @12V / 120W
Price: $260 RRP
More Info: Travel Buddy