TITANIUM TOUGH?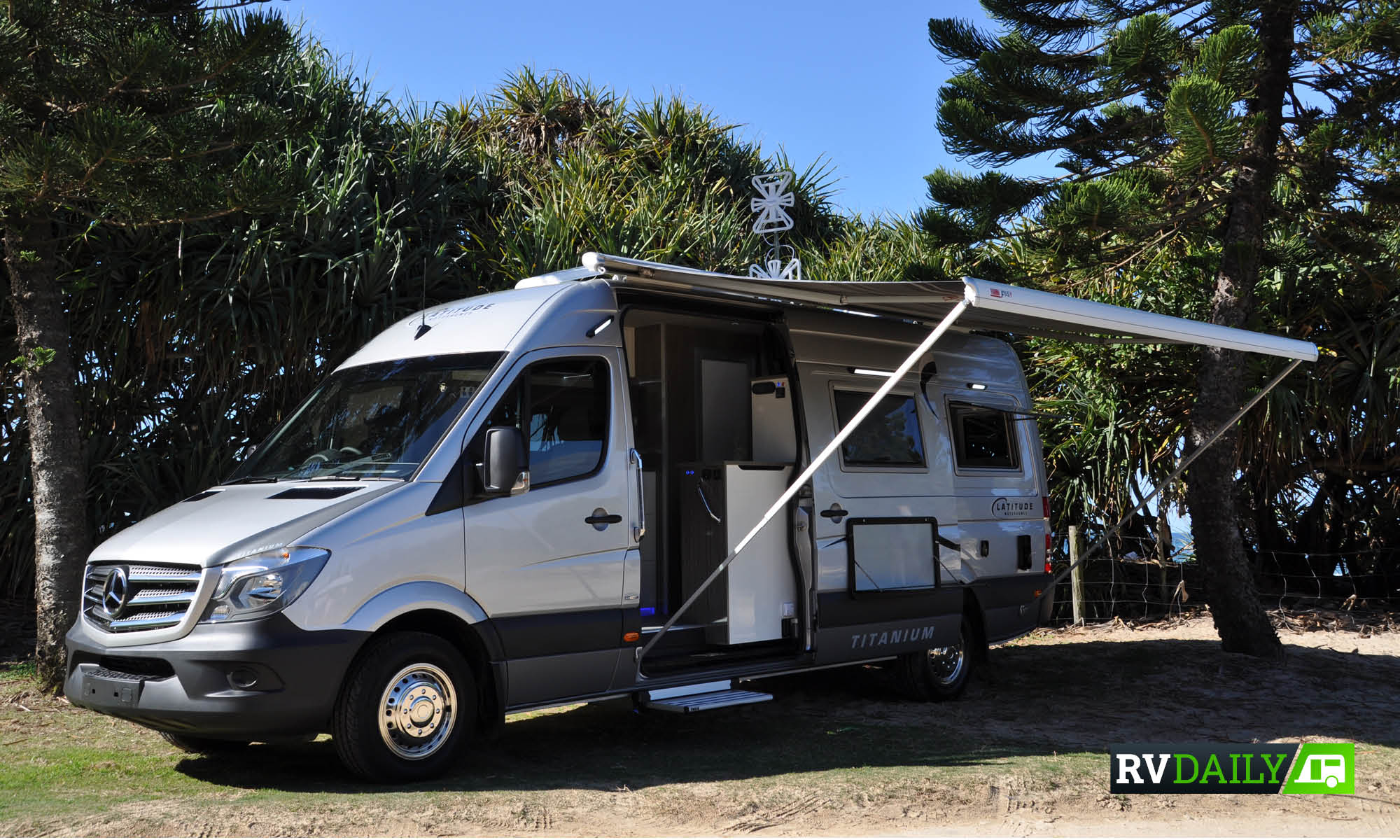 Latitude Motorhomes takes aim with the Titanium and scores a bullseye with its first shot
Words and Images Richard Robertson
Latitude Motorhomes is the creation of brothers Ben and Michael Maclean, sons of Paradise Motor Homes' founder Colin Maclean. Both have spent their working lives designing and building motorhomes so it comes as no surprise they've finally gone out on their own.
Latitude is entering the motorhome market with a van conversion, a segment experiencing rapid growth as buyers discover the many advantages that this type of motorhome has to offer. These include easier maneuverability, better fuel economy, and increased body durability compared to a cab-chassis/body (coach-built)
style motorhome.
Based in Burleigh Heads, Latitude is off to an impressive start judging from its launch model – the Titanium – which is based on a long-wheelbase (LWB) high-roof Mercedes-Benz Sprinter van.
A van conversion makes a lot of sense for Latitude's first offering. Already a complete vehicle requiring just the fit-out, it avoids the need for expensive manufacturing facilities, extra staff and larger capital outlay.
Status Quo
In line with their experience at the premium end of the market, Ben and Michael have stuck with the Mercedes-Benz Sprinter; specifically, the 6.96m LWB version. "We feel the long-wheelbase Sprinter gives the best combination of liveable space and compact size," Ben said. "What we're able to provide is a high level of equipment, innovation and style at an affordable price – $139,000 drive-away in Queensland. From that starting point we can
also easily make changes to suit customers'
specific needs".
The Sprinter model the Titanium uses is the 316 CDI. It's a 2.2 litre 4-cylinder common-rail direct-injection turbo-diesel and drives the rear wheels via Mercedes' silken 7G-TRONIC 7-speed automatic. In the Titanium, the GVM has been increased from 3550kg to 3880kg, which given its impressive 3160kg tare weight provides a maximum payload of 720kg. Of course, having a sub-4500kg means you can drive it on a standard car licence. Adventurers can opt for the 519 CDI 4X4, with a 4.49-tonne GVM and booming 140kW 3.0-litre V6 turbo-diesel, but that's another story …
On the road, the Sprinter impresses with its highly refined ride, engine and transmission, delivering a near car-like driving experience. Visibility is excellent and while the dashboard is Teutonically grey it's efficient, if not always intuitive. Safety is also excellent, with airbags and a range of electronic aids like Crosswind Assist and Adaptive Electronic Stability Program.
As is usual with a van conversion, there are no external lockers. Rather, room for chairs, hoses and leads, etc., is in a boot under the bed, accessed via the rear doors. There, a combination of open storage and deep drawers (with room for a small generator on a slide-out) provide a high degree of storage versatility.
Double-glazed, top-hinged acrylic windows are used all 'round, except in the back doors, where the Sprinter's fixed glass is retained. Other external features include a wind-out awning, electric entry step with auto-retract, illuminated grab handle, fold-down outdoor table, and a Winegard Sensar TV antenna. The test vehicle also came with three options that for now are part of an introductory special: a Dometic Fresh Jet rooftop reverse-cycle air-conditioner, an Eberspacher diesel room heater, and leather cab upholstery.
As expected, the body is fully insulated, while standard equipment also includes a 200 amp-hour AGM deep-cycle house battery and 150-watt Redarc solar panel, with a matching Redarc Manager30 power management system. Fresh and grey water capacities are 110 litres and 80 litres respectively, hot water is 14 litres using a Truma LPG/240-volt unit, LPG comes from a pair of 4kg cylinders, and the 17-litre cassette toilet has an SOG ventilation system.
One feature worth a mention on its own is what the brochure describes as 'backlit billet switches'. To you and me, they're the little silver light and power buttons, backlit with colours according to their use and individually laser-etched with symbols and names. Very neat!
Moving Inside
There are only so many ways you can arrange things in a rectangular box, so it should come as no surprise that the floor plan has a front lounge/dinette using the cab seats, a split kitchen in the middle, a bathroom towards the back, and a rear bedroom.
Opening the side entry door triggers a courtesy lighting system of concealed blue LEDs, which is terrific when returning to the vehicle at night. Decor in the test vehicle was fairly neutral, with glossy white cupboards and drawers, glossy woodgrain panelling and light grey wood-effect vinyl flooring. In the kitchen, light grey marble-like bench tops and a brown acrylic splashback tied everything together, providing an overall upmarket feel. Of course, there's a range of colours to choose from to tailor the interior to your tastes.
Cabinetry appears excellent and uses quality German Blum brand drawer systems and cabinet door lifts, solid stainless steel cabinet locks, high pressure laminate bench tops with 2mm ABS edging, plus interlocking, glue-and-screw cabinet construction for strength and durability.
The Titanium is unashamedly built for two and nowhere is this more apparent than the dinette. Perhaps the biggest compromise in the design, it requires the cab seats to be swivelled until facing each other, whereupon a small table stored behind the driver's seat is slipped into its mount on the passenger's seat base. While fine for meals for two, it's not designed for entertaining (which of course you can do outside under the awning), nor is it really conducive to long nights watching TV, reading or just relaxing. However, for that there's always the bed, which we'll come to soon…
Chow Time!
The kitchen is large and sure to please those who love to cook when travelling. The main work area is between the driver's seat and bathroom, and includes an all-in-one three burner gas cooker and sink unit, three deep drawers and a 136 litre Waeco 12/240-volt compressor fridge. The splashback cleverly frames the kitchen window, while above is a slimline rangehood neatly built into the base of a run of three cupboards.
A smaller bench unit sits to the right as you enter through the side door. It houses a microwave just under the bench top with more drawers below, while the bench space is handy when both cooking or passing things outside the vehicle.
Cleaning Up
The bathroom is between the main kitchen bench and bedroom, and in keeping with other vehicles in this class it's an all-in-one unit, albeit larger than most. One-piece moulded with a recessed toilet, the corner handbasin has a mixer tap with an extension shower head that can be wall mounted, alongside liquid soap/shampoo dispensers. There's good lighting and ventilation, plus an opaque door. While the test Titanium's bathroom might appear a bit Spartan-like, it's because Ben and Michael were still sourcing their ideal shaving cabinet.
No Compromise
Van conversions often suffer from bedding compromises, be that having to make the bed up every night, choosing between singles or a double, or simply having a bed that's too short. But not in the Titanium.
A fixed north-south bed measuring 1.89m x 1.35m (6' 2" x 4' 5") sits between the bathroom and rear doors, with one edge running along the side wall. The measurements are honest and the length doesn't include the extra room that the slight gap to the rear doors provides. For someone like me at 1.85m (6' 1") that extra room is invaluable. However, for those who prefer singles, a twin-bed layout is optionally available.
The bed leaves walk-around space on the kerbside, plus it provides space for a bedside table and drawer in the back corner. There are overhead cupboards, plus access to the under-bed storage via small doors at the front. While there are large windows on both sides of the bedroom, the back-door windows are fixed glass, but the doors themselves have been soft panelled inside and the windows fitted with privacy screens – very civilised.
On the kerbside, between the secondary kitchen unit and bedroom, is a three-quarter height wardrobe. The TV is positioned on top via an industrial grade swivel mount, sturdy and secure. On the rear wall of the wardrobe is a stereo connected to four speakers, two of which are over the bedhead.