DAY DREAMIN'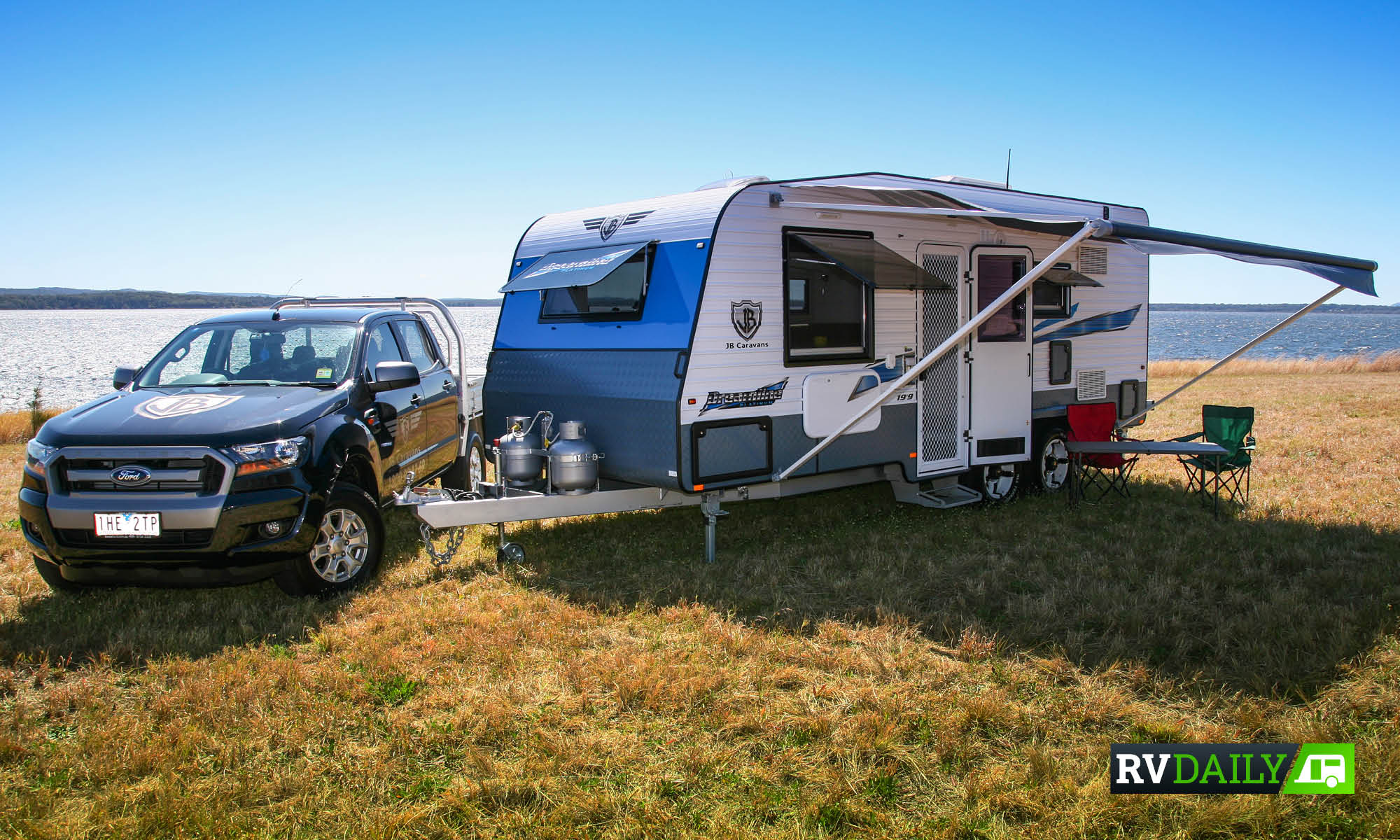 The Platinum will return plenty of precious holiday dreams for the family
WORDS & images Mark Allen
It's a hard decision; do you run, quarter tumble and land flat on your back on the bottom bunk onto the LaLaloopsy pillow slip and doona covers, or hurl ya' self up the ladder and flop onto the top bunk with Bob, or is it Kevin, or Dave … not sure which Minion it is to tell you the truth … all I know is it's not one-eyed Stuart!
Casting my mind back when I was 'that kid', I always went for the top bunk … and pity help my poor sister if she got in my way! Given, I'm now a 'grown up', so if this van was mine I'd be reluctantly relegated to the queen-size inner-spring bed down the other end of this 19-foot 9inch family touring van. Not that that's a bad
thing of course …
While JB Caravans offers a plethora of dirt road to extreme off-road caravans of varying lengths and layouts, the Dreamline Platinum is not meant to tackle those harsher terrains. Rather, it offers a modern, stylish, lighter weight and lower cost family orientated on-road van. While it is touted as an on-roader, that's not to say you can't hit the graded gravel tracks into your favorite national parks, visit the rellies out west on the farm or tour the lesser quality roads around our grand country – just don't expect to tow this one to The Cape and back.
OUTSIDE
Most striking is the blue checker plate lower wall sections and wheel spats, blue colour-coded front and rear mid-height sections along with the blue decals, making the Platinum a standout without being too larish – bold but not in-ya-face, which I reckon is a good thing. That blue-shaded theme does not continue inside, however, well, except for that loveable Minion's overalls on the bed covers. Inside, the hues are dominated by white and various tannish brown colours … can you tell colour picking is not my thing?
Instead of outsourcing, JB manufactures its chassis in-house with 3.2mm wall zinc-galvanised 6-inch boxed section combined with 2-inch riser in Aussie steel, complete with 6-inch A-frame, eye-to-eye leaf springs with shock absorbers and drum brakes to stop the 16-inch rims and all-terrain-style rubber. The A-frame accommodates dual 9kg LPG bottles, a handy firewood tray and a centre-mounted 8-inch jockey wheel. Being an on-road van where huge articulation is not needed, a standard 50mm ball hitch is used.
No huge tool boxes or stone guards are added to the front, helping to keep both overall weights and (more importantly) ball weights down. In lieu of that front tool box, a large, full-width tunnel boot provides ample storage and dual side access for tools, awning walls, hoses, power leads and the general paraphernalia that seems to be a necessity on vanning holidays.
The rear sees a sturdy triple-leg bar mounted spare wheel and while not advisable to add too much weight to the rear, a small tool box could easily be bolted on either side of that spare wheel without blocking the tail lights.
LED tail and side lights keep the package looking modern, as does the blue and black decals combined with the large, dark-tinted Dometic Euro-style windows. If you scale a ladder, you'll see a roof-mounted 150-watt solar panel, which feeds into an AGM battery via the Projecta battery management system. The fold-down TV antenna, air-conditioning unit and a couple of hatches round out the roof-mounted gear that's hardly ever seen or thought about, but an integral part of all caravans.
On the port side (that's just for you boaties), also known as kerb or near side, a drop-down table makes for an impromptu game of snap, 21, poker or whatever game of cards you're into; a power box with multiple power inlets and access for easy slide-out, removal and dumping of the business end of your toilet. The starboard, off or right-hand side, only has the rear-end hot water latch and the front access to that large tunnel boot, making most of what you need all available on the one side.
Four swing-down and wind legs serve to steady the van once parked, plus a colour-coded, roll-out awning ensures you keep your cool in the shade, just don't bump your noggin' on that nice hinged window if it's partially open.  
INSIDE
Taking the three steps up into the Dreamline Platinum (the first is the fold-down galvanised shin scraper, followed by the recessed step and van floor proper), the first thing that grabbed my eyes was the aforementioned, loud-coloured kids' doona. The van itself is cappuccino in appearance (if you ask me) … off-white, cream, light brown, tan and darker browns provide a modern, clean and upmarket look which, while great in its own right, feels like a completely different van compared to what it looks like on the outside.
The front features a north/south lift-up queen-size bed with just-adequate walking space along each side where a set of drawers and cupboards can be found. Harder-to-reach overhead cupboards reside over the bedhead, but, blokes with dirty boots be warned right now, don't stand on the bed and leave grubby stains on the pillows or doona cover!
Near the foot end of the bed is the mounting station for the telly, which will swivel for viewing from the bedroom or the mid-mounted dining/lounge area. That plush-looking leather dinette is directly opposite the neat, compact main kitchen which incorporates an under-bench oven and stove top and affords a small amount of bench space. If, however, the stove top is in use and the bench top is lifted open, there is very little room for food prep, so the dining table would have to be used. Beside the sink and drainage top is a stylish, upright black three-way, two-door Dometic fridge with a generously sized microwave oven above.
Next to the fridge, at the rear of the van, is the ensuite complete with shower, hand basin and vanity mirror to one side and a separate flushing ceramic toilet on the other. I reckon this ensuite is perfectly placed right next to the kids' bunks, so they can do what they need to do during the night without waking mum and dad. Mum and dad might wake the kids, but that's tough luck kids!
What's not tough luck for the kids is the pair of DVD players, one above each bunk bed. Now, that's just pure luxury and nothing I ever experienced when I was travelling around the country as a kid … 30 to 40 years ago! The only entertainment I had was dropping all the little rocks I had scavenged on my sister when she was trying to sleep. Yeah, she got me back plenty with a swift boot into my top bunk mattress. At least the DVD players can have earphones plugged into them, so mum and dad will never need to hear a peep.
Neatly hidden away in one of the high-mounted cupboards is the electrical heart of the caravan which comprises a ProStar solar controller, a head unit for the Projecta 12-volt battery controller (the base section is mounted under the dinette seat with the house battery), dual water tank level meters, a fuse bank and various switches to control the 240-volt and LPG hot water system. The only electrical device that's not mounted up here is the difficult-to-access electronic braking system testing/head unit, which is tucked away in a low-level cupboard next to the queen-size bed. While this unit doesn't need to be accessed daily, it still needs the occasional check that the green light is on for proper battery condition.
Verdict
All up, I reckon this Dreamline Platinum is a dream-come-true for the typical four-person family. Keeping in mind it's on-road and gravel-road design parameters, this van would provide plenty of get-out-there adventures, returning all the basic creature comforts you could ask for. Just don't let the bed bunk squabbles get out of hand.  
Specifications
BODY LENGTH: 8m
BODY WIDTH: 2.5m
OVERALL HEIGHT: 3m
TARE WEIGHT: 2150-2170kg
BALL WEIGHT: 150-170 kg
ATM: 2900kg
RRP: $69,490
PRICE AS TESTED: $69,490 with 12-months NSW registration and 3-year factory back structural warranty
PROS
Stylish exterior and interior

Plenty of creature




comforts for the family

Not too long or heavy

Ideal for family cars to tow
CONS
The black and white rims




are ordinary in looks …




but you may love 'em

I'd like to see a name




brand tyre fitted to my van

I'd never heard of MPC-27




rubber until I searched




the internet!