Uniflame's spun-steel Dutch oven will have you cooking like a MasterChef
When you like cooking at home as much as we do, we found it only natural this passion spills over to when we travel as well. For as long as we can remember, we've been travelling with a cast-iron camp oven, which we use for cooking both sweet and savoury dishes. But when given the opportunity to try our cooking luck with a Japanese spun-steel camp oven by Uniflame, we were more than happy to give it a go to see if we could still whip up the same culinary delights.
WHAT'S IN THE BOX
The Uniflame Dutch Oven is a 26cm (or 10-inch) model weighing 5.8kg and is the middle-sized version in the Uniflame range. If you're unfamiliar with Dutch oven and cast-iron oven dimensions, it's called the 26cm model as measurements are taken across the top of the oven. From here the oven then tapers down to 20cm across the base and has a height of 11cm. This oven has been manufactured using a single piece of Japanese 4.5mm spun plate steel and has two large welded attachment points located either side of the oven for the handles, which are permanently affixed.
The Dutch oven comes with two handles made of stainless-steel wire that diagonally cross over the oven to assist with keeping it stable while it's being lifted and for hanging from a tripod. The handles simply fold to the sides out of the way when not in use.
The Dutch oven's lid is also made of spun-steel and its design incorporates a lip around the lid edge to help it retain the coals, and there's a welded handle located in the lid's centre. Other standard items that come in the box include a trivet and stand. The trivet is made of stainless steel and sits inside the oven if you're wanting to reduce some of the bottom heat for indirect cooking. The 7cm high stainless-steel folding stand is another inclusion that assists with getting coals underneath the oven and allows more oxygen to flow underneath to provide better heat.
The stand and trivet simply get stored inside the Dutch oven once everything is packed away. The Uniflame Dutch Oven's spun-steel construction means it's strong and robust, so it can withstand being accidentally dropped.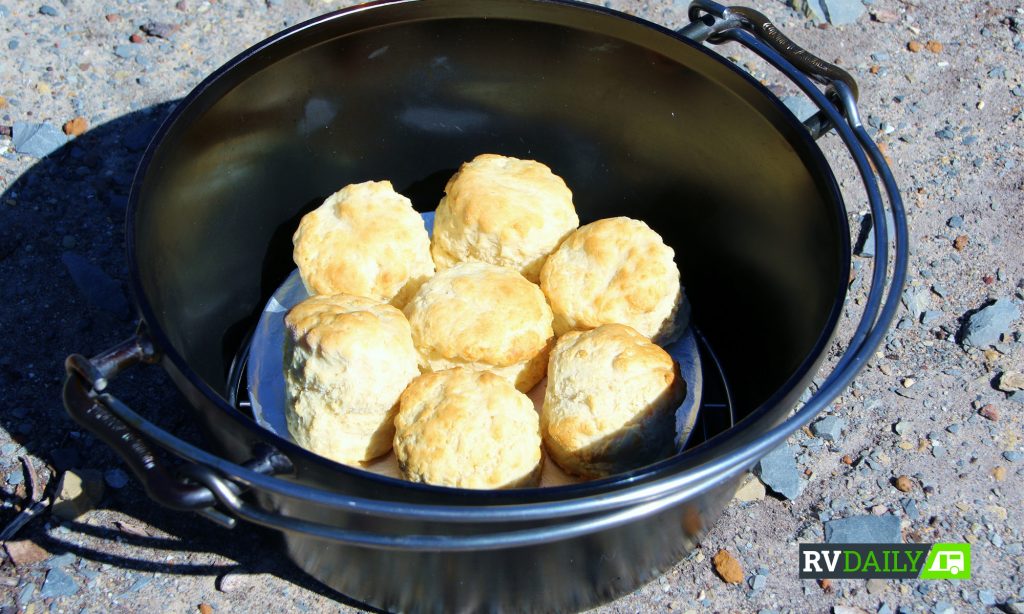 HOW IT WENT
Having been accustomed to using a cast-iron camp oven for so long, we didn't find there was a huge learning curve when using the Uniflame spun-steel version. While it's difficult not to compare our old cast-iron faithful with the spun-steel type, we've now cooked a variety of dishes in the Uniflame Dutch Oven and have gotten used to controlling the heat after a bit of practice. We found the Dutch oven's heat was evenly distributed and we didn't experience any hot spots, although we noticed we were feeding the oven more regularly with coals.
There's no doubt there's less metal mass in spun-steel compared to cast-iron, which would be a contributing factor, but this extra heat requirement could also have been attributed to the wood we were using and environmental conditions at the time of cooking. We found the lid sealed well, which was important for retaining heat, and the oven always felt stable when being moved onto or off the campfire using the wire handles that cross over each other. Coming standard with a trivet included we think is a good feature, as it's one that's often overlooked by other manufacturers and something else you'd otherwise need to purchase separately for indirect cooking.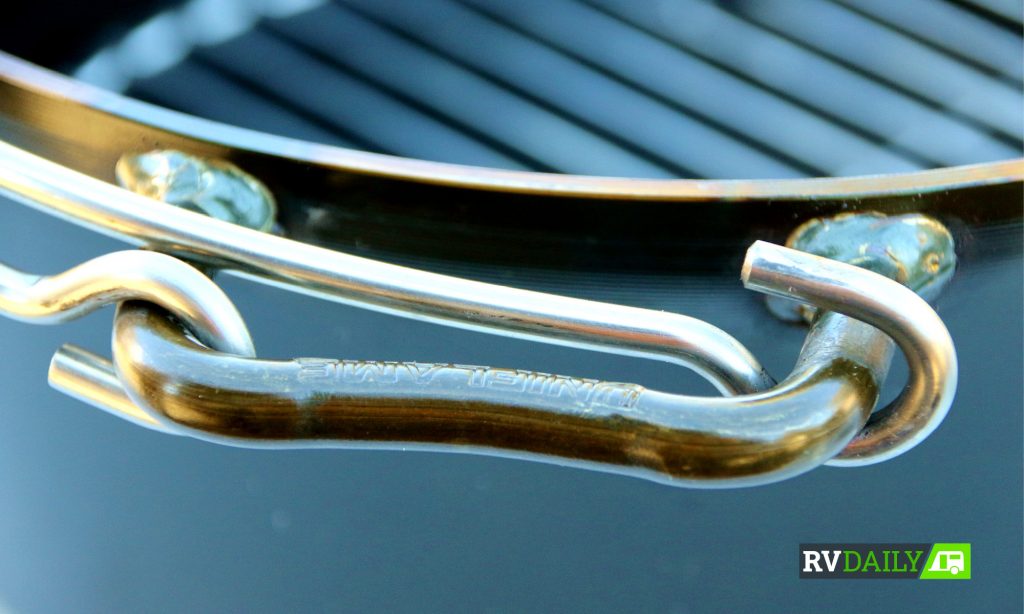 The process for seasoning the spun-steel oven is the same as for cast-iron, so there were no differences there. And the non-porous steel surface made cleaning an easy task with simply some water heated in the oven to soften any food leftovers, which were then wiped out. Where other cast-iron or spun-steel ovens may include legs, this one from Uniflame doesn't have any, which meant we had the choice of being able to use it on a campfire or a gas burner, depending on what we were cooking.
For someone that's been hell bent on cooking with cast-iron over the years, we could easily now say we've become Uniflame Dutch Oven spun-steel converts. It's an excellent quality, strong and robust Dutch oven that produces some great dishes, and handles being bounced around in the trailer when we're hitting some bumpy tracks. For those reasons alone, that makes us both very happy campers.
RRP: $218 for our 10-inch and also available in an 8-inch and 12-inch version.