Linger around a little longer when visiting The Dampier Peninsula to discover its newest campground. We first reported on the new Camping with Custodians' campground a few months earlier and have now been one of the lucky first to experience it.
Located 190km north of Broome, the new campground joins a network of high-quality campgrounds on First Nations land, operated by the local community in the state's north west region.
Now that the peninsula's popular wilderness campground Kooljman is closed for repairs, Djarindjin Campground is our next favourite reason for spending time in the area. (Not that you need much convincing!)
But is the new campground worth pulling into? We share our thoughts on what it's like to stay at Djarindjin Campground.
Location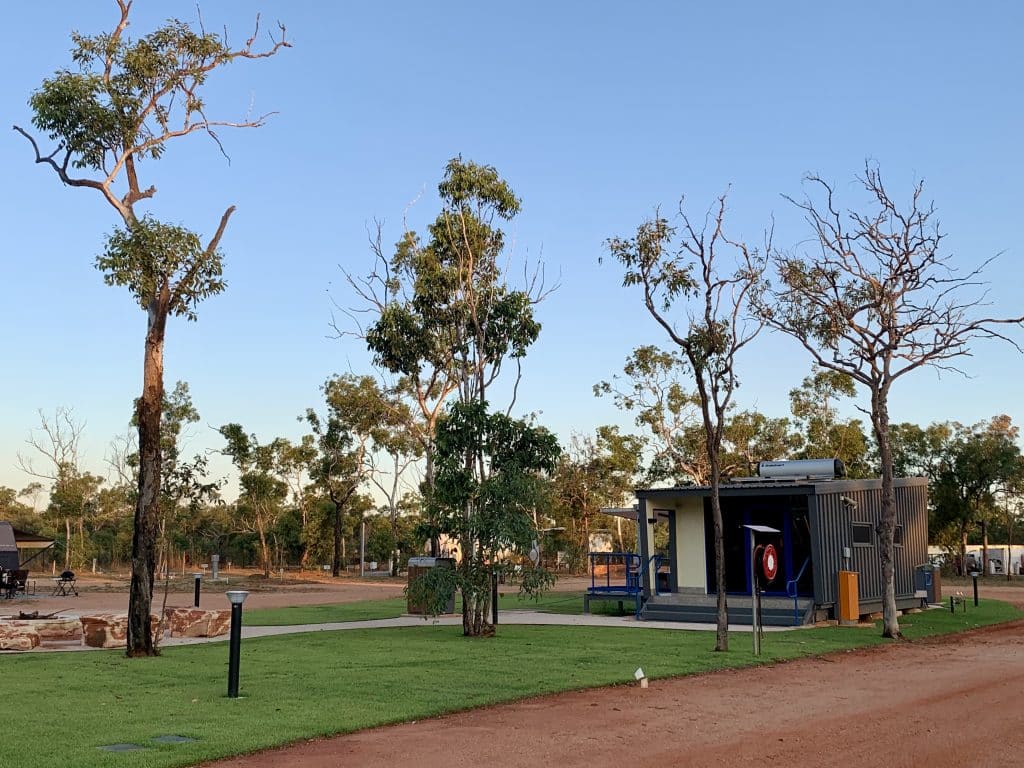 Djarindjin Campground is well-placed for adventure, easily accessible along Broome-Cape Leveque Road and moments away from the region's major attractions such as Cygnet Bay Pearl Farm (27km), Lombadina community (2.8km), and One Arm Point (24km).
Conveniently located next to Djarindjin Roadhouse, you'll be able to grab some takeaway food and basic items. There's also a new tour booking office specialising in tours within the area.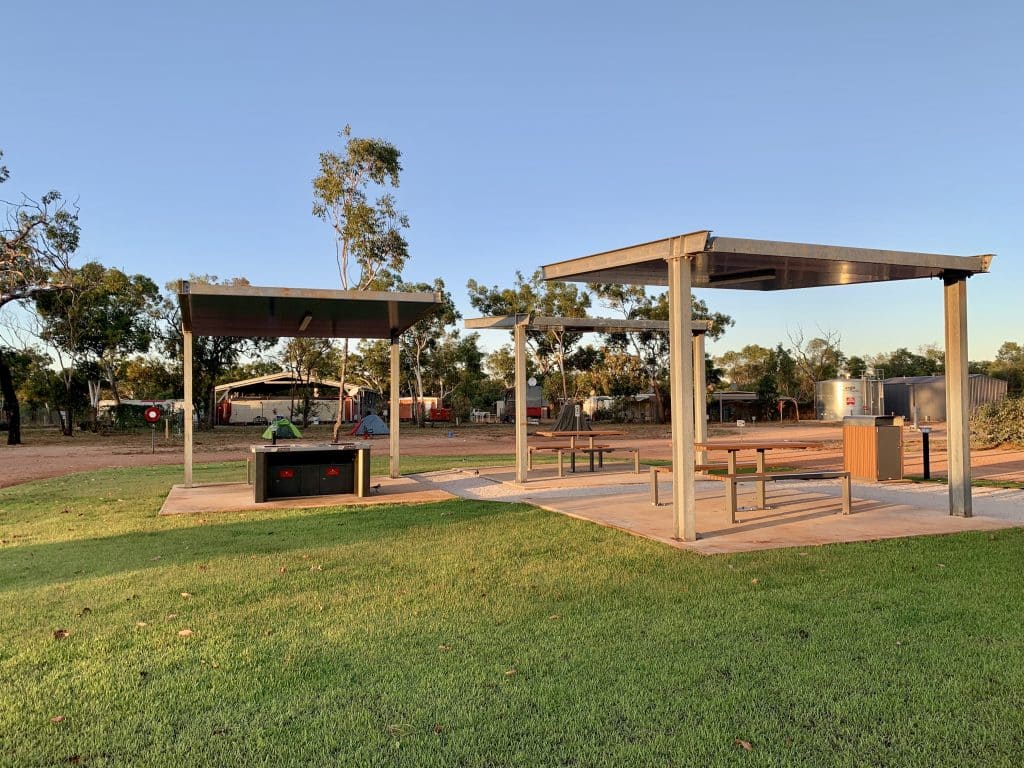 Accommodation
The campground features 37 powered sites catering to caravans and large RVs, plus 10 unpowered sites suited to tents. While there is hardly any shade (for now), the campground allows guests to have ample space without encroaching on one another.
If you're a camper who enjoys having access to amenities, you'll be excited to hear that they're both clean and modern in design. They're in shipping container-like builds surrounded by manicured lawns.
Worrying about mosquitos buzzing about come dinner time can be a thing of the past. The newly minted camp kitchen includes fly-mesh doors on either side, minimising your chance of a pesky bite.
The indoor kitchen consists of a ceiling fan, two laundry-sized sinks, a central barbeque and two seated areas. It's perfect for enjoying a feed in the outdoors sans a potential scratch match with oneself.
Enjoy outdoor cooking with the help of multiple barbeques, with two adjacent undercover wooden picnic table areas.
Multiple abolition blocks contain separate flushing toilets and hot showers with entry points on either side. A central abolition block includes an ambulant toilet/shower with an adjacent laundry area with wheelchair access. You can even hang your clothes to dry on the washing lines, available for use just outside the block.
At the heart of the campground is a large yarning circle or communal fire pit. This is a signature feature at all Camping with Custodians' campgrounds. Feel even more connected to country with rock seating to sit and gather around to have a yarn with other campers.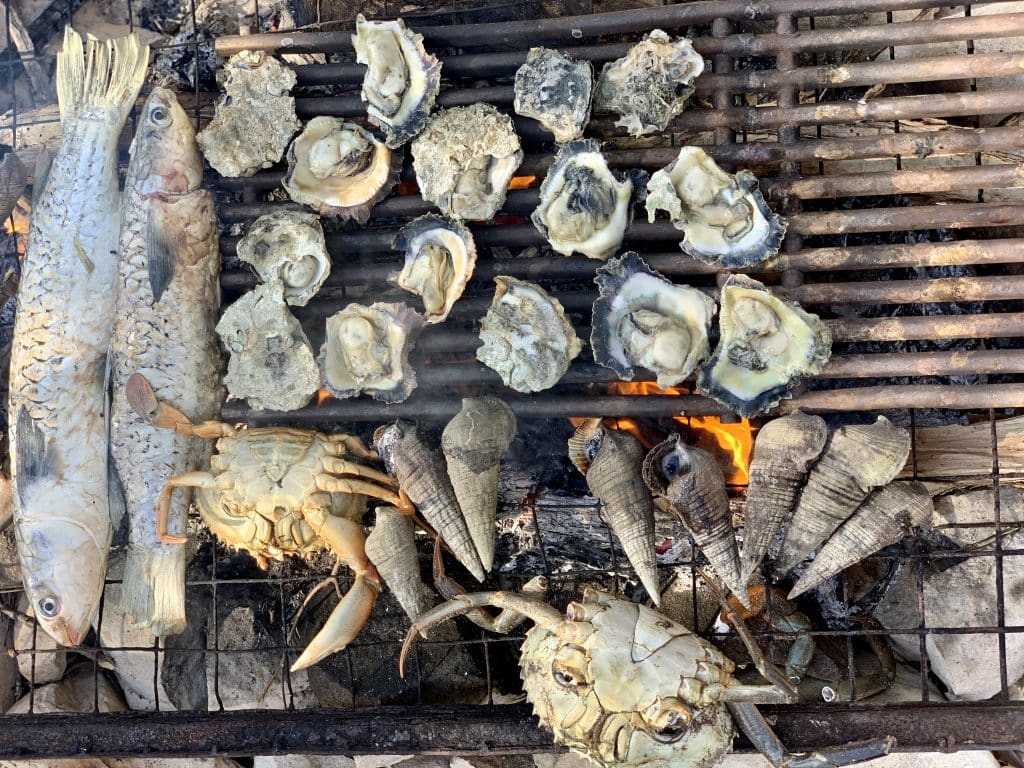 What we love
Convenient location to natural attractions with tour booking office a short stroll from the campground. Sparkling, brand-new campground amenities.
Campsites are spaced out, so no one is crammed next to one another.
Fencing around the campground for added security.
Boom gate with key pass access to the campground to deter non-paying campers.
Kitchen space protected from the elements (and pesky mosquitoes!).
Ample outdoor lighting is provided in the central campground area.
Yarning circle provides a central point to socialise with other campers.
Bins provided.
What could be better
Minimal natural protection is provided; however, trees have been planted, so they will come in time.
Close to the main road and nearby airport and therefore can be noisy in the mornings.
When windy, camping in a tent is not ideal.
It can be an expensive campground stay if travelling solo.
Book ahead for tours as it's a numbers game. If tours do not have the required number of guests to run, they won't run.
Things to do around Djarindjin Campground
There are plenty of things for you to do around Djarindjin Campground; the only trouble is deciding what cultural experience you want. Book tours via the Djarindjin Roadhouse tour booking office to avoid disappointment of missing out.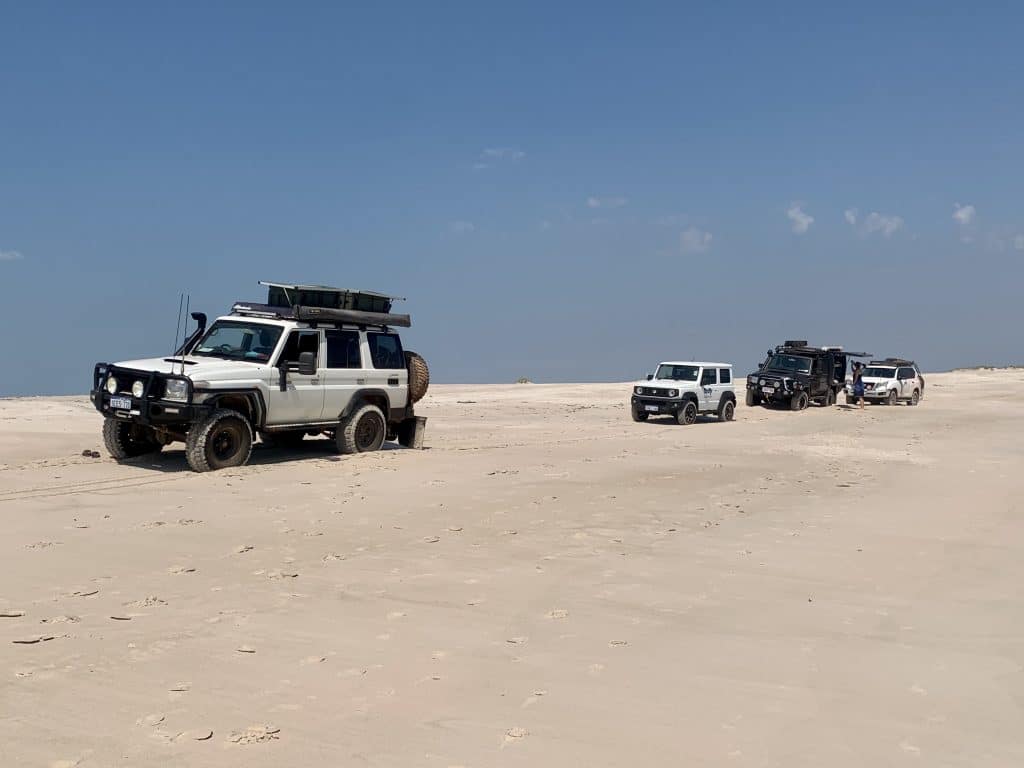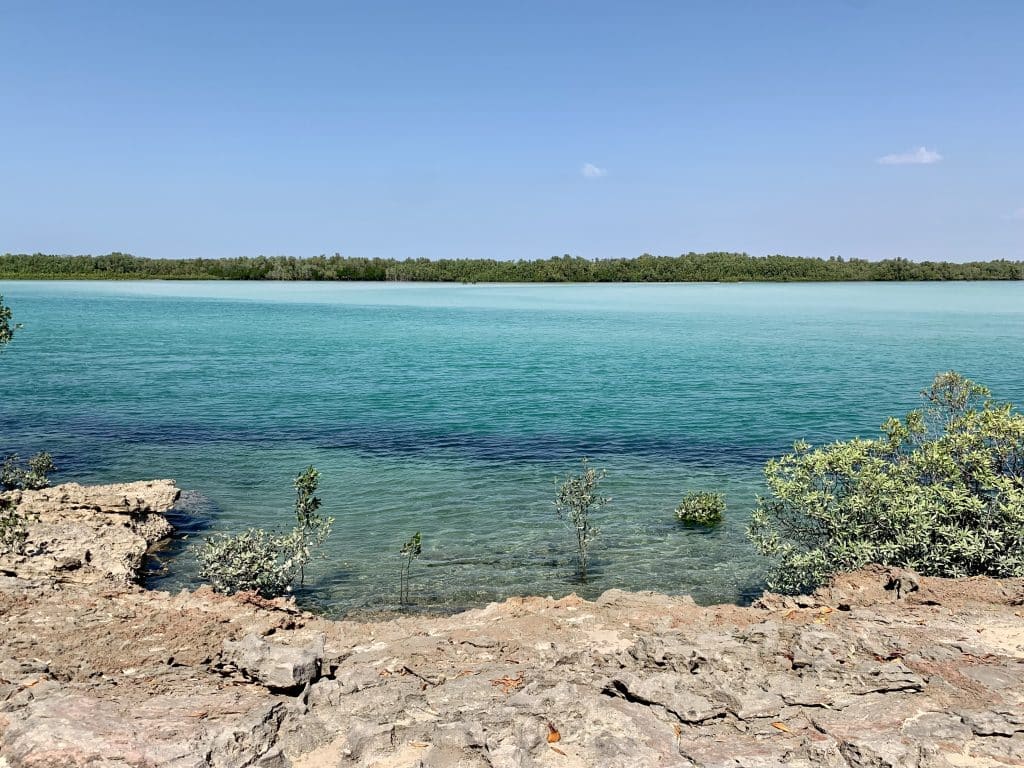 Brian Lee Tagalong Tours
Brian Lee's half-day tours are the stuff of legend. Leaving Djarindjin Roadhouse, Bardi tour guide Brian will guide you to have an epic off-road adventure along the coastline you won't forget.
Discover the raw and remote beauty of the peninsula while an ever-jovial Brian tells of the region's fascinating history and Dreamtime stories. After a blissful dip along the remote coastline, you'll soon have a moment to learn traditional fishing and crabbing methods in nearby Hunters Creek.
The water activities continue with optional free kayak rides through mangroves or motor boat rides to relish the creek's striking bright blues and greens. The tour fishes up with a tantalising barbeque cook up Bardi style, over an open fire by the creek. Definitely worth the bumpy ride.
Book via the Djarindjin Roadhouse tour booking office on 0447 513 123.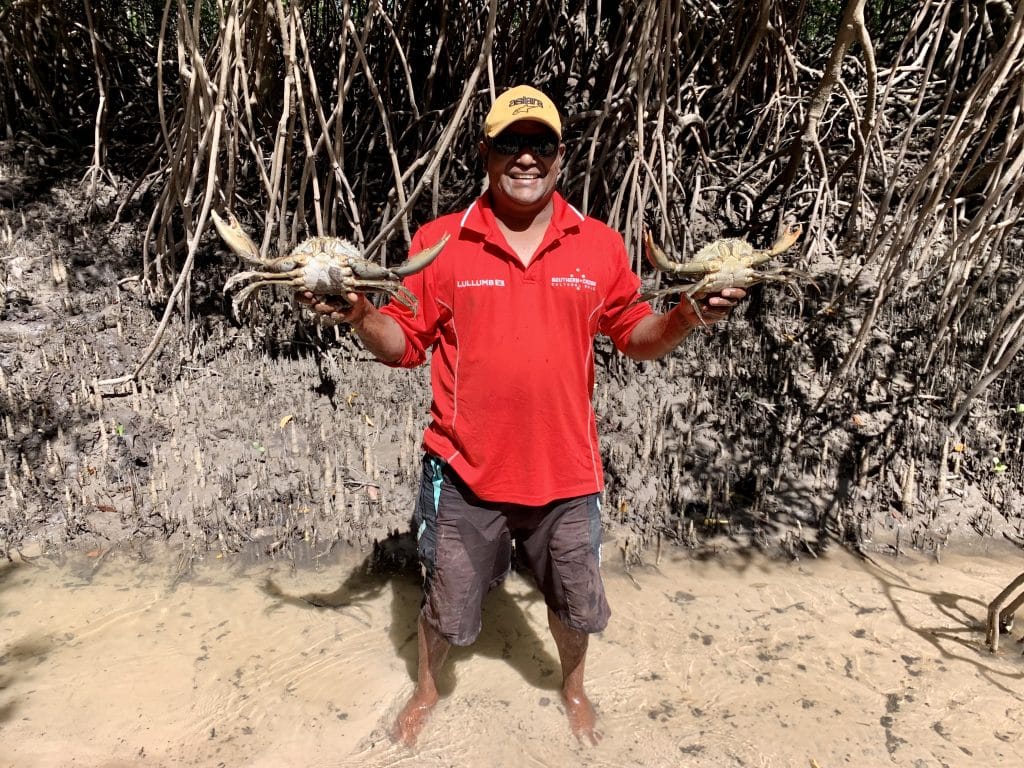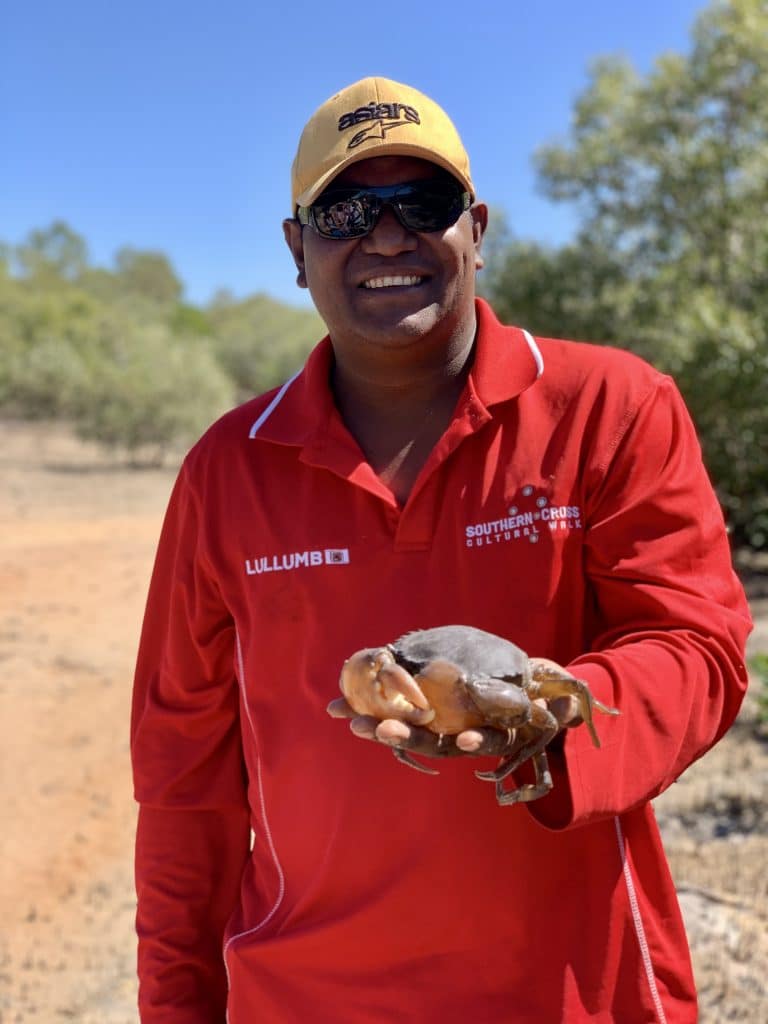 Lullumb Southern Cross Cultural Tours
Slip, slop, slap and get ready to see a different side of the outback on this walking tour through country. Local Bardi-Jawi tour guide Bolo leads the way, sharing his cultural knowledge of his ancestors and the land on this engaging tour.
You'll soon test your survival skills, carefully foot-trotting through mangroves and learning traditional mud crab hunting methods. The tour concludes with a barbeque cook up of freshly caught seafood, including mud crab, damper, and bush tucker, while listening to Dreamtime stories and songs performed by the ocean. Magical.
Book here: Lullumb Tours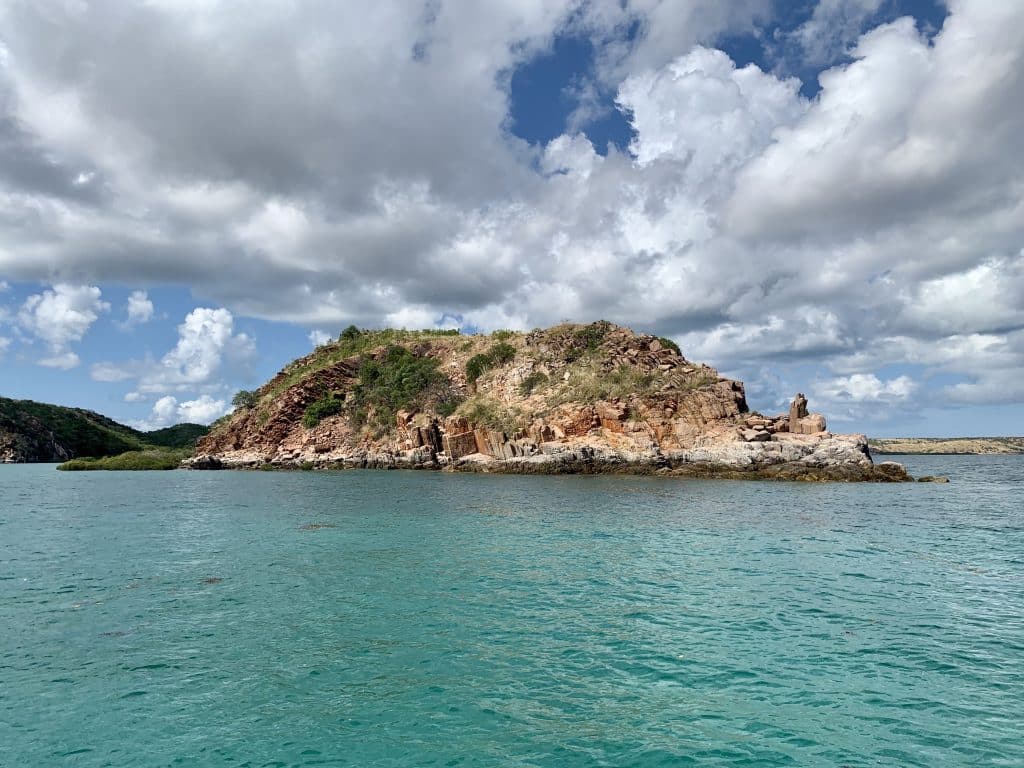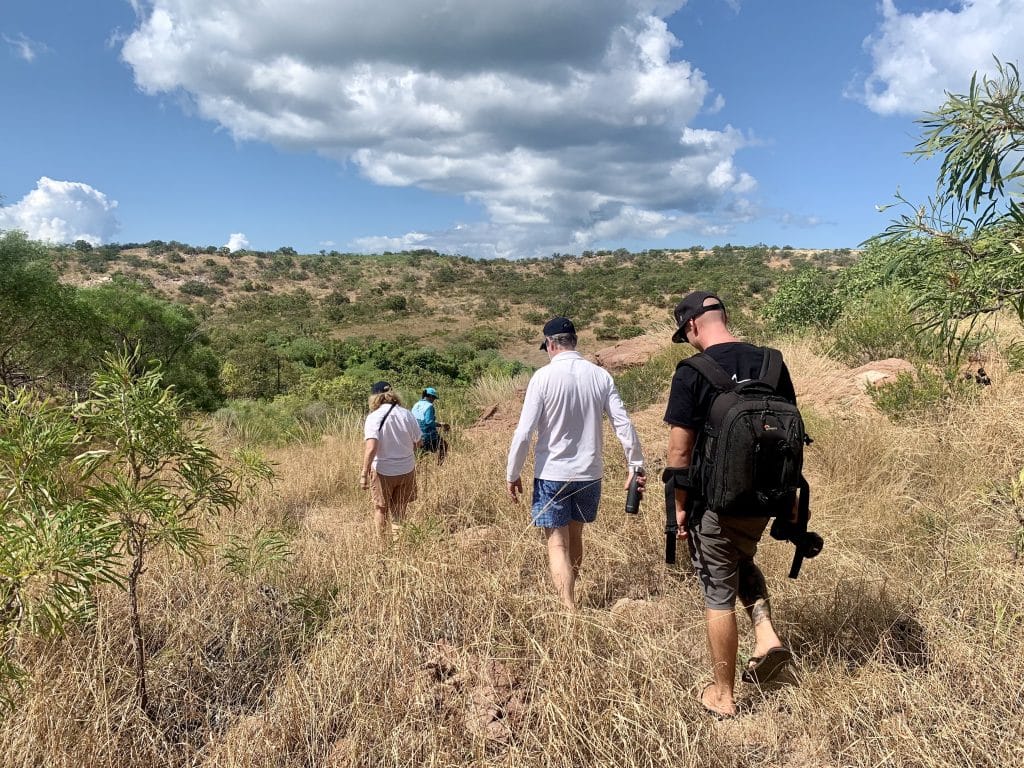 Oolin Sunday Island Tours
Be captivated by the great enthusiasm and contagious smile of Jawi tour guide Rosanna Angus as you journey through a naturally and culturally rich scenery by boat to a far-flung island. You'll travel through Middle Passage and observe local wildlife and the region's famous tidal movements before arriving at Sunday Island in the Buccaneer Archipelago and King Sound.
Rosanna shares stories of her family who lived on the island during its missionary days. The tour continues with a scenic boat ride through ancient landscapes and rugged islands until arriving at a hidden cove. Here, you'll enjoy freshly cooked damper and tea and have a moment swimming along the untapped coastline.
Book here: Oolin Sunday Island Tours
Costs
Powered site
$50 per night for two adults
Special family rate for two adults, two children, $50 per night
Extra adults $15 per night
Extra children $10 per child
Unpowered site
$30 per night for two adults
Extra adults $10 per night
Extra children $10 per night
$30 per person per night for unpowered sites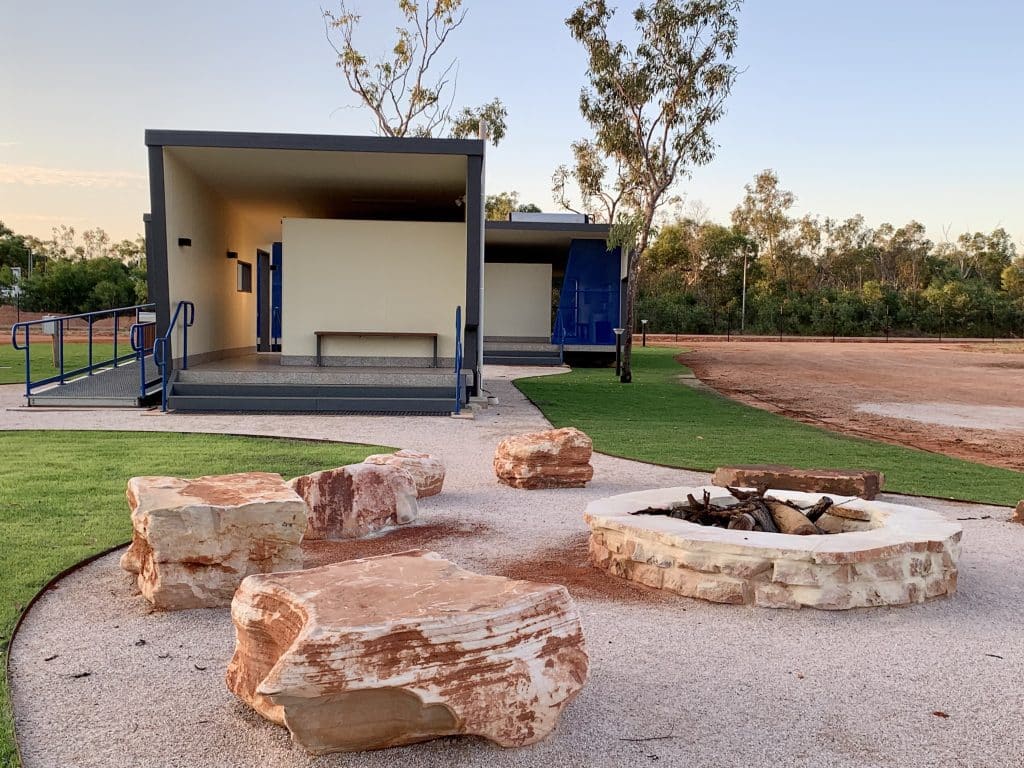 Overall thoughts
What makes Djarindjin Campground a lovely stay without a doubt is its attractive builds, modern amenities and thoughtfully considered landscaping at the centre of it all. It's conveniently located along the main road with popular attractions and tour departures a short distance away. It also receives extra props for being one of the few campgrounds in the area easily accessed via 2WD.
Letting the flashy campground down is its lack of shade factor. Although, once the freshly planted trees mature, it's sure to be more comfortable during the daytime to hang about. And why wouldn't you want to linger longer?
To make your Djarindjin Campground booking, contact campground@djarindjin.com.au or contact 0447 513 123.
See more Camping with Custodians sites here.