Tougher than ol' Ned's armour, has this hand-crafted camper earned the Kelly name?
I'm not usually one to gush over a camper. Truth be told, I remain firmly under the impression that I'm still young enough to swag it. Being able to go anywhere, without compromising places you can go dragging a camper or caravan, is king (though, the better half may argue the 'young enough' point). With these delusions of my age and driving ability firmly planted in my mind, I got to go for a run around the countryside with Dave from Kelly Campers and climb all over their latest design: the Beechworth.
Hand-built in Kelly Campers' Bundaberg workshop, these things start life as aluminium sheeting, RHS extrusion, and TIG wire. They're not mass produced, not from China, and most certainly not for the faint of heart. If you happen to read our sister publication, Pat Callinan's 4X4 Adventures, you may have seen the review I did on the Glenrowan II camper, and how indestructible (with close resemblance to a bunker-on-wheels) they are. I'm happy to report that the Beechworth is just as bullet-proof, if not more so, than the Glenrowan II.
Something worth keeping in mind, is that these are completely built to order. Sure, there is a 'base model' with more inclusions than you can shake the dog at, but if Dave and the team are going to the trouble of building one of these off-road monsters for you, then they're going to sit down and work out exactly what it is you want and need. Massive toolbox up the front? No problem. Hubs to suit the same wheels and tyres as your tow rig? Can do that too. Want to go an angrier diesel water and air heater? Piece of cake. You name it, they'll make it work for you.
So without further ado, let's get into the nitty gritty of these things, and what (in my humble opinion) makes them arguably one of the best campers on and off the road.
EXTERIOR / UNDERCARRIAGE
First thing you notice when you lay eyes on the Beechworth is it's <solid. Not quite as boxy as the Glenrowan II, but built just as strong, with a touch of aerodynamics thrown into the engineering side of it. It's made from 2mm aluminium plate, with 25mm aluminium box section for the frame. It's all fully welded in-house, and that also includes the pop-top lid. 12V heavy-duty actuators hoist the lid up and down with just the push of a button, and the canvas bellows are all Australian-made.
A pair of Australian-made 150W solar panels adorn the roof, connected to the Redarc BMS1230 battery monitor and controller system. This then feeds into the dual 105Ah batteries in the rear. Around the exterior, there are more cupboards and hatches than you can poke a stick at, allowing access to the 104-litre upright fridge, full staino kitchen, full width storage, and external shower room. To the rear, you'll find high quality lights, as well as a gas strut assisted drop-down rear tyre carrier that also acts as the step to get you into the camper. On this specific model, Dave and the gang have also added a telescopic arm to assist the older owners to lift the step back up – because leverage is everything.
Within the utilities cupboard, there's a Camec digital instantaneous gas hot water system for the shower and sink. Up top, you'll also find a Foxwing wrap-around awning, offering shade and shelter from the elements, which covers from the kitchen, right around to the entry at the rear.
Looking at the undercarriage is where you get a real sense of how indestructible this camper is. It features a fully independent airbag system, with Cruisemaster ATX suspension, plus the ability to control the airbags from a set of switches inside, with the included compressor. Gone are the days of levelling amps (or lumps of timber); now you can lift and lower each side with just the push of a button. It was also interesting to notice that there were no water tanks hanging down to get bashed in when off-road.
Everything is up and out of the way under here. Pulling the Beechworth up, is the AL-KO iQ7 braking system, tucked away with the other utilities. To the drawbar, there's more quality components, with a Hitchmaster D035 off-road hitch, dual gas tank holders, diesel tank for the heater, as well as an Ark Extreme Off-Road 750 jockey wheel to move the camper around, it's built tough.
THE KITCHEN / INTERIOR
The kitchen is a slide-out affair, featuring quality stainless steel, a three-burner gas stove, as well as hot and cold water in the attached sink. There is plenty of storage under the stove, as well as a huge pantry between the kitchen and upright fridge to the side, and the grey water drains to the portable tank below.
Inside the fully insulated Beechworth, there are quality cupboards throughout, with high-end locking latches to save anything flying about on the more aggressive of tracks. Sleeping arrangements are sorted out with full queen-size bed, with enough windows to ensure there are no feelings of claustrophobia while inside.
There's also copious amounts of storage, including under the bed and to the sides of the entry. As a rather thoughtful addition, instead of the standard stereo mounted inside, and speakers around the camper, music is sorted out with a fully portable and weather-sealed Bluetooth speaker system, that you can have outside with you at happy hour or take down to the beach when you're going for a fish.
The interior dashboard gives you all the information you could want at your fingertips, including water level indicator, pop-top activation switch, power and battery levels, heater and water pump controls, as well as light switches. 12V outlets are placed in clever and useful spots, however more can be added at your discretion – all you've gotta do is ask.
A pair of reading lights and further interior lights keep things well lit, with a permanent dinette for meals, and an exhaust fan for keeping the air flowing through the camper. Speaking of exhaust fans, there's also a spot inside for the porta potti, so you've got an internal loo, meaning you're able to traverse all the spectacular national parks our great country has to offer, and with the added privacy of being indoors. But of course, being portable, you can place it within the outside ensuite/shower just as easily.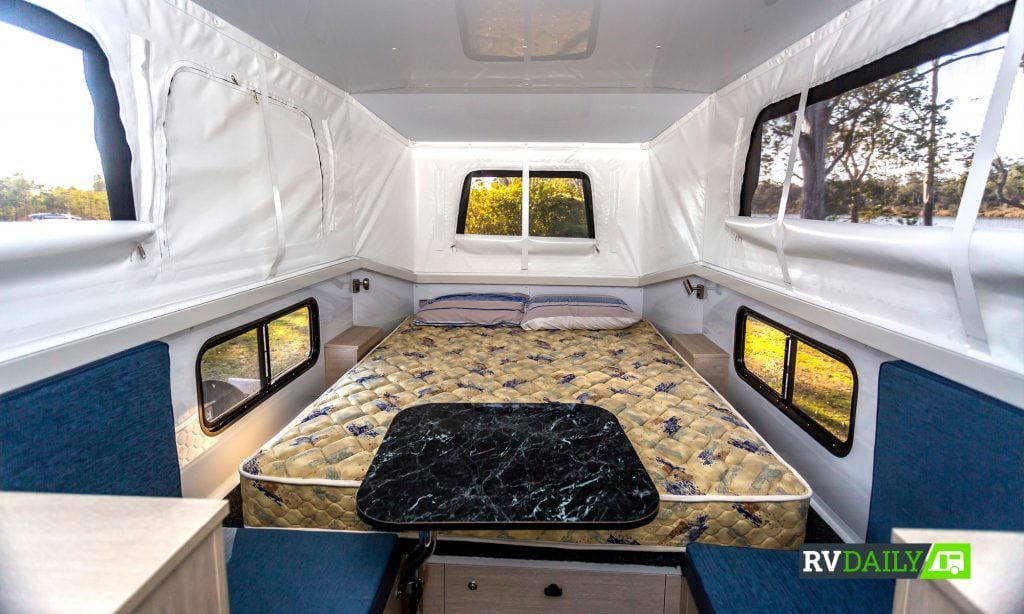 VERDICT
For a top-tier camper that begins life as alloy and steel, completely built from the ground up, the Kelly Campers Beechworth is about as good as you're going to get. I know that's a big call, especially with some of the high-end campers on the market these days, but hear me out.
They're built locally, in Bundaberg, from their raw materials. The design layout is set as the base only. Dave and the gang will sit down with you, and work out exactly what it is you want out of your camper, changing anything and everything to create your perfect, custom-built, home-away-from-home.
After having spent some time around their workshop and then road-testing the Beechworth, you get a sense of what goes into these campers, how strong and solid they really are. They're not built to just go up the bitumen to a caravan park – if that's what you're after, then this is probably not for you. They're built to drive across the country, taking any road you see fit, and without compromising on quality and build.
Next time you're at a 4X4 and caravan show, make sure you get along to where Kelly are set up, say g'day to Dave, and stick your head in one … trust me, you'll not be disappointed.
PROS:
– Will take off-road touring in stride for its entire life
– Can be towed behind just about anything
– Build and design quality – and designed and built in Australia
– Just about anything you could want can be optioned up
CONS:
– There is no 'stock'. Every Kelly Camper is made to order, to your specifications, so you can't just 'go pick one up' (we're clutching at straws here)
SPECIFICATIONS
Tare: 1650kg
ATM: 2400kg
Length: 5150mm
Width: 1900mm
Drawbar: 150×50 RHS SupaGal
Chassis: RHS SupaGal
Brakes: Electronically-operated hydraulic disc
Price: $74,690